For Española native Jacob Torres, what he sees on his daily commute to work is something that just never seems to get old. The goosebumps resurface nearly every day.
"Almost every day — even this morning — I wake up and on the way here, I can't believe it," Torres said in a June 26 interview. "You drive past the space shuttles and see the VAB (Vehicle Assembly Building), which you see on the Discovery Channel and stuff. Every day my hair stands up and I can't believe I get to work here."
The job of a NASA technical and horticultural scientist is never dull, and Torres is always breaking new ground during his shifts at Kennedy Space Center's Space Station Processing Facility in Merritt Island, Fla., near Orlando.
Española chile in space
Torres is a part of a team of about 20 people at NASA who are working to fulfill what is NASA's current, top priority: traveling to Mars.
Depending on the alignment of the planets, the shortest trip to the Red Planet can take about six months, and astronauts would ideally stay there for one year, Torres said.
With a total of two years away from Earth, the astronauts' prepackaged meals would not last the full duration of the trip, so Torres and his team are currently undergoing studies and tests to determine foods most suitable to grow in space.
"We can build all the rockets we want to go to Mars, but it won't work unless we have food to eat," he said. "So, right now we are the top priority research project in NASA."
The research team of microbiologists, engineers and scientists became enticed by the possibility of using New Mexico's famous Hatch peppers. The Hatch peppers were the top choice until Torres arrived and suggested Española or Chimayó peppers.
"Because of the legacy and knowledge base with chiles developed in New Mexico, it just seemed to be a logical connection to establish when NASA began to conduct experiments with peppers as candidate plants for growing in space," NASA Plant Physiologist Ray Wheeler said. "Jacob was instrumental in helping us make those connections. The astronauts have often expressed a desire for more spicy and flavorful foods, and so having a bit of hot flavor also seemed to be a good thing. Plus, many peppers are very high in vitamin C, which is important for space diets."
Wheeler said the Española pepper has been one of the best performers in the teams' studies. It's ultimately a cost-saving pepper, as its growth cycle is vastly shorter than Hatch chiles, based on the difference of elevation in the Valley.
"We were also looking for varieties that don't grow too tall, and yet are very productive in the controlled environments that we would be using in space," Wheeler said.
The Española pepper will officially be the first fruiting plant grown in space, and will make its space debut in November aboard the International Space Station. The pepper will be grown on the Station's two plant systems, called the Advanced Plant Habitat and Veggie.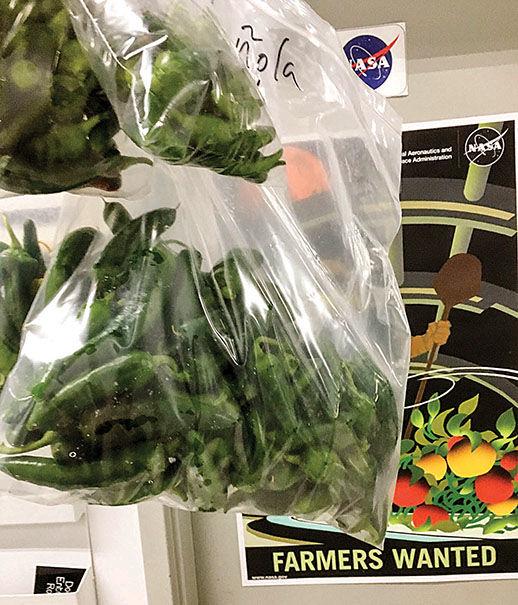 Before NASA, there were several twists and turns in Torres' life. He was born and raised in Northern New Mexico in Santa Fe and Española and was the grandson of Juan Valencia, who owned Johnny's Bar on North Riverside Drive in Española until it closed in 1997.
With the experience of working for his grandfather at the bar while growing up, the restaurant business seemed to be Torres' most likely future.
He was a troubled student who got kicked out of the Española School District and transferred to McCurdy High School, where he said the teachers and administration had probably never come across a student like him.
"I resisted them in a way they had probably never seen before," Torres said. "I just completely resisted the things they wanted us to do and that got me in trouble. I barely graduated and I think they graduated me just to get me out of there."
Once Torres left Española Elementary School and moved onto Española Middle School, his poor choices began to surface. His mother, Gloria Valencia, spent 37 years as a teacher and taught at Española Elementary School. She worked 29 years for the District and was Torres' first grade teacher. She said once he escaped her wrath and wasn't present inside the same building as her anymore, he began to take advantage of his freedom.
"He could never get away with anything because I was there," Valencia said. "Then, he went to the junior high and it was kind of like, 'Well, mom wasn't there.' I think at that time it was a lot of the peer pressure. There were gangs and things like that at the time, and he just made the wrong choices."
Valencia and Torres' father later went through separation and divorce when he was in high school, which Valencia said was tough on her son. With his restaurant background and distaste for school, Torres graduated from McCurdy in 1997 and made the choice to quickly move to Las Vegas, Nev. to work at the Hard Rock Cafe as a buser. The young man who had dreams of becoming a rock star quickly worked his way to a managing position.
"Once he graduated from McCurdy, I believe it was within a week he made that choice to go out there and find work," Valencia said. "My daughter was also in Las Vegas at the time, and that's just the decision he made."
Thanks to an HBO viewing party held at the Hard Rock for the 1999 professional boxing match between Evander Holyfield and Lennox Lewis, Torres' managing skills were, at least according to him, noticed by the actor Bill Murray.
Torres gave a pep talk to his crew before the viewing party — knowing celebrities would be around — and urged them to treat them as any other customers. It just so happened that Murray and fellow actor Billy Crystal were posted up right behind Torres as he was performing his address.
"I had no idea I had an audience," he said. "I'm sure Bill was completely wasted, but he came up to me and said, 'Hey man, I need someone like you man.' I was like, 'Sure, sure, whatever.' I gave him my email address and phone and two weeks later, I got an email with a plane ticket, rental car, apartment and a job in Myrtle Beach, S.C."
Murray and a few of his brothers opened a chain restaurant called Murray Bros. Caddyshack, and Torres managed the location in Myrtle Beach, as well as two others in St. Augustine, Fla. and Orlando.
He spent almost five years with the company, but after the deadly 2004 Atlantic hurricane season, Torres was washed out of the restaurant business.
"It was such a rough ride," he said about his time in the restaurant industry. "I told myself I couldn't run restaurants for the rest of my life. I was like, 'Is this all I have to do, is this as far as I could go?' No way."
Back to school
With new ambitions, Torres returned home, where he started studying automotive technology and renewable energies at Northern New Mexico College.
After completing his associate's degree in renewable energy and a certificate in automotive technology, Torres got a scholarship to New Mexico State University where he would graduate as an Aggie with a bachelor's degree in mechanical engineering technology in 2014.
"He decided to let it (restaurant industry) go, and I thought he couldn't have made a better choice," Valencia said. "Despite all the choices he made in high school and what he went through out there (the east coast) — going 24-7 — he was determined. He's always had obstacles, but he persevered, and again, it was his determination."
Torres worked directly on NMSU's green chile destemmer project, which developed a machine to eliminate the manual labor of destemming chiles by hand, to boost the profits of New Mexico's chile industry.
The next step was a master's degree in mechanical engineering technology at Purdue University in West Lafayette, Ind., where he graduated in May 2018. Torres' career at NASA kicked off after he casually applied for an internship at Kennedy with no real expectations.
"I did the application and never thought I'd hear anything back from them, straight up," he said. "On the application, there just happened to be one line that said, 'plant growth for food production in microgravity.' I thought that was pretty cool and in my research at Purdue, I made a biowall, and it uses plants to filter indoor air."
The connection between the application and his biowall experience at Purdue proved to strike gold. After the 10-week internship was completed, NASA invited Torres to stay on for four more months. After that, they offered him a full-time position, which he has held since December 2018.
For Torres, it's been only about seven months since his arrival as a full-time employee at NASA, but his contributions have already been — to say the least, and fitting — astronomical.
"He has taken the initiative to set up and test a range of things that we have talked about for a long time, but never seemed to get done," Wheeler said. "Jacob has made a lot of this happen. He's been a great addition to our Kennedy Space Center team."
For Torres, his journey to NASA has been fueled from his roots in Española, specifically after losing his father and nine of his closest childhood friends to deaths from drinking, overdoses, car accidents and cancer. Torres referred to most of the deaths as coming from "living a hard life in Española."
"I do all of this and try to be my best for my brothers who are not alive anymore to do it themselves," he said. "And, I do my best to look after their kids. I have to be a good example so they will not go down the same path."