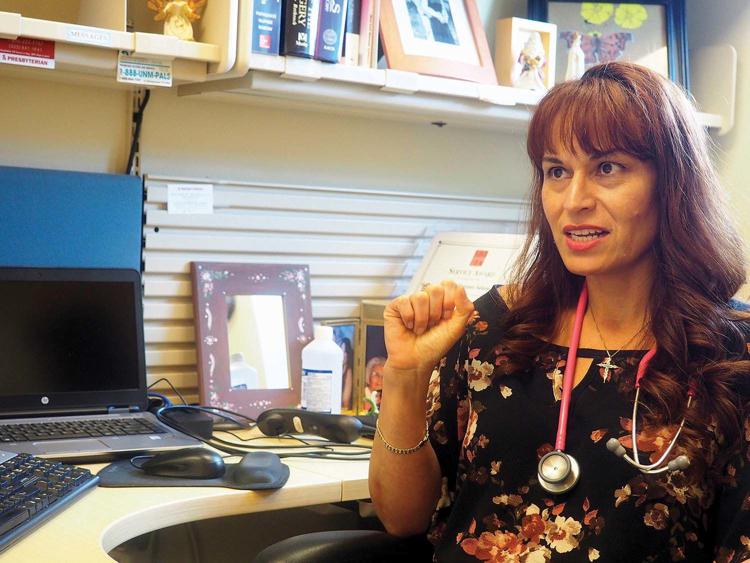 Yolanda Salazar's day begins early in the morning as she arrives at Presbyterian Española Hospital.
The physician's assistant sees her first patient at around 7:30 a.m., informing them about the surgery they will soon have and answering any last-second questions. For the rest of the day, she is often performing surgeries, including suturing the skin once the operation is complete. One surgery can last four hours, with Salazar standing on her feet until she gets out of work sometimes as late as 8 p.m.
Sometimes she eats lunch, sometimes she doesn't.
This commitment to serving others is something that Salazar takes to every facet of her life, whether it be in a hospital, with her family or as vice president of the Española School Board. 
Her life has been defined not only by this fierce commitment to others, but also a staunch independence drilled into her since she was a young girl. In other words, her charitable deeds never come at the expense of her own agency, her ability to act on her own accord and never sacrificing the values her parents instilled on her and her four siblings. 
Childhood
Born and raised in Santa Cruz, Salazar was one of five children born to Andres and Lucy Martinez, a post office worker and stay-at-home mom, respectively.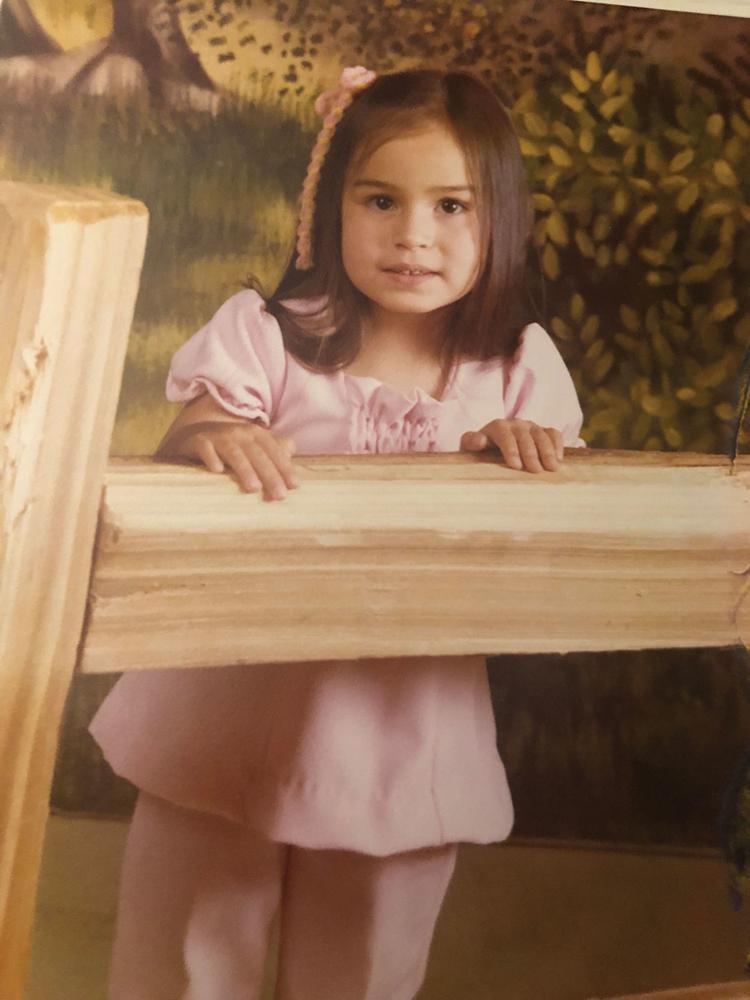 From an early age, her parents stressed the importance of a good education. Her mother, a substitute teacher for 25 years, taught her children how to read in both Spanish and English before any of them were even in kindergarten. During the summer, when school was out, the family would "play school" and spend the day inside reading to themselves. Salazar said this emphasis on education was about much more than making sure they all knew how to read. 
"Independence," Salazar said. "(My mother) always wanted us to get a good education and not have to depend on anybody financially."
It did not take long for Salazar to develop an interest in medicine, beginning with an accident when she was four years old. 
She, her siblings, and a neighborhood friend were, ironically enough, playing "hospital." One of the adults removed the tailgate on their truck so the kids could play on the back, and dropped it on Yolanda's bare foot. One of her toes was cut right in half, barely hanging on by a single tendon.
She found herself strapped on a hospital table, so that she would not move or squirm while surgery began. Doctors worked methodically to sew her toe back in place. Such an experience might terrify a young child, but Salazar gave a far from usual reaction: she lay there silent.
"I was fascinated," she said. "That day forward, I knew I was going into medicine."
Throughout her childhood, she would walk around the hospital going from room to room, trying to figure out the role of every person there. She said she's always loved the smell of hospitals, something she admits most people are not incredibly fond of. 
As a student at Española Valley High School, she took anatomy. Twice. 
It seemed like Salazar was destined to pursue a medical education as soon as she started college. However, that did not happen right away. 
College
After graduating high school in 1990, Salazar had multiple options for college. She finished in the top 10 percent of her class and received many scholarship offers. The University of New Mexico, in particular, offered her three scholarships and a full ride — which she turned down. 
Instead, she decided to attend New Mexico State University, where she would have to pay tuition. Salazar said she went to State partially because it was where all of her friends were going, but also because she felt like she could not compete against other students from schools like Los Alamos or McCurdy. She thought the curriculum taught at Española Valley was not at the same level.
"(It was) probably one of the biggest mistakes in my life, not taking the free ride to UNM," she said.
Her biggest challenge when she started school in Las Cruces was finding a way to pay for it all. She already had two other siblings in college, and her parents could not afford to help her pay for her education. 
She had already worked in a grocery store in Española, so she transferred to the Furrs in Las Cruces, making $5.25 an hour. She was doing well in school, but decided to transfer to University of New Mexico after her sophomore year. She said this was because State did not have a good pre-medical program.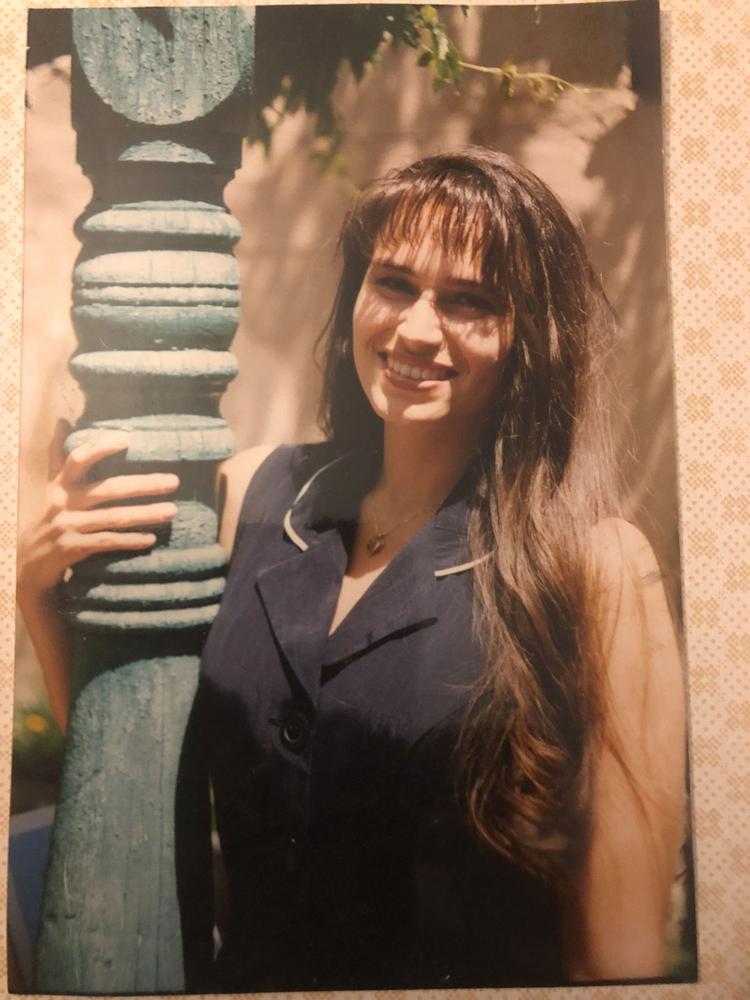 Of course, she no longer had a free ride at the University, and still had to work to pay her way. During the summers, she would work at Los Alamos National Laboratory, sometimes as a secretary or an assistant of some kind. She also worked as a math and science tutor for high school students in Albuquerque.
Salazar said the experience of working to pay for college taught her many important lessons. 
"It taught me how to be responsible," she said. "It taught me the value of money and work and worth. It also taught me that education is very important."
By the time she graduated with a bachelor's degree in microbiology, she realized she could compete against other students and that the education she received was enough. 
Finding her calling
She did not begin medical school right after she graduated, though. She began her professional career as a microbiologist working in the Life Science division at the Lab. Her days were spent working in a small testing basement, affectionately referred to as "the rat lab," a place where Salazar said "you rarely see the light of day."
During her time at the Life Science division, Salazar and her team conducted studies deciphering the anthrax genome, a project conducted with the Department of Defense. She published multiple papers on her findings. 
Even though she enjoyed her time at the Lab, there was something missing about working in such an isolated place.
"I knew I need to be in the public sector," Salazar said. "I'm a people person."
She decided to pursue the three-year Physician's Assistant program at the University, which was a relatively new program at the time. Physician's assistants can perform many of the same duties as a doctor of medicine — they can diagnose illnesses, treat patients and write prescriptions, along with assisting doctors during surgery. 
However, before she could apply for the program, she needed to complete one year of clinical experience, something she had yet to do. She decided to volunteer at the hospital near Los Alamos National Laboratory, and soon received a position as a guide for a study on Hepatitis C. 
Her days soon became consumed by her work. She would arrive at the labs at 6 a.m. and work until 2 p.m., where she would then begin her shift at the hospital at 3 p.m., which did not end until 11 p.m. 
Those long hours allowed her to save money to pay for her PA program, which was extremely selective. Salazar was one of 30 applicants selected for an interview, out of hundreds that applied. Out of those 30 applicants, only 10 — including Salazar — were selected for the program. 
In August 2001, Salazar finished the physician's assistant program at the University. Instead of staying in Albuquerque or going somewhere else for work, she returned to the Española Valley, where she received a position with El Centro Family Health, a non-profit organization with the mission of providing affordable healthcare to people in Northern New Mexico, and began working that December. She remembers being scared and nervous starting her medical career.
"The first two years are probably the scariest, because you are learning so much," she said. "Everything you learned in the book is not exactly what you see in person." 
However, practicing medicine in Española and the surrounding communities gave her experience in many diseases that especially affect residents in the area, including diabetes and other chronic illnesses.
Due to a contract with Veterans Affairs, Salazar had around 110 veteran patients. One patient in particular left a significant impact on her life. 
She had only been working with El Centro for three days, when an especially sick man came into her office. 
"He was on drugs, he was an alcoholic (and had) a slew of conditions," she said. "He was a mess. He was probably not going to live much longer had he continued down that path."
In order to get him better, Salazar had the man come to her office nearly every week. Not only would she treat his illnesses, but she also talked with him about his addictions and the trauma he received during the Vietnam War. The two became very close as a result. She did not wish to name the patient.
"It was one of those feelings inside of you like, 'I'm going to make this person better with all my strength,'" she said. 
Eventually, the man became sober, and even overcame Hepatitis C. He was so grateful to Salazar that he would make her jewelry and tell people that she had saved his life. Ask Salazar, though, and she says he saved his own life, while also helping her life the process. 
"That's when I knew it was my calling," she said. "All it takes is for you to save one person and it was amazing."
The two remained friends for 18 years, until he died earlier this year.
School activity stuff
Salazar also took a position running the school-based clinic at the High School after its previous director had retired. She would treat not only the physical ailments of students, but would often help them with mental health issues. 
She recalled one student in particular who had been molested when she was younger and had begun cutting herself. Salazar would have her come into her clinic for counseling sessions. Salazar said the student is much better now thanks to the sessions, and they still keep in touch. However, she still maintains that she's not the reason her patients are better now. 
"There have been patients in my life that say I help them, when in reality it was the opposite," she said. "They got themselves through it, but helped me become a better practitioner."
Salazar admits her work can have an emotional toll on her, but said this is not a detriment to her practice.
"If you hear somebody say that they don't take their work home with them, when you're in this kind of practice, that means they don't have their heart in it," she said. "Having feelings is not a bad thing, it just makes you a better provider. Empathy in medicine is very, very important."
One of the more difficult aspects of her job has been seeing the effects of Española's opioid crisis. She treated many patients who had abscesses where they injected heroin. Salazar remembers treating an abscess on a boy only 17 years old. 
It was her experience of these operations and her work in the school-based clinic that first motivated Salazar to run for the Board in 2015. She had fought with previous boards to keep the clinic open and ran with the goal of increasing the services it provided. She also wanted to create programs to help younger children to prevent addiction, since none existed.
"Prevention is the key and prevention begins in pre-k," she said, referring to preschool programs.
That year, Salazar ended up defeating her opponent, Ralph Medina, by nearly 400 votes in a landslide victory against the long-time incumbent. At the time, Dominic Tafoya, who Salazar also defeated in the election, called Salazar's campaign workers corrupt. Nowadays, Salazar does not disagree with this label.
"At the time, believe it or not, the people who helped me with my campaign, other than of course my husband and friends, were the very corrupt people we ended up getting rid of. It was a shocker for me," she said. 
For example, her campaign manager Elias Fresquez and former-Rio Arriba County Commissioner Barney Trujillo ­— who endorsed Salazar — were implicated in a scandal surrounding the creation of illegal contracts. Salazar said the Board's canceling of these contracts created a lot of controversy in the community. She even received threats as a result.
"At first, I was worried," she said, reflecting on the experience. "It's a small town, they know our families."
However, she said she never gave into the threats against her. 
"I will always be my own voice," she said.
She said the culture of corruption will never go away from Rio Arriba County politics, but the actions she and other Board members took definitely helped.
Board President Ruben Archuleta has known Salazar since middle school and ran for the Board the same year she did. He said the two were in the minority from the very beginning, and the two would be defeated three votes to two on most issues. 
"We both ran against incumbents that had been there eight to 12 years," Archuleta said. "We kind of had the same idea of doing the right thing."
Archuleta said one of the primary advantages to having Salazar on the Board are the unique ideas and perspectives she often brings, usually by analyzing statistics and outside sources when discussing an issue.
"She really looks at the big picture," he said.
Both Archuleta and Salazar said they plan on running for the Board again in the fall 2019 elections, stating they have done a lot of good work but still have unfinished business.
Outside life
The Salazar home in Chimayó in many ways perfectly represents the family's private yet incredibly giving lifestyle. It took Yolanda's husband, Daniel, 10 years to build the large home from the ground up. The yard in front is filled with dozens of different flowers that correspond with the soft pink that encompasses the house. Right above the house, a giant sign reads "Casa Salazar." Many fmaily members live right next door. 
Talk to the Salazars, and their stance on familial love soon becomes clear. 
"Don't just say it," Daniel Salazar said. "You've got to show it."
 The two met when Yolanda was still a university student and Daniel was testing weapons at the Lab. Yolanda said the two had immediate chemistry, and she said meeting Daniel resulted in her making a big life decision. She, like her future husband, quit drinking. 
"I knew if I continue to want to go out and have fun with my friends and drink, we probably wouldn't have a solid relationship," she said.
The two first began dating 26 years ago and were married in 2001, just after Yolanda had finished her physician's assistant program. 
"She's very giving," Daniel Salazar said. "She's a very thoughtful person."
Even though the couple has been together for nearly three decades, they do not have any children. Both said this was a conscious decision. 
"When it got time for us to really think about having our own family, we thought it may not be the best thing," Daniel Salazar said. "The world is a beautiful place, it's just that us human beings are ruining it."
Yolanda agreed and also said that before Daniel retired, the two had incredibly busy work schedules, which she thought would affect how they would raise a child.
"I didn't want anybody else raising my child," she said. 
In place of a child, both Daniel and Yolanda have their large extended families, including many nephews and nieces — outside the Salazar home are rows of classic cars, which Daniel said he is restoring so he can give one to each of them. 
Other than family, the other main focus of the Salazar family is their faith. Their home is filled with various religious paintings. Yolanda said that God plays a central role in their lives, which greatly influences much of the charitable work they do.  
"We don't have kids, so what we have, we try to share," she said.
One of Yolanda's primary charitable activities is working with Medical Mission Teams, a Tallahassee, Fla.-based Christian organization that sends doctors and other medical professionals to treat patients in under-served countries around the world. Salazar herself has gone on multiple missions to both Guatemala and Madagascar. She said hospitals there suffer not from a lack of knowledge, but a lack of supplies.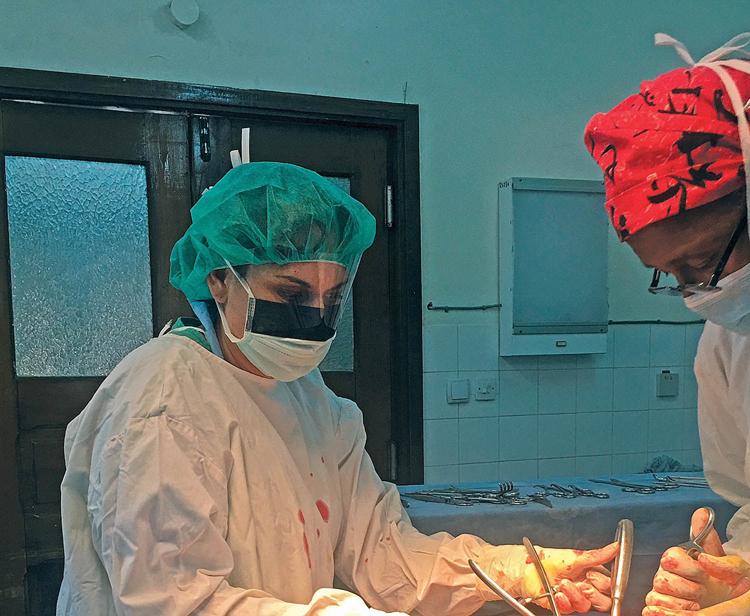 "Everything they do is basically what we do, except they don't have the equipment that we have," she said, referring to Madagascar. "Nobody uses narcotics there. If we're repairing a hip fracture from a car accident, they're taking Ibuprofen."
Doctors who attend the mission have to pay their own way, and often times contribute money so patients can receive certain treatments. Salazar recalled a time on her first mission in Madagascar when her team all pitched in so a woman with a potentially cancerous mass on her hand could receive treatment.
Salazar also helped translate while in Guatemala, translating complicated medical terms from Spanish to English.
"She's always happy, always smiling," Medical Missions Team Board of Director Joel Holcombe said of Salazar. "I kid you not, she was up at 5 a.m. every morning, getting people up for Zumba (classes)."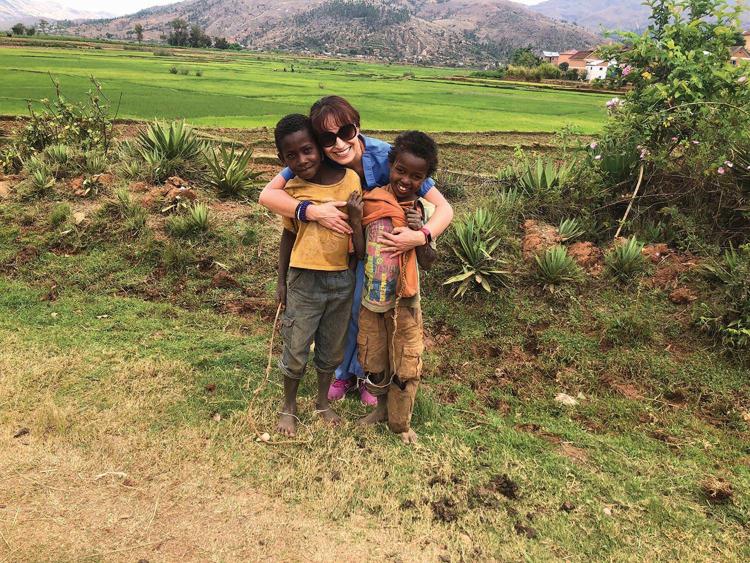 Salazar said she plans on going on more missions in the future. When she's not working or serving on the Board, Salazar said she likes to listen to heavy metal, explore the outdoors and play with her three dogs. Most of all, though, she enjoys spending time with her family. 
"I grew up in a very loving family," she said. "There was always love."