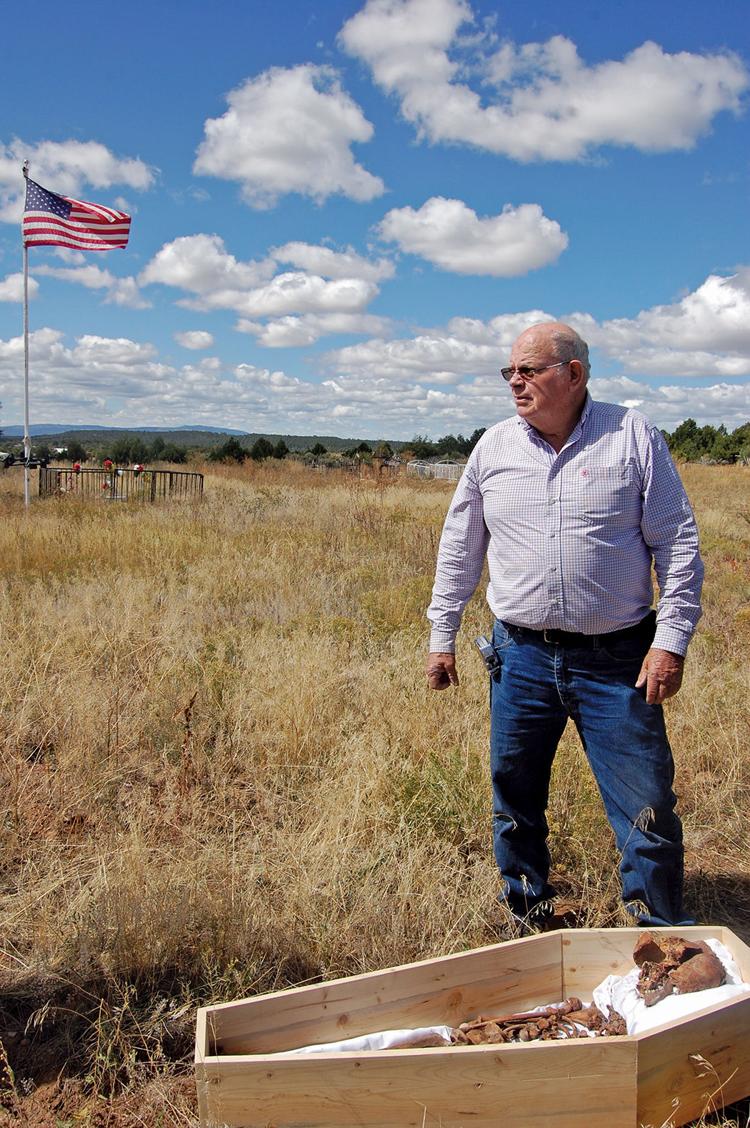 Two of Roland Hart's nephews dug up his bones Sept. 27, 102 years after his death.
Dallas O'Connor, a tall round man, and Donovan Bridges, a short stocky man, stood at the edge of a hole beside the Cebolla Catholic cemetery. They watched the pit grow deeper as a construction worker clawed out the earth with a backhoe. 
Whenever they spotted what they thought was a bone they passed it to Jim Martinez, the director of Rivera Family Funeral home, who, wearing a suit and a neatly-trimmed goatee, had arrived in a silver limousine.
They discovered fat chunks of splintered wood, the remains of Roland's coffin, after the backhoe had pulled out more than six feet of dirt.
"It's a rough-cut number!" O'Connor said.
And then a piece of Roland's skeleton, so small and round they wondered whether it was a stone.
And then everyone who had gathered—a cousin-in-law, a friend, another funeral home worker—began to shout.
"Part of a leg!"
"Is that a finger?"
"Teeth!"
"Is that a spine?"
"This is neat!"
"Ribs!"
"If that was his arm, he was a husky kid."
Family legend
According to family legend, Roland had visions that a big ball of fire would overtake him. One day, when he was thirteen years old, he was riding his horse home from helping a neighbor with a chore and a lightning bolt coursed down his body and burned through his right boot. Another neighbor found the boy dead beside his dead horse.
His family, homesteaders who had settled near Cebolla, buried him and placed his headstone a few feet beyond the cemetery's boundaries. They were not allowed to bury him within the boundaries, because they were Protestants, and the cemetery was for Catholics.
Years later Roland's little sister Jessie mentioned to her son Donovan and her foster son Dallas that she wanted to re-bury Roland in the family plot in Poplar, Mont., the city to which the Harts eventually relocated.
The men did not seriously consider her request until their mother had been dead for 20 years and they realized they were getting old and needed to settle their accounts.
"You know how old people go to church a lot?" O'Connor said. "It's because they're cramming for finals."
They phoned the Rivera Family Funeral Home in Española for help and spent the next two years collecting the necessary documents to obtain a disinterment permit from the state of New Mexico. Finally they drove from Poplar to Cebolla in a black pick-up truck with an empty child's coffin Bridges built from pine wood.
Martinez said he had communicated with Roland in prayer so that Roland might help them find his remains in the ground. Martinez placed the bones in the new coffin, arranging them in the shape of a child's skeleton.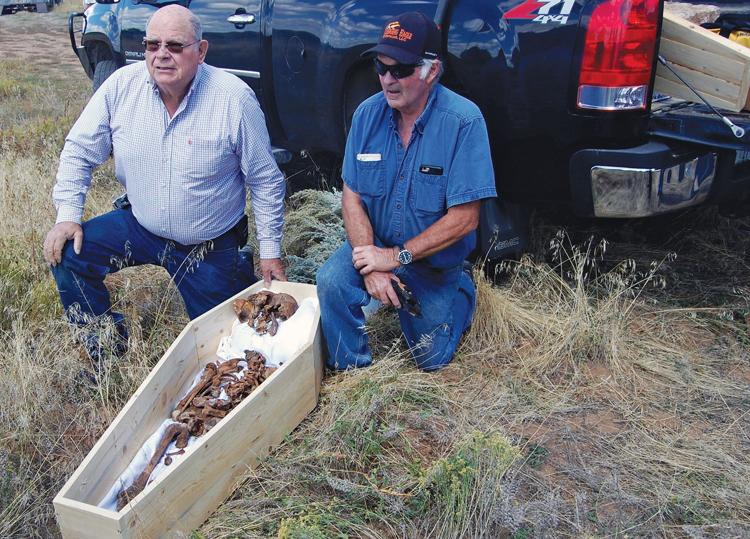 O'Connor and Bridges embraced and thudded each other's backs.
"Well, brother," Bridges said.
"We did it, brother," O'Connor said.
"Yes, we did it," Bridges said.