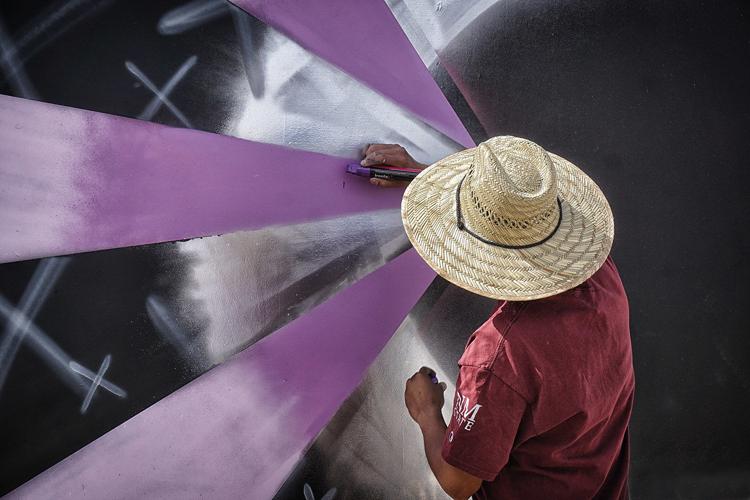 Spañapalooza and Tewa Women United's Environmental Health and Justice Program will join for the first time at noon Saturday for a hodgepodge event targeted at youth with something for everybody: The Bounce Back II: Regeneration Fest.
Longtime annual skate demo/concert Spañapalooza, rebranded last year as Bounce Back, will be folded into an event in Valdez Park including a tree planting, live art demonstrations, healing spaces and Azteca dance.
Regeneration Fest was an existing annual event led by the Environmental Health and Justice Program to work on the Healing Foods Oasis, an agricultural project in Valdez Park.
Tewa Women United Women's Leadership and Economic Freedom Program Manager Nathana Bird said the Environmental Program will host a talk on food and seed sovereignty, an idea that seeds are a public good and not to be controlled or limited.
Environmental Health and Justice Program Coordinator Beata Tsosie-Peña told the Española Community Services Committee the event is also in part a suicide prevention effort. It takes place Sept. 7, one day before the start of National Suicide Prevention Week.
City Councilor and Committee Member Dennis Tim Salazar thanked Tsosie-Peña and Bird for the effort.
"I am really happy to see that you guys are moving forward with helping with teen suicide prevention," he said. "You know, one life lost is too much and at the same time, you know, they just need to be heard a lot of the times."
The city government is co-sponsoring the event by providing basic amenities and access to the park.
Bird said organizers included ideas and suggestions from the Tewa Women United Youth Council into their plans for the event.
"(We are) just making sure that we're bringing in those perspectives into our conversation as well," she said in an interview. "This is an event for them, so we want to make sure that their voices are heard and that they're also in control of some things."
Skate demo coordinator and Youth Council member Joycelyn Shroulote, 13, said a skate contest including BMX bikes and scooters would return from last year's Bounce Back event.
She said participants could sign up the day of the event, but would be required to wear skate gear and helmets.
Bird said they would likely be able to provide some helmets. She said the park will have space for younger children, including a bounce house.
Tewa Women United Youth Coordinator Autumn Gomez said organizers invited several muralists and put out an open call for artists to display art or work on pieces.
"There's an emphasis on letting the youth join in or at least be part of the process," she said.
She said they expect appearances from representatives from Project RACE, Northern New Mexico College, Breath of My Heart Birthplace, The New Mexico Acequia Association, and Planned Parenthood.
Bird said other community organizations are encouraged to set up tables to pass out information or do small-scale workshops.
Musical performances at the festival will include Snot Goblin, Macchiato Music, Silence, and Lindy Vision.
Bird said the celebration will close with an Azteca dance.
The event is open to the public and drug and alcohol-free. Bird said pizza, fruit and water will be served.