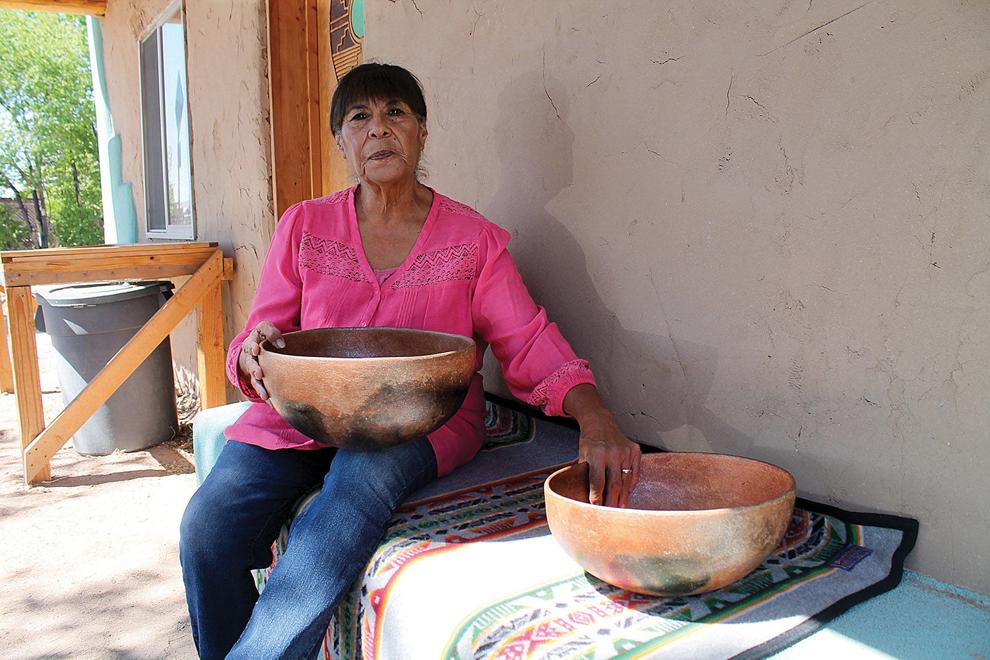 This is the eighth entry in "Women of Distinction," a series of profiles being published weekly this summer about women who make a difference in Northern New Mexico communities.
Marian Naranjo opens the wooden door and steps inside a roughly 15-square-foot adobe house called a buwah tewha, purpose-built for baking buwah, the Tewa people's first ancestral bread.
To her right, a set of two benches in the corner. To her left, large construction buckets full of milled blue corn flour.
In the corners across from her, burn marks from two ovens stretch up the walls toward the ceiling, where the morning sun comes down through a skylight.
Following Naranjo into the building, part of me wants to look through the skylight, but I don't dare take another step forward.
Naranjo, a member of Santa Clara Pueblo, has invited me into this space, leaving all of my reporting equipment back at her house. She tells me to just be present, and not at work.
Since April, Naranjo's organization Honor Our Pueblo Existence and the Flowering Tree Permaculture Institute have invited women from Santa Clara Pueblo and other Tewa villages into this space every second weekend of each month to "bring back one of our most important lifeways," the baking of buwah, a bread for sustenance and ceremony.
Pueblo lifeways, things like farming and Tewa language, for example, at this point have mostly been set aside through centuries of genocide and erasure, or simply forgotten during Spanish colonialism and later American occupation, Naranjo said during one of our early conversations in 2018.
"Our belief system is that we didn't own land," Naranjo said. "We're part of the land. So that was one of the big changes, you know, that came from fences, and ownership, and those kinds of things: capitalism."
What took their place are familiar to anyone living in Northern New Mexico today.
"The elders of our time were born into an era of being pulled so badly — from sovereign, if you may, to money," she said. "Before, it was our elders now who witnessed where everybody needs to be. So everybody participated in food. Then what came here was you have to go to school, get a degree or graduate, so that you can get a job, to buy a car, to go to the grocery store, so you can eat. And they became that, by no choice. It was forced. They couldn't fight what was coming."
What was coming could be any number of things. Naranjo does not think or speak in a linear fashion.
Whatever she was referring to, it can all be symbolized by the institution Naranjo has spent much of her life fighting against: Los Alamos National Laboratory.
In many ways, Naranjo said, what is now called the Española Valley is a place where things happen, but then reverberate throughout the country and the world, like ripples of water on a shoreline.
This phenomenon can be represented by the early Chicano lowrider culture here in the 1950s, or the early signs of the national opioid overdose crisis here in the 1990s and 2000s.
But the most prominent example was the discovery of the atomic bomb in 1945.
"This place is a sacred place and the people who were planted here are still here," she said, referring to the area that encompasses Santa Clara Pueblo, Ohkay Owingeh and the city of Española. "That this is one of the spots where whatever starts here, goes around the world. We know this because of what was last planted in this sacred place: the atomic age. We saw this go around the world. This short, destructive force that's the total opposite of all of our belief."
The women who show a real talent for baking buwah, or a willingness to learn despite difficulty, will be invited again to learn the more advanced techniques, Naranjo said.
"The women stopped making buwah in the early 1900s," she said. "We want to find out who our buwah makers are. Not everybody can do it. It's a woman's work for our community."
When the United States government came to the area, many of their lifeways changed, she said.
"In order for our culture to not disappear, it was vital for many traditional lifeways to be practiced," Naranjo said. "So it was a conscious effort to bring this back."
Right next to the buwah tewha is a larger building: the kwi tewha, the woman's house.
Inside, benches line the walls. In the middle of the room, there is a centering of four ears of corn, a figure of a Pueblo woman, and a shallow hole in the floor filled with white corn flour.
To the right, a large buffalo hide hung from the ceiling near the wall. In the corner on the floor, another shallow hole with white corn flour.
In the far corner, a large bowl filled to the brim with bone white corn. Next to it sits a smaller bowl with corn that had been milled in the days before.
Above them hangs a set of what looks like animal bones, which Naranjo said were a gift to use in ceremony.
Across from where Naranjo and I sit, beneath the benches, are large stones called mano and metate used to mill the corn into flour.
"There used to be just two stones, for my friend and I," Naranjo said.
Now there are seven or eight stones brought from around the area by women who have come here to make buwah.
Light from the hot summer day in Santa Clara Pueblo is bright coming through the high, narrow windows on each wall of the adobe. The interior of the adobe feels much cooler than outside.
This building, Naranjo said, was made with the hands and feet of scores of Native, Hispano and white men, women and children. Over the course of about two years, different groups of people gathered here to build it.
Eventually, the women found that they were very good at mixing clay with their feet into bricks called adobes. Naranjo said the men did not like mixing the clay but they did get something special out of carrying the adobes to their places to dry.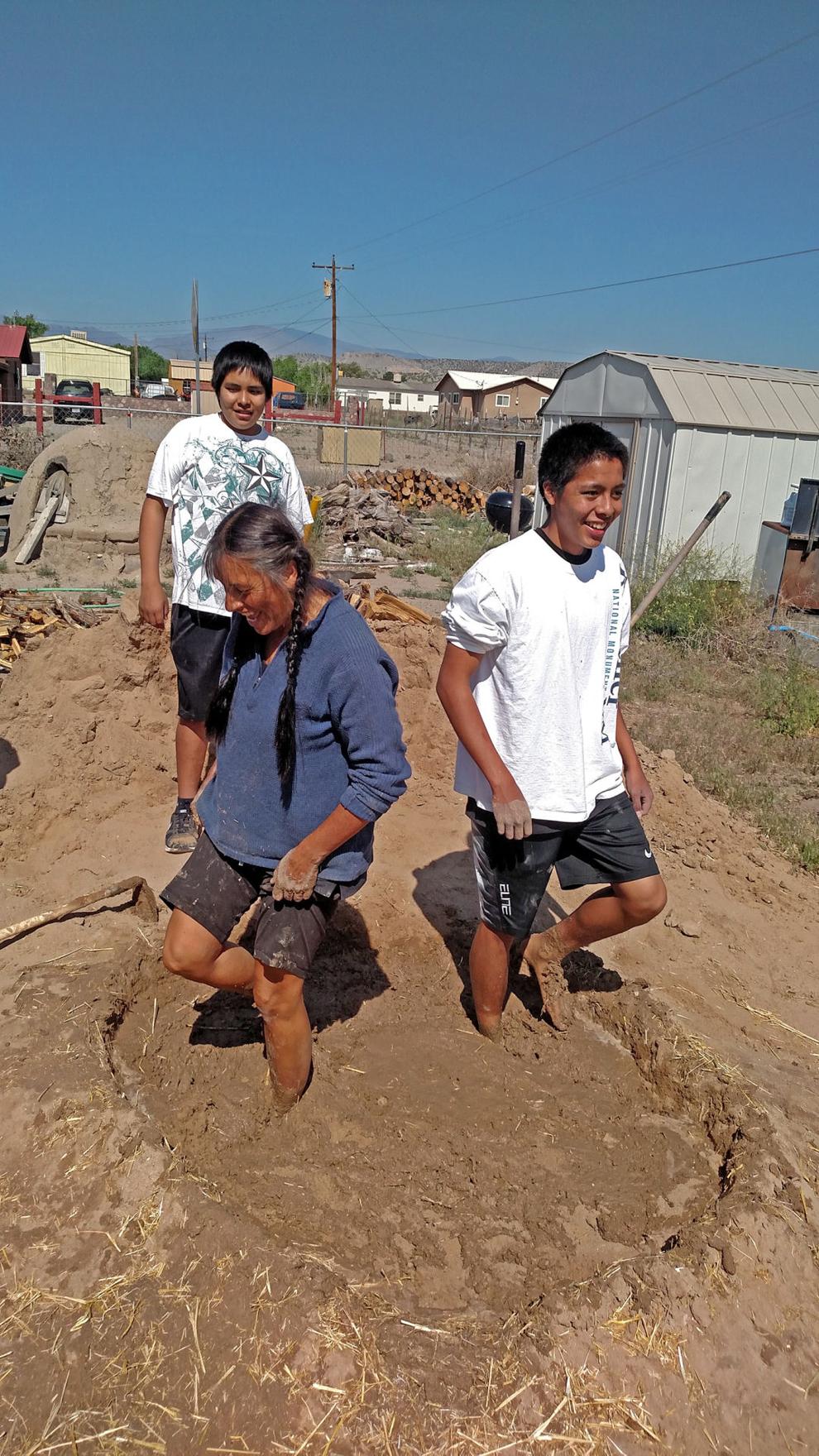 Some time during the construction, Naranjo said, a group of men from a substance abuse treatment center came to help with the construction as part of their therapy.
"I saw these men carrying the adobes, cradling them in their arms like babies," she said.
Now, the only men allowed here are invited. And when indigenous women come here to make buwah, no men are allowed.
'A common language'
Roxanne Swentzell, a sculptor from Santa Clara Pueblo, was one of the roughly 60 people who helped Naranjo build the two women's houses for making buwah.
Before the construction started, Swentzell said she and Naranjo started researching the traditional or pre-contact diet.
"From there, we were learning more about the foods, and one of the foods we re-remembered is the buwah, our traditional ceremonial bread," Swentzell said.
So the duo went to a class in Pojoaque Pueblo where they learned how to make the bread again, and wanted to bring it back to Santa Clara Pueblo.
"We began to collect the pieces, the cooking stones, and starting the house," Swentzell said. "I was the builder on site. When we got up to the roof, I hired two guys to help me with putting the vigas (wood poles) and the roof on."
She said they gathered as much community support as they could in building the houses, including students who helped mix the clay into the adobes.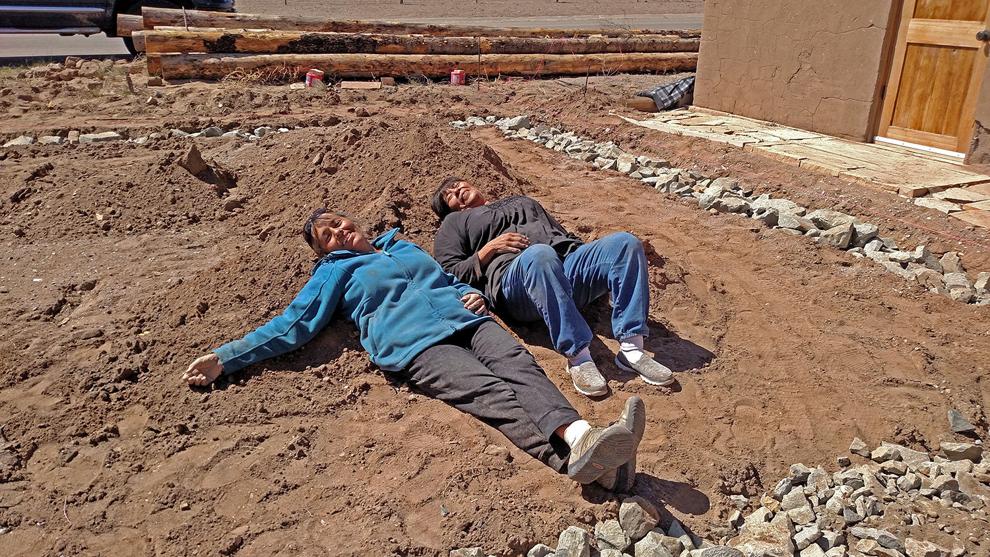 She met Naranjo when Swentzell was in her 20s during a language class.
"She struck me as amazing," Swentzell said of Naranjo. "She speaks from her heart and she has a spiritual quality to her that cares about the community deeply. She is able to speak about things in a very graceful, beautiful way, that is thoughtful and from a good place."
Swentzell, who works with clay like Naranjo, said pottery is a common language.
Naranjo said she learned how to make pottery as a part of a process of learning her own spirituality and worldview through her mentor, Christina Naranjo, the matriarch of a family of widely popular potters who died in 1980.
"She shared so many stories with me, that I thought at the time were just stories, but it became my walk," Marian Naranjo said. "It made so much sense, what she was teaching me, especially about Los Alamos, the atomic age, us being the first caretakers, how powerful those symbols on the pots that the archaeologists had dug up."
Christina told Marian about the major symbols found on pueblo pottery. The bear paw is the walker and keeper of the land, the avanyu is the protector and controller of the water and the feathers are the keepers and controller of the sky.
"The air, the water and land was our purpose for being planted here to, take care of the Creator's gifts, because if we don't take care of that, it's not gonna take care of us," Christina told Marian. "Our pottery is like books."
"One of the things that Marian works with is making sure we remember those things, the importance of why we do what we do," Swentzell said. "And the spiritual aspect of whatever it is we're doing as traditional people."
Swentzell said Naranjo and other indigenous people around the world are working on projects to reconnect to cultural traditions is vital to their survival.
"We may all need to know these things if the system falls apart because I feel like we're on shaky ground, given the state of the world," Swentzell said. "These old knowledges were set in place and were sustaining communities for thousands of years. These are important things to hold onto and to re-remember."
Beginnings
Marian Naranjo was born the eldest of eight children in 1950 at the Tooele Army Depot in Utah, to her mother Lyla Naranjo, a housewife whose family is from Taos Pueblo and the Crow Indian Tribe in Montana, and her father Raymond Naranjo, an Army private from Santa Clara Pueblo and later an officer for the Bureau of Indian Affairs for the eight northern pueblos.
Raymond Naranjo also served for one year as lieutenant governor of Santa Clara Pueblo, the Santa Fe New Mexican reported.
When Marian Naranjo was six or seven years old, her father drove her up the hill, where she saw the gate to Los Alamos.
"There was this tower, with guys standing up there with machine guns," she would later tell a documentary filmmaker. "I wasn't really scared, only that it was a time that I was born into."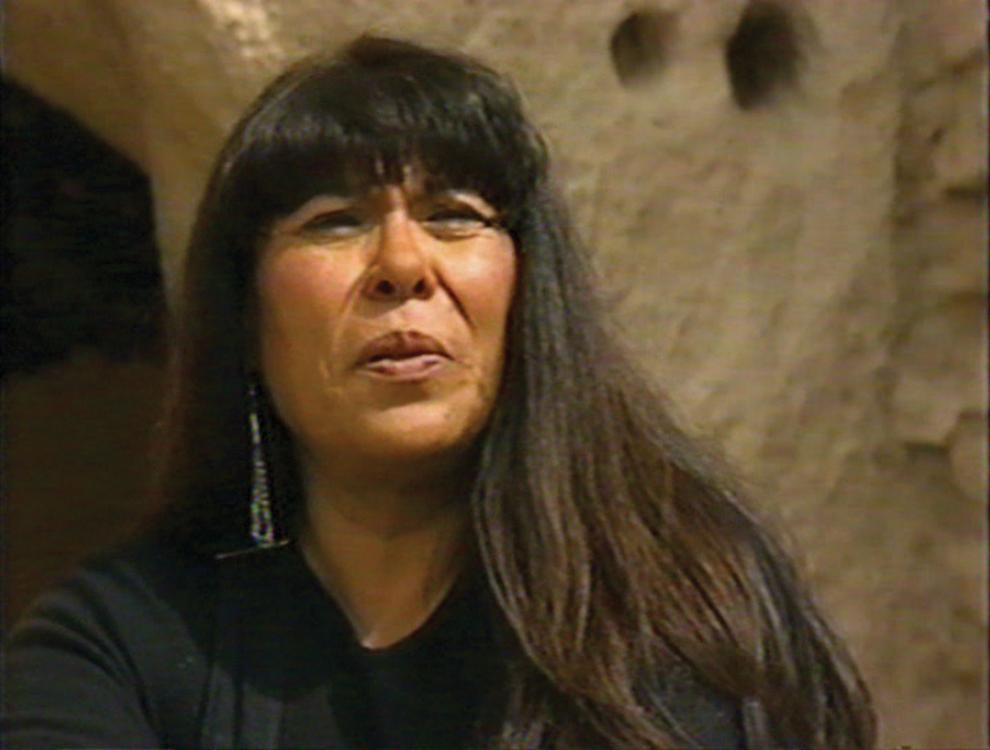 While attending Española High School in the late 1960s, Marian Naranjo wrote an essay on why she wanted to become a nurse. Her parents had instilled in her a desire to follow the traditional American path of education to get a job.
She graduated as a Hornet in 1968.
That summer, she worked as an intern for the Lab, going up and down the hill daily to work in dosimetry, measuring doses of radiation.
That fall, she went to the University of New Mexico to study nursing, and got involved in the American Indian Movement, and helped get the first Native American studies program in the country established there.
But she says the movement for the liberation of indigenous peoples has improved since then. When she was involved, men and women were largely separated. While the men went to take over Alcatraz in San Francisco, the women were left behind, Naranjo said.
Instead, Naranjo went to help start a youth program at the Indian Center in Los Angeles.
Single mother
Marian spent many years of her life as a potter, raising four children on her own after her first marriage to a physically abusive man, whom she later learned was an undercover narcotics agent.
Her first marriage lasted 13 years, and by the time it was over, her children were aged 2, 4, 6 and 8. She raised them alone.
Her grandmother, Marina Naranjo, was a potter, and Marian took after her, with Christina's help.
"We didn't always have food," Marian said. "It was very hard making a living off of pots and working as a single parent."
Her son Raymond would walk the whole village to find apple trees, and people's gardens. One day when Marian and the others went to hunt in the canyon, Raymond did not want to go, and when they returned, he had cooked an entire Thanksgiving meal for them.
He is now a chef at Angel Fire Resort Country Club.
"The internal reasons didn't come out until years later, his truth, that he never wanted to be hungry," Marian said.
They fired their clay pots using horse manure cleaned from the stables at the Honstein Ranch off McCurdy Road in Española, she said.
When Raymond had grown, gotten married and was searching to buy a house with his wife, he found a property near a ranch and said, "It smells like gold, it smells like money."
"I swore I would never leave this house, Santa Clara, I was planted here," Marian said. "And that's how I raised my kids, is doing pots."
She started wholesaling Santa Clara Pueblo pottery in Arizona, Colorado and Albuquerque.
Something Marian's youngest son told her as a boy has stuck with her over the years.
"Mom, why do we have to go to school, and get a degree or paper that says you went to school, to get a job, to buy a car, to go to the store to eat?" he told her. "Why can't we just eat?"
Marian sees these steps in what could be called the "good life" as obstacles to survival.
One of the pueblo lifeways Marian has been trying to bring back is the "pre-contact diet," the diet which indigenous peoples ate before colonization.
Marian said making their own food and having sustainable sources of food are one way pueblo people exercise their sovereignty.
Rio Arriba County Health and Human Services Director Lauren Reichelt has worked with Marian for years through the Rio Arriba Community Health Council.
They first met at a conference around 2009, where Marian struck Reichelt as a knowledgeable, traditional and well-spoken woman.
The biggest project on which they have collaborated was an event in 2016 to raise awareness about the high rates of diabetes among indigenous people.
Marian, Reichelt and local activist Roger Montoya organized the walk where children, people on scooters, parents with strollers and people in wheelchairs moved however they could from Santa Clara Pueblo to the site of the planned Food Hub project.
The Food Hub never materialized, but it established a number of relationships between Health Council organizers and members of local tribes, which along with other efforts have helped make local social services available to more people living in the pueblos, Reichelt said.
"She was working really hard on re-establishing the Native diet, and other practices like running as a solution for obesity," Reichelt said.
"I'm just so glad to know her, she is an extraordinary person," Reichelt said of Marian. "She has a great energy, is always concerned about other people and I have learned a lot from her."
Through her work with Communities for Clean Water and Amigos Bravos, she helped establish the individual industrial stormwater permit which, according to the U.S. Environmental Protection Agency, is the strongest in the nation.
The permit was issued Nov. 1, 2010 as part of the settlement of the Clean Water Act lawsuit, and requires the Laboratory to meet stormwater management requirements at more than 400 legacy sites.
Joni Arends, co-founder and executive director of Concerned Citizens for Nuclear Safety (CCNS), said she met Marian when she returned to the group in 1998.
At the time, Marian was working with the group to settle a lawsuit it had filed against the Laboratory because it was releasing radioactive material into the air, a violation of the Clean Air Act.
That settlement resulted in funding for the Community Radiation Education Project, which paid for educational programming in pueblos about the radioactive contamination.
"When we filed the suit, the Lab was denying their emissions into the air through their stacks from their industrial facilities," Arends said.
She said Marian has exceptional knowledge and understanding of the local area, cultural knowledge and certain mannerisms needed to do outreach to pueblo elders.
"I participated in their mannerism, and it did not feel good, on some levels," Marian said. "My part in it, I really believe it helped activism become more credible, with research, instead of just putting things out there."
Some people would comment at the time that "the tribes aren't interested" in taking part in the activism to protect the environment from the Lab, Marian said.
"Well, there was a death, if there's deaths in the villages, don't expect tribal leadership to come to your meeting," she said. "You need to learn our mannerism and be respectful to that, and know what our calendar looks like, if you really want tribal participation. It's not that they don't care."
Arends said Marian gathered 144 pueblo elders for a meeting at Picuris Pueblo to reach a consensus to protect the sacred area on which the Lab was built.
"As always, Marian's work opens the door to a whole different level of conversation," Arends said.
Tribal members submitted comments in opposition to the Bush administration's plans, Arends said, which went into the federal register.
"So Marian's work has strengthened the government-to-government relationship between the Lab and certain pueblos over these many years," Arends said.
One example of that, Arends and Marian said, is how the meetings between tribal members and the federal Department of Energy have been conducted over the years.
Marian convinced Department officials to allow for opening and closing prayers for each meeting and public hearing related to environmental issues at the Lab.
In addition, they started giving tribal members space to place their centering objects in the meeting rooms, which are culturally important symbols of recognizing place.
Arends said Naranjo is a loving person who is willing to share her wisdom and groundedness.
"It's a joy to work with her," Arends said. "Such attention to detail, knowing what will work and what won't. One learns over the years to just listen."
Water is life
For about five years, Marian Naranjo ran a shop in Santa Clara Pueblo called Singing Water Pottery and Tours, where she sold her pottery and took tourists on river excursions.
One year, early in the tour season, Naranjo went up to Puye Cliffs to make sure the trail was clear for the group planned to come that day.
She found large rocks had fallen on the trail, where one of the houses had been built out of the cliff dwellings, and she thought, "I'm gonna have to end the tour over here."
"I looked up and I saw this avanyu on the wall," Naranjo said. "I was the first person that got to see it. I told the keepers and everybody, 'Come up here and look at this, you know.'"
As part of the outreach to Native communities funded by the settlement with the Laboratory, in September 2000 Naranjo took part in a documentary called "Shadow on the Hill." She was allowed by the governor of the pueblo at the time to photograph the avanyu and tribal elders for the film.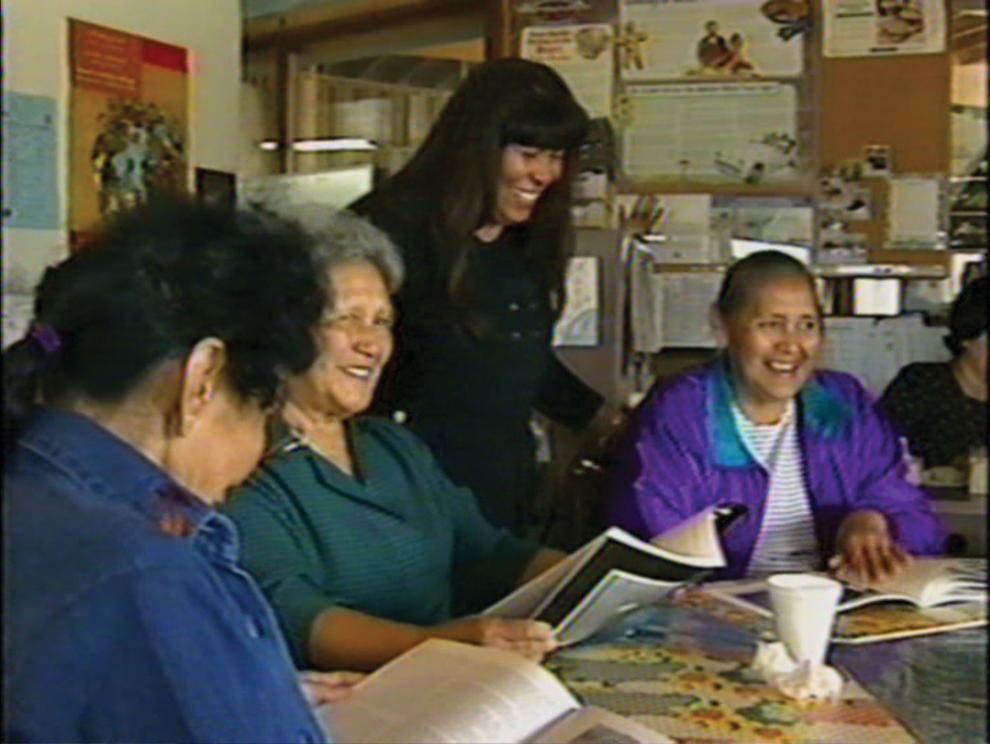 Naranjo was never comfortable participating in the public demonstrations that were common in Los Alamos in the 1990s, but when she learned that Martin Sheen planned to get arrested during an upcoming protest, she was given the responsibility of reaching out to him.
"My whole purpose was to connect to Martin Sheen and ask him if he would narrate our video, and he did," she said.
Sheen is shown in the film smiling while being arrested at the event. He was one of 400 protesters who held a rally at the Lab to oppose the Bush administration's push for larger production of nuclear pits and the abolition of nuclear weapons in general, the Los Angeles Times reported.
Sheen and about 75 others were briefly detained, the newspaper reported, on Aug. 8, 1999, the 56th anniversary of the U.S. bombing of Nagasaki, Japan, three days after Hiroshima.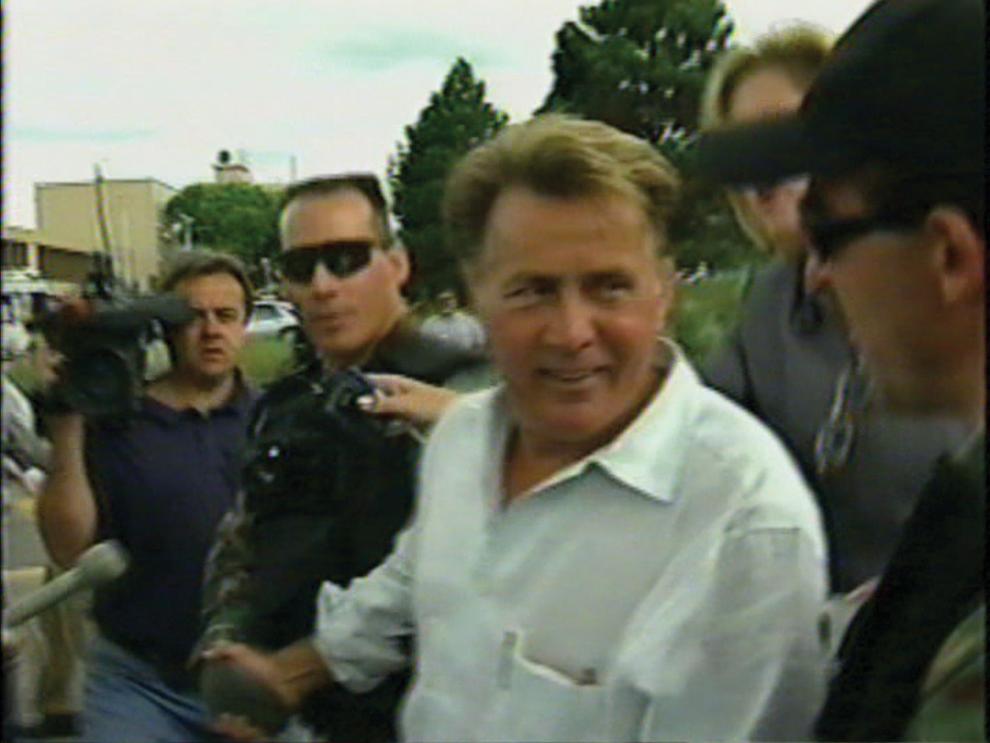 The education efforts allowed CCNS to work alongside the pueblos to prevent the second Bush administration from expanding pit production at the Lab on three separate occasions, Arends said.
"We defeated all three (proposals)," Arends said. "We beat 'em. But it's back."
Arends said the federal government still plans to expand pit production at the Lab.
"The Department of Energy recently announced they're gonna do the National Environmental Policy Act process for expanding pit production again, so we'll do the same thing," Arends said.
Congress has mandated the National Nuclear Security Administration and the Department of Defense to produce 80 nuclear bomb "pits" per year by 2030, the Albuquerque Journal reported in May.