Updated on Aug. 4
Muhammad Afzaal Hussain, 27, who was the planning and land use director for the City of Española, was shot and killed near his home in Albuquerque on the night of Aug. 1. 
The Albuquerque Police Department is investigating Hussain's death as possibly connected to the recent shootings of two other Muslim men in the city.  
At 9:19 p.m. on Monday, Albuquerque police were dispatched for a shooting to Cornell St SE and Lead Ave SE, where they found Hussain dead, Albuquerque Police Department Communications Director Gilbert Gallegos wrote in a statement. 
"Officers arrived on scene and located one male subject deceased on the sidewalk," he wrote.
The shooting occurred less than one week after Aftab Hussein, 41, was killed on Rhode Island St NE, less than four miles away. Last November, Mohammad Ahmadi, 62, was killed outside the Ariana Halal Market & Cafe. 
During a press conference outside the Islamic Center of New Mexico on Aug. 4, Kyle Hartsock, Deputy Commander of the department's Criminal Investigations Division, said all three killings — in which victims were "ambushed" and shot without warning — could have been committed by the same person. 
"Our homicide detectives and our investigators currently believe there is a strong possibility that the same individual committed all three of these crimes," Hartsock said. "While we won't go into why we think that, there's one strong commonality in all of our victims, their race and religion."
Hartsock asked for the public's help in identifying such a suspect, saying these types of investigations typically depend upon such a tip "that helps turn the tide and identifies our suspect."
"My guess is someone out there either directly knows who did this and can provide that information to police or they noticed some behavior changes in someone around them that they think could possibly do this," Hartsock said. "Two of these murders happened in the past week. Whoever is doing them is changing up their lifestyle, their behavior, something is off more than usual, and we want you to let us know why you think that is."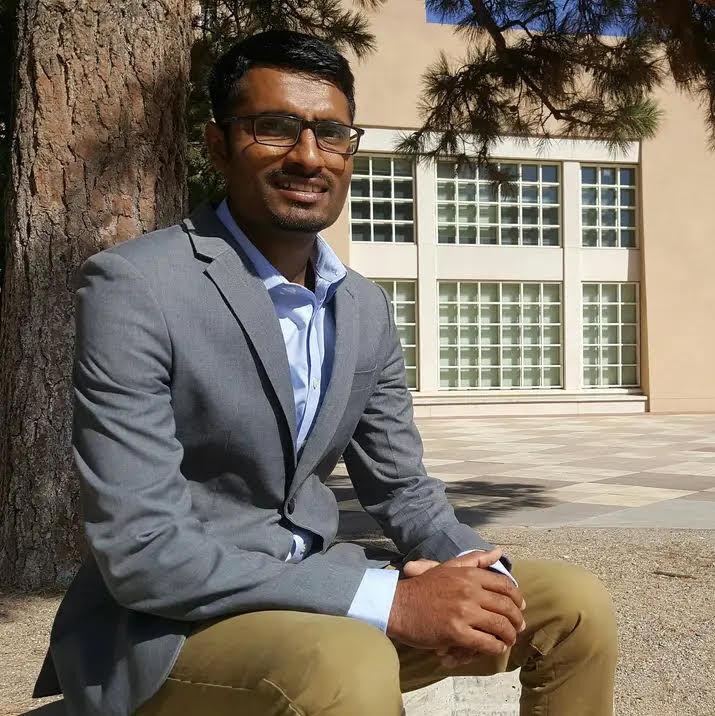 Hussain's death came the day before he would have celebrated his first anniversary of working for the City of Española. He lived in Albuquerque, on the southeast side, commuting to Española each day for work. 
"It appears Muhammad was randomly targeted in a senseless act of violence," Mayor John Ramon Vigil stated in a press release. "Our City staff has lost a member of our family, and we all have lost a brilliant public servant who wanted to serve and improve his community."
Hussain received a master's degree in human resources management and personnel administration from University of the Punjab in his native Pakistan. He then studied community and regional planning, physical planning and community development at University of New Mexico in Albuquerque. 
In 2021, Hussain worked as a field organizer for U.S. Rep. Melanie Stansbury's successful congressional campaign. 
"New Mexico is lucky that Muhammad chose our state as his home after immigrating from Pakistan," Stansbury stated on Aug. 3. "His contributions to our communities stretch beyond what we can say here. As a dedicated urban planner for Española, he was committed to making our public spaces work for every person and cleaning up legacy pollution. Our team was privileged every day to witness firsthand Muhammad's passion for lifting up the voices of our community members and celebrating their contributions, accomplishments, and dreams."
Hussain was the director of Española's Planning and Land Use Department for about one year. Those who worked with Hussain noted his sense of humor as well as his constant willingness to help. 
"He's going to be greatly missed," Planning Commission Chair JR Trujillo said. "He was such a kind, loving individual. We're all heartbroken." 
Javier Sánchez, former mayor of Española, recalled Hussain's impressive knowledge of city planning as well as his vision for a city "with unique challenges and a lot of potential."
"He was always so positive about the changes we could make that would help put the city in the right place," Sánchez said. "Everybody loved him not only because he was personable but also because he was so energetic in how he wanted to accomplish great things for the City of Española. He was working with directors from other departments — like water and wastewater — and on grants ... he became a pivotal piece of that fabric."  
A GoFundMe fundraiser organized by city Community Development Coordinator Lou Baker in coordination with the Hussain family has raised more than $10,000 as of Aug. 4. 
"The monies will help cover funeral costs and provide a financial cushion since Muhammad was the sole family provider," the fundraiser webpage states. "In addition, Imtiaz, Muhammad's brother, says Muhammad loved education. He believed education empowers a person and a community. Funds will be used to honor Muhammad by funding a school in Pakistan for poor children."
The City of Española offered grief counseling to all staff on Aug. 3. City Manager Jordan Yutzy said Hussain was preparing to move into the city-owned property Prince Carter Ranch. 
Days before his death, Hussain expressed enthusiasm for his plan to move to Española. He said he was looking forward to helping the city grow and that he was planning to work for the City of Española long-term.
"I just want to do anything I can to serve the community," he said. 
This story is developing and will be updated with more details as they become available.