What started in 2015 as a campus-based, regional movement for material change for Native people in New Mexico now hopes to spread across the state, as a coalition of Native and non-Native activists connect their struggles with local organizers in the North grappling with the history of conquest embodied by the Española Valley Fiesta.
While the Española Fiesta's detractors have long focused on the legal and financial aspects of the Fiesta's management, critiques of its underlying history and economics have largely been limited to acts of resistance in classrooms, letters to the editor, and the occasional graffiti or bronze foot severed from a statue.
Taking inspiration from formal Pueblo boycotts of the Santa Fe Entrada pageant in the late 1970s, a new generation of activists has reinvigorated the public debate around the event, which boiled over during a high-profile protest in 2017, along with an unprecedented and previously unreported act of humility by Ralph Martinez, who played the role of Don Juan de Oñate that year.
Standing before the Palace of the Governors during the Santa Fe Fiesta Parade, Sept. 9, 2017, the day after the Entrada, Martinez apologized for Oñate's actions and prayed with Dezmund Marcus, who was playing the role of his Native Scout.
"We walked without horses," Martinez said in an interview recalling the event. "I walked without my helmet and sword, I turned it in. We decided to walk to show that we travel down the same path, go through similar struggles, together."
Others in what is now called the Española Valley took notice of Martinez's emphasis on solidarity between New Mexicans of Native and Indo-Hispano descent.
"Last year, a lot of things changed around Ralph Martinez," Marian Naranjo, founder of Honor Our Pueblo Existence, said in an April 18 interview. Earlier in April, she was brought to tears by the Española City Council's vote to create a new city-sanctioned group to organize the Fiesta.
Martinez is now interim treasurer of the group, called the Community Relations Commission.
"Ralph wondered why the pueblos and the city never came together," Naranjo said. "He is a tool to move the energy. He and I went into prayer together, and he embodied the spirit of Oñate. He, like others, was caught up in the now, even with all of the unsettled historical traumas."
City on Tewa land
She told an audience, May 17, in the Misión y Convento at the Plaza de Española, that they were actually sitting on Tewa land.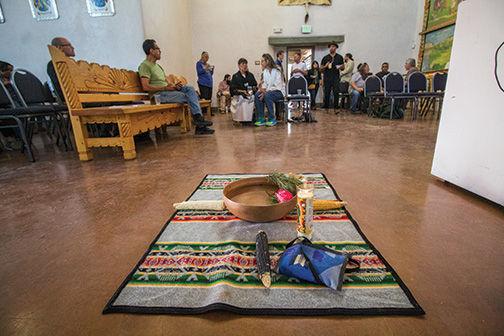 "Tewa territory is our church," she said. "We were taught, from Creator, that there is an order to the universe. And that order was instilled in the people, and that's how their lifeways were carried forth. Our whole job, our purpose, as indigenous to here, are the caretakers. We were given the gifts of air, water, land and each other, and if we don't take care of those gifts, it's not gonna take care of us."
Two of the eight people arrested in 2017 listened to Naranjo in the audience, Jennifer Marley, of San Ildefonso Pueblo, and Trent Ward. Marley, a lead organizer with The Red Nation, said the gathering in Española was exactly what she wanted to see develop out of her work in opposition to the Entrada.
They met other activists, scholars and residents in the Misión for "Reconciliation & Re-Remembering: A Community Dialogue."
The event was a resolana, or a meeting space for dialogue. Former Northern New Mexico College history professor Hilario Romero said a resolana is the only way to reconcile the mythical celebrations and the actual past.
"We need to understand what happened, we need to know how it happened, why it happened and how it affected people," Romero, a former New Mexico state historian, said. "We need to celebrate and accept differences, we need to connect with a culture of respect, and we need to open a New Mexico State Office of Reconciliation."
Luis Pena, the event's lead organizer, said the conversation is not over.
Marley was introduced by Elena Ortiz, a member of Ohkay Owingeh who grew up in Santa Fe, where, as an elementary school student, she refused to take part in the Fiesta outreach program.
"We will be in Santa Fe every year, until they abolish the Entrada, until we learn to celebrate resistance, not conquest," Ortiz said. "We don't honor our ancestors by dressing up and parading, we don't honor them by erecting statues. We honor them by making the world a better place than we found it."
Fighting insurgence
One alternative symbol is resistance, as illustrated by a story told by Porter Swentzell, assistant professor of Indigenous Liberal Studies at the Institute of American Indian Arts and a member of Santa Clara Pueblo.
Swentzell said Native and Hispanic New Mexicans banded together to fight against Spanish domination in 1837, when Albino Pérez, appointed by Antonio López de Santa Anna, sought to impose laws on behalf of Spain, that undermined local self-rule.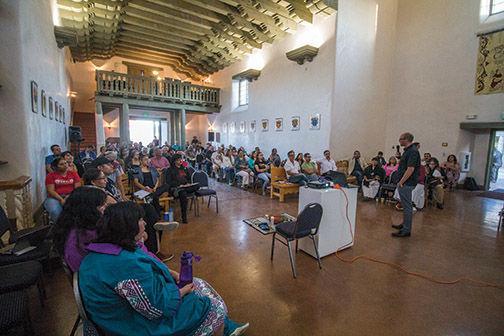 Locals, including tribal members of Santa Clara Pueblo and Ohkay Owingeh, gathered at Santa Cruz de la Cañada to draft a proclamation defying the laws on Aug. 1, 1837 that read that they would "defend our country to the shedding of our last drop of blood to obtain the victory sought after."
"They were saying, 'This is our place here, and there's outsiders coming in telling us how to do things,'" Swentzell said. "They all joined together in this moment."
Standard historical accounts of the period overlook the close relationship between Pueblo and Hispanic communities in combating threats to their way of life, he said.
"We can choose to celebrate things that are divisive in nature, we can choose to celebrate something that represents conquest, invasion, but this will be the same as celebrating any kind of conquest or invasion, like the 1939 invasion of Poland from Nazi Germany," he said.
The connections between fascist tendencies in Spanish domestic politics and Spanish foreign policy in New Mexico was a major theme of multiple speakers during the resolana.
For example, Angelico Chavez's 1974 book "My Penitente Land: Reflections on Spanish New Mexico," can be found on many New Mexicans' bookshelves. It helped convince many Indo-Hispano New Mexicans that they are Spanish, University of New Mexico associate professor Michael Trujillo said.
Trujillo said Chavez "really liked" Spain's fascist dictator Francisco Franco.
In a letter to U.S. Sen. Dennis Chavez of New Mexico during the Spanish Civil War, Angelico Chavez wrote, "I am for Franco as a Christian democrat and because of the blood that runs in my veins and yours," according to literature professor Ellen McCracken's book "The Life and Writing of Fray Angelico Chavez."
Moving toward fascism
Marley said the essence of Spanish colonization and U.S. occupation of New Mexico is fascist in nature.
"It's really eerie how these parallels are very clearly showing themselves, especially in the wake of Trump's election," she said.
Spain has always been politically divided, and there is no monolithic representation of Spain for New Mexicans to glorify, Romero said.
"We need to stop glorifying Spanish history," he said. "It is moving towards fascism, and so is this country. Believe it or not, it's moving towards this. And these festivals and fiestas, they do not represent the manner in which they were first celebrated, no way. They are a pageantry of mysticism."
Moises Gonzalez, an associate professor at the University of New Mexico, argued the Santa Fe Fiesta was created as "an economic development ploy," with the intent to sell Santa Fe to tourists as a "mythological coming together of cultures."
"What it did now, in fact, is gentrification, slave market wages, and how Native people have to commodify their culture, how Native art is sold on the Plaza," he said.
Arts industry leaders in Santa Fe responded to a resolution condemning the Entrada in 1980 by threatening to prohibit Native artisans from selling their wares on the Plaza, Marley said.
"We're forced to depend on selling our labor, selling our goods, commodifying our culture, for the sake of survival, or the sake of acquiring capital," Marley said. "Which is just horrible, to be put in that position."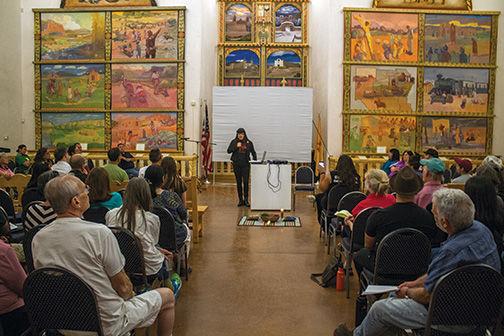 Further north in Española, in 1925, Gonzalez said, the predominantly white city council wanted to create a copy of the Fiesta that highlighted Don Juan de Oñate.
Marley said New Mexicans will benefit from working through these issues of identity, and focusing on their shared identities as working class and colonized peoples.
"This is about settler colonialism, this is about erasing to replace, this is about the acquisition of land, resources and lifeways," she said. "None of us benefit from Spanish colonialism. None of us benefit from U.S. occupation. In their eyes, we're all the same to them, we're poor, we're brown. If you want to call yourself the descendant of a Spanish elite, I'm afraid these institutions you so depend on, won't defend you, when it comes down to it."