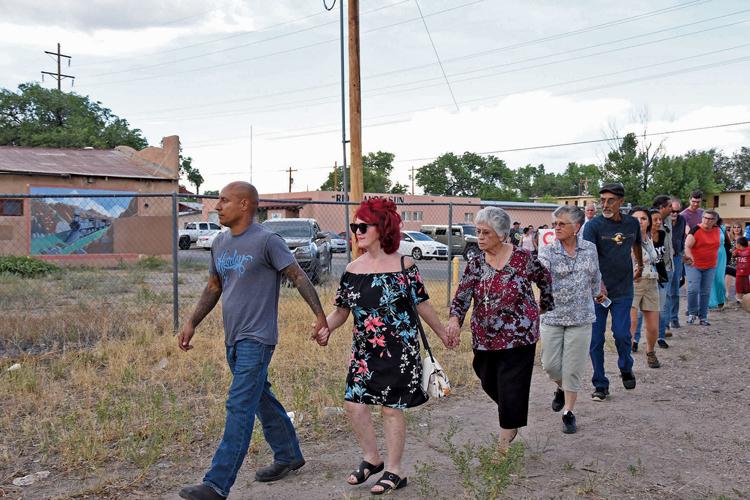 About 70 community members attended a peace vigil to support the proposed Española Pathways Shelter Aug. 1 at a potential location for the homeless shelter on North Railroad Avenue.
The vigil included prayers from multiple faiths, speeches from organizers Roger Montoya and Ralph Martinez and an opportunity for attendees to share their experiences.
Española Mayor Javier Sanchez, who attended the vigil, said in an interview a resolution in support of the shelter is in the works for the City Council's Aug. 13 meeting. He said transitional housing could be a boon to the city's economy.
"The city is trying to help in any way it can," he said. "We're still exploring every option that we can."
The nearest homeless shelters to the city are currently in Santa Fe and Taos.
There is no existing data on the number of homeless people in the city, but an early proposal for the project conservatively estimated at least 50 people are homeless at any given time, according to a previous Rio Grande SUN story. The shelter would have beds for 10 men and 10 women.
Organizers' soft goal is to open the shelter doors Nov. 15. Montoya, United Way of Northern New Mexico Rio Arriba community liaison, said the project began mid-November of last year, after Martinez, who was homeless in Española for six years and now serves as Española Matanza Board President, called him concerned about the effect of the cold weather. Española experiences average lows under 20 F in December and January.
Criminal defense attorney Jose Sandoval, whose home and office are adjacent to the proposed site, in recent weeks erected a large sign reading "No! To Drug Addict Shelter Here" in front of the property.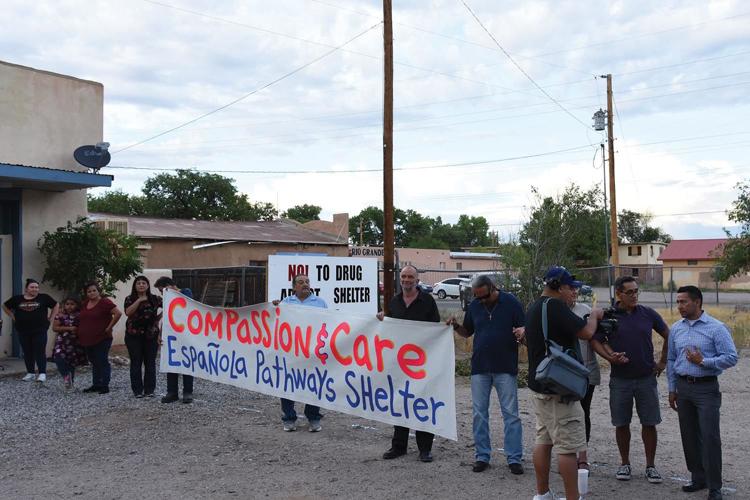 Sandoval said he has lived in his home since 1979 and supports the concept, but fears the consequences of a shelter in a residential area.
"An appropriate location would be near the police station," he said.
Montoya said organizers have canvassed the area and most neighboring residents supported the proposal, but they have faced opposition from some landlords.
A study by the U.S. Department of Housing and Urban Development in 1999 found that while disorderly conduct reports increased around supportive housing facilities, crime rates were unaffected and property values tended to increase after facilities opened.
Montoya said the shelter will require residents to take a breath test on entry and submit to bag checks. If someone arrives intoxicated, they will not be turned away but given medical treatment and forbidden from bringing drugs or alcohol to the shelter. The shelter as proposed would have security services around the clock.
A case management team would work with residents to set daily goals, starting with basics like medical care, detox, mental health services or acquiring legal identification.
He said shelter residents are required to make an effort to progress within five days, however incremental that progression. From there, they would move to things like job training and attaining broader stability.
"Right now we don't have an entry point for any homeless people," he said. "After a week, two weeks, they put their feet on the ground. They have some dignity and some clarity of thought."
They plan to provide legal services, a literacy program, and assistance with clothing and hygiene.
Española Hospital Director Brenda Romero said the Hospital is developing a plan for triage treatment of Pathways residents when necessary.
Montoya said Pathways already has a an agreement with the residential detox facility Hoy Recovery Program, Inc.
He said residents might spend as long as two years in the shelter to achieve true stability, partially due to Española's tight housing market.
"The goal is getting people out of shelters and into permanent housing," he said. "We can't do it alone. One small emergency shelter can't do it all."
He said the former Española Valley Nursing and Rehabilitation Center, which Rio Arriba County is in the process of buying, is another potential site for the shelter.
Martinez said at the vigil they have looked to St. Elizabeth Shelters in Santa Fe as a model.
The New Mexico Coalition to End Homelessness is the project's fiscal agent. New Mexico House Rep. Joseph Sanchez, D-Alcalde, secured $225,000 for the shelter in state funding this spring. Montoya said he hopes this funding will be renewed in the following fiscal year and they plan to apply to the U.S. Department of Housing and Urban Development for grants.
Vigil attendees included Joseph Sanchez, Española City Councilor John Ricci, Rio Arriba County Department of Health and Human Services Director Lauren Reichelt, and County Commissioner James Martinez.
The Pathways team holds public meetings the first Monday of every month. The next will be held 6 p.m. Sept. 2 at Valley View United Methodist Church.