When Tiffani Archuleta walked onto the auction floor at the 66th Annual Rio Arriba County Fair, her large black grand champion County-bred steer did not want to cooperate.
The steer, named Kryptonite, fiercely pulled away from Archuleta's grip as she tried to walk him around the ring. At 1,309 pounds, the steer overpowered the 12-year old as she tried to use all of her bodyweight to get the animal under control.
Although visibly frustrated by the animal's behavior, the auction ended with her selling the steer for $4 a pound.
Fair rules state steers will be paid for up to 1,300 pounds if sold at auction. This means Archuleta sold Kryptonite for $5,200.
Although Archuleta, a student at the Santa Fe Indian School, had some troubles in the auction ring, she was more than successful while competing for the grand champion title and had the unique experience of competing against herself for the championship ribbon in the County-bred steer competition. Her steer named Buba Yager, who she decided not to sell, won reserve grand champion in the category.
"It was exciting and I was kind of nervous because I didn't know what to do," Archuleta said.
The County Fair is hard work for all the students involved in Future Farmers of America and the different 4-H clubs across the County.
While most of the floor at the Abiquiú Rural Events Center is alloted to larger animals, such as the cows, lambs, pigs and goats, tucked in the corner were rows of cages holding poultry and rabbits.
Gavin Robles, a 14-year-old student at Pojoaque High School, won third place for one of the two female turkeys he entered into competition. Throughout the day he would mist the birds with water to help them stay cool in the stuffy building.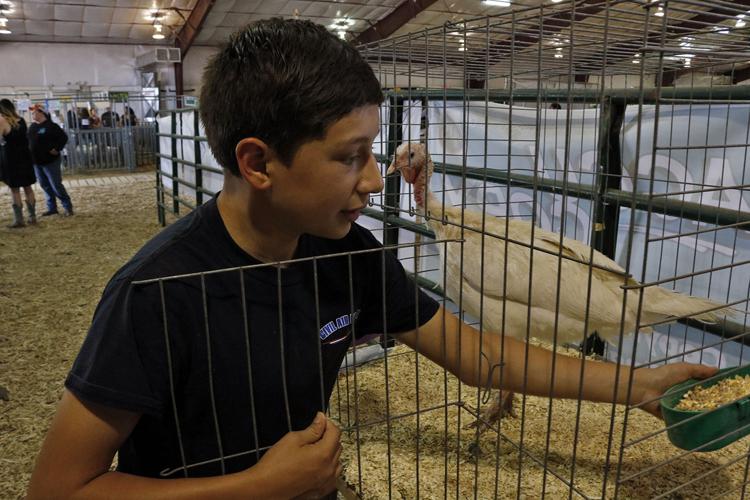 "To be honest, I was thinking of doing all of my turkeys because I have a total of six, but these two were my prettiest," he said.
This was Robles' first time at the County Fair. He was a little bit disappointed by the judging process.
His turkeys are friendly, he said, and are used to being handled by humans. He expected to take the birds out of their cages and put them onto a table to be judged with others in the same category.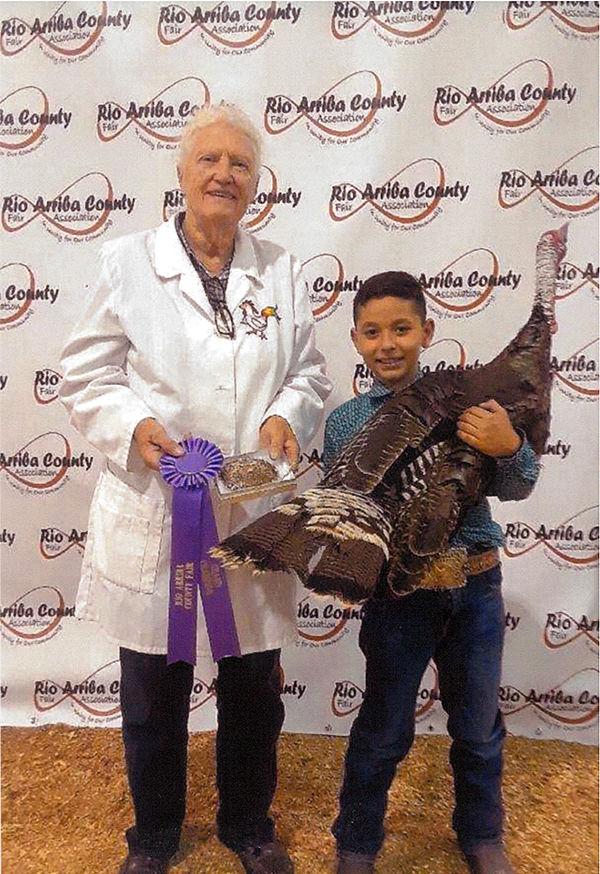 Instead, he said, the judges came to the birds and looked at them in their cages.
Before the auction began, Mateo Leyba, 17, was getting his 243-pound pig ready to step into the ring.
Leyba won first in his class and reserve grand champion in the market swine category.
He said he has raised and shown pigs for about six or seven years, but stopped naming them a couple of years ago to stop himself from getting too attached when it came time to sell the animal.
The pig he had this year was very friendly, and was laying on its side as people put their hands inside the pen to give it belly rubs.
Three-year-old Lacey Jaramillo cautiously stuck her fingers between the pen bars to pet the pig near its snout.
This is Leyba's last time at the County Fair but he plans to compete in the New Mexico State Fair later this year.
"It's been really fun," he said about his experience in 4-H. "I met a lot of people and made a lot of friends. Good luck to all the younger students coming up."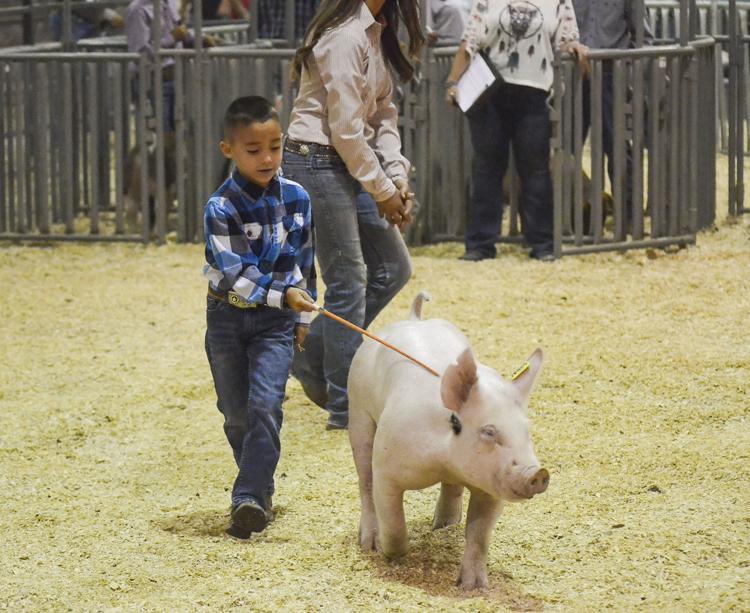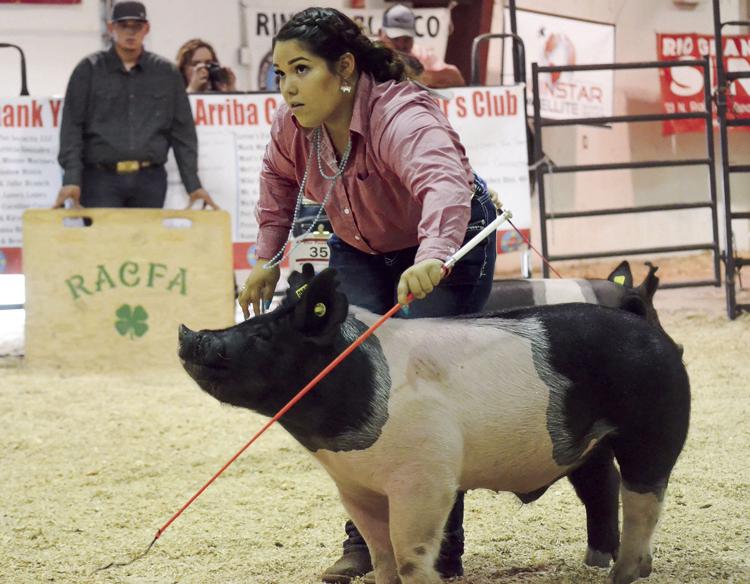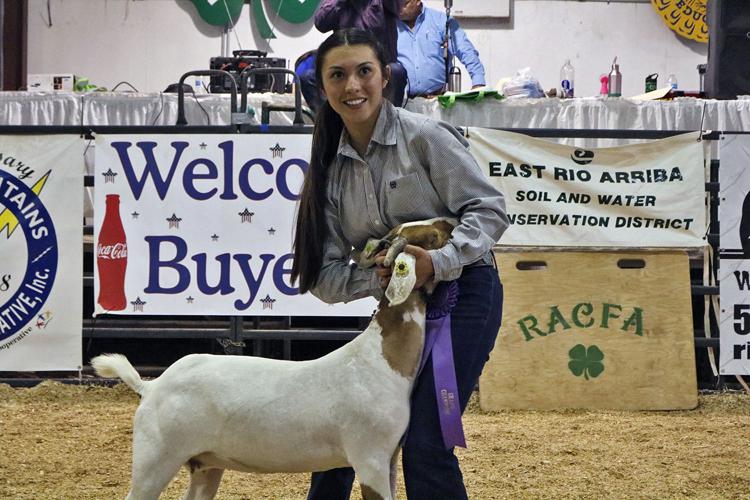 This year also marked the first-ever Community Day in the Fair's history, organized by Ralph Martinez.
"I think it was super successful in opening up that space to different pieces of our culture that lie in Northern New Mexico that are outside of the 4-H world," he said. "It is about bringing the community together to be able to appreciate the different cultures in Northern New Mexico."
Community Day included performances by the Po'Pay Pueblo Dancers from Ohkay Owingeh, performances by students at Moving Arts Española, music by Claudine Padilla Salazar and a lowrider car show by Los Guys Car Club.
Although Martinez organized the Community Day, he had never been to any of the 4-H events. He said he went on a tour of the Fair grounds with Pretty Tough Cattle Women members Sage Faulkner and Angeline Trujillo Vigil.
"This is the type of tradition we want to pass on," he said. "It reminds me of that saying: Give a person a fish and feed them for a day or teach them how to fish and feed them for life"