This is the first entry in "Women of Distinction," a series of profiles being published weekly this summer about women who make a difference in Northern New Mexico communities.
The 1,800-acre Soaring Eagle Ranch is long, skinny and runs parallel to State Road 95 on the way to Heron Lake. Mama cows and calves dot the green fields, hide under trees and crowd around the black bucket with the salt lick inside.
The animals aren't skittish.
When they hear the sound of the four-wheel drive Polaris crossing the irrigated muddy field and up the hill, their heads turn toward its driver: Sage Faulkner.
While a thousand-pound bumbling cow may make some people nervous, Sage stops the vehicle and digs a handful of cake out of a brown sack. The cows lick the treats out of her palm.
"They are cattle, they're not pets, but at the same time you can walk out in the herd and they don't scatter and run to the winds," she said.
Sage and her husband Shane Faulkner have leased Soaring Eagle Ranch in Los Ojos for the last 15 years and raise a herd of Scottish Highland and Angus cattle. They do chores alongside their three children Bayler, 14, Monte, 13, and Keelin, 11.
The Ranch has become an amalgam of places. What some might see as just fields of grass, Sage uses as a classroom for her three children, a laboratory for experiments on alkaline soil and sometimes just a quiet place to collect her thoughts while fixing a fence line.
Her love for her family and her life's work with cattle are inseparable.
"Everything to me is about family," Sage said.
The five of them live in a 100-year-old house under a sweep of trees. Hats dangle off the points of elk antlers hung on the wall by the front door. Sage said the house was built with no solid foundation and moves around and makes noises. Her parents Tuck Miller and mother Robin Renner-Miller live only a short walk away.
Tuck was born in the San Luis Valley. Robin was born in California, but fell in love with New Mexico and never went home.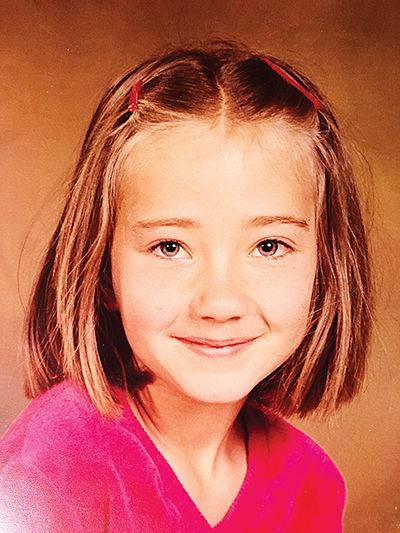 Sage was born on a ranch in Tres Piedras, where she learned her first lessons in agriculture.
"My dad was raising cattle when I was born and actually lost the majority of his herd," she said. "Our family kind of jokes with my folks that losing their small farm, that I learned everything there was to know about ranching from an early age, which is at some point you are going to go broke in it."
Her family bounced around New Mexico, living in places like La Jara, Tomé and Bloomfield.
Tuck trained racehorses, so although the ranch was gone, Sage was never far away from livestock.
"Dad grew up around farming and rodeoing," she says. "My mom always talked about being a California kid and saving up all her pennies to ride dude horses. That appreciation was there."
Sage began showing cattle in middle school when she joined the Future Farmers of America program.
"That is where my, kind of those inner voices that said, 'I want to grow up and be around livestock' were allowed to bloom in a lot of ways," she said.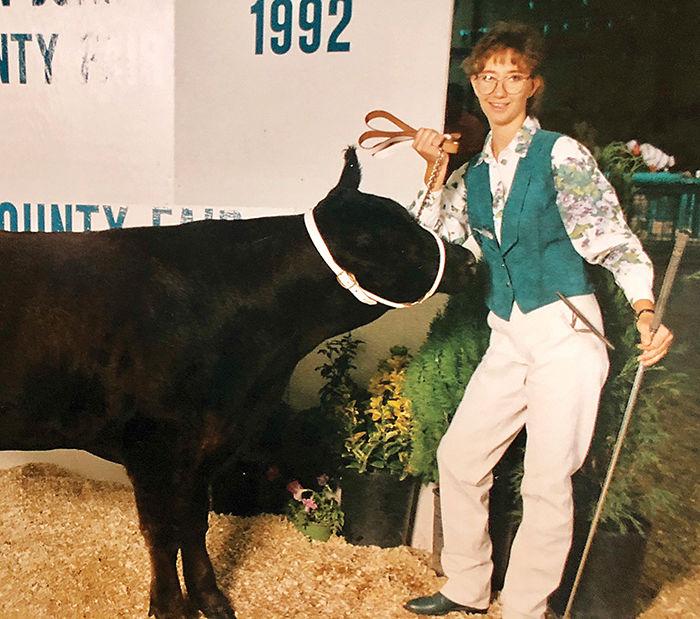 She went from not being able to say her name in front of her seventh-grade class, to a freshman who could speak in public with ease.
But way before middle school, Sage knew what she wanted to do, Tuck said.
"I think she has always been really focused, too," Tuck said, sitting at a small table on a windy May afternoon. "She used to ride around in the cab of the truck with me when I would go feed cows and when she was four years old people would say, 'What do you want to be when you grow up?' and she said, 'I want to be a rancher.'"
People use similar words and phrases to describe Sage over and over again. She's independent. She knows what she wants to do and works hard to get there. She's caring and gives her time to people.
Her family losing their ranch gave her a sense of practicality that guided her decisions later in college.
Sage knew she wanted to be in agriculture, but she had to temper that with realism.
"The reality for most people is if you don't inherit land, you can't buy it," she said. "You can't buy it and agriculture sure as heck isn't going to pay for it. The land in this valley is several thousands of dollars an acre. There's not a cow that's going to be able to pay for it. So that realist in me was like let's get a business degree and then the nagging voice was in there said, 'Let's do agriculture. We'll find something. We will be a feed rep or, you know, something, but let's go on with the ag part of it.'"
Her mother Robin taught community college in Farmington, where Sage began going to school.
She transferred to New Mexico State University and graduated with a bachelor's degree in business in 1997. Two years later, in 1999, she graduated with her master's degree in agriculture economics. During her studies she was involved with organizations like the National Agriculture Marketing Association.
She specialized in individual data management for farmers and ranchers in her master's program, but she didn't love being in a classroom.
She would take a class in a subject like animal feeds and feeding techniques to keep herself in agriculture circles.
"It was definitely a stretch," Sage said. "But, and there were times in college where I really felt like all I was doing was spending money and spinning my wheels and, but being an internal optimist and feeling like I can make this work and just grind through is kind of how I pulled this together."
She worked at Helen Hunt's El Sueño del Corazón ranch in Abiquiú while completing her master's coursework and began officially working there when she graduated. It's where she met her husband Shane.
Soaring Eagle
Shane, a self-described Army brat who moved around a lot growing up, was also raised around horses and livestock,
He's been in more rodeos than he can count and, like Sage, he knew early on he wanted to be on a ranch.
While in graduate school, Sage was doing individual identification in beef cattle. She met an investor in a company specializing in the practice who told her about another investor in the company who lived in her area.
Will and Louise Pape own Soaring Eagle Ranch, but the Faulkners' had a long path to managing it.
Sage flexed her business skills in 2003 and 2004 and managed a bank in Cuba, while Shane began managing the Ranch for the Papes.
While she wasn't at the bank, she was working in Los Ojos.
A long drought pulled the Papes back into their professional lives, and they decided to sell the property.
"We sat down at that point with them and said we were really interested in leasing the ranch and they have been so good to us," Sage said. "They're just really thrilled to have the opportunity to have somebody (working at the Ranch) that wanted to be, but then for us, it gave us an opportunity to stay in agriculture and raise our kids here."
Lessons learned
Sage uses her own calendar to measure time.
If she forgets a date while telling a story, she will pause for just a moment to think before tying the memory to the year she got married or when her children were born.
Instead of saying her husband was managing the ranch in 2004, she will say something like, "It was the year Bayler was born."
The gap between Sage's two front teeth is charming because she smiles so often. And she smiles even more when she talks about her children.
This year, Sage is homeschooling her two daughters while he son goes to school in Tierra Amarilla. Some years they are in public schools and others years they do homeschool and Sage makes it work for them and incorporates ranching into their coursework.
One year while homeschooling Monte, the tractor broke. Instead of continuing with the planned lesson, the day turned into a class Sage calls Tractor 101.
If a fence line breaks, they will go out and fix it together.
If a cow or horse has to go to the vet, she uses it as an opportunity to teach about veterinary science.
"The price of hay has been through the roof, so every time I get a load of hay, I'll sit down with the girls and say, 'OK, we spent all the money and this is what it cost us per ton, and you know, this is what we are feeding per day,'" she says. "There are lots of opportunities to incorporate the economic side of it."
So far, with Sage's help, Keelin has learned many skills, from cooking to how to show steer.
Riding horses is a big part of the Faulkner's lives. Keelin was riding horses before she could walk and talk.
They were gathering cows in Chromo, Colo. and they split into small groups. Keelin was with her mom and they went down a steep hill where they expected to find a bunch of cattle. Their path was thick with branches and brushes, but they kept at it for about two hours.
"Then we decided to turn around because there was no cows," Keelin said. "But she taught me there to not really give up, even if everything is going wrong."
When Keelin finishes her story, they all laugh together and enjoy the memory.
Monte said he admires "just how strong and independent" his mom is.
"One of the major moments, she is very afraid of heights, but a few years ago we ran some cows on a mountain in Colorado and the mountain was very, very, very steep and she didn't complain at all about the heights or anything," he says.
While Bayler's story of buying a Palomino mare (who was eventually given the name Fizzbomb) from a woman in Flagstaff, Ariz. might seem mundane on the surface, it holds a lot of detail about who Sage is.
"On our way there, it was real late at night, mom's never functioned well at night, but we had to pull over," Bayler said, because of a flat tire.
"It was probably midnight and just a silent stretch of road," Bayler said. "There was nobody else on the road, but we had to change this and so we changed the tire of course. It was just real dark and kind of like, 'Alright. You're here. You get to learn how to do this.' And we just continued on to Flagstaff and got the horse."
Sage said she was raised changing the oil and working on cars right alongside her brother.
"I think it's so neat that she can do these things," her mother Robin said. "Yeah, she has a master's degree, of course she's smart, she can do that. But she can drive a backhoe. It's wonderful, you know, we have all these healthy grandkids. It's not really an easy job to be a parent for anybody, but by the time you are my age and you can kind of sit back and watch it all, you are so blessed."
Sage said it's the same with her children, but she does recognize women in agriculture face challenges.
"(There are) just lessons there that I probably feel like, as women, they have to learn and those are things (like) how to take care of yourself," she said. "Those are the same lessons that my son gets and we have those talks that there are going to be times when somebody feels like you can't do this because you are a woman. We just don't have time to let somebody dictate what we want out of life. But be ready for it. Be tough. Be thick skinned."
Sage's parents raised her with the attitude that you can't sugarcoat life.
The high moments of being in agriculture, like working with her family, are high, but Sage said the lows are pretty low.
"If you are going to live it, you have to get all the parts of it and be open about it," she said.
This is part of her agricultural advocacy work.
"I need to be honest for people and say it is not all sunny days and green pastures and there are going to be hard times and these are things that we need to be willing to acknowledge and in doing that, maybe we change that stigma that farmers and ranchers don't have anyone to talk to and it is OK to say, 'You know, wow, I had a really bad day today,'" she said.
A meticulous record keeper, Sage tracks things like calf birth weight and size and uses this information to breed for smaller calves to make giving birth easier for the cows.
Despite her planning, deaths occur and when they happen, they deeply impact her.
Sage says three springs ago, she was helping a heifer give birth, but the calf still died in the process. She sat behind the cow shoot and cried.
"There is that feeling where it all kind of gets out on the table and there are times when I feel like I can't do this," she says. "I am not doing right by this cow, this is hard, it hurt my feelings, it sucks, I am standing drenched in mud, it is cold and miserable. Why am I doing this?"
While Shane was attending the police academy in 2013, it took a mix of grit and optimism for Sage to spend six months alone on the ranch.
He was only allowed five minute phone calls during the first few weeks.
Sage was left alone with three children and had to do all of his work and her own. At the time, they were also managing a couple of other leases and a U.S. Forest Service permit for another rancher.
Shane said he knew she was capable of the work because at that point, they had been together for 12 years, but he would still worry.
During their rushed phone calls, he said she would run down a list of everything going well on the ranch and gloss over the tough stuff.
"Once in a while, you could hear it in her voice," he said. "She wouldn't be telling me everything."
Mentoring
Sage wants her lessons to help others and she continues to be involved in several community agricultural groups.
She was a founder of the Women in Agriculture Leadership Conference in 2001. She is not part of the organizing anymore, but the conference is still held every other year in Albuquerque.
Through the Rio Arriba County Fair, she met Savannah Trujillo and helped to mentor her daughter, Brooke Trujillo.
This past year, Sage and Savannah, along with two other women, started a chapter of the New Mexico Cow Belles. The Cow Belles started in 1957 as a women's auxiliary group to support their husbands and advocate for the beef industry. The new chapter is called the Pretty Tough Cattlewomen
"Its come a long way from there," Sage said. "You know, you have women in Cow Belles running their own ranches and those kinds of things, but their focus tends to be how to support the beef industry statewide."
They do agricultural presentations in classrooms and community service. In June, Pretty Tough Cattlewomen will volunteer at the San Martin de Porres soup kitchen in Española and prepare a beef-based meal.
Savannah said working alongside Sage is like not working at all.
"I know Sage would give anybody the shirt off of her back, especially when it comes to kids," Savannah said. "She would bend over backwards to give someone an opportunity to better themselves. I've never met a person who has done as much as Sage does and it inspires me to do better."
Although Savannah grew up on a ranch in Nevada, she thought raising cattle was completely behind her, until her daughter wanted to get involved.
Brooke said Sage is the person who got her involved with the 4H program at the County Fair.
With Sage's help, she started raising chickens and rabbits and won grand champion titles. Brooke really wanted to raise a steer, but didn't think she had enough room at her family's home in Ohkay Owingeh.
Sage went to her house, looked at the property and mapped out an area suitable for a cow pen.
"She, like, helped build up my confidence so now I show 1,000-pound steers," Brooke said.
When her parents have been busy, Sage has made room for Brooke and her animals to ride with them to stock shows. She also got her involved in livestock judging.
"(Sage) is more than just a mentor to me and my family," Brooke said. "She is part of the family to us. She helps us everyday. She will come over and just hang out with us. I will go and spend the night at her house to hang out with her daughters. She is like one of those people who you would almost call auntie even though you aren't related."
Sage has also helped organize the New Mexico Organic Farming Conference for the last four years. When she was asked to get involved, she was serving on the New Mexico Department of Agriculture Organic Program Advisory Committee.
Soaring Eagle Ranch is an organic ranch. Getting the organic certification was part of the Faulkner's agreement with the Papes to lease the property.
Although she has helped to organize the conference for the last four years, Sage says it was a steep learning curve to go from conventional to organic cattle ranching.
Her record-keeping honed by business school, studying economics and managing a bank really helps on an organic farm.
She takes hundreds of pictures of her cows and calves to track their growth and health. She thumbs through picture after picture of cows and dirt in her photo gallery on her iPhone. Her phone's notepad is filled with notes about the animals and soil, along with musings about life and family.
"Organic maybe takes a step back and looks at ways to be healthy without synthetic inputs," Sage said. "With that being said, we don't use antibiotics on our cattle. If I got a sick cow, we take care of it. We doctor it to the best of our ability, but that means our records at this point say that animal is no longer organic."
Through Sage's skills of observation and experimentation, Shane said, they noticed that if they feed cows at night, they tend to give birth during the day. They also breed for a smaller calf and are concerned about the well-being of the mother cow and the baby, and less concerned about getting the biggest calves.
Ron Boyd said he has been attending the Organic Conference for the last several years and that's where he met Sage. Boyd and his wife manage Mergirl Gardens in Taos County.
A schedule for this year's conference, held in Albuquerque in February, shows workshops on topics ranging from how to use cover crops to transition to organic farming to rainwater harvesting to beekeeping
"She is a quick communicator," Boyd said of Sage. "If you have any questions or any needs, she is quick to come back. She always has a smile and a solution."
A few years ago, Boyd was recognized at the conference as educator of the year. He said he knows Sage had a lot to do with that choice.
Sage is always learning and reads agricultural publications to keep up with the latest science and ranching techniques. She passes those onto to Shane, who said she keeps him learning about stuff he might otherwise not pay attention to.
Shane said while the two of them are opposite (he is right-handed and she is left-handed; he's a night owl and she's an early riser) the two of them work well together.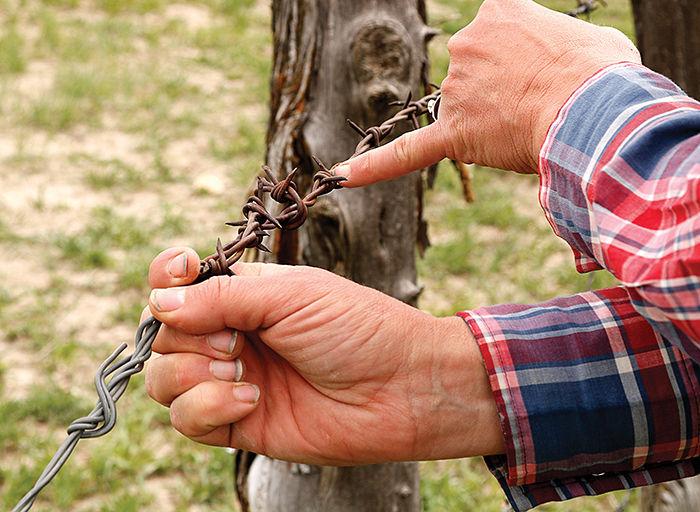 One day on the ranch, Sage, Shane, Bayler and Keelin ran bulls from the pasture and into pens, and they all moved in sync with one another. No one got in the other's way and everyone was calm when two young bulls began butting heads.
In quiet moments that almost went unnoticed, Sage and Shane would move in close to speak before parting and getting back to work.
"If somebody asked me a question about feed or something, they need to talk to her because she knows more about it than I do and people really figured out she knows what she is talking about," Shane said.
For the last 10 years, Sage said, she has become fascinated with soil science.
It's obvious this is a passion when one sees a track of seven workshops on soil alone in the Organic Conference schedule.
Sage's generosity with her time and knowledge expands outside of teaching people about beef or ranching.
Robin said Sage is giving in so many ways.
"She gives her time, her energy to 4H," Robin said. "She cares about the neighbors. If she can do little odds and ends for the neighbors, she is always glad to do it. Maybe take someone whose housebound some hot soup, flowers or just a visit. She has time for other people."
Shane agrees.
"I think the world of her," he said. "So why doesn't everybody else? And they do."
Although Sage said they know the lease on the ranch will end and there will be a time when they as a family will have to decide what to do next, she loves what they do now.
While she and Shane have their off-farm income, being in agriculture is in their blood.
She can't put a price tag on watching their children learn how to work, grow up around livestock and understand the life cycle the way only people who live and work with animals do.
"At the end of the day, I would rather work my fingers to the bone here doing what I love than potentially making a little bit more," Sage said.