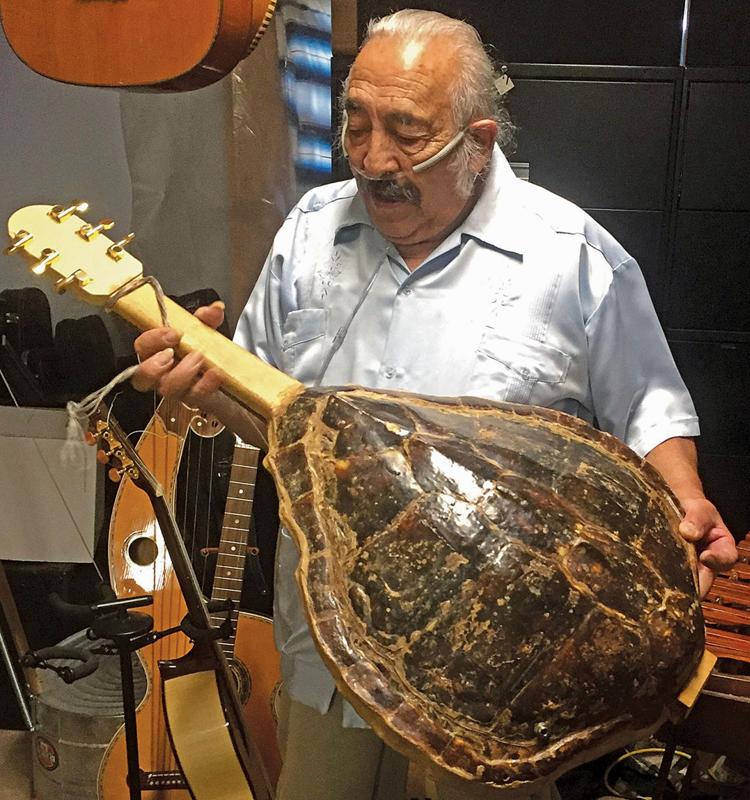 When Cipriano Vigil was eight years old, he taught himself to play guitar by sneaking out to dances with a pencil and paper and taking notes on how the guitar player moved his fingers.
The El Rito musician now plays over 320 musical instruments and has helped students around the state make more than 3,500 guitars from cigar boxes. Over the course of his life, with his songs and his teaching, he has preserved traditional New Mexican folk music.
In honor of these efforts on Aug. 23, Vigil received the New Mexico Platinum Music Award, the state's highest music award, at the Santa Fe Lensic Theater.
Each year, with the award, the New Mexico Music Commission Foundation recognizes five members of the music industry who have made great contributions to the state's music scene. Members of the public nominate potential honorees and then a panel of music experts selects the recipients.
Alongside Vigil, the Foundation recognized Jim Bonnell, Bert Dalton, Noberta Fresquez and Robert Mirabal.
The ceremony included videos about each honoree and performances by New Mexican musical groups, including Belling the Cat, Chuy Martinez and Otilio Ruiz, the New Mexico School for the Arts Jazz Ensemble, Kayden Kelly, Antonio Reyna and Hillary Smith.
Vigil, who said he felt honored to receive the award, has also received the Governor's Award and the New Mexico Endowment for the Humanities Award. He has been nominated for a National Heritage Award three times for his work sharing norteño music with audiences around the U.S. and Mexico. In 2014, University of New Mexico Press published a bilingual book of traditional New Mexican folk music, including trovos, décimas and corridos, that he collected and composed throughout his life. 
As the school year begins, he is preparing to teach new classes of students to make and play cigar box guitars.
He said music was his second love after God. He especially loves the guitar.
"That one, that's an outlet for my emotions, when I'm happy, when I'm sad," he said. "For everything. It's like a part of me."