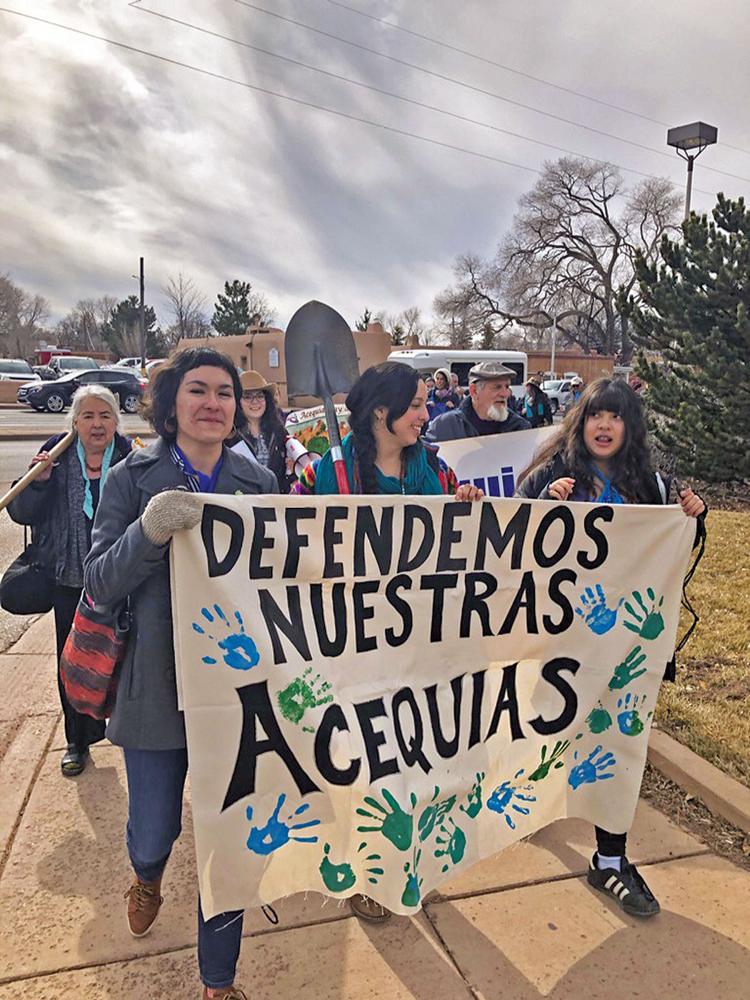 La Canción de las Acequias rang out around the New Mexico State Capitol Jan. 29.
Wearing blue scarves printed with the words "El Agua es Vida," acequieros of all ages kept the rhythm with their shovels, tapping them against the ground, lifting them into the air triumphantly, marching, singing, demanding protection of their water and their traditions from their lawmakers.
They gathered to celebrate Acequia Day at the Legislature, organized by the New Mexico Acequia Association. They asked senators and representatives to back legislation that supports the acequias.
"We're still here, and we're still caretakers, we're still stewards of the land, the way our grandparents taught us, and the way their grandparents taught us," Acequia Association Excecutive Director Paula Garcia said into a megaphone. "We're the keepers of the tradition, and we have a very important message for our policymakers."
She led the crowd in cheers that contained that message:
"Tell them," she said. "El agua es vida!"
"El agua es vida!" the crowd shouted.
"El agua no se vende, el agua se defiende!" she shouted back.
They echoed her and together with her chanted, "When I say pala, you say power, pala, power, pala, power, pala, power!"
Garcia told them that acequias are only getting stronger.
"There's a belief that acequias are a thing of a past and part of our heritage," she said. "If we weren't getting stronger, why are there 200 acequias rebuilding their presas? Why are there more and more farmers at the Farmers' Market?"
And she said the Capitol is their home.
"This is the home of democracy," she said. "And we have hope and faith that democracy will still work for the people. That the people still have a say in how our state is going to be governed, and how our waters are going to be taken care of in the years to come and for future generations."
Then the acequieros poured into the Roundhouse, pulled representatives off the floor and knocked on senators' doors to explain their legislative priorities.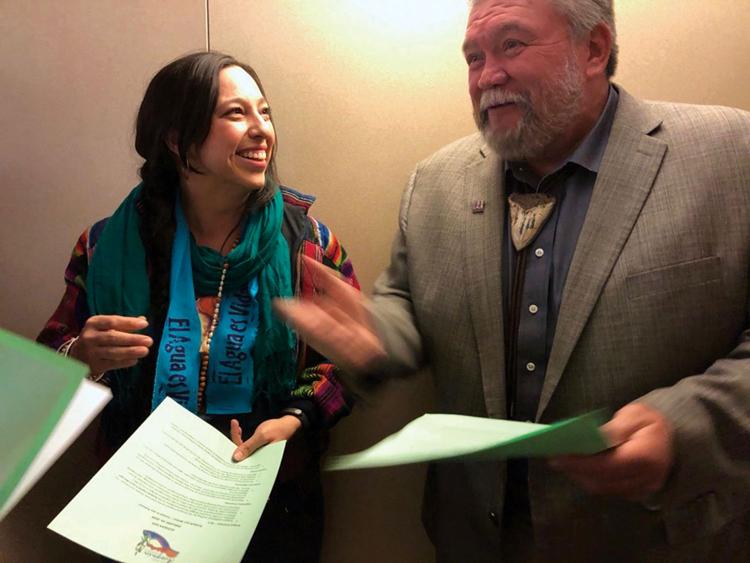 Those priorities include a memorial and special appropriation about an educational reform that would integrate acequias and land grants into a multicultural curriculum; the creation of an additional staff position, an acequia capital projects coordinator, for the Acequia Program at the Interstate Steam Commission, which would allow for more effective administration of funding for acequia projects; and the monitoring of cannabis legislation to make sure that licensed growers have valid water rights.
The Acequia Association has also endorsed senate bills that appropriate funding for acequias, mutual domestic water associations and land grants to cover audit expenses and house bills that appropriate funding for soil, agriculture and natural resources. 
And over 50 acequias submitted requests for Capital Outlay funding.
After speaking one-on-one with their legislators, attendees of Acequia Day ate tamales and listened to speeches from policymakers who support their priorities—Senators Pete Campos, Richard Martinez and Bobby Gonzales and Representatives Andrea Romero, Tomas Salazar and Susan Herrera, among others—and from young farmers—Donne Gonzales, Corilia Ortega and Emily Arasim.
Poet Olivia Romo shared a story, too, about a mayordomo mayor.
"I really want to give a deep thanks, and gratitude, to all of our acequia leaders," Romo said. "The young people are watching you, and we have been our entire lives. Your dedication, and your passion, and your hard work, to keep food on our tables and to keep the acequias running. And now the torch is being passed. And it brings me such pride and excitement to say that I am just one of the hundreds of young people in this state who are excited about farming, who are coming and picking up the pala and are passionate about protecting our acequias."
Throughout the whole day, the final words of la Canción de las Acequias seemed to fill the winding corridors, the staircases and the round floors of the Capitol:
"Yo siguo trabajando para mantener lo que yo quiero tanto!"
"I keep working in order to maintain what I love so much."