Despite a purported attempt to distance the 50th Española Valley Fiesta from celebration of Spanish Conquistador and war criminal Juan de Oñate, speakers at the festival skirted and outright denied historical Spanish atrocities against local Pueblo peoples.
Official Historical Counsel for the Fiesta Roberto Valdez, speaking Saturday to the crowd gathered for the traditional Entrada reenacting Oñate's arrival in the Valley, which was rebranded as the Paseo de Oñate, attacked detractors of the Fiesta and said it is an observation of ethnogenesis, or the birth of a people.
"We celebrate that we came here long ago to live because Spain had an idea to hold onto North America by settling its people upon it and spreading the ideals of Western civilization all over," Valdez, a local historian and adjunct professor at Northern New Mexico College, said. "Our encounter with the local Pueblo Indians benefited them. Do not listen to the rhetoric of harm and evil and massacre. Those aren't true. They live among us and that is proof of our friendship."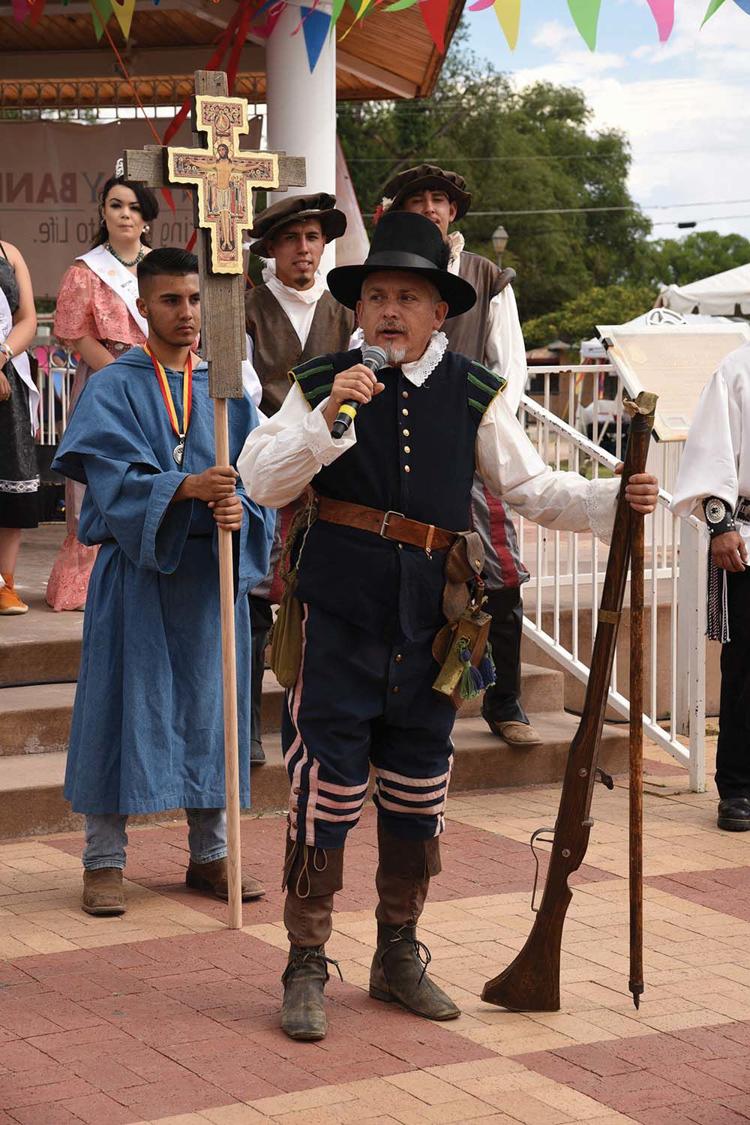 This was the first Fiesta put on by the Fiesta Corporation, a nonprofit founded due to a still-controversial vote by the Española City Council last year to stop running the event through city government.
City Councilor John Ramon Vigil is president of both the Board of Directors and Executive Council of the Fiesta Corporation.
Director of the San Elizario, Texas Historical District Al Borrego, who also spoke publicly at the Entrada, denied Oñate's 1599 massacre of the Acoma Pueblo in a separate speech.
He said at the Fiesta's July 13 historical conference that Acoma elders once told him 8,000 people were killed in the massacre and 300 women were taken as slaves, saying himself that the massacre never happened at all and there were only a few hundred Acoma in the area to begin with.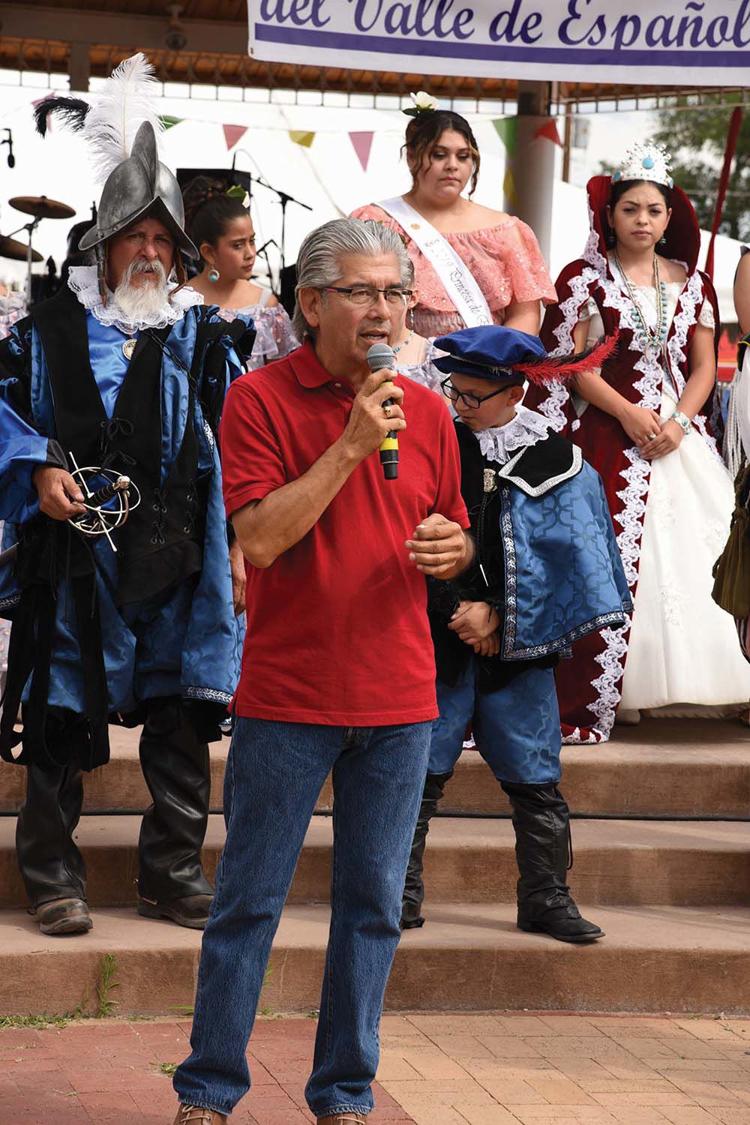 Estimates of the death toll vary, but historical consensus states Oñate's siege of the Acoma Pueblo killed about 800 in retaliation for the Pueblo's prior killing of about 12 of Oñate's men, whom Acoma said forcefully demanded supplies and raped a woman.
Spanish forces then cut off a foot from every man over the age of 25 and enslaved much of the Pueblo. No apparent historical record has stated there were 8,000 deaths, as Borrego claimed the Acoma elders said.
"All they did was cut the foot off; they could have killed them," Borrego said at the conference. "They could have killed 8,000 like the Acoma said. They didn't kill 8,000. We all know they didn't. They didn't have 8,000. They didn't even have 300, I bet, in my opinion. But those were all the women they took. Come on, let's be real. How come it didn't happen to nobody else? Yes, you've got incidents of things that happened. Yes, (the Spanish) killed somebody here and somebody there. Same thing happened to the Spaniards."
The historical conference featured no speakers from local Pueblos.
Valdez said in an interview that while Acoma deaths were significant, he doubts the popular historical narrative. He said some modern Acoma are hostile to Fiesta celebrations.
"I remain skeptical that today's Acoma who are antagonistic are telling the truth," he said. "It's well known that many Indian tribes form their opinion after reading history written by the Spanish."
His and Borrego's claims are based almost solely on texts written by the Spanish. He said because Native American history relies largely on oral tradition, it can be changed to fit a victim narrative.
Former Lt. Gov. of Ohkay Owingeh Matthew Martinez said Tuesday that historical revisionism, such as genocide denial, could erase identity and negatively impact the present.
"It's not a victim narrative," Martinez, now Deputy Director of the Museum of Indian Arts and Culture, said Tuesday, "It's history. It's historical fact."
He said it is possible to host a Fiesta that responsibly celebrates Northern New Mexican culture, families and Catholic heritage but Oñate would have to be removed. He said it is important to recognize the benefits of food, technology and activities brought by the Spanish, but those do not erase atrocities.
"It's not up for debate what Oñate committed," he said.
Borrego, who holds a bachelor's degree in engineering, cited in an interview "Historia de la Nueva México," a poetic account by a soldier and scribe accompanying Oñate, and Borrego's own conversations with people from other Pueblos as sources for his claims.
He also said the size of Sky City, the Acoma's most famous historical dwelling on a mesa, proved only about 300 people could have belonged to the group. Sky City is one of multiple villages that make up the Acoma Pueblo.
Spain banished Oñate from New Mexico and exiled him to Mexico City primarily for his crimes against the Acoma.
John Ramon Vigil, who introduced Valdez and Borrego at the Entrada, said in an interview that Borrego was a guest speaker and his views do not necessarily reflect that of the Corporation.
He said that as Historical Counsel, Valdez did represent the group.
Vigil said to the Entrada crowd that he plans to collaborate with Borrego to establish San Elizario as a sister city to Española due to their common location on El Camino Real de Tierra Adentro, a path traveled from Mexico City to Northern New Mexico by Oñate,
Vigil said the Corporation made efforts to distance the Fiesta from celebrating Oñate this year and to instead celebrate culture and recognize history.
He said attempts to make the event more culturally inclusive included renaming the Entrada to Paseo de Oñate and changing the Oñate reenactor's clothing from flashier designs to historically accurate garb with the help of Valdez.
They also changed the event's tagline to "Celebramos Nuestro Valley" to indicate a more inclusive atmosphere.
"The Fiesta isn't the Celebration of Oñate," Vigil said. "It's not the celebration of the queen. It's the celebration of how our people came to live amongst our pueblo brothers and sisters in 1598 and we are united by our Christian faith."
He said politics were at play for last year's lack of a Fiesta, including influences from outside entities such as Santa Fe. He also said he suspects politics were the cause for the city police's sparse presence at the Fiesta this year, which was staffed primarily by New Mexico State Police.
Interim police chief Roger Jimenez said in a written statement this was due to scheduling issues. He said they had to give officers two weeks notice for mandatory schedule changes.
"We had officers doing courtesy rounds throughout the weekend," he said. "We are shorthanded but we also did not have any communication from the Fiesta Committee. We had one meeting July 1 and they just received the traffic plan for the parade two days before the Fiesta."
Vigil said he questions this because of the Fiesta's many years of precedence, but that he appreciates the participation the police did have.
In lieu of a Fiesta, the city government put on a smaller carnival with vendors last summer, which Mayor Javier Sanchez called a Feria, a word for festival commonly used in Spain.
Sanchez said he attended the Fiesta this Sunday and that he feels it is important to address our history.
"Recognition I think is the biggest thing," he said. "That eye-to-eye, heart-to-heart thing."