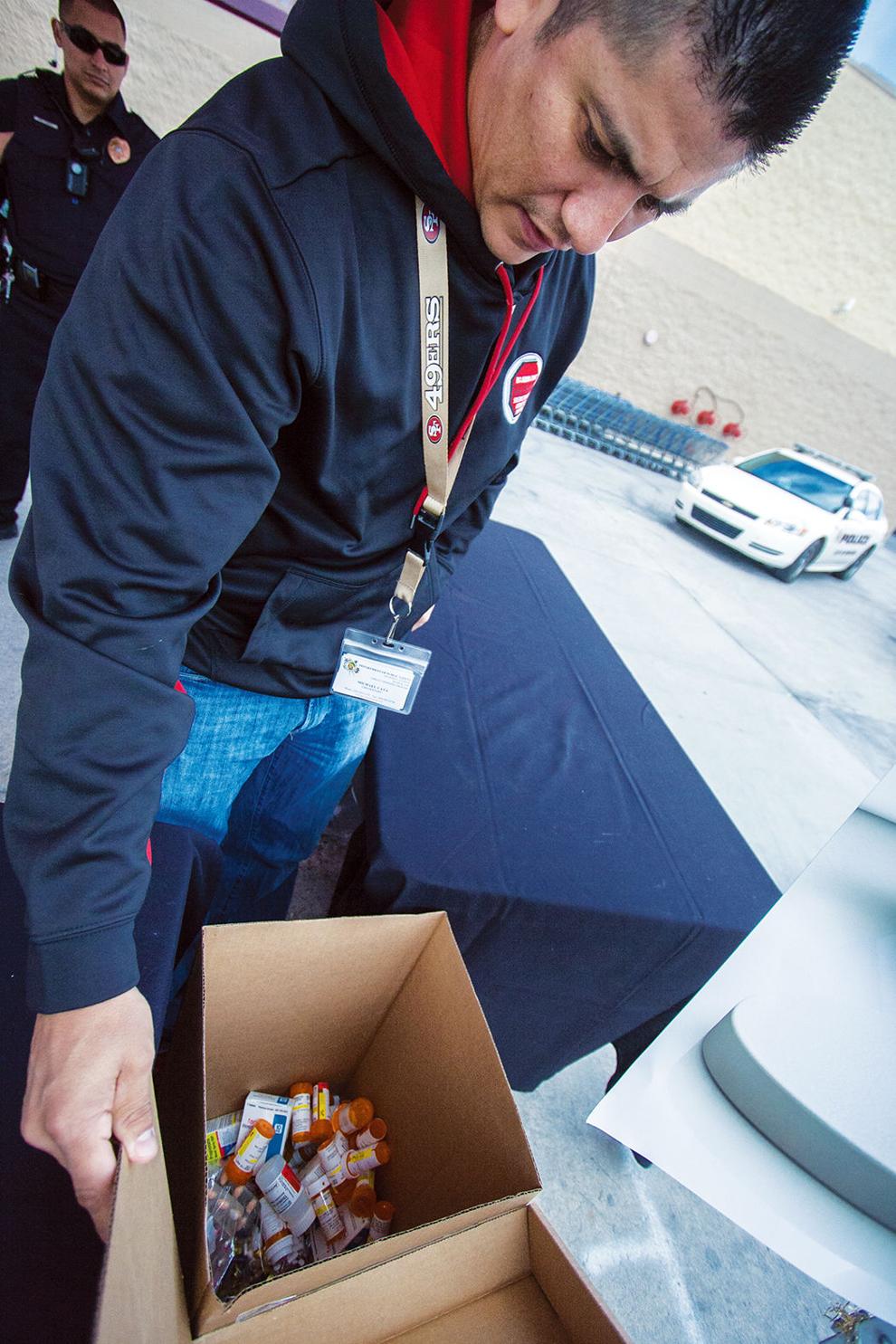 When a federal court in Ohio released Drug Enforcement Administration records in July showing the distribution of pain pills throughout the United States between 2006 and 2012, local media coverage in New Mexico largely focused on the city of Española, because such a large number of pills were distributed out of the Walgreens in the center of the city.
To be sure, it is notable that the local Walgreens outpaced all but two pharmacies in the state when looking just at the raw number of pain pills distributed in the time covered by the newly-released records.
But more importantly, the new data show the distinctions between prescription opioid and heroin use, and how that has shaped public perceptions of the Española Valley and Rio Arriba County. It also shows how the introduction of prescription opioids into the New Mexico market and diversion into the black market in the late 2000s made the already-desperate conditions in Rio Arriba much worse. And once the opioid crisis accelerated to become a national issue prior to the 2016 elections, Española became a scapegoat for the entire state's drug problems.
The Washington Post and HD Media, publisher of the Charleston Gazette-Mail in West Virginia, accessed the DEA database after a year-long legal fight for the records. The data come from the Automation of Reports and Consolidated Order System, known as ARCOS, which tracks the path of every prescription opioid pill in the country. It shows which company manufactured the pills, the distribution company and ultimately, which pharmacy dispensed them.
"America's largest drug companies saturated the country with 76 billion oxycodone and hydrocodone pain pills from 2006 through 2012 as the nation's deadliest drug epidemic spun out of control, according to previously undisclosed company data released as part of the largest civil action in U.S. history," the Post reported.
"Anyone passing through to Albuquerque or any larger cities goes through Española."
Alýssa Martinez, originally from Fairview, worked as a pharmacy technician in Española and Santa Fe until 2012, the last year described in the DEA data.
She was studying nursing at Northern New Mexico College and cultivating an interest in biology in 2009 when a friend told her that the Wal-Mart in Española was hiring for pharmacy technicians. She trained there for just under a year, filling scripts and working the register.
Martinez left the job but returned a couple years later in need of money, this time at the CVS in Española where she became a certified pharmacy technician.
"They had me bouncing between there and Santa Fe," she said.
Her time with CVS gives her an on-the-ground perspective that is difficult to get from just looking at the data: At the CVS in Santa Fe, Martinez saw that the majority of the people filling prescriptions there were either living in Santa Fe or tourists. Pharmacies in Española, on the other hand, distribute prescription drugs to much larger numbers of people than just those counted in the national Census as living within the city limits, Martinez said.
At the CVS in Española, "it was all over the map," she said, with some coming from as far away as southern Colorado, and many coming from Chimayó, Alcalde, Velarde, Ohkay Owingeh, Santa Cruz, La Mesilla, Arroyo Seco, Truchas, Nambé, Peñasco, Pojoaque, Santa Clara Pueblo, Embudo Ojo Caliente, Abiquiú, Los Alamos and Santa Fe.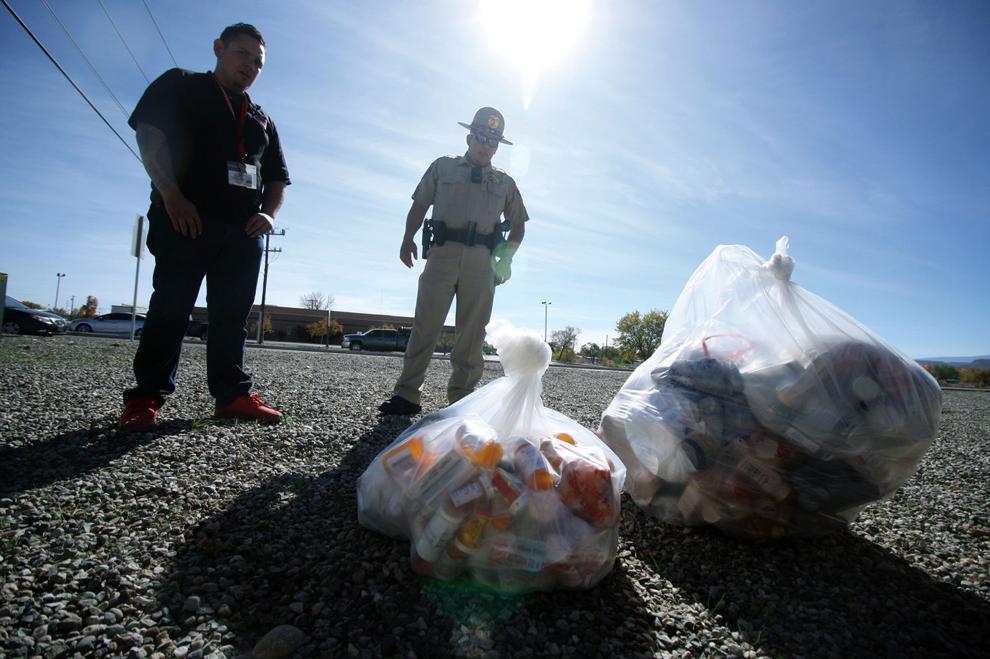 "There's no real big town in the North," she said. "Taos has a big (pharmacy), but they don't cover all the places we do. Anyone passing through to Albuquerque or any larger cities goes through Española. We got scripts from way out, Tierra Amarilla, out in the middle of nowhere."
Compared to Española, a greater proportion of Santa Fe customers were tourists, Martinez said.
"There was a problem in Santa Fe that nobody ever talks about," she said.
Every year between 2006 and 2012, pharmacies dispensed the equivalent of 46 pain pills for every person in Rio Arriba, DEA records show.
Just in Rio Arriba County, pharmacies dispensed 13,190,420 opioid pills from 2006 to 2012, with four of the top five pharmacies located in Española and the last located in the Village of Chama. This comes out to 46 pills per person within a five-mile radius of each pharmacy for each year.
The Walgreens on North Riverside Drive was the largest prescription filler in the County, with a total of 6,158,760 pills dispensed in the seven-year period. Fairview Pharmacy dispensed the second highest amount at 3,182,400 pills. Wal-Mart came in third with 1,872,000 and the now-closed La Farmacia came in fourth with 1,163,430. Rio Drugs of Chama in the Village of Chama dispensed 661,700 pills.
Two pharmacies in Albuquerque dispensed more pills than the Walgreens in Española. Prime Therapeutics dispensed 11,799,530 pills and Lovelace Outpatient Pharmacy dispensed 6,632,010. All pharmacies in Bernalillo County dispensed 200,552,004, or enough pills for each person to receive 44.5 pills per person per year, or about 1.5 fewer pills per person than the number distributed in Rio Arriba County. 
Numbers for Santa Fe County are similar, with 44,085,450 pills dispensed, or 44 pills per person per year over the seven-year period.
Despite numbers of pills per person per year being similar among the three counties, Española's sole Walgreens has been called out as an "epicenter" for the epidemic.
Comparing counties across the state, and even across the country, is not an apples-to-apples comparison. Reporting in the Rio Grande SUN at the time reflected this reality.
"The 2008 figures also show New Mexico on the whole ranks low in the amount of painkillers sold per 100,000 people, while leading the country in rate of drug overdose deaths," a 2010 SUN article states.
The Post also analyzed the top 100 pharmacies nationwide with the most pills per person based on county population. No pharmacy in Rio Arriba County appears on the list, but two from southern New Mexico do: Davis-Fleck in Sierra County distributed about 4.4 million pills over the six years, or about 53 pills per person per year. Addison Drug in De Baca County distributed 671,600 pills, or 49 pills per person.
No pharmacy in Rio Arriba appears among the top 100 pharmacies in the U.S. with the most pills dispensed per person, but two from southern New Mexico do.
In total, 13 of New Mexico's 33 counties had prescription pill rates of 40 or more pills per person per year during the seven-year period. This includes three counties in Northern New Mexico other than Rio Arriba County.
About 10 million pills were dispensed in Taos County, or about 44 pills per person per year. This is the same rate as in San Miguel County, where there were about 9 million pills dispensed, or 44 pills per person per year. Colfax County pharmacies dispensed the same rate of pills per person per year as Rio Arriba, 46, and in total dispensed about 2.2 million pills. Eddy County, in the southeast part of the state, also dispensed the same number of pills per person per year as Rio Arriba, at  a total of 16,935,430.
Four counties in New Mexico dispensed more pills per person than Rio Arriba County.
The highest count is in Sierra County, with 73 pills per person per year and a total of 6,217,740. Next is Lincoln County, with 51 pills per person and a total of 7,359,510 pills dispensed. Both De Baca and Grant counties dispensed 50 pills per person per year and distributed 691,400 and 17,921,170 pills, respectively.
Martinez said she is grateful to have worked at a pharmacy in Española because it taught her about people who are suffering and sick, and the difference between healing and treating a symptom. The numbers representing Española are greatly skewed, she said.
"The richer areas have their own drug problems, of course," she said. "It's real easy to point the finger at this little town, if those numbers are as they're reported. So Santa Fe can say, 'At least we're not as bad as Española, because our numbers don't look as bad as theirs.'"
Any time an issue comes to light in Santa Fe, Albuquerque or Los Alamos, residents there can say, "At least we're not like Española," Martinez said. There seems to be a tendency to blame the entire state's drug problems just on Española, she said.
"They don't tend to take responsibility for their own issues," she said.
"It's not just the pharmacy, it's also grocery stores and Wal-Mart (in Española) running out of food and supplies," Martinez said. "You hear about it all the time. It happens with medications too, with run of the mill medications for cholesterol and whatnot."
She said in her experience, pharmacies in Española were selling roughly the same amounts of pain pills as cholesterol medication and diabetes medication like insulin.
"Not everyone went in there to pick up their party drugs every minute of every day," she said. "It really pisses me off when the media skews data like that."
Decades before fatal drug overdoses became a national issue in American politics, Rio Arriba County and Northern New Mexico were feeling their effects.
Between 2000 and 2018, the SUN published 165 stories detailing law enforcement raids, drug busts and drug crime-related convictions. The newspaper also published 167 stories related to drug treatment or drug policy, and 164 stories related to people experiencing overdoses, both fatal and nonfatal.
SUN articles from the late 1970s recount the lives of people receiving methadone, now referred to as Medically-Assisted Treatment, for opioid use disorder, and stories about heroin and morphine use.
"Every week is Heroin Awareness Week for Rio Arriba County government and has been for several decades," County Health and Human Services Director Lauren Reichelt said in September 2016. "We're glad everybody else in the country has caught up and realized."
"Not everyone went in there to pick up their party drugs every minute of every day."
The SUN reviewed DEA pain pill data from 2006 to 2012 and compared it to data about the County that appeared in the newspaper's annual overdose story for those same years. During the seven-year period, only two of the overdose deaths were attributed solely to an opioid medication.
In total, SUN reporting shows 153 overdoses occurred from 2006 to 2012 and 58 of those listed an opioid medication as a contributing factor in the person's death, or nearly four in every 10 overdose deaths. The years with the biggest share of overdose deaths involving prescription opioids were 2007 (46 percent), 2010 (44 percent) and 2011 (48 percent).
These findings do not include deaths involving morphine (morphine can appear in a toxicology report as a result of heroin use), or four people whose deaths in 2006 involved unspecified "prescription painkillers."
Reporting in these years included comments from law enforcement and health officials about the contribution of prescription pills had on the County's overdose rates.
Tim Condon, a professor at the University of New Mexico's Center on Alcoholism, Substance Abuse and Addiction, told the Solutions Journalism Network in 2016 that prescription drug addiction is a problem created by the health care system. Aggressive marketing by pharmaceutical companies coupled with archaic prescription monitoring programs led to a rise in prescriptions, and doctors are now dealing with the effects, he said.
New Mexico Attorney General Hector Balderas filed a lawsuit Sept. 7, 2017 against opioid manufacturers and distributors.
"The national opioid epidemic did not happen by accident," the lawsuit states.
The lawsuit seeks damages from several companies, including Purdue Pharma, the makers of OxyContin, Cephalon, Inc., makers of breakthrough cancer pain drugs, and Johnson & Johnson, which manufacturers fentanyl pain patches and owns a proprietary poppy used in the formulation of its prescription opioids.
This is not the first time the state has gone after Purdue for its misleading and damaging marketing practices.
The state sued Purdue in 2007 for the marketing and promotion of OxyContin under the New Mexico Unfair Practices Act, the 2017 lawsuit states. OxyContin is a sustained release formulation of the generic opioid oxycodone and the Food and Drug Administration approved it for use in December 1995.
Attorneys general from 25 other states and the District of Columbia, also settled with the company after the 2007 lawsuit.
Balderas' lawsuit states Purdue used marketing tactics "which misrepresented to doctors the risk of addiction association with opioid usage and encouraged prescription practices that have worsened the opioid epidemic." These included indirect marketing where the New Mexico Medical Board offered a two-hour continuing education course sponsored by the company, the lawsuit states.
"The national opioid epidemic did not happen by accident."
Companies also used paid speakers, referred to as "key opinion leaders," who marketed the drugs through unbranded advertising in order to encourage the prescribing of opioids in general as safe and effective.
"This advertising was ostensibly created and disseminated by independent third parties," the 2017 lawsuit states. "But by funding, directing, reviewing, editing and distributing this unbranded advertising, the Manufacturer Defendants controlled the deceptive messages disseminated by these third parties." This allowed the manufacturers to control the message and "falsely and misleadingly promote opioids for the treatment of chronic pain."
Purdue continued to perform its deceptive marketing practices in the state and specifically marketed OxyContin as a safe, low-risk for addiction medication. As of September, a page on the Purdue website titled "Common Myths about OxyContin" states despite the abuse-deterrent properties of the drug, they still expose users to the risk of addiction.
"Although the risk of addiction in any individual is unknown, it can occur in patients appropriately prescribed OxyContin," Purdue wrote. "Addiction can occur at recommended doses and if the drug is misused or abuse."
New Mexico has always been a leader in implementing harm reduction techniques in response to the state's drug problems.
Starting in 1996, New Mexico police were prohibited from arresting anyone for possession of a controlled substance when they are called out to an overdose call. It was the first such prohibition in the country. The next year in 1997, the New Mexico Harm Reduction Act charged the state Department of Health to launch needle exchange programs with the intent of preventing unnecessary harm among people with substance abuse disorder.
New Mexico in 2007 adopted the country's first "Good Samaritan Law," which prevents those who call 911 or other emergency services to report an overdose, or those who are overdosing, from being arrested for possession of drug paraphernalia or possession of a controlled substance if the evidence of the crime is gained from the intervention caused by the 911 call.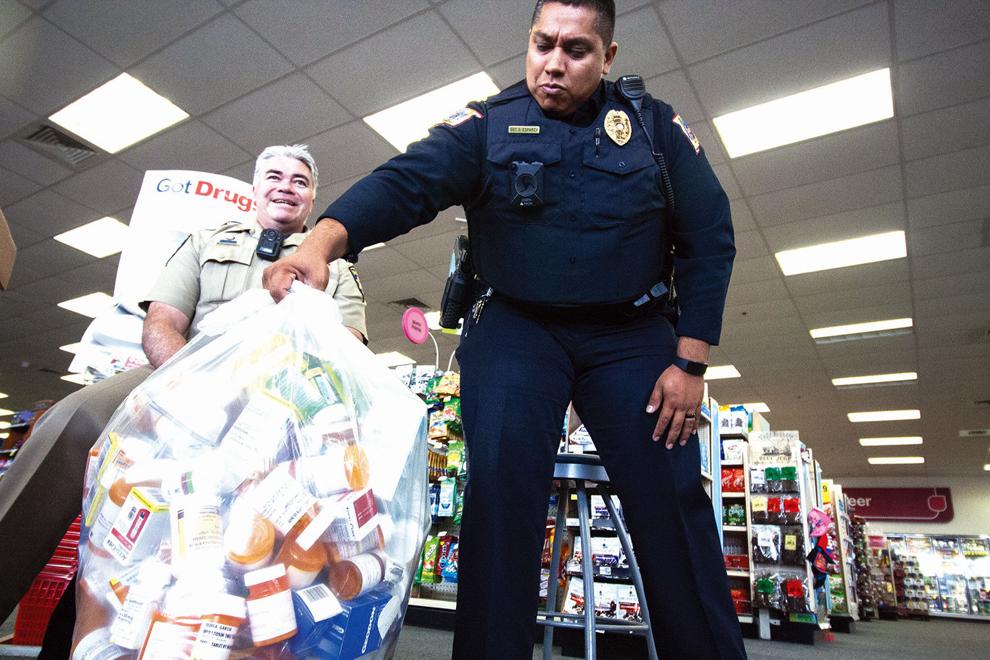 In 2007, overdose deaths in Rio Arriba County rose to a new high of 26, though 10 of those were from Valium. Though the County suffered a fatal overdose rate of nearly five times the state average, then-state Health Department spokesperson Deborah Busemeyer downplayed the spike at the time.
"When you're dealing with small numbers like 26 or 19, I'm not sure if you can call that a dramatic increase," she said. "The numbers in your County have always been high."
Despite this, state officials had already begun taking steps to monitor the use of prescription opioids three years prior and had begun a pilot program for distributing naloxone, an opiate overdose-reversing drug commonly known as Narcan. A program to distribute Narcan started in 2002, State Department of Health Disease Prevention Program Manager Bob Parkins later said. At the time, 7,000 New Mexicans had been trained to use the drug, including 700 people in Rio Arriba County. By 2004, the Department was offering free Narcan training one day per month in the small Rio Arriba community of El Duende.
New Mexico started operating a prescription monitoring program the same year, but the online database, which allows prescribers to check on their patients' other prescriptions without having to call the Board of Pharmacy, came online in 2012. Former Gov. Susana Martinez signed in 2016 the Opioid Prescription Monitoring Act, which requires doctors prescribing opiates to review reports every three months on who else has prescribed opiates to their patients, for how long and in what quantity.
"Right now, (people with substance abuse disorder) can go to multiple doctors—their personal physician, their orthopedic surgeon—and have them all prescribe them opiates," Sen. Richard Martinez, D-Española, who introduced the bill on behalf of the state Department of Health, said before it became law.
State Epidemiologist Michael Landen told lawmakers in October 2016 that the state's prescription drug monitoring program had seen a steady increase of compliance from doctors, which, in turn, should have reduced prescription drug abuse. At the time, fewer than half the patients in the state with a long-term opioid prescription were having their records checked by their doctors through the program.
In 2017, lawmakers passed new requirements for physicians and nurses to check a prescribing report on each patient before prescribing opiates for the first time and to get reports every three months for patients they are already treating. Before the new law, each licensing board was tasked with making its own rules about when and how physicians, nurses and pharmacists were to check the program's database.
In the popular imagination, Española is known as a "rough town" in Northern New Mexico, and the stereotypical image is not of a person with substance abuse disorder picking up their prescription at Fairview Pharmacy on Riverside Drive. It is of an intravenous drug user. But this simplistic framing of people as either "good" or "bad" drug users takes away from the legitimate public health crisis at hand, and instead treats the crisis as a criminal issue.
As the rest of the nation has been focused on what is now being called the opioid epidemic, in Chimayó, Española and Rio Arriba County the bat…
State Police Agent Joey Gallegos said in 2009 that the public did not perceive selling prescription drugs as a crime. He would call doctors during investigations to tell them their patients may have been overprescribed medications or suspected of selling them.
He said no doctors got back to him.
Prescription drug overdose rates dropped overall in 2008 from the previous year, while illicit drug overdoses increased, with the highest spike in heroin overdoses. Centers for Disease Control Epidemiologist Len Paulozzi said in 2010 prescription drugs may have been aggravating an already-existing drug problem in a New Mexico that dated back several decades.
"You not only have the long-standing heroin problem, you also have the addition of an opioid painkiller problem on top of that," Paulozzi said.
Police responded to the flow of heroin into Española and surrounding communities with the raids that began in the late 1990s and early 2000s. About 85 reported fatal heroin overdoses in Chimayó between 1995 and 1998 led to DEA and FBI investigation, which uncovered an international black tar heroin ring. "Operation Tar Pit" led to at least 235 arrests and the seizure of over 40 pounds of high-purity heroin. Two-hundred people in 12 cities were arrested on one day in 2000 alone.
Federal and local law enforcement agencies convicted at least 27 of 35 suspected Rio Arriba drug dealers as a result of "Operation Overdose," a late 1999 undercover operation culminating in a massive pre-dawn raid.
Over 200 federal and state law enforcement officers arrested at least 50 suspects in a drug trafficking bust in one pre-dawn raid in April 2002. "Operation High River," which began as an undercover operation in 2000, arrested or served nearly 20 more in the weeks prior. Just 509 grams of heroin, cocaine and cannabis were seized.
Major drug busts slowed after nearly 30 were arrested in connection with a heroin ring in 2005. Then-Española Police Sgt. Christian Lopez said in 2009 that lack of manpower and funds made it difficult to pursue larger cases.
Most of the recent drug cases in Rio Arriba filed in First Judicial District Court are for possession or trafficking of small amounts of illicit drugs, usually valued at less than $1,000, with many cases involving only $20 worth of drugs found on low-level users.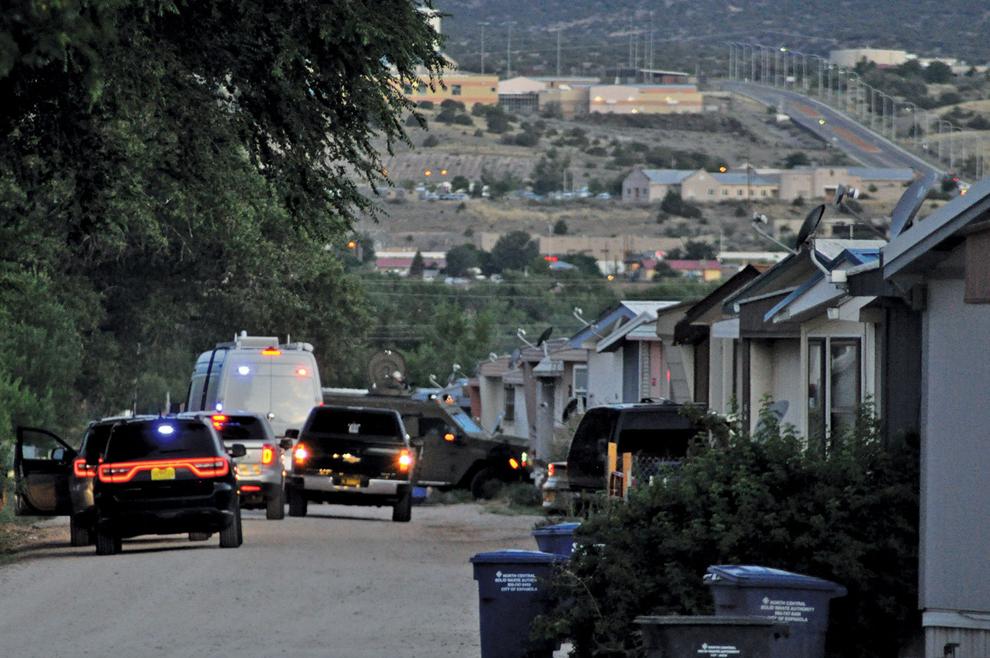 Balderas filed a new lawsuit Sept. 10 in First Judicial District Court against eight members of the Sackler family, alleging they engaged in unfair and deceptive marketing practices of prescription opioids for personal gain and profit. It is similar to the 2007 litigation and states the Sackler family violated the New Mexico Unfair Practices Act. The Sackler family owns Purdue Pharma, L.P., the Purdue Frederick Company, Purdue Pharmaceutical Products, L.P. and Purdue Products L.P.
"The Sacklers engaged in a concerted, coordinated strategy through Purdue to shift the way in which doctors and patients think about pain and, specifically, to encourage the use of opioids to treat not just the relative few who suffer from acute post-surgical pain and end-stage cancer pain, but the masses who suffer from common chronic pain conditions," the lawsuit states.
The lawsuit lists 10 ways the family and its companies allegedly violated the Unfair Practices Act. These include participating in unfair or deceptive trade practices to cause confusion over whether or not opioid medications were approved for use, misrepresenting the drugs as safe and effective for use and by disparaging competing products like non-steroidal anti-inflammatory drugs, such as ibuprofen and naproxen.
Purdue also falsely claimed that people suffering from substance use disorder did not really have the condition but were instead experiencing "pseudoaddiction," or fake addiction, and that doctors should treat it by prescribing more opioids.
"As a state currently being devastated by the opioid crisis, New mexico is taking an immediate leadership role in the bankruptcy proceeding to ensure an accurate accounting of Purdue and Sackler's assets, and to ultimate liquidate those assets and drive those proceeds to New Mexico for treatment and services in our ravaged communities," Matt Baca, a spokesman and senior counsel for the attorney general said Tuesday.
"As a member of the executive committee that will determine allocation of settlement proceeds, New Mexico is now positioned to maximize recovery, put Purdue out of business, and improve future pain management practices in the pharmaceutical industry. This is just the first step in going after 48 more companies that are responsible for their role in this crisis," he said.
"It's real easy to point the finger at this little town, if those numbers are as they're reported. So Santa Fe can say, 'At least we're not as bad as Española, because our numbers don't look as bad as theirs.'"
A few months after becoming a certified pharmacy technician while working at CVS, Martinez left for the same reason she quit her first job at the Wal-Mart pharmacy.
"It actually made me question going into science in the healthcare field in general," she said. "I quit the job at Wal-Mart before getting certified because that job is heartbreaking and soul-crushing."
She could not do it anymore, and it was not only because of the opioid crisis.
"The inability to help people get their much-needed medications because they couldn't afford it broke me down," she said. "I was helpless to help very many people actually get better, or even feel better."
Española has a big heart and beautiful people, she said, and they deserve better than what the surrounding cities have thrown at them.
Throughout the years as the Rio Grande SUN has compiled these lists, the conversations about substance use has shifted dynamically. Gone are t…