This is the second entry in "Women of Distinction," a series of profiles being published weekly this summer about women who make a difference in Northern New Mexico communities.
Monica Velasquez rarely uses the pronoun "I," when she talks about her work.
As the City of Española's Lead Code Enforcement Officer she travels every street in town, meeting with people, getting to know them and helping them understand what they need to do to comply with municipal codes and help make Española a cleaner, safer place to live.
She's quick to point out that she does not do the work alone. That is because Velasquez is a team player, and has been since she was young.
She found an outlet in basketball when starting in elementary school, and the lessons she learned there have carried forward into her day-to-day life as an adult. Those lessons, teamwork, hard work, and the desire to build people up have followed her throughout her life, and shaped the person she is today.
Always a tomboy
Velasquez was born in Albuquerque in 1989, but her family soon moved back to the Valley and she grew up in Alcalde. She started school at Alcalde Elementary, at the old school, she says, "they've since built the new school."
Her parents divorced when she was 9 years old, and then she spent her time going back and forth between Alcalde and Ojo Sarco, her dad's hometown. She has one sister, Adrianna, although they do not spend a lot of time together as adults.
"Over the years, you know, of course life happens," she said. "But my family is my family."
She keeps her hair short; she prefers a fade, and wears work boots. She is not a "girly-girl," and she's OK with that.
"I've always been a tomboy," Velasquez said. "My whole life I think the one time that I wore a dress was for my holy communion and that was back in third grade. That was the one and only time that I've really worn a dress."
Velasquez graduated from Española Valley High School in 2007, but she attended McCurdy School her freshman and sophomore years, where she had a scholarship.
"You know basketball was my life growing up," Velasquez said. "I got a scholarship to play basketball, so that awarded me and my sister to be able to go to private school."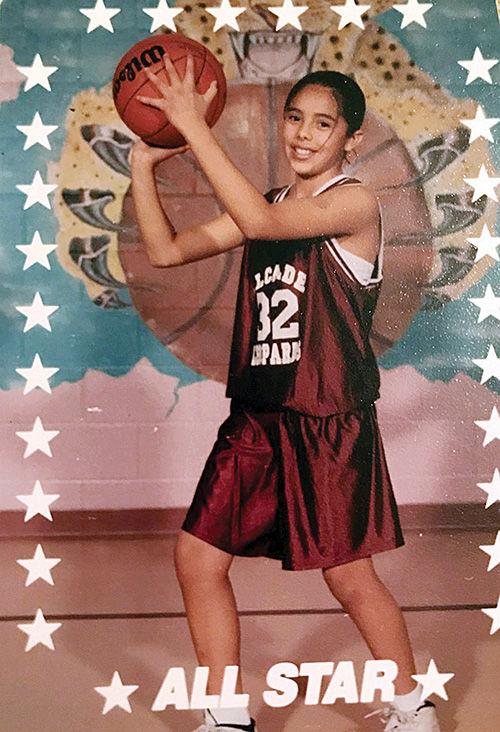 Her junior year she transferred to Española Valley High School. She did not play basketball that year, but she did play part of her senior year.
"I just remember growing up my dad got us a basketball goal, leveled the court," Velasquez said. "Every day after work I couldn't wait for my dad to get home so we could play basketball."
She said her dad taught her how to stick to it, not to give up, and even advocated for her to try out for the third grade elementary girls team in Alcalde when she was still in second grade. She got a shot, and she made the team.
"It was the Alcalde Lady Leopards, so I played from second grade all the way up," she said.
Her dad would diligently read the newspaper, clipping sports articles and hanging them all over the garage. That instilled a sense of pride in her, she was proud of her hard work, her high scores, and her dad's collection of articles grew.
"Just to be able to read and see that my dad was so pumped, I wouldn't be surprised if he still had those saved somewhere," Velasquez said.
She dedicated herself to the sport when she was younger, and it's that dedication that she says kept her out of a lot of trouble as a child and teenager. When other youth were home for the summer with nothing to do but get into trouble, she was outside playing basketball, or participating in multiple basketball camps.
"You know growing up in the Valley, we always talked about this crazy stuff, about all the epidemics that we have here," she said. "But I was never truly exposed to it until my adult years."
Velasquez went all over the state and even to Colorado for basketball camp, including a Denver Nuggets basketball camp. The camps helped her hone her skills, improve her game and learn to work together with people from different places.
It was during her senior year at Española Valley High School that she said she quit the team because she was concerned about fairness. While some players rarely attended practice, they still played the entire game. Velasquez said several players quit the team that year, but that she learned a lot from that as well.
"So at that point I finally realized there's more to learn from basketball, and moved on," Velasquez said. "After I graduated I had to work, and I've been working ever since I got out of high school."
Let her be who she wants
Her first job, like many others from the Valley, was at Wal-Mart, she said. She was a cart pusher, a job that she said is a lot harder than people realize. She said it was a good experience, and she was grateful for the steady job.
"It was really active, it was a hard job because in the summer it was really hot," she said. "And that was my first summer job."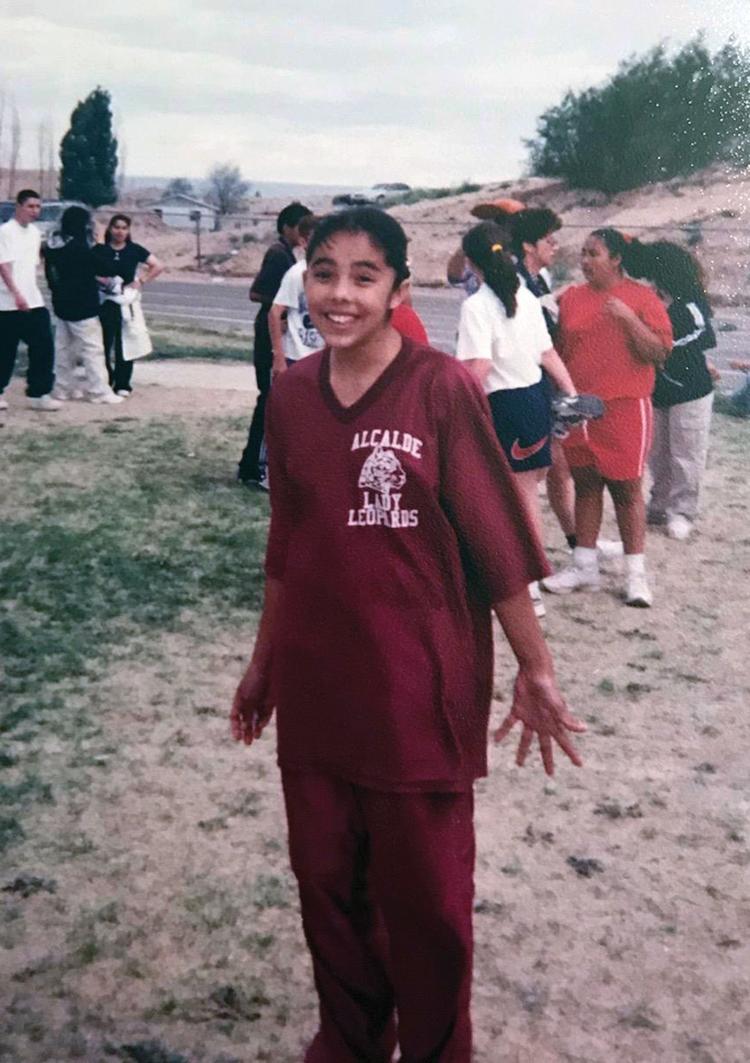 She worked other jobs at Wal-Mart, eventually working in the deli before she got her first office job at the Rio Arriba County Magistrate Court. She started there as a court clerk, and was promoted before she left to work for the Santa Fe Magistrate Court. She said she learned a lot from her time there, things that can only be learned through experience and maturity.
"I was still maturing and I had a lot of growing up to do," Velasquez said. "So when conflict came, I didn't know a whole lot of how to deal with it, but it was a learning experience."
It was at the Rio Arriba Magistrate Court that she got to know her partner, Ashley Montoya. Both young women had children born near the same time. Velasquez said the pair have made it through ups and downs over the better part of the last decade.
It was not until after Velasquez left the court that the two began their relationship.
She said she's learned a lot from Montoya, and that she's grateful for their life together. The two recently purchased a house in Velarde and Velasquez said they are "living the American dream."
"She pushes me to do more," Velasquez said. "And I help her out wherever I can, we make a great team."
Her daughter, unlike her, isn't really interested in basketball though, and Velasquez said she supports that. Even though she played basketball for a while as an Alcalde Leopard, just like her mom, her daughter is more interested in making slime and playing with her toys than basketball.
"I'm cool with it, let her be whoever she wants to be," Velasquez said.
Recently, her daughter told her that she wanted to shave her head. Velasquez said she thought perhaps her daughter was going to follow in her footsteps, with a fade, but that in the end, it had only been the back that was shaved, the front remained rather long.
"She's a girly-girl," Velasquez said with a smile. "I was raised very different, I was like a boy and I did everything with my dad."
Her stepson, she said, is more interested in technology than basketball as well, but she sees that as a change in society as a whole. She said when she was a child there was not a lot of choice for free time, children simply went outside.
"I can't stress this to my kids enough," Velasquez said. "I don't care if you like boys I don't care if you like girls I don't care if you decide you want to be a girl or you want to be a boy when you grow up. Treat people right, and you love who you love because that's who you are."
She said at first, she and Montoya were worried about acceptance for their relationship, but that it has not been a problem. She also said specific labels such as "lesbian," or "gay," were not necessary. For her, it's simply enough that she and Montoya love each other.
"I'm just happy that I'm on my own living my own life and that I don't have to worry about pleasing anybody outside of my household," Velasquez said.
After she left the Santa Fe Magistrate Court she worked for a time as security for a contractor. Then, in 2016, she applied for a code enforcement position with Rio Arriba County. It was there, that she discovered she had a passion for helping improve the community through public service.
It's all about compliance
Now, she's been with the city of Española's code enforcement office for almost a year-and-a-half. She loves her job, and it shows.
Velasquez talked about her upbringing, her philosophy of life, and her work as the city government's lead code enforcement officer on an overcast day while making the rounds in the code enforcement vehicle.
As she rides with her co-worker and friend Justin Padilla at the wheel, she notices the little things that contribute to the appearance of the city as a whole.
"See that?" she asked, pointing at an abandoned car on Fairview Lane near the intersection of Railroad Avenue. "That's been there for three or four days. I don't know why they've just left it there like that."
The car was there for almost a week before it disappeared, but Velasquez said she wished that it could be removed sooner. Things like that really affect the appearance of the city, she said. And the appearance and safety of the city is one of her top priorities.
While some people might think of a code enforcement officer as someone who goes around handing out notices about weeds that need trimmed, Velasquez puts a lot more into the job, and brings a teamwork attitude to everything she does.
When she talks about her work, she never says "I" it's always "we." She believes that creating a cleaner, safer city takes cooperation, a willingness to work together and that one person can not possibly make the changes alone.
Her efforts and her attitude have not gone unnoticed. At the monthly city Public Safety Committee meetings, it is common for councilors to speak up and say they have heard from constituents in their district about Velasquez and Padilla.
The feedback, Councilor Peggy Martinez said in March, is almost always positive. She said when she hears from constituents about code enforcement, it is always about how kind Velasquez and Padilla were, and how they explained the city codes and how to bring property into compliance. Feedback from Councilor Justin Salazar-Torres has been similar.
There are just not enough good things people can say about Velasquez in her role as lead code enforcement officer.
"We need more Monicas in the city," City Manager David Valdez said in a May 24 phone interview.
Velasquez said code enforcement is on a weekly rotation, one week on the east side of the Rio Grande, and the next week on the west. The east side is the hardest she said, because it includes Riverside Drive, and most of the commercial district.
As Padilla steered the vehicle up a side street in a residential area, Velasquez pointed out a car with a flat tire that had begun to crack in the hot New Mexico sun. She said vehicles parked on the street have to be in working order.
"This one, we know it runs, because we've seen him drive it," she said.
Velasquez said there had been multiple notices sent to the address, using the mailing address on file with the County Assessor's office.
Velasquez took pictures of the vehicle, and was writing down the details of the visit when a young woman came out of the house.
"Maybe they need an extension," she said quietly before greeting the young woman. "Hi, do you live here? Is this your guys' vehicle?"
The young woman explained that the vehicle was no longer running, and after a brief exchange, Velasquez learned the once-running vehicle was now out of service.
"So let (your parents) know that they need to get it removed as soon as possible," she said. "Let me give you my card. Have them get in contact with me as soon as possible because I think we're about to issue a third notice and if we issue a third notice and it goes to court, we can't help you it's all the municipal courts."
In the end, Velasquez got a new mailing address, and said her department would re-issue a first notice.
"It's all about achieving compliance," Velasquez said as they moved along to the next location. "We're not here to punish people, we want to build people up, and although we can't force people to have pride, I think what we try to do here is try to uplift them."
Accountability is everything
Driving through town, they passed a crew of city workers removing trees and brush from a roadside area.
This work is part of what Velasquez sees as the teamwork that makes her job easier. That means keeping city properties like city hall and the Prince Carter Ranch in good repair. Keeping city properties cleaned and up to code sets a good example, that she believes helps people want to come into compliance with the various ordinances in the city.
"How do we really want to have people do what we expect and follow rules if we're not following them ourselves?" she said.
That means holding everyone accountable. A while back, she said, some city crews were illegally dumping brush in an area, but eventually they were caught and had to go back and clean it up. She said she was glad to see the crew responsible held accountable.
"So you know, accountability is a big, whether you're a female, male, no gender, you always need to be held accountable for what you do," she said.
There has definitely been an increase in accountability within the city since her time with code enforcement. Business signage has changed, and been brought into compliance thanks to the Planning Department's efforts. The improvements are individual, but they come together to make the city better as a whole, she said.
"We're in public service, and that's what I try to stress to people out here, the people of Española are the reasons why I am able to do what I do in my own life," she said. "So whatever I can do to make sure that they understand what it is that we expect of them, we'll go that extra mile."
As she talked, Padilla drove past a corner house with a large lot.
"This one, poor thing, she's like 90 years old, and she struggles," Padilla said.
He and Velasquez worked together to get the woman help with keeping her weeds trimmed and her property up to code. That understanding and vision, is what makes her and Padilla such a good team.
"We have fliers," Velasquez said. "We have pamphlets for people that are unable or low-income, we have resources for them to put in applications that we'll even go turn in ourselves along with the paperwork that's needed to get these people's yards to be cleaned."
That's what a focus on compliance looks like, she said. She treats people with respect and dignity, just like she would want to be treated.
Velasquez said she tries to view each situation from the other person's perspective and let that guide her actions. She asks herself how she would feel if code enforcement officers knocked on her door, and what kind of tactics would make her most likely to respond positively.
As they drive along, they stop at another home, where the owner is ill and in the hospital. Someone is staying at the home now, and opportunity that Velasquez did not want to miss.
As Padilla pulled the car into the driveway, a woman came out and spoke to Velasquez in a friendly tone. Velasquez explained that the weeds on the property needed to be trimmed, but also took time to ask about the owner of the house, and how she was doing. The owner was recovering, the woman said.
Before leaving, Velasquez asked the woman to make sure the weeds were trimmed, something she said she would take care of.
"It's sad," Velasquez said. "They don't have electricity. (The owner) is in the hospital."
She said she wished she could do more, help more, make things better for the people of Española. That's why she and Padilla are working to get certification to not only inspect the outside of homes, but to also address issues on the interior as well.
How you treat people
The city adopted the International Property Maintenance Code, and Velasquez and Padilla have been studying for the certification exam for weeks. She said they are almost ready to take the test.
"That's a lot of complaints that we get," Velasquez said. "Interior conditions."
Once certified, she will be able to inspect electrical work, and address dangerous living conditions that some people live with. Velasquez said she will feel confident enough in her skills to enter homes and truly inspect living conditions. She will be able to issue notices for interior conditions, and will have the knowledge and certification to support her findings.
As she talked, Padilla drove past a house on State Road 76 that they had to condemn because it had no running water or sewer or electricity.
"I wish we could do more to help them," Padilla said.
Velasquez agreed, she said she loves the Valley, and that it's because she loves her hometown that she loves her job.
"I love what I do, the only question I have is would I love what I do so much if it wasn't here in the Valley," Velasquez said. "I don't know if I would go as far and be as passionate as I am if it wasn't in my own hometown."
As she talked, Padilla pulled into a shopping area where several homeless people were gathered.
"How's it going, are you hungry?" Velasquez called out the window. "Do you want a bag of food?"
She jumped out of the front and went to the back of the vehicle where she started handing out bags of food.
"We really do appreciate it," one of the men there said. "Thank you, God bless you, we really do appreciate it."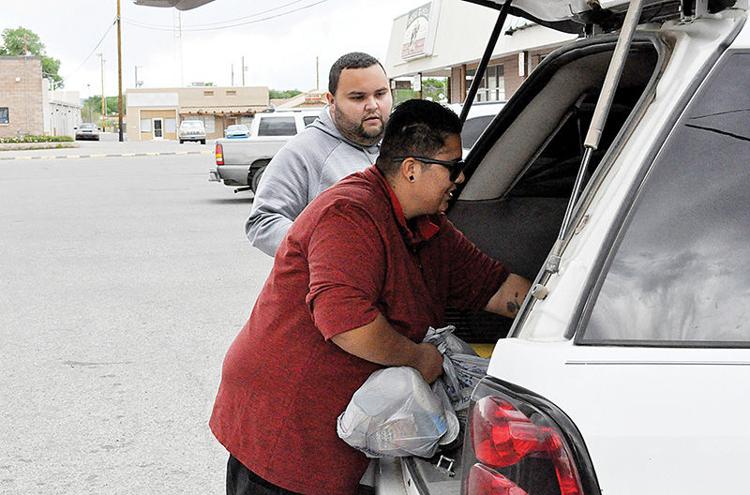 As she stood there, handing out food with Padilla, Velasquez asked the people about their day, and made casual small talk.
"Hey you guys be safe," she said as she got back into the vehicle. "If you guys are going to be kicking it out here pick up your trash please. Thank you, I appreciate you guys."
All of those there promised to clean up the area when they left. Later in the day, there was no trash left behind.
"It's all about how you treat people and it will all come back to you," Velasquez said.