After weeks of heated campaigning by Reform Candidates in the District 4 and District 5 Jemez Mountains Electric Cooperative Board of Trustees elections, the Board will be split five to five.
This means the election of the trustee-at-large, who could be the deciding vote in case of a tie, may come down to a coin flip at the upcoming July annual member-owner meeting.
The Reform Candidates picked up one seat, when Dixon resident Stanley Crawford beat incumbent Victor Salazar Monday in the District 5 race, 308 votes to 290.
District 4 Trustee and Board Assistant Treasurer Secretary Lucas Cordova beat challenger Patrick Herrera June 21 in the District 4 race, 299 votes to 160.
"I am very tired, but it feels good and it feels like the hard work we did has paid off," Crawford said, as he laughed at the announcement he won the District 5 election. "We had a sense it could be close. We brought the troops out."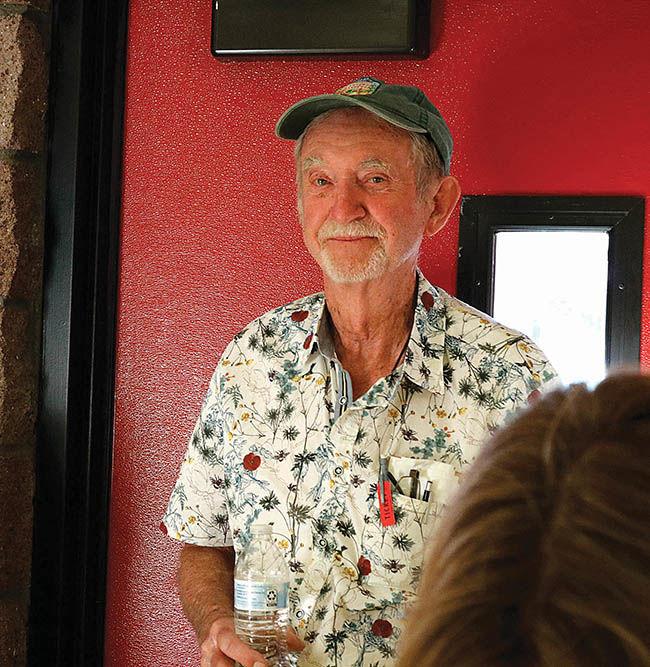 Cordova said this will be his fourth term on the Board.
He said that he already thanked the member-owners for re-electing him and had no further comment.
The results of the election were the culmination of months of campaigning by member-owners for a slate of self-named Reform Candidates, running on a platform of transparency and bringing more renewable energy to the Co-op's service area.
District 6 Trustee Bruce Duran ran uncontested in Wednesday's (6/26) election and will serve another four-year term.
Duran, who campaigned with Herrera and Crawford as a Reform candidate, has been a vocal critic of Board President Nick Naranjo since he took over the position in July 2017.
Duran, along with District 1 Trustee Dolores McCoy, District 2 Trustee Dennis Trujillo and District 4 Trustee David Salazar have openly challenged Naranjo during Board meetings over the last two years.
With the defeat of Victor Salazar, who has historically voted with Naranjo since he took the position in July 2017, the Board will be split five to five.
The 10 elected Board members will vote on a trustee-at-large at the upcoming Co-op annual meeting at the end of July.
Last-minute allegations
Whether or not Duran will be allowed to vote for a trustee-at-large is unknown.
Duran said during a Monday interview that his voting power was taken away.
The Board held a private, closed-to-the-public meeting June 18 to discuss his voting power, he said.
Another trustee, who he declined to name, called him to tell him about the decision to strip him of his voting rights.
The decision is based upon a letter dated June 7 from attorney Jason Bowles, of the Albuquerque-based Bowles Law Firm.
The letter states the firm represents the credit card processing company Secure Payment Solutions, Secure Payment employee Mike Filibeck and a man named John Kubiak.
It is addressed to the Board and Naranjo.
"This letter is to make a request of the board to resolve an issue that has arisen regarding SPS' application to handle the credit card processing account for Jemez," it states.
The letter alleges that Duran told Filibeck "in certain words" that if his assistant accompanied him to his hotel room, the company would be given the Co-op's credit card processing contract.
The assistant declined to do so, the letter states.
"In fact, Mr. Filibeck has said that Duran made it explicit that the only way SPS would get the account would be if Filibeck's assistant would have sexual relations with Duran," the letter alleges.
Bowles did not return phone calls by press time inquiring about the alleged events.
The letter states that the company wanted to continue pursuing the Co-op contract, but without Duran involved in the deal.
It also alleges that when the credit card contract was presented to the Board in October 2018, Duran said that the company and Filibeck attempted to bribe him, which killed a vote on the contract.
Minutes for the Oct. 26, 2018 meeting do not show anything about this exchange. A review of a recording of this meeting does not include this presentation.
It is possible this interaction occurred during the executive session portion of the meeting, but agendas and minutes for executive sessions are not available to the public.
Although the letter outlines Duran's alleged behavior with Filibeck's assistant, the point of the letter is to resolve the issue of Secure Payment's potential contract with the Co-op.
The letter states that Filibeck and his company will pursue a lawsuit and want to "get to the bottom of everything."
"What (the company and Filibeck) would prefer and why I am writing to you is to suggest the parties confer and informally mediate and attempt to resolve these issues," the letter states. "I'm happy to discuss potential resolution with your counsel or whomever is the designated point of contact. Secure Payment desired to serve Jemez on the credit card processing account and that was their intent in seeking this account. Unfortunately, these events occurred and we need to discuss how to resolve them."
Duran denied the allegations during a Monday telephone interview and said he believed this to be "typical Rio Arriba (County) politics."
"They were trying to bribe me to bring them Mike Filibeck's company into the Co-op to do business and I refused and they retaliated because they are good friends with (Board Vice President and District 6 Trustee) Leo Marquez to try and gain influence for the election," he said.
Duran said he has not received any communication from Naranjo or the Co-op regarding his voting power being suspended.
The Co-op's Board of Trustees Code of Conduct Policy states any trustee who does not meet the standards of ethical behavior and legal compliance can be reprimanded.
This can include Board censure, an official reprimand, a decrease or withholding of compensation and reimbursement for attending trainings, conferences and events and removal from all committees.
The policy also states the Board president may ask for other, unspecified action against a trustee.
Photos at polls prohibited
Cordova, in his capacity as chair for the District 5 election, and Co-op contract attorney Charles Garcia, of Cuddy & McCarthy, LLP, both told a Rio Grande SUN reporter they were not allowed to take photos in the polling place.
When asked which Co-op policy or bylaw states no one can make recordings or take photos, Garcia said he did not know and did not have the institutional knowledge to answer the question.
A review of Co-op policies and bylaws shows no such rule exists.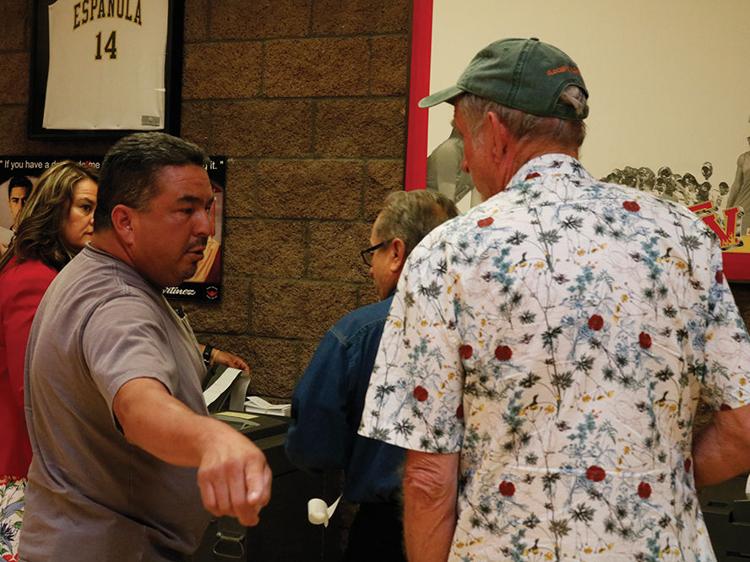 Although a non-existent rule was enforced, actual policies were ignored by the Board president.
During the District 4 member-owner meeting, Naranjo openly campaigned for Victor Salazar.
"I hope when we go to District 5 that the same thing happens over there, that we get Mr. (Victor) Salazar, who has been a very respectful trustee," he said.
The Co-op's Election Policy states that "the Board and the Cooperative are prohibited from endorsing a qualified candidate for election to the Board."
The Board cannot use Co-op resources to support or oppose any candidate during an election, but is allowed to take a public position on other ballot questions, the policy states.
While the Board is not allowed to campaign for any candidates, several trustees sat with Victor Salazar and Cordova on election day.
District 3 Trustee Johnny Jaramillo, District 5 Trustee Charlie Trujillo and Naranjo sat with Victor Salazar.
Trustee-at-large John Tapia, Jaramillo, Trujillo, Naranjo and Victor Salazar sat with Cordova on his election day.
Cordova was also seen speaking to multiple Co-op employees throughout the day, waving at them and giving the thumbs-up.
Co-op General Manager Andrew Chávez was also seen speaking to Naranjo and Victor Salazar on June 24, before getting into a vehicle with Charlie Trujillo.
Duran did not attend either the District 4 or 5 election.
District 4
District 6 Trustee and Board Vice President Leo Marquez said it was an honor to serve alongside Cordova and thanked him for his work.
"You have shown time and time again that your heart and your dedication is to this Board and the member-owners have spoken and they say that they want to keep you here," Marquez said.
Tapia said Cordova has done a good job serving as the representative on the Co-op's power supplier Tri-State Generation and Transmission Association Board of Directors.
"Lucas, you have done a hell of a job and you deserve every vote you got," he said.
Member-owners who voted in the District 4 race between Cordova and Herrera were eager to talk about why they participated in the election.
Cornelio Sanches said he voted for his friend "Lucitas."
"He is a friend of mine and I've known him for a long time," he said. "He is a good guy."
Jimmy Chavez declined to say who he voted for, but said his "statement will explain all that."
"I want a change," he said. "I don't believe the Co-op should be a dictatorship. It belongs to the people."
ChaCha Thompson, who drove a hybrid electric vehicle to the polls, said he voted for Herrera because he wanted to see a change in leadership.
When a SUN reporter began to take photos of Board members at the member-owner meeting after the election, Tapia put his arms in an X over his face and shouted the word "pathetic."
He then used his cellphone to film the reporter and said he would "put it on social media."
After the meeting, Tapia apologized for his behavior and said his hostility came from his experience with past SUN reporters.
The smell of alcohol emanated from Tapia's mouth, and multiple Board members shouted at him to stop talking to the reporter.
Executive Assistant Laura Rendon eventually took Tapia's arm and removed him from the conversation.
Tapia said three days later, at the District 5 member-owner meeting, that he was not drunk.
District 5
Peter Malmgren, of Chimayó, said he was a Crawford supporter.
"I have a lot of respect for Stanley Crawford, and think we are in desperate need of fresh air on the Board," he said. "(I'm) familiar with the Board and it's not on the up and up. (It) needs some people with high integrity and people really interested with the need of changing the Co-op to renewable energy."
Although about 15 people were asked why they voted and who they supported as they left the polls, no Victor Salazar supporters gave comment.
The mood at the District 5 member-owner meeting was markedly different than that of District 4.
While the meetings started the same way, with a roll call of trustees and the Pledge of Allegiance, Naranjo was in a hurry to finish.
"It's been a long day so I am going to expedite it as fast as I can," he said.