This is the third entry in "Women of Distinction," a series of profiles being published weekly this summer about women who make a difference in Northern New Mexico communities.
8,563 miles separate Española from Nashik, India, but it was those 8,563 miles traveled that helped save Johnnie de Schweinitz's physical nature — not to mention, cement her place as a leading figure in the community.
In fact, it was none other than the community of Española itself that made de Schweinitz's journey to India possible, a trip she made to become certified as a yoga instructor in 2001. Thanks to her creativity and artistic abilities, de Schweinitz started a campaign she dubbed, "Journals for the Journey," where she sold average looking composition notebooks throughout the community and on the grounds of Northern New Mexico College. However, she decorated and enhanced the notebooks with quilted fabric that featured abstract and creative designs.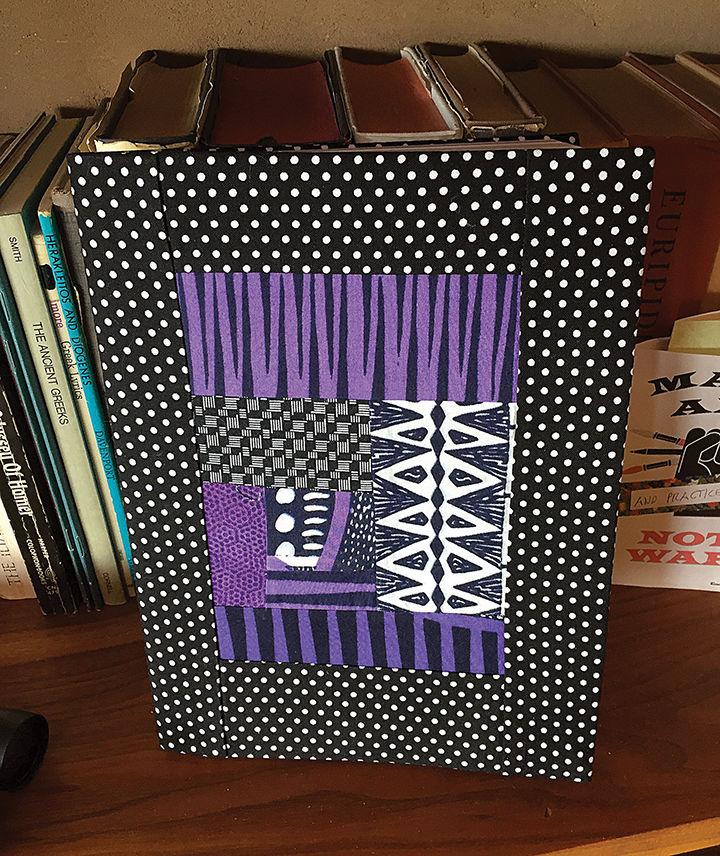 It was those notebooks, which she sold for $20 to $25 apiece that funded her month-and-a-half mission in India to become a certified yoga instructor. She raised between $2,000 and $2,500 for the trip, including a $1,400 airplane ticket. Her training took place at the Yoga Vidya Gurukul studio in Nashik, a little over a three-hour drive from Mumbai, which is India's largest city and where here flight took her.
Checking into a five-star hotel called the Leela Mumbai a few days before her training began gave de Schweinitz a first-hand look at the conditions and the severeness of the poverty surrounding her in the foreign country in which she had never stepped foot.
"It was rough," de Schweinitz said. "I had never seen that much poverty and people all on the streets — whole families."
Conditions did not get any easier once she started her training at Yoga Vidya Gurukul, where the long, grueling days began to take a toll. The biggest issue at hand was proper refrigeration for her injections. She first sought yoga to ease her rheumatoid arthritis.
De Schweinitz said her shots were stored in proper refrigeration, about as far from the yoga studio as the distance from Santa Fe to Albuquerque. The extra stress about receiving her medication properly and on time was the last thing she needed, especially with Española on her mind.
"It was rough training," she said. "I was laying on my bunk one night and I felt kinda bad. I said, 'I'm not gonna pass the training. I can't pass and I'm not going to be a yoga teacher.' I felt I let the people down in Española because they gave me money to come here. I felt I was a failure and I couldn't pass the class for them. I couldn't forget that the people in the community helped me to raise the money to go to India."
As yoga wisdom and nature would suggest, de Schweinitz relaxed herself to alleviate the pressure. She realized the extra weight on her shoulders would only bring negative consequences.
"I told myself, 'You have to learn yoga for yourself, then you can teach others,'" she said. "I had to learn it for myself first, then worry about everyone else."
De Schweinitz was initially diagnosed with rheumatoid arthritis while attending graduate school at Coppin State University, a historically black, public university in her hometown of Baltimore.
After receiving her bachelor's degree in psychology with a minor in alcohol and drug addiction counseling in 1989, also from Coppin, de Schweinitz started at Washington General Hospital for the Baltimore Infants and Toddlers Program working with families of young children who may be experiencing developmental delays.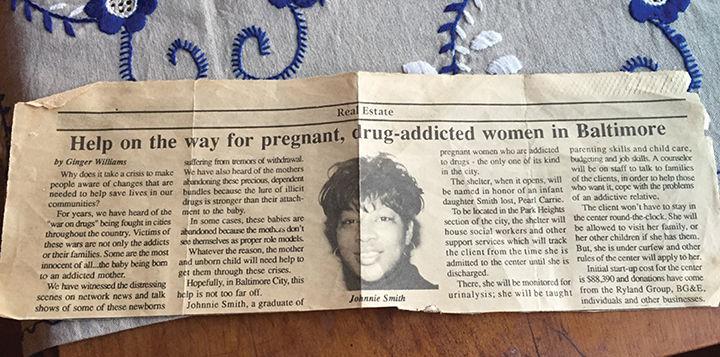 While there, a coworker convinced her that graduate school was her next turn in finding a more successful life for the future.
"I was never a great student, and believe me, I never wanted to go back to school," de Schweinitz said.
She did, and what would follow in the coming years before receiving her master's degree in vocational rehabilitation in 1993, was pain, suffering and exhaustion for de Schweinitz. Amid a divorce from her first husband, she continued to work for Infants and Toddlers, while taking 18 credit hours per semester. Everything she was involved in resulted a complete shutdown of her body, she said.
"I found out my system had shut down because I over-taxed it," de Schweinitz said. "That's when I found out I had rheumatoid arthritis, and we had to find a medicine to put me on to be able to help me to walk, bathe myself — do almost anything."
Bringing yoga to the Valley
De Schweinitz dealt with pain for several years before she made her permanent move to New Mexico in 1998. She would go on to successfully complete her certification in Nashik in 2001, which opened the door for a long road of yoga instruction, held locally in Española. De Schweinitz was first introduced to the practice of yoga by a woman named Susan Weber, with whom she began taking classes at the Bond House Museum in Española before her venture overseas.
"She told me, 'Johnnie, you could be a yoga teacher,'" de Schweinitz said. "I said, 'Oh lord, no way. I can't be a yoga teacher, I don't have that kind of flexibility,' but she said, 'You can and you can learn it, and believe me, you will be able to do it.'"
After successfully learning it, passing her training and returning to Española, de Schweinitz began running classes at Valley View United Methodist Church for free, or for whatever sum of money the students were willing to donate — often just a few dollars.
She did this for several years while working for the state at the New Mexico Division of Vocational Rehabilitation on La Joya Street as a vocational rehabilitation counselor. New to the yoga business, and to paying for the space needed to hold the classes, money became tight and de Schweinitz began paying out of her own pocket to cover the costs: a road down which she knew she could not continue. That's when the minister of the church gave her some advice.
"What's going to happen when you retire Johnnie?" he told her. "Who's going to pay this money then? You need to start charging them."
She began charging $10 to $12 per class, which has kept the courses going for the past 17 years. De Schweinitz currently offers four different types of yoga in Abiquiú and San Pedro, which includes yin yoga (working on connective tissues and fascia in the body), hatha (balancing breathing and flexibility) and restorative yoga (holding only a few poses for 15 to 20 minutes in order to reduce stress).
Possibly her most influential class is chair yoga — for those who have disabilities or limitations and cannot get down on the floor.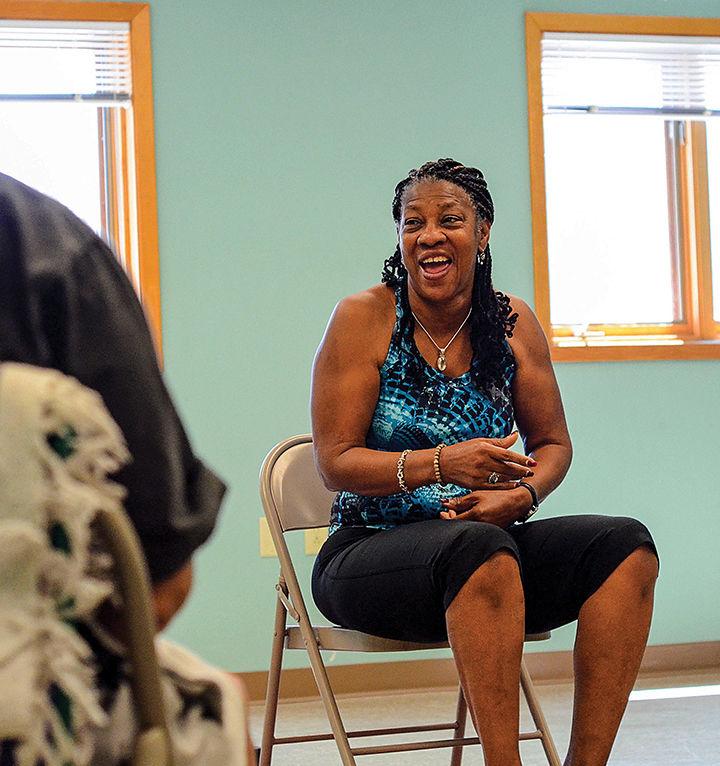 With the long tenure, it's no surprise de Schweinitz has built a following and a pool of dedicated clients. 70-year-old La Mesilla resident Cathy Aguilar has been involved in the classes for eight years now, and she is still going strong in restorative and yin yoga, after originally starting in hatha.
"I really feel like she has given me a community to be a part of," Aguilar said. "She's a real resource in this community for a variety of people."
It wasn't until Aguilar went through tough times herself that she was fully exposed to de Schweinitz's caring nature.
"I quit for a long time and then my husband died," Aguilar said. "At that time, she was the one who came to me and said, 'You know, you need to come back to yoga.' She kind of made me do something that I wasn't particularly motivated to do, and it really got me out of my shell and made me get involved and get physically and mentally stronger."
De Schweinitz's impact and care is no less noticeable to those students who have not been attending classes as long as someone like Aguilar. Even those who had never stepped foot into her classroom at the San Pedro Community Center got the right first impression.
Margaret Salazar has participated in chair yoga for a year now, but she never would have found out about the class if it weren't for de Schweinitz's friendly offer and eagle eye.
"Johnnie drove up by my house one day and I was limping along and I thought, 'Oh, she's in the wrong place or she's lost,'" Salazar said. "We started talking and she told me to come join, so I did. I was having trouble with my sciatica, my core and balancing. Now that I've started chair yoga, I noticed I'm able to reach things, which I never was (able to). I can grab my stepladder, clean my chandeliers, and I'm like, 'Oh my gosh I can actually do this.' My whole body has changed."
Salazar said de Schweinitz's lessons have already helped her save herself multiple times in the last year since starting the class.
"There's been times when I've almost fallen and somehow, I land on my feet," she said. "I don't know how, and I'm thinking, 'Yoga!' Johnnie is just a wonderful person and a lot of the times I think, what would we do without Johnnie."
De Schweinitz also spends time with her students outside of the yoga studio. She offers to host what she calls "yoga brunches" at her house in San Pedro that overlooks Black Mesa Golf Course, or the group will venture to various restaurants around the area, even including the upscale Izanami restaurant at Santa Fe's Ten Thousand Waves resort and spa.
"It's wonderful and it really makes us a community," Aguilar said. "For all her students, we get to further know each other and socialize. All the people are really sweet and they're all local."
Baltimore beginning
De Schweinitz grew up in Baltimore, Md. in a crowded household with nine other siblings, and she found herself smack in the middle of the group. Her parents were originally from South Carolina, and in Baltimore, they had to each work multiple jobs to survive.
De Schweinitz said growing up as a black woman in the community had no effect on her views or the way she approached life, nor the way she was treated.
"No one really ever said anything and I never was treated any differently," she said. "No one really said anything inappropriate to me, because if they did, I could always come back and answer back. I'll put them in their place."
She learned to be tough and picked up a natural knack for survival when her parents sent the children off to summer camp, and also to various events at the local YMCA.
De Schweinitz credits her community-oriented personality to her time in the Girl Scouts and Junior Girl Scouts.
"I've always done work in the community and been a part of the community," she said. "I was a girl scout and a junior girl scout, so it taught me how to survive. It taught me to look out for myself and others."
Her father was responsible for teaching her the ins and outs of marketing and sales, like when they spent time together operating a fruit stand from a truck in front of local nursing homes. She credits those memories to her future employment working at Pace Membership Warehouse in 1982, before it became Sam's Club.
"I remember they'd (senior citizens) come out, cut a little plug in the watermelon and taste it to see how it is, you know," de Schweinitz said laughing. "My father taught me about marketing and sales, then I went to work for Pace Membership Warehouse. I was the top salesperson at my location for a company that grosses millions of dollars. I thank him for that experience."
While her father was certainly influential, it was her mother, Geneva Small, who was the spearhead for de Schweinitz's attribute of caring for the community.
"It's sort of a tradition in her family that goes back to her mother," de Schweinitz's husband, Clark de Schweinitz said. "Her mother was very active in Baltimore in volunteering in senior affairs and other things. I remember Johnnie talking about taking her and her two kids from her previous marriage and going to nursing homes on the weekend just to volunteer and help out. She has had that sense about moving just beyond the immediate and doing some kind of transcending help to people."
Johnnie de Schweinitz said she first met Clark de Schweinitz in high school, but the two became closer years later in the early 1970s when they reconnected by the knot of a tie. At the time, Johnnie de Schweinitz sold hand-made ties to lawyers in Baltimore while Clark de Schweinitz worked for AmeriCorps VISTA (Volunteers in Service to America) at Baltimore City College.
He also worked with the Lawyers' Committee For Civil Rights Under Law, and his work later brought him to Northern New Mexico, where he moved in January 1972. He worked with the federally-funded Northern New Mexico Legal Services program (now New Mexico Legal Aid) after first coming to work as a volunteer again for AmeriCorps VISTA.
As their relationship grew stronger, Johnnie de Schweinitz began to visit her future husband in New Mexico off-and-on.
"We kept our relationship and friendship up through part of the '70s," Clark de Schweinitz said. "There was a little bit of the hiatus in the '80s. She had a first marriage, I had a marriage and they both fell out and we got back together about 1994 and we married in 1999."
Move to New Mexico
When Johnnie de Schweinitz permanently moved to New Mexico in 1998, she picked up work at the New Mexico Department of Labor as an employment counselor. She did that for three years before transitioning to her role at the Division of Vocational Rehabilitation, where she worked for 14 years before her retirement.
At some point during her tenure there, Johnnie de Schweinitz had ambitions of moving to a higher-paying job with the federal government, but it was her husband who convinced her to stay where she was most valued — in the Valley.
"I've always been fond of the North and I thought she fit right in," Clark de Schweinitz said. "It worked out, and I did a lot of good things in the Valley and I thought people knew me, but man, people know her a lot better and she's really done some good things."
While at the Division of Vocational Rehabilitation, she closed an average of 40 cases per year (25 was considered strong).
Her favorite successful cases were transitioning high school students with disabilities to college. She generally helped the unemployed with disabilities find work or regain their jobs, but no matter who was sitting on the opposite side of her office desk, she kept a similar attitude.
"That taught me a lot about people's personalities," Johnnie de Schweinitz said. "Some people thought I'd be too scared to go into some of these areas in Chimayó and other rough areas, but I trained in the inner-city in Baltimore. The only difference was environmental culture — it was the same issues and I didn't see any difference."
Aside from her yoga classes, Johnnie de Schweinitz also dabbled in starting a walking group in the community after running the Española Bicycle Coalition. The walking group has slowly fizzled out over the past couple of years — but de Schweinitz keeps up her own pace.
She walked up to 25 miles a week for many years, but has allowed herself the maximum of 18 miles per week just recently after eclipsing 1,000 miles in 2017.
"I'd rather be out there walking then inside binging on Amazon Prime or whatever," Johnnie de Schweinitz said. "I won't be binging on Bosch and that kind of stuff."
More importantly, walking is another tool she uses to combat her rheumatoid arthritis.
"It comes down to, 'If you don't move it, you lose it,'" Johnnie de Schweinitz said. "You can't take care of no one unless you take care of yourself first, and that's kinda what yoga is all about: practicing love and kindness. The Yoga Sutras says you can't attach yourself to anything; not even a breath, because you will lose that too."
Although retired, her work with the homeless and unemployed while at the Division of Vocational Rehabilitation has resurfaced in 2019 and kick-started Johnnie de Schweinitz's latest community-based effort.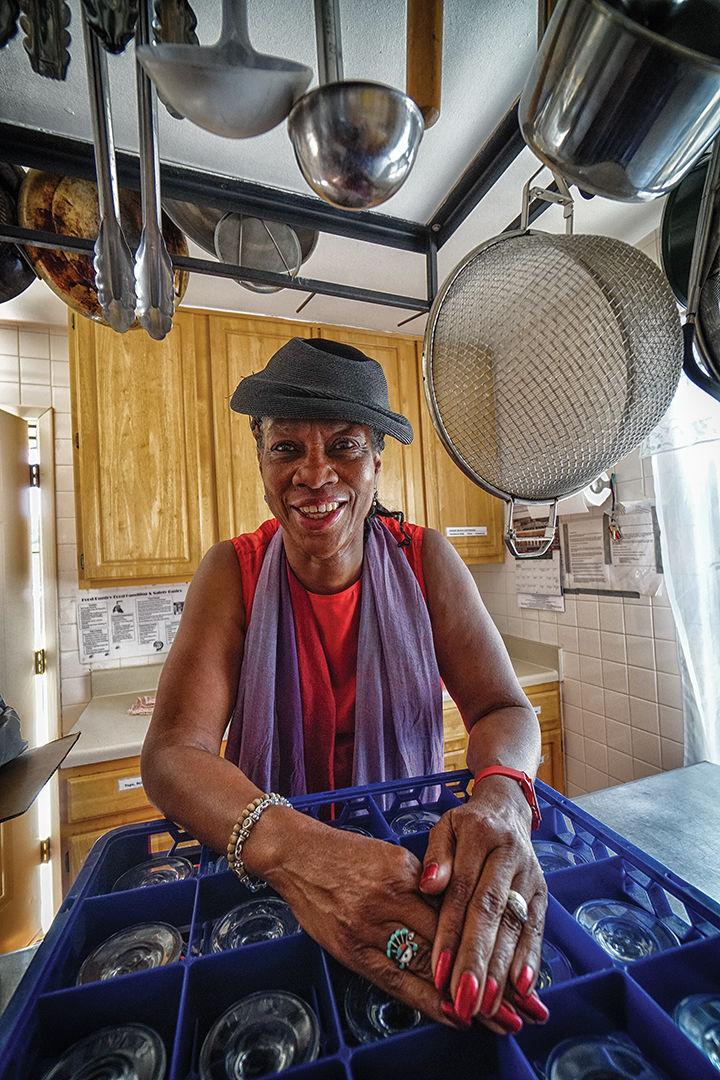 After several months of planning and probing for volunteers, she finally was able to execute her first 'Friday Night Dining' event, a fine dining experience for Española's homeless, disabled and elderly in need — all free of charge.
She hosted the first dinner June 21 at the San Martin de Porres Soup Kitchen, and even recruited Northern New Mexico College President Rick Bailey to help. The dinner had 18 attendees and was catered by Santa Fe-based Bon Appetit Catering.
She is hopeful to host a dinner once a month, given she can keep recruiting enough volunteers. The next dinner is tentatively scheduled for July 26 at the Española Senior Center.
While passing out flyers all over town to any of the homeless people she could find, Johnnie de Schweinitz realized most of them were familiar faces.
"Most of the homeless people in the community, the ones holding signs, they were my former clients," she said. "I have experience working with them, for one, but I thought it would be a great idea because no one had done it before. I've been retired and if I can still help these people, I will."