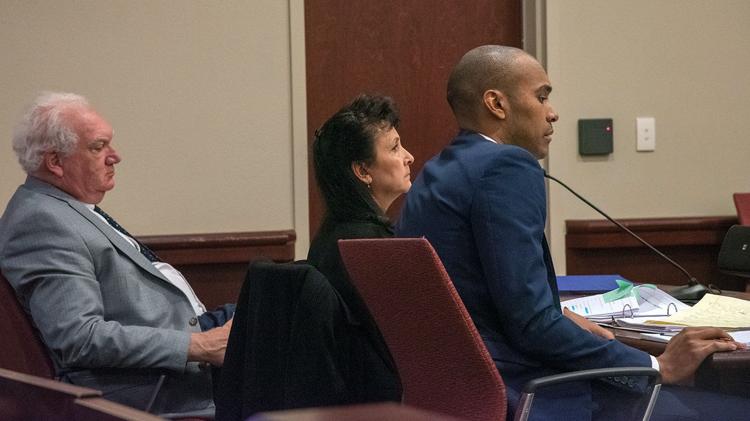 A jury found Laura Seeds guilty of five of 12 counts of felony voter fraud Nov. 7 in relation to her work on her husband Robert Seeds' 2016 election campaign for an Española City Council District 4 seat.
Each of the charges are fourth degree felonies, punishable by up to 18 months in prison and fines up to $5,000. She was found guilty of two counts of false statements relative to the Municipal Election Code, two counts of unlawful possession of an absentee ballot and one count of conspiracy to violate the Municipal Election Code.
On the stand Nov. 6, Laura Seeds reiterated previous claims the case was a politically-motivated "witch hunt" brought by state Attorney General Hector Balderas to thwart Robert Seeds' unsuccessful 2018 bid for Española mayor.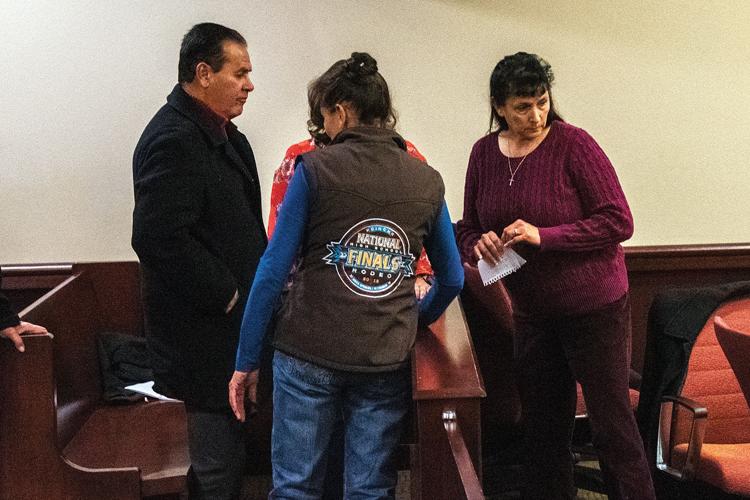 Three of the more than a dozen witnesses called to testify by the Attorney General's Office last week said that they concretely saw Seeds commit a crime by possessing others' absentee ballots: a 93-year-old voter, a 22-year-old voter whose story flipped twice depending on which party was questioning him, and Seeds's co-defendant turned star state's witness, Dyon Herrera, who worked as a main volunteer on Seeds' husband Robert Seeds' 2016 Española City Council election campaign.
Under state law, it is illegal for anyone but an immediate family member or caregiver to possess another person's absentee ballot, information which retired state Bureau of Elections director Kelly Romero—who was contracted as a 2016 Española Municipal Election official—testified was readily available to the Seeds in an election handbook available and advertised to the public.
Attorney General Hector Balderas said in a statement after the verdict, "I am committed to protecting the integrity of our electoral processes and rooting out corruption throughout our state. Laura Seeds violated the election laws that ensure the integrity of the democratic process, and I am pleased that our office was able to achieve justice in this case."
Assistant Attorney General Peter Valencia said at the trial Seeds could be found guilty for making false statements relative to the Municipal Election Code for false signatures made by other people if Seeds had prompted and aided the crime.
Seeds testified that the election materials provided by officials had not included any rules, which election officials showed was not accurate. She said it was not her concern if signatures were forged by family members in front of her and that she delivered absentee ballot applications with false signatures.
"I can't sit there and say 'You can't sign for somebody,' because that's not my concern," she said.
Voter Yvonne Gonzalez testified that Seeds and Dorothy Borrego—another campaign volunteer who later invoked her fifth amendments rights on the stand—came to her family's car wash business to get absentee ballot applications filled out for herself and her parents, Alice and Frank Serrano, who were away at the time. She said that with her parents' permission and in the presence of the two campaigners, she signed the ballot for her mother but did not for her father, though she did not remember which of the women might have signed it. Laura Seeds was convicted on the false statements charge relating to Frank Serrano's application.
Marlow Hooper, Seeds's defense attorney with Cuddy and McCarthy, said Laura Seeds never possessed another person's absentee ballot, and criticized investigators in the case for never meeting with Seeds herself. He said any inauthentic signatures were signed either by family members of voters or by Herrera, without Seeds's knowledge.
In his closing statements, Hooper urged the jury to stick to hard facts and find Seeds not guilty.
"Suspicion does not equal guilt," he said. "The state in their case, they are asking you to speculate, to assume, and to connect dots that just aren't there."
After the verdict, when approached for comment in the hallway outside the courtroom, unidentified members of the Seeds family shoved a Rio Grande SUN reporter and a Santa Fe New Mexican reporter, and directed questions to defense attorneys on Laura Seeds' behalf. 
Hooper said in a phone interview Tuesday, "We're focused on advocating for Laura at her upcoming sentencing and exploring her legal options."
Romero testified—backed by the testimony of then-Española records clerk Theresa Salazar, who was also present—that when Laura Seeds and Herrera legally brought a group of absentee ballot applications to City Hall, she and Salazar pointed out that an application for a Ben Lopez was unsigned.
Romero said that Laura Seeds told Herrera to go have Lopez sign it in the car outside and he returned quickly, but Lopez testified he was not there. Seeds was found guilty of false statements relative to the Municipal Election Code in relation to this incident.
Romero said this and another similar instance in which Herrera has since admitted to forging his grandparents' signatures outside of Laura Seeds' presence led her, Salazar, and then-city clerk Anna Squires to notify the Secretary of State's office of potential problems.
Joshua Fresquez, a 22-year-old voter, first told prosecutors he left his absentee ballot for his father to mail, but prosecutors played audio of his previous testimony under oath before the trial saying he gave his ballot to Laura Seeds. Under questioning by Hooper, Fresquez said he meant that he gave the application to Seeds but not the ballot itself. Prosecutors then showed him a transcript in which he made reference to giving paperwork specific to the ballot to Laura Seeds.
Fresquez said the three distinctly different signatures on his voter registration, his application for an absentee ballot, and his ballot were due to a budding interest in calligraphy at the time. His father, Joseph Fresquez, testified Wednesday that he legally mailed his son's ballot, not Laura Seeds. 
Felix DePaula, a 93-year-old voter, testified that Seeds mailed ballots for his since-deceased wife and himself and "saved him the stamps." Both his and Joshua Fresquez's ballot envelopes were among 18 received at the same time at City Hall with the same postage. Joseph Fresquez said he could not explain the similarity and that he did not recall anyone giving him stamps. Seeds was convicted of the unlawful possession of Felix and Sadie DePaula's ballots, but was found not guilty in relation to Joshua Fresquez's ballot.
Herrera testified that Laura Seeds offered him a job at City Hall if Robert Seeds was elected and she paid him for his work on the campaign in "pocket money."
"I had just lost my father and I was unemployed," he said. "I was vulnerable, I probably seemed like an easy target."
Herrera said he and Laura Seeds would drop off bundles of absentee ballots at the post office regularly during the campaign.
"I think she just wanted to be sure they got in," he said. "It was in the hundreds. I'm not too sure the exact number, but it was a lot."
Robert Seeds won the election for the District 4 City Council seat with 238 votes, two more than his opponent Cory Lewis. Of the 104 absentee ballots cast, all but 10 went to Seeds.
Lewis unsuccessfully challenged the results in 2016, claiming in a lawsuit that signatures on some absentee ballots were not authentic.
Herrera said that Laura Seeds signalled for him to forge Ben Lopez's signature on the ballot by giving him the unsigned ballot and telling him to get the signed one from the car when they both knew there was no such ballot.
"'Jito, go get the signed one from the car,'" he recalled Seeds saying. "She never verbally said it, but I knew what she was indicating me to do."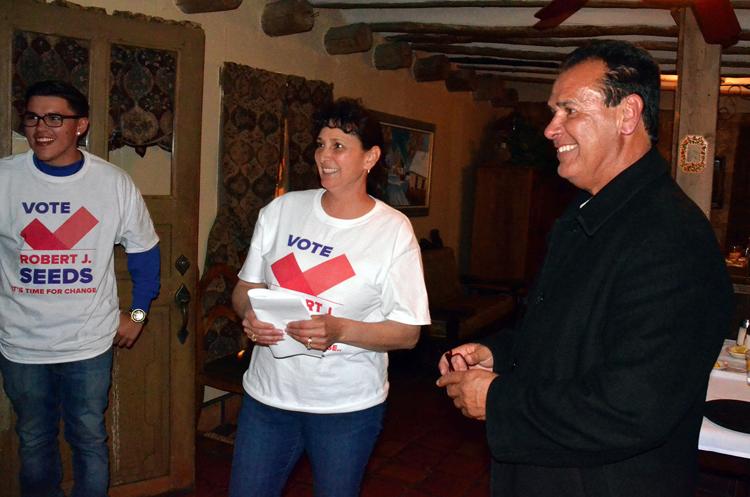 He testified that Laura Seeds told him it would be OK for him to fill out and sign ballots for his grandparents, and that when investigations began, she told him to keep quiet. Hooper attacked Herrera's credibility based on his previous felony charges and his admitted lies to investigators early in the case.
Seeds denied Herrera's claims but said if she had seen Herrera do something illegal she would have spoken with him about it, but not necessarily with officials.
"I'm not the police, sir, I have my own issues," she said.
Sentencing for Seeds is set for Dec. 9 and she still faces separate pending charges of committing intimidation in a municipal election, coercion of a voter, and disturbing a polling place.
Jury selection for the trial, which concerns actions alleged to have occurred in the 2018 municipal election, is set for June next year.