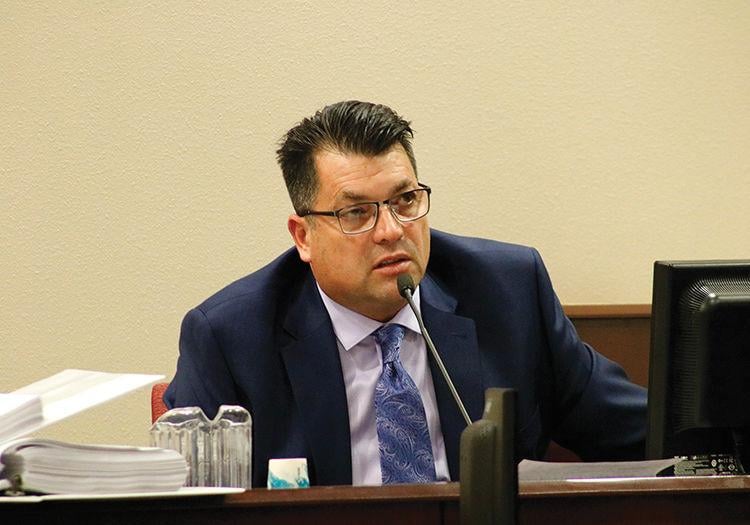 The Jemez Mountains Electric Cooperative plans to sign a lucrative, 25-year solar energy contract with an Albuquerque-based company that employs a member of its Board of Trustees.
John Tapia, the Board's current member-at-large, former Board president and former District 6 representative, works for Consolidated Solar Technologies, LLC as its solar specialist in its commercial, utility, cooperative and renewable division.
Tapia has been working for the company for about five months and received an offer letter for the position June 25.
The Co-op and Rio Arriba County officials broke ground on a 2.5 megawatt solar array Oct. 26 in Alcalde.
The project is a partnership between the Co-op, the County and Jerry Mosher, the owner of Consolidated Solar and Cuba Jemez, LLC — a company created by Mosher to build and own the array.
Cuba Jemez was created on Sept. 18, according to its business registration on the New Mexico Secretary of State's website.
In Dec. 17 interviews, Board President Nick Naranjo and Co-op General Manager Donna Montoya-Trujillo said they did not know Tapia worked for the company.
"I guess I don't have a comment," Montoya-Trujillo said. "I didn't know."
Naranjo said there was no conflict of interest related to Mosher's company because he did not know Tapia was an employee of Consolidated Solar, and because County officials chose the company.
The Co-op plans to buy electricity generated by the solar array at six cents per kilowatt hour for the next 25 years.
In an October interview, Mosher said the project will require 17,000 solar panels and can produce up to 17,050 kilowatt hours of electricity each day.
Tapia has not talked about his employment with Consolidated Solar during monthly public Co-op Board meetings.
He talked about it publicly during his first day of testimony in his lawsuit against Los Alamos National Security, LLC. Tapia sued the company, which previously managed Los Alamos National Laboratory, for breach of contract. A jury awarded him  over $730,000 on Dec. 14.
He was elected to the Co-op Board in 2013. During the trial, Tapia admitted to doing Co-op business during Lab work hours and with Lab equipment.
During closing remarks, Lab attorneys said Tapia is able to make commission off of sales he makes working for Consolidated Solar.
Tapia did not return messages inquiring about his employment with Consolidated Solar Technologies or commission payments by press time.
Mosher also did not return multiple messages inquiring about Tapia's employment by press time. 
County involvement
In addition to denying he knew anything about Tapia being an employee of Consolidated Solar, Naranjo also said the Co-op was not at all involved in deciding which solar company would build the array.
"The County, they are the ones that are signing the contract," Naranjo said, referring to the County's plan to lease land to Mosher.
He said the Co-op would purchase electricity from whichever company leased the land from the County.
"We have no control of who the County makes contracts with," he said. "We are going to buy the power from the company of whoever (sic) sets up the array. How could it be us? We have nothing to do with the County."
The County originally planned to build, operate, maintain and own the solar array, County Economic Development Director Christopher Madrid said. Deciding it was too risky, County officials instead planned to lease County-owned land where a solar developer would build the array.
"It made more sense for us to be the landlord and take the $60,000 a year and take no risk and go on and do other things," he said.
Mosher will lease the land in Alcalde from the County for 25 years at $30,000 per year.
County Attorney Adán Trujillo said the lease has yet to be executed and still needs to get final approval from the New Mexico State Board of Finance.
Before the County decided to not build the array, Madrid said he reached out to solar developers who could be potential partners in the project. When it was decided the County would only lease the land to a solar developer, he introduced the companies he spoke with to Co-op officials.
"(We) did an introduction handover and said, 'We vetted them this far and showed information and do what you (the Co-op) wish,'" Madrid said.
At some point in the mid-summer, Madrid said it was late July or early August, County officials learned Mosher wanted to submit the proposal.
This would have been about one month after Tapia received his job offer letter from Consolidated Solar.
At that point, it was out of the County's hands, Madrid said.
"We quit being the in-between and introduced everyone to pass along information to Jemez," he said. "We didn't make the decision."
Although the County will have a lease agreement, Mosher and Cuba Jemez will also have to sign a Power Purchase Agreement with the Co-op in order to sell power generated by the array.
A Power Purchase Agreement is a contract between a solar developer and customer, according to the Solar Energy Industries Association.
The developer designs, permits, builds and installs the solar energy system at little to no cost to the customer with an agreement that the customer purchases power generated by the system at a fixed rate for a set time period.
Montoya-Trujillo said the Co-op is still waiting for approval of the contract from the Tri-State Generation and Transmission Board of Directors.
Tri-State is the generation and transmission company from which the Co-op purchases its electricity. The Co-op's contract with Tri-State says it is only allowed to purchase 5 percent of its total power from renewable energy sources.
Naranjo said Tapia had no influence on the Co-op's decision to sign the 25-year-contract with Mosher.
"He is not going to convince me on anything and I am going to do what is best for the Co-op," he said.
The array will cost about $7 million to build, Naranjo said.
Enjoy reading the SUN online? Then you'll love the print version. This is just one of the 28 local news, opinion and sports stories published in the Dec. 20, 2018 edition. To see the rest, buy a copy from one of our vendors on the street or at one of these locations.