This is the ninth entry in "Women of Distinction," a series of profiles being published weekly this summer about women who make a difference in Northern New Mexico communities.
Determined. Hard-working. Vivacious.
These are some of the words used by those who know her best, to describe Española School District Superintendent Bobbie Gutierrez.
No matter how long or the circumstances they came to know her, all of them agree Gutierrez possesses a fierce and undying passion to do right by the children she serves.
"For her, it is always about children first," said Gloria Rendon, her longtime friend and mentor. "Her whole decision-making is based on what's best for children. It may not always be best for adults, but that's not her job."
Gutierrez has kept this commitment to better the lives of students throughout her 30 years working in public education. In that time span, she has worked her way up from part-time teaching internships to leading one of the largest school districts in New Mexico.
Ask her, though, and she will say her motivations are far more simple.
"I just really love kids and I think it's important," she said about her line of work.
Anyone who talks to Gutierrez about education will immediately notice her passion about the subject, her face lighting up as she describes topics like reading curriculum with unparalleled nuance.
Her life, too, has been filled with incredible amounts of nuance, full of moments both ordinary and extraordinary.
And it all began with a conversation between two women in a South Carolina laundromat.
Early life
In 1956, two women met each other in the laundromat on a military base in Greenville, S.C. Both of their husbands were overseas in South Korea at the time, and one of the women was facing a serious dilemma.
While her husband was away, the woman had an affair and was now pregnant. She said she had to give away the child, because of her husband and the fact that she already had a 2-year-old child at home.
The other woman, Charlene, knew a solution. Her brother-in-law and his wife, who lived in Texas, had been trying to have a child for years, unsuccessfully, and were looking to adopt. Charlene suggested they could adopt her child once he or she was born.
Soon, J.C. and Vinita Kates were notified of the situation and traveled to South Carolina just three days after the baby was born.
After signing some paperwork, the Kates returned home to Texas, along with their new child, Bobbie. She said her parents only paid $10 to adopt her and that she "was sold like a piece of real estate."
"My husband told me he would've paid $25," she joked.
All these years later, Gutierrez said she is still not interested in trying to find her biological mother. Her family's love has been enough for her.
She describes her father J.C., a road construction worker, and her mother Vinita, a cafeteria manager, as "salt of the earth," simple people who worked for everything they had and always lived within their means.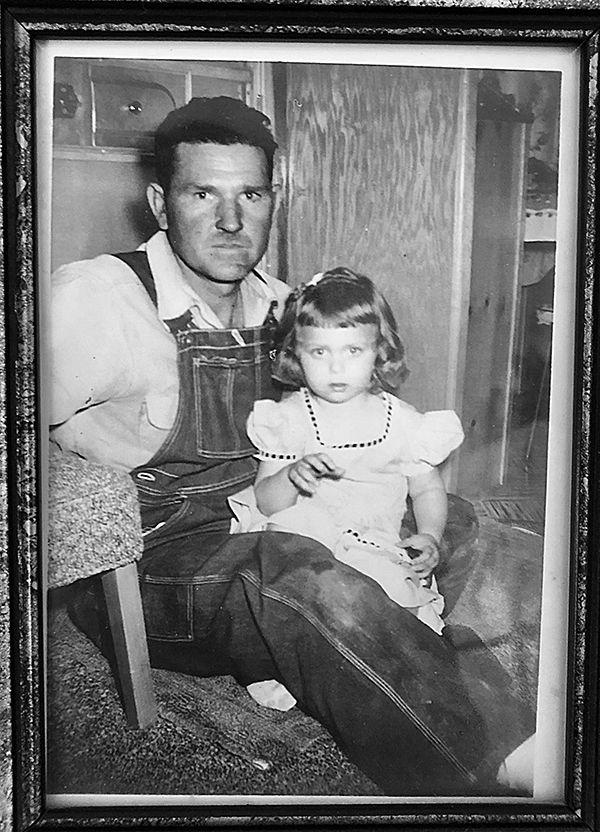 This small family had their own slice of the American dream, especially for Bobbie. Her childhood in Lubbock was filled with playful memories: volleyball tournaments, playing games outside with her cousins, bringing home a stray dog and then another.
A self-described "tomboy extraordinaire," Bobbie was not a stay indoors kind of child, though at one point she did have a rather large Barbie collection.
"That was good for a little while, but not for long," she said. "I wasn't a doll person."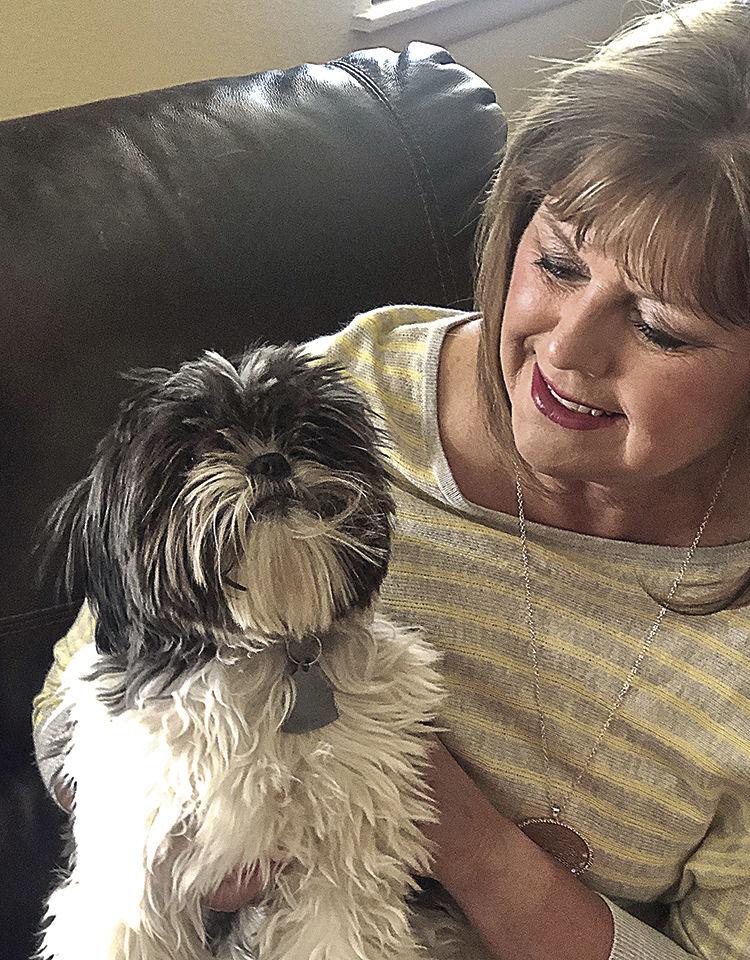 Of all the life lessons her parents taught her, Gutierrez said one of the most important was their continual emphasis on the importance of a good education.
"He never wanted me to work as hard as he did," she said, referencing her father, who often spent most of the workweek traveling to different sites around West Texas, only returning home on weekends.
"Education was very important, especially to my father because he didn't have one," she said.
Gutierrez describes her father as a brilliant man, but one who lacked a formal education and therefore had severe trouble reading.
One particular series of childhood memories, though, had effects that would reverberate throughout the rest of her professional life.
Every time they went to the grocery store, her mother would buy her a small book and read it to her once they got home. Bobbie would have her mother read it over and over again, so that she knew it by heart by the time her father returned from work.
She would then climb into her father's lap, and read the small book to him out loud, trying to teach him how to read.
It was these afternoons spent reading to her father out of care and love that first planted the idea in Bobbie's head to pursue teaching.
Even though she was only in the third grade, she knew at that point that she wanted to pursue teaching as a career.
Teaching career
After graduating from Monterrey High School, Gutierrez stayed local and attended college at Texas Tech University in Lubbock.
Despite her childhood dream of one day teaching, her first major at Tech was actually fashion merchandising. However, after taking a child development class as an elective, she realized any future career she had would have to involve children and switched her major to education.
She graduated from Tech in 1982 and got her first job teaching physical education. Eventually, she moved to Corpus Christi on the Texas coast to complete her elementary certification. Once finished, though, she realized how hard it was to find a full time job in teaching at the time.
While many school districts around the county currently face significant teaching shortages, the same could not be said of teaching in the 1980s. Eventually, Gutierrez did manage to secure a job teaching second and third grades in Corpus Christi, but soon had to move. Her first husband, John, landed a banking job in Santa Fe.
Moving to New Mexico meant Bobbie once again had to hunt for a teaching job.
"I couldn't get a job in Santa Fe," she said. "There were no vacancies."
After many unsuccessful attempts to secure a teaching job, Bobbie nearly began working at a travel agency instead.
"I had actually been interviewed, and they wanted to hire me," she said.
Just before she took the job, though, Santa Fe Public Schools called her. They saw she had completed a reading specialist certification while in Texas, and wanted her to become a Chapter 1 reading specialist, a position based on federal law now known as Title I.
"I absolutely loved it," she said.
Decades after trying to teach her father to read, she was now taking those skills and building a career with them.
Her workday consisted of teaching middle-schoolers who lacked proficiency in reading, employing different strategies to improve their reading comprehension.
When a language arts teacher became ill, Gutierrez stepped up to fill the position and soon began working there full-time, finally securing a teaching position in Santa Fe. The next few years were spent teaching language arts at De Vargas and Capshaw Middle Schools, both of which are now closed.
Even after earning a full time position, however, she continued to educate herself. Grants were being offered for teachers to pursue a master's degree at the University of New Mexico, while also working as interns at local school sites. Out of all the applicants for the program, Gutierrez was one of only five selected.
Her life soon became busier than ever. Twice a week, she and the other four participants in the program would drive to Albuquerque for their classes. The rest of the week, she did an administrative internship at Piñon Elementary. There was also the added responsibility of raising two sons, whom she had with her first husband.
After divorcing her first husband, she married Eddie Gutierrez, from Northern New Mexico.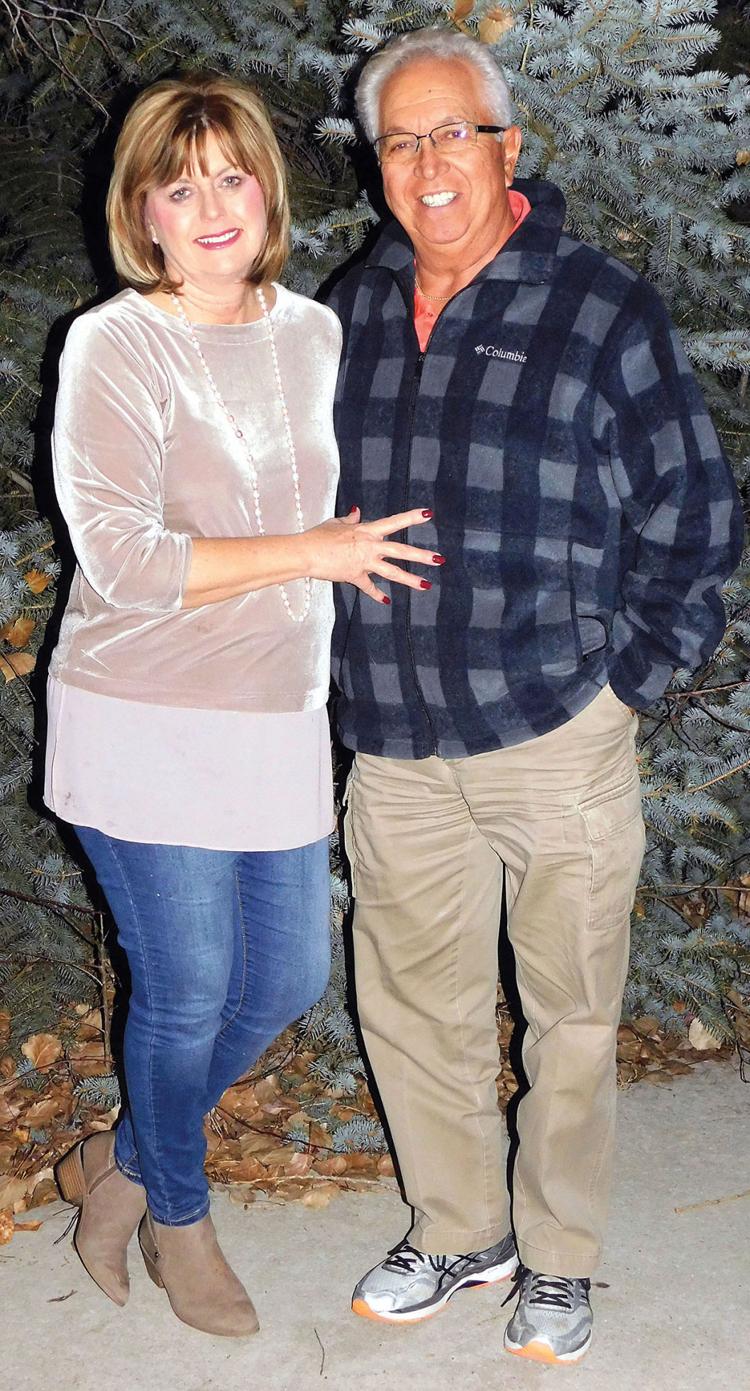 She still recalls just how stressful all these different responsibilities were and how much they weighed on her.
One night, sitting on her floor and working on a huge project for one of her classes, she broke down and started crying, convinced it was impossible to work full-time, go to class and raise a family. Eddie sat down next to her.
"We're going to do this together," he said.
Gutierrez eventually completed graduate school, and her educational career only continued to soar.
Even after becoming a school administrator, she looks back fondly on her time as a classroom teacher.
"I had a great teaching career, I loved every minute of it," she said.
Many years after teaching middle school, Gutierrez still remembers all three children she gave a failing grade and cannot help but feel it reflected on her teaching abilities.
"I somehow felt like I had failed — I could still tell you their names," she said.
Before she knew it, though, Gutierrez went from being responsible for over 30 students in one class to overseeing a school district with thousands of students.
Holding a commitment
Gutierrez' first experience working as an administrator occurred almost by chance.
While interning at Piñon Elementary, the principal of the school took a position as assistant superintendent of the District. While still in graduate school, the associate superintendent asked her if she could fill in as principal for the rest of the year.
The few months in charge of Piñon prepped Gutierrez for the next semester, when she would become the principal of E.J. Martinez Elementary School, a position she would hold for five years.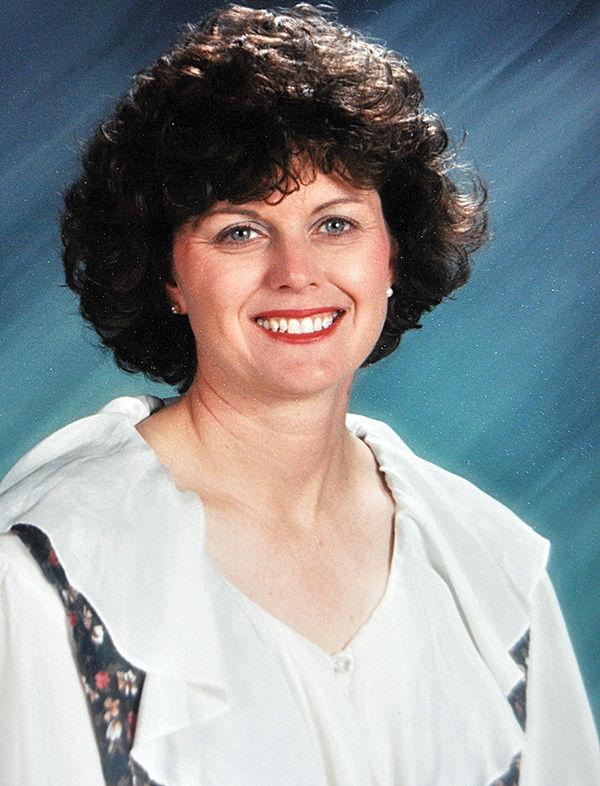 She served a brief stint as director of curriculum in Santa Fe, but did not feel at home working at the district's central office.
"I missed working at a school site," she said.
So when a principal position opened up at Sweeney Elementary, Gutierrez jumped at the chance. Not long after receiving the position, though, her friend Gloria Rendon, a principal at another Santa Fe elementary school, gave her a call.
Rendon had just become superintendent of Santa Fe Public Schools and knew she wanted Bobbie to work under her in the central office as an assistant superintendent.
However, Gutierrez turned down the promotion, saying she had made a commitment to serve as principal of Sweeney and would continue doing so.
"This (shows) you the kind of character she has," Rendon said.
One year later, another position for assistant superintendent opened up. This time, Bobbie took it, excited by the opportunity to impact the lives of students on a greater level.
Her tenure had a hectic beginning, starting on the very first day. As she prepared to go to a meeting that day, her daughter-in-law went into labor. She managed to complete all of her work and still make it to the hospital later that day when her granddaughter, Michaela, was born.
Being associate superintendent allowed Gutierrez to keep one foot in the door at school sites, overseeing all the schools in the district.
"I really loved it, because I was still out in the schools," she said.
A new superintendent was hired at the district and with that came another position change for Gutierrez. She was asked to become deputy superintendent, which involved overseeing an area in which she previously had no experience: operations.
Soon, she went from overseeing curriculum and classroom instruction to transportation, student nutrition and human resources.
"Like that, I went from instruction to construction," she said. "I was like a deer in the headlights for a while, but I learned it and loved it."
Rendon said Gutierrez's ability to learn new skills quickly is one of her greatest assets.
"She's like a sponge," she said. "If you place her in a position, she will learn everything she can about it and take it not only to the next level, but two or three levels beyond that."
In 2008, Gutierrez finally applied to be superintendent of Santa Fe Public Schools, one of the largest districts in the state, and received the position. For nearly four years, she and the district faced issues related to enrollment, student proficiency and school grades.
She referred to her position as "the hardest job I've ever loved."
Like her predecessors, though, Gutierrez only lasted in her position for an election cycle. New school board members, less satisfied with her performance as superintendent, voted 3-2 to not renew her contract, four months before it was set to expire. She was then placed on administrative leave.
She maintains the board's decision to not renew her contract was a political one.
"That's the only way a new board can demonstrate change when they are elected," she said.
She had come under fire during her time as superintendent after the district received a C grade from the state and her office released "questionable" reports on student proficiency, the Santa Fe New Mexican reported.
Her husband recalled what a difficult period it had been.
"It really broke my heart to see that people didn't acknowledge the hard work that she had done," Eddie Gutierrez said.
Bobbie Gutierrez said politics remain one of her least favorite aspects of being a school administrator.
"I hate the politics, but when you work at the central office, you kind of get sucked into the politics," she said.
The same Santa Fe New Mexican article reported one board member said the "district is going to experience a great loss" when Gutierrez was removed.
A fresh start
After leaving Santa Fe Public Schools, Gutierrez retired from education after a 30-year career. She spent more time with her grandchildren who lived in Alabama, something she could not do as regularly when running a school district.
Two years later, she stopped at a gas station in Abilene, Texas on her way home from a friend's wedding, when she received a call. Española School Board member Pablo Lujan asked her if she was interested in becoming their new superintendent, to which she responded "absolutely not."
Lujan finally convinced her to accept the position on an interim basis and help search for a new, full-time superintendent for the District.
"That'll be fun, just to go find them a new superintendent," she recalled thinking at the time.
It did not take long for the Board to ask her to officially become the District's superintendent. Just a few months after, she became mired in a huge scandal.
The head boys basketball coach at Española Valley High School, Richard Martinez, faced multiple allegations of physically and verbally abusing his players, as well as being involved in missing fund-raising money.
Gutierrez fired Martinez as a result of the scandal, but was still asked by the Española School Board to resign as superintendent. The Board accepted her resignation on a 3-2 vote. Those who voted in favor of her resignation, including current Board Member Pablo Lujan, were accused of doing so in retaliation for Martinez being fired, according to a previous Rio Grande SUN story.
Gutierrez said she still feels frustrated about the situation.
"It puts superintendents in a precarious position, because you don't get to tell your side of the story," she said.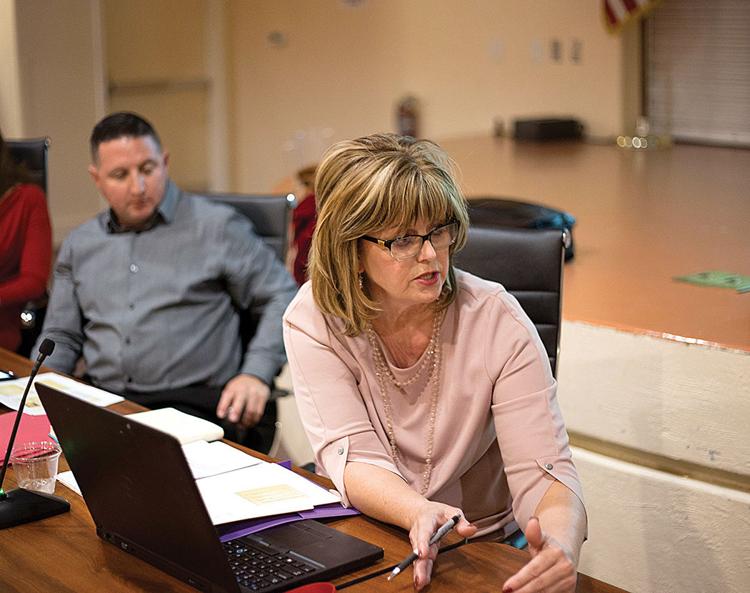 The Board went through another election and the block of members who voted for her resignation were put out of power. The new Board then asked Gutierrez if she would reapply for the superintendent position.
She said she took much longer to reach a decision, because being asked to resign "was really painful."
Eventually, though, she did accept. When asked why she decided to come back, she said she had a lot of unfinished business but had also developed a deep love for Española.
"I didn't expect to fall in love, but I did," she said. "I think I'll always be in love with Española."
The families she serves as superintendent also remind her of her own family and the struggles they faced as working-class people.
"There's a lot of people here who have overcome so much to be who they are, and I really admire and respect that," she said.
Gutierrez's contract was extended in May for two years. She said she does not know how long she will remain in charge of Española's schools, but said she is focused on doing what is currently best for students.
"For whatever reasons that I'm here in Española at this time, I think it's part of my destiny and maybe God put me here for a reason," she said.
Life at home
As dedicated as Gutierrez has been to her career as an educator, she always makes sure to spend time with her family, trying to instill the same values her parents taught her to her two sons and five grandchildren.
Particularly, she wants her granddaughters to maintain their independence and be able to take care of themselves when they are older.
"I just think it's important that women be able to take care of themselves," she said. "It's important to encourage young women and have them believe in themselves."
She is particularly proud of her sons, Ryan and David, both of whom served in the Air Force. She choked up as she recalled calling the Red Cross so David could see his daughter being born, because he was serving on a convoy.
She cited her husband as an incredible source of support for her career. He said she has been equally supportive of him and that impacts she has made during her career will be long lasting.
"Her work will be appreciated when she's gone," Eddie Gutierrez said.