Rio Arriba County officials spent almost a year processing a records request from the Rio Grande SUN, releasing a full copy of the building plans for the new $10 million headquarters of the Jemez Mountain Electric Cooperative to the SUN nine months after the newspaper requested it. 
The SUN requested a copy from the County last February and did not receive a full one until Nov. 6. The County provided the SUN with an incomplete copy in October.
County Attorney Adán Trujillo said Nov. 8 he allowed an attorney working for the Cooperative to redact parts of the plans after the Co-op submitted an opinion saying that the plans were covered by a section of the federal Homeland Security Act.
Forty-four pages of a 146-page set of building plans were missing in the version originally provided to the SUN in October. The missing pages are mostly detailed layout plans: various floor plans, ; dimension plans; and reflected ceiling plans.
The only floor plans present in the version with missing pages appear to be for the restrooms in the building.
According to the Inspection of Public Records Act, an agency may withhold public information under certain exceptions and "as otherwise provided by law."
Trujillo said he was following Section 214 of the Homeland Security Act 2002, Public Law 107-296, which states that "(voluntarily shared critical infrastructure information) shall not, if provided to a State or local government or government agency – (i) be made available pursuant to any State or local law requiring disclosure of information of records; (ii) otherwise be disclosed or distributed to any party by said State or local government or government agency without the written consent of the person or entity submitting such information; or (iii) be used other than for the purpose of protecting critical infrastructure or protected systems, or in furtherance of an investigation or the prosecution of a criminal act."
According to the law, "'critical infrastructure information' means information not customarily in the public domain and related to the security of critical infrastructure or protected systems."
"Critical infrastructure" is defined as "systems and assets, whether physical or virtual, so vital to the United States that the incapacity or destruction of such systems and assets would have a debilitating impact on security, national economic security, national public  health or safety, or any combination of those matters."
It is unclear whether the Co-op's building counts as "critical infrastructure."
Infrastructure of the energy sector, including energy infrastructure owned by the private sector, is considered critical infrastructure, as, according to the Department of Homeland Security website, "without a stable energy suppply, health and welfare are threatened, and the U.S. economy cannot function."
Clay said the building "does absolutely impact our ability to deliver power to 30,000 people."
Trujillo said that when the SUN began questioning him about who redacted the plans and which parts were redacted, he himself began to question the redactions.
"In my estimation, I think that they were overbroad," Trujillo said. "I think they redacted too much. And I was like, 'You know what, if you redact too much, and then you have to justify it, to me the only reasonable thing to do at that point is just say, 'Look, either you're gonna do redactions, and you're gonna do them stringently, and you're gonna say, this is redacted and justify it or this is not redacted and justify it, or you're just gonna turn it all over.' And so at that point I said, 'You know what, for the County's sake I'm just gonna turn it all over.'"
He said he did not know which attorney made the redactions that he initially approved and when he asked the Co-op, he "didn't get an answer."
Clay also said she did not know who made the redactions.
About why the Co-op decided to remove some of the pages from the plans, Clay said, "We have an interest in proactively protecting our information, especially when it deals with anything that might endanger our infrastructure or our delivery of power to our member owners." 
Free food
To celebrate the placement of the last structural beam in what will be the building, Co-op employees gathered over lunch and then signed their names on the beam.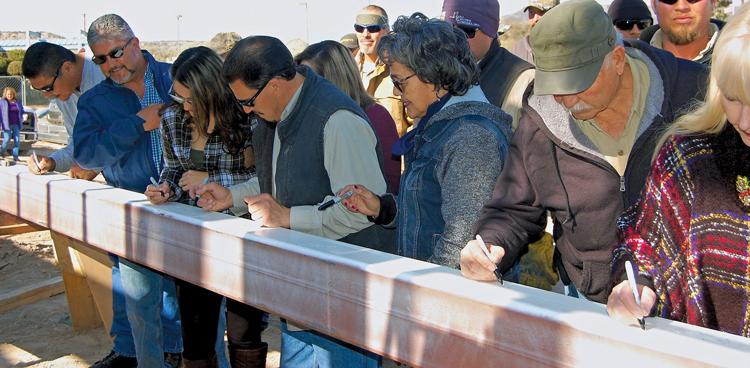 "I appreciate what you guys do for us every day, linemen, staff, all of you," Cooperative Board President Leo Marquez said. "We're gonna go out there, we're gonna sign that beam and as the years go on or whatever, you can tell your family, your children, your grandchildren, 'I was part of that.'"
Construction for the building began in May, Clay said. She said the Co-op expects the building to be complete in 2020.
County Manager Tomás Campos, County Financial Advisor Leo Valdez, and County Economic Development Director Christopher Madrid attended the celebration. 
Campos said Marquez, who is also the assistant County manager, invited him to the event.
"Leo offered me a free hotdog," he said. "We're just here for the foods."