Española Mayor Javier Sanchez railed against political schemes and outside interference in the search for a police chief, and said at the June 25 City Council meeting that he instructed City Attorney A.J. Salazar to investigate threatening and coercive texts and calls to city councilors.
But the seven councilors who could be reached for comment and later Sanchez himself said a series of anonymous texts sent to most councilors contained no threats, implied or explicit.
At their most negative, the messages which prompted the inquiry told councilors they would not be re-elected if they voted in favor of interim police chief Roger Jimenez, whom the mayor supports, for his recently-assumed current position or the permanent police chief position. Other texts praised councilors who acted against Jimenez.
Sanchez said in a July 1 interview that he asked Salazar to investigate the messages because he feared they would impair councilors' ability to speak their minds and because he wanted to learn if councilors had received texts more aggressive than those he knew of, which he acknowledged were clearly not criminal.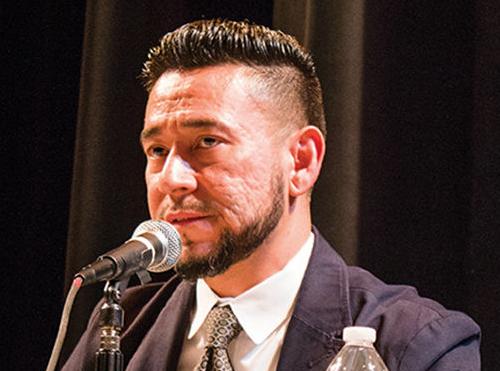 "If we allow this kind of talk, I think that chips away at our ability to make sound decisions," he said.
At the meeting, Sanchez read a pre-written letter characterizing the messages as a threat to democracy.
"Over the last several months, most councilors have received threatening and harassing phone calls and text messages that more than just strongly urge councilors to vote a particular way," he said. "When we receive anonymous calls and messages from people who refuse to give up their identity, we must consider that such activity amounts to a real and imminent threat. We have notified our city attorney who is looking into the matter."
He later backtracked and said the threat of losing votes can be a valuable threat in a democracy.
"It was not of bodily threat, or bodily harm or of physical danger but it was clearly a bully tactic that is trying to motivate people to vote in a particular way," he said in an interview.
The letter came about two weeks after a hiring committee of four councilors opted to open the permanent chief of police position to outside applicants, shortly after the Council voted Jimenez in as interim chief.
Councilor Justin Salazar-Torrez, who chairs the hiring committee and Public Safety Committee, said in a June 26 interview that Councilor Robert Seeds was the only member of the committee who wanted to hire Jimenez without opening the position externally.
Originally, the stated purpose of the hiring committee was to decide whether to hire a police chief internally or seek new applicants, but Sanchez said he wants the committee to bring forward candidates themselves as well as allowing open applications.
Salazar-Torrez said he advised the mayor that the Council is becoming too politicized and divided. He said the messages they received had the potential to throw them off.
"There was too many ripples in the water and the water just needed to calm," he said. "Right now it's everybody against everybody and it shouldn't be like that. We used to be a unified governing body."
Sanchez left the meeting several minutes after reading his letter to attend to a prearranged personal matter and Mayor Pro Tem Manny Martinez ran the rest of the meeting.
After Sanchez left, Councilor Denise Benavidez spoke up in the middle of a discussion of the city budget to deny that she was influenced by anybody else.
"Nobody tells me what to do or how to vote," she said. "I vote with my conscience. I vote with my heart."
Benavidez voted to appoint Jimenez as interim chief June 11 but later said she thinks he is unqualified and she only voted in his favor to hurry along the hiring process. As a member of the hiring committee for the permanent position, she opposed him.
Sanchez' letter also alleged councilors were contacted by anonymous law enforcement agents to influence their votes. All councilors except Seeds, who could not be reached for comment, said no one identifying themselves as law enforcement approached them anonymously.
Sanchez later maintained that some councilors told him they had received this communication.
Rio Arriba County Sheriff James Lujan's public opposition to Jimenez has been a point of contention for months.
City Councilor John Ramon Vigil said the mayor's comments on law enforcement disappointed him.
"They're stakeholders in this community; they're our constituency," he said. "Ultimately I am not there to do my will. I'm there to do the will of my constituents."
Salazar declined to comment on his office's probe, citing attorney client privilege.