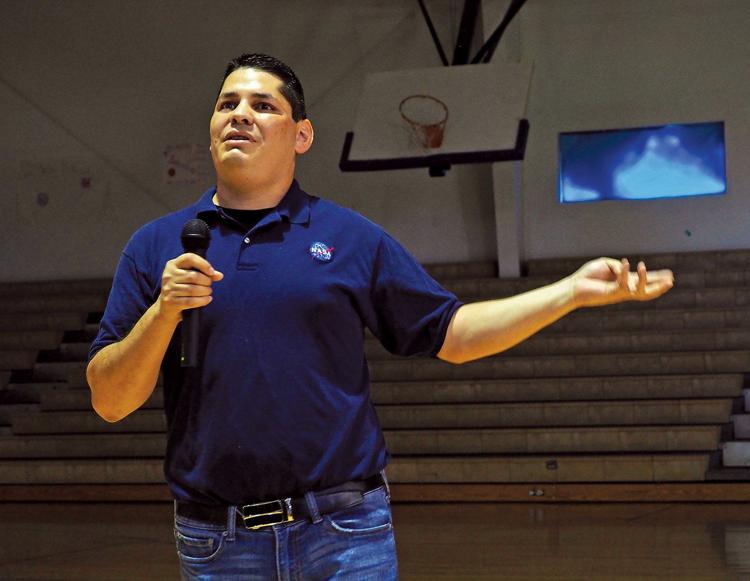 Jacob Torres had not stepped foot in McCurdy Charter School's Memorial Gymnasium since he graduated in 1997.
Back then, he often resisted his teachers and administrators, only graduating by the skin of his teeth. On Aug. 30, he returned to his alma mater as a NASA scientist talking to students about his historic achievement.
Torres and his team at the Kennedy Space Center in Florida developed a method for growing the first fruiting plant on the International Space Station — the Española pepper.
Hundreds of students, faculty and members of the public crowded onto the wooden bleachers to hear Torres talk about his life and research.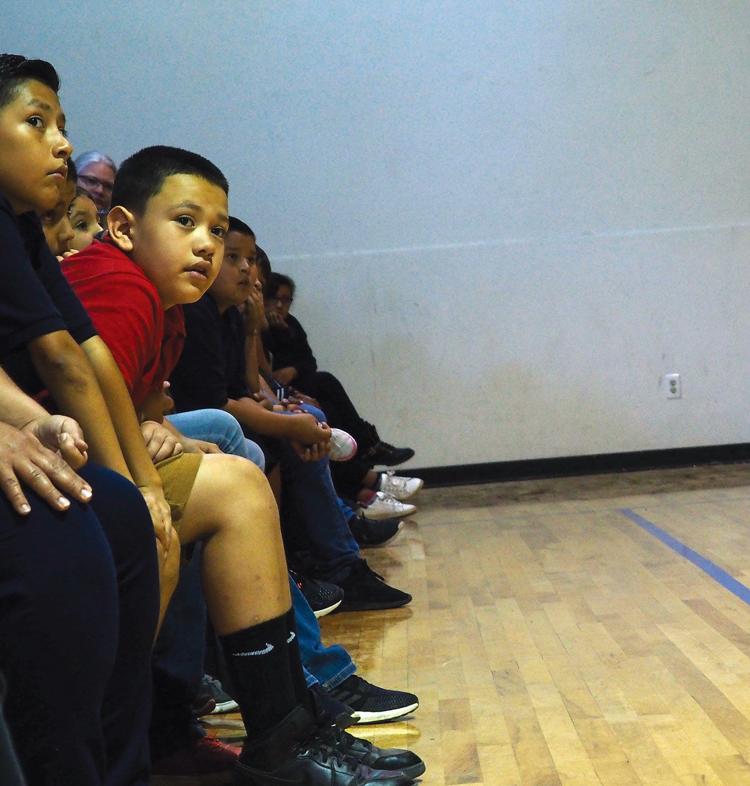 Afterward, Torres began his presentation to thunderous applause. Throughout his entire talk, which lasted around 20 minutes, Torres avoided referencing the complicated data that makes up nearly every aspect of his job.
"I feel like I'm a kid myself, so I just feel like, 'How would I like to be talked to?'" he said in an interview.
Torres told the crowd his work revolves around solving the problem of how to feed astronauts fresh food on their extremely long trips, particularly a trip to Mars, which would take three years to complete round-trip.
While not the first fruiting plant ever grown in space, the Española pepper will be the first grown on the International Space Station. NASA scientists spent many hours looking for the right pepper to grow on the station.
In order to accomplish this, Torres' team conducted numerous experiments to find plants that can grow adequately on a ship flying through the depths of space. This included filling their growing areas with large amounts of carbon dioxide and trying to grow plants that do not need bees to pollinate.
While explaining these complicated experiments, Torres always made sure to reference the place he grew up. He said his team has a harvest nearly every week from the various foods they grow.
"It reminds me of home," he said. "It reminds me of Española all the time."
He also said New Mexicans' noted enthusiasm for chile peppers was a significant factor in choosing what type of pepper they would grow.
"The excitement that you guys show for New Mexico peppers definitely had an influence on why we chose them," Torres said.
Throughout the presentation, students listened attentively as Torres spoke. Many said they were fascinated by the experiments he gets to do.
"I like how he showed us what they were doing in the laboratories," Angel Salas, an eighth grader at McCurdy, said.
After the presentation finished, many students rushed over to Torres get autographs and take pictures with him.
"I didn't prepare for that," he said of the response from students. "I didn't expect that at all."
Despite the struggles he had while attending McCurdy, Torres credited the School for helping him get to his current career, especially due to the hardships he faced as student in the Española School District.
"I got bullied hardcore at Española Middle School," he said. "If McCurdy wasn't here at the time it was, it's pretty sure that I could've dropped out. (McCurdy) is the reason I am where I am."
Before the presentation began, Española City Councilors Manny Martinez and Peggy Sue Martinez, along with interim city manager Xavier Martinez, no relation, delivered a message from Mayor Javier Sanchez declaring Aug. 30 as International Space Chile Day in Española.
City Council members lauded Torres and his team's work for bringing national attention to the community.
"Thank you so much for what you're doing," Manny Martinez said. "You're not just putting Española on the map, you're putting New Mexico on the map."
Torres said it was an unbelievable experience returning to McCurdy after so many years. He said he hopes students who heard his presentation know the place they grow up and the school they attend does not determine their level of success in life.
"I want them to know that being from Española, New Mexico, they can come and influence NASA one day too," he said. "They are just as able as anybody else in this world."