Youth reigned supreme during the 2019 Española School Board elections, with 28-year-old Jeremy Maestas and 20-year-old Brandon Bustos winning their respective districts.
Maestas easily defeated the three other candidates running for the District 4 seat, surpassing his closest opponent, Rio Arriba County Health and Human Services Director Lauren Reichelt by 10 percentage points.
He said he will continue to serve as County Parks and Recreation Director in addition to his duties on the Board.
"I'm going to have to wear multiple hats, but its not a problem," he said. "I'll be ready to do it."
Also falling to Maestas was car salesman Pablo Manzanares and retired Española educator James Garcia.
Reichelt cited her late arrival to the race, due to health problems she faced, as a potential reason for her loss. She declared her candidacy on filing day, while Maestas announced he was running in January. She said she would still like to use her experience to help the District.
"I would still like to work with providers and bring them into the schools to provide support services for kids," she said.
During his campaign, Maestas ran on promises to provide new transparency to the District while improving teacher and student retention.
Maestas will now assume the seat vacated by longtime Board Member Pablo Lujan.
Overall, Maestas finished the night with 446 votes with Reichelt earning 343. Manzanares and Garcia totaled 245 and 75 votes, respectively.
Bustos meanwhile defeated incumbent Matthew Paña for the District 2 Board seat.
An apprentice lineman for Jemez Mountains Electric Cooperative, Bustos received key endorsements from Lujan and Maestas, powering him to a victory margin of more than 21 percentage points.
Bustos and Maestas shared a celebration party at Anthony's At the Delta. A huge crowd filled the room as a DJ blared loud music in the background.
Bustos said his goal as Board member will be to rid the schools of the same problems he faced as a student, less than two years ago.
"I'm going to make sure another kid doesn't experience the same thing," he said. "I want funding in classrooms, I want teachers, I want teacher raises."
Voters also said Bustos' youth was a determining factor in their decision to vote for him.
"We need the younger generation—maybe they can do better," David Lopez of El Llano said after voting.
Paña, who filled in for former member Patrick Herrera earlier this year, said despite the defeat he will continue to serve the District, although he is not sure in what capacity.
"I want to continue to help our schools grow," he said. "I believe our schools are moving in the right direction and I want to continue seeing that happen."
The two allies will still be up against the old majority on the Board, as President Ruben Archuleta and Vice President Yolanda Salazar won by landslides over their opponents.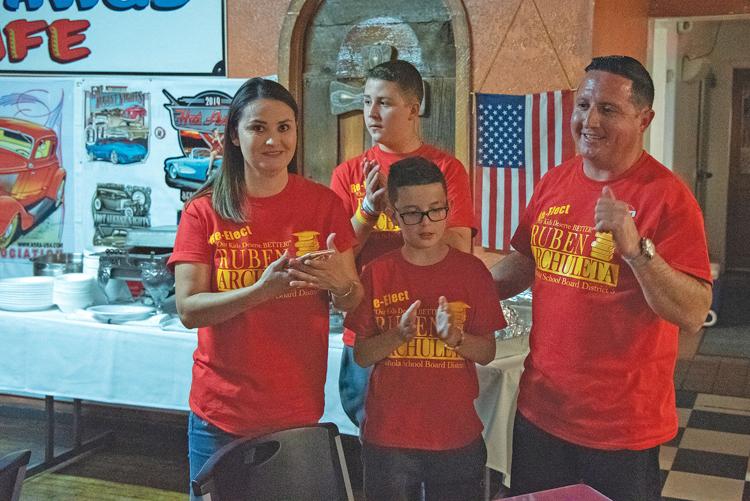 Archuleta faced Regina Gonzales, a former District employee, who ran on a platform of giving staff a greater voice.
Voters, however, overwhelmingly chose Archuleta, who won by nearly 40 percentage points over Gonzales.
In fact, the presiding judge at the Alcalde precinct, Theresa Martinez, cited Archuleta's candidacy as the primary drive behind a large voter turnout. At 5 p.m., the location had 220 votes with a long line of voters waiting their turn.
When asked why his campaign was so successful, Archuleta said it was thanks a large amount of family support and endorsements, especially from the tribal government of Ohkay Owingeh.
"They don't endorse everybody so it was an honor to get endorsed and they came through for me, my secret weapon per se," he said.
Several voters leaving the Ohkay Owingeh precinct Tuesday said they voted for Archuleta mostly because of the Pueblo's endorsement.
Salazar defeated her opponent, Fruit Basket Manager Dominic Tafoya, by nearly 400 votes, cruising to an easy victory. It was her and Archuleta's third consecutive Election Day victories.
She said her work on the Board during the past four years propelled her to victory, as the community has noticed the work the Board has accomplished.
"We rid the School Board of the corruption that was plaguing it," she said. "Also, just the accomplishments, bringing the bands back into the school, art, performing arts, grants (and) bringing mental health counseling to the elementary school."
In total, 3,797 voters­—more than 15 percent of registered voters in the County—cast their ballots for their local School Board member. Gilbert Serrano of District 3 was the only Board member not up for reelection.
Board members-elect will assume their new positions in January 2020.