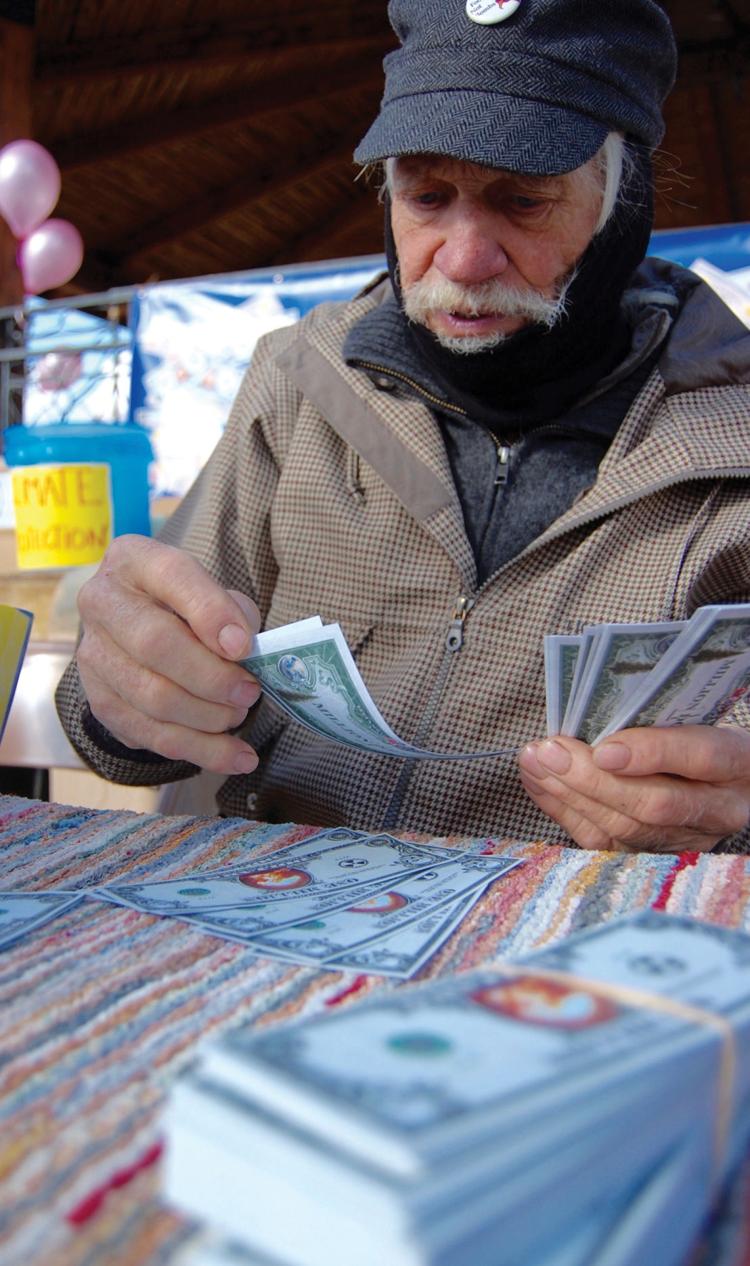 About 10 anti-nuclear activists huddled around tables in the Taos Plaza Oct. 24 and counted out billions worth of fake dollars. The bills, decorated with an image of the atom bomb, represented proposed government spending on nuclear weapons. 
"It feels like monopoly money for death," demonstrator Bonnie Korman said.
 The demonstrators dropped the bills in buckets labeled with signs that read, "Just Transitions," "Climate Protection," and "United Nations Sustainable Developmental Goals."
"I've got $300 million of death, destruction and doom," Korman said. "And counting. I'm gonna put it in Just Transitions, Climate Protection, and Sustainable Development. Just where it needs to go."
They were taking part in the Count the Nuclear Weapons Money campaign, an international demonstration against the global allocation of $1 trillion to nuclear weapons over the next decade. Between Oct. 24 and Wednesday (10/30), during the United Nations' annual Disarmament Week, protesters gathered in New York City; London; Philadelphia; Wellington, New Zealand; and several towns in New Mexico.
Together they counted fake $1 million bills and symbolically reallocated the money by placing it in baskets and buckets that stood for climate protection, sustainable development and poverty alleviation.
Concerned Citizens for Nuclear Safety, a group of environmental activists based in Santa Fe, organized the Taos demonstration, as well as demonstrations in Santa Fe, Los Alamos and Socorro.
In Santa Fe Oct. 25 the demonstrators gathered at the Roundhouse alongside youth activists from Youth United for Climate Crisis Action; in Socorro Oct. 26 the demonstrators discussed the harm caused to those downwind of the 1945 Trinity Atomic Bomb Test; and in Los Alamos Monday, to conclude the week of demonstrations, the demonstrators counted billions beside the sign that reads "Where Discoveries Are Made."
Over the course of all four events, according to an estimate by Suzie Schwartz, who helped to organize the events, the activists counted out $13 billion worth of fake dollars, the amount the Department of Energy apparently plans to spend on modernization and construction at Los Alamos National Laboratory over the next 10 years.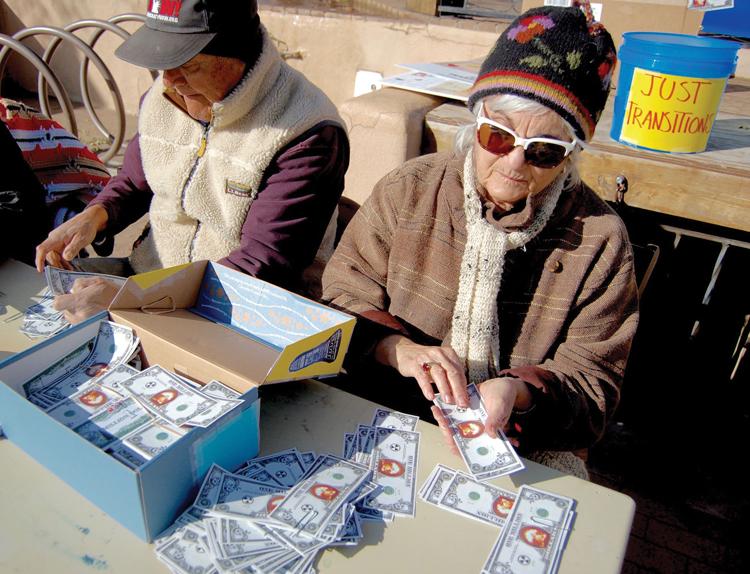 According to a Lab spokesperson, the Lab plans to spend up to $10 billion over the next ten years. Greg Mello, executive director of the Los Alamos Study Group, however, said he heard at an Aug. 8 Lab meeting that the estimated cost of modernization and construction is $13 billion.
"They're treating millions like they're jelly beans," protester Erich Kuerschner said in Taos. "I mean one of these millions would do so much for Taos. What are they doing? Creating terror. I mean, it's disgusting. It's disgusting, to see so much going to waste." 
Schwartz said the purpose of the demonstrations is "for people to see the enormity of the money."
She said she hoped "more people would start making the connection of how the war economy and climate destruction go hand-in-hand."