Opposition to Tri-State Brews Among Electric Cooperatives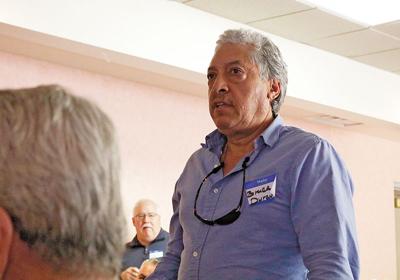 In a first-of-its-kind meeting, member-owners, trustees and activists from New Mexico and Colorado rural electric cooperatives discussed renewable energy and their co-ops' working relationship with Tri-State Generation & Transmission Association.
A group of more than 50 people filled a conference room at the Cities of Gold Casino Jan. 19 to hear from representatives of three Colorado cooperatives, the San Juan Citizens Alliance and the University of New Mexico School of Law.
Delta-Montrose
Delta-Montrose Electric Association officials announced Dec. 6 plans to get out of their contract with Tri-State in order to pursue cheaper renewable energy projects
Like all 43 Tri-State member cooperatives, Delta-Montrose is only able to produce or purchase 5 percent of its total electricity from renewable energy sources.
Delta-Montrose Board President Bill Patterson said the cooperative is already over the 5 percent limit.
This is in contrast to the two cooperatives providing electricity in Rio Arriba County — Jemez Mountains Electric Cooperative and Northern Rio Arriba Electric Cooperative.
Neither cooperative is purchasing or generating renewable energy, and both are utilizing 0 percent of the 5 percent allotted in their contracts.
Besides taking the big step of leaving Tri-State, Patterson said Delta-Montrose also created a new business named Elevate to bring high-speed fiber optic internet to their service area.
While it cost millions of dollars to build the communication system, Delta-Montose officials made sure to hold lots of meetings and explain to the members why it was costing so much money and encouraged them to write letters to their Colorado legislators explaining why having high speed Internet in rural areas is important.
"(We have to) make sure we sell a service that is heads and shoulders above everyone else," Patterson said. "First they will laugh. Then they will copy."
Elections
San Juan Citizens Alliance Energy and Climate Campaign Organizer Katie Pellicore said member-owners of the La Plata Electric Association, located along the Colorado state line, were able to flip the makeup of the board to make it more renewable-energy friendly in one election cycle.
They did this by re-framing the reasons for switching to more renewable energy sources.
"It is no longer a tree-hugging environmental issue, but an economic one," she said.
Discussing renewable energy and how it can bring more jobs and money to the area gets people's attention.
Three of the four candidates assisted by the Citizen's Alliance won.
Pellicore's description of the campaigns is very different than what happens during Jemez Co-op elections.
Each La Plata candidate received unique branding, signage and help with a social media campaign, she said. There were coordinated events with music and food, as well as smaller events at private homes. Candidates regularly got out into their communities to talk to people about themselves and their platforms.
They also coordinated groups of volunteers to do phone-banking and voter outreach.
"These elections have very low turnout so every vote matters," she said.
La Plata Board Director Britt Bassett is one of the three people who won seats on the board because of the help he received from the Citizens Alliance.
Bassett previously lived in New Mexico and is a former Jemez Co-op member-owner.
Flipping the Board allowed Bassett and the other members to create a renewable energy committee with teeth. Unlike the one created by the previous board, this one was allocated money to hire consultants and to pay for travel so board members can visit renewable energy project sites.
While there are changes happening at the local La Plata level, Bassett said things will not change with the current 5 percent limit imposed on all Tri-State cooperative members.
"Five percent is what the local cooperatives are allowed to have in their area, but Tri-State bills you at 100 percent," he said.
The consulting firms will report in March their findings about La Plata's contract with Tri-State and renewable energy opportunities in its service area. 
United Power
United Power Chief Executive Officer John Parker said they are doing something different. Rather than asking for Tri-State to increase the renewable energy limit from 5 to 10 percent or exit their contract, they want to change the bylaws.
United Power Board Chairman James Vigesaa sent letters to the other 42 Tri-State member cooperatives in November telling them about their plan to change the bylaws.
Parker said so far they have scheduled meeting with 12 cooperatives in New Mexico and Colorado to tell them more about the proposed changes.
These changes would allow the Tri-State member cooperatives to purchase more renewable energy from other power companies or increase the amount of renewable energy they are allowed to generate.
Tri-State
Tri-State Communications and Public Affairs Senior Manager Lee Boughey attended, but did not speak at the event.
He said Tuesday he and other Tri-State members attended to listen and learn about member concerns and answer questions if asked.
"A lot of the issues that were talked about are issues regularly talked about with our members and our board and we will continue to work together to address concerns," he said.
Tri-State does have a new renewable energy project in the works.
A Jan. 11 press release states Tri-State will build a 100-megawatt solar project in southern Colorado that will provide power to the 43 electric cooperatives, including Jemez Co-op and NORA. This is the company's fourth utility-scale solar project.
Boughey said a third of all the energy delivered to the 43 member cooperatives comes from renewable energy sources.
"Each individual and each member system has their own goals and outlook," Boughey said. "But as a cooperative family working together, the fact that nearly a third of the energy that is delivered to cooperative members is impressive."
The event was organized by local environmental activist Luis Torres and the Conservation Voters of New Mexico Education Fund.
Enjoy reading the SUN online? Then you'll love the print version. This is just one of the 31 local news, opinion, arts and sports stories published in the Jan. 31, 2019 edition. To see the rest, buy a copy from one of our vendors on the street or at one of these locations.