This is the sixth entry in "Women of Distinction," a series of profiles being published weekly this summer about women who make a difference in Northern New Mexico communities.
The first administrator with a medical background in Española Hospital's 71 years of operation, Brenda Romero has made numerous changes both to the structure and procedure of the hospital and earned the praise of many community leaders.
Romero is not one for idle time ­­— a good thing — as she has frequently juggled multiple roles since she began at the hospital 34 years ago.
Even now, she can't stay away from nursing and will sometimes assist with patients as she makes her way through the hospital, avoiding any procedures that require regular certification.
She began as a resident nurse in the pediatric unit for about two years, eventually becoming a head nurse for about five, then director of nursing, and finally administrator 10 years ago.
She makes clear the "abouts" aren't due to a faulty memory, but rather a career trajectory full of blurred lines.
"Every time I transitioned positions, I had to cover both positions until we found a replacement for my old one," she said. "I don't remember much time in the five months as a head nurse that I didn't work as a staff nurse, too."
She said while an increasing number of hospital administrators are nurses, it is still far from the norm, but Romero believes it helps her to connect with staff and patients alike, as well as putting people above finance.
The hospital has undertaken a number of capital improvement projects under Romero's leadership. As much emphasis she places on patient service and a clinical approach, she shows foresight in her ongoing administrative plans.
Romero espouses a data-based approach to spending, analyzing the projected needs for the hospital over decades of future growth.
Under her administration, the hospital built a new intensive care unit, an emergency room that added about 50 percent to its bed capacity, a pharmacy, and a unit including medical, surgical and pediatric facilities.
Two new operating rooms, with improved humidity controls to meet recently-changed regulatory standards, are being added now. They are expected to be completed in August.
Looking ahead, Romero built shell space years in advance to accommodate all of these changes. She knew the hospital would have to stagger projects as funds came in.
"Those new environments increase the care of patients," she said. "It also improves the work environment for the employees."
She doesn't sit back and hope for a steady flow of money either, she gets out and works for it. While Presbyterian Healthcare Services, which acquired the hospital in 1977, manages things like grant applications, much of the hospital's capital funding comes from the mill levy tax, which requires regular voter approval.
Lauren Reichelt, Rio Arriba County health and human services director, said that about seven years ago the state Department of Health notified the County that it had the lowest senior immunization rate in New Mexico.
Reichelt said she and Romero organized a series of immunization fairs around the County, for which Romero provided nurses, that sent the immunization rates skyrocketing. She said even though Romero was administrator at the time, she personally worked the fairs and made a few home visits.
They took the mass contact with the public as an opportunity to essentially campaign for the passage of a mill levy that kept funds coming into the hospital.
Reichelt said when natural gas services went out in February 2011 Romero worked to provide care for the community, particularly seniors who were at risk.
"Brenda's just somebody you can call any time of day or night," she said. "Anytime we've had any sort of emergency, Brenda's been there."
Romero's work has reeled in awards for herself and the hospital. The hospital's most recent scores from Press Ganey Associates, one of the nation's most used patient satisfaction surveyors, were rated in the 98th percentile overall. Romero said institutional recognition is far from foremost on her mind.
"It's an honor but not what drives me," she said. "It's validation that we're on the right track. But what drives me is the everyday interaction, the feedback I get from the patients, from the families, from the community."
Education track
Though her work ethic and compassion were ingrained since childhood, Romero did not plan to go into nursing until halfway through her associate's degree at New Mexico Highlands University when she ran out of time to choose a major.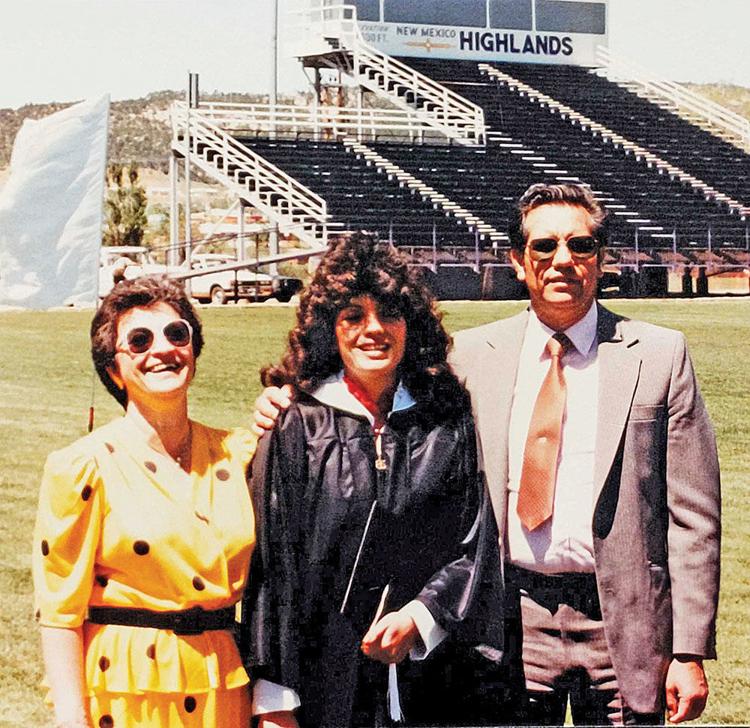 She said graduating high school in the Peñasco School District at 17 left her with little time to think about plans for the future before starting college.
"I was at Highlands a couple of years and I needed to pick a major of some sort and I decided to become a nurse," she said. "When I was a little girl, I used to pretend I was a nurse, so I thought that that's what I should pursue and fortunately, I love it. I love being a nurse."
She went on to receive a bachelor's degree in nursing at the University of New Mexico in 1997.
Several years before Romero became director, she had the opportunity to apply for the position but was disappointed to realize it required a master's degree.
While serving as director of nursing, she obtained a master's degree in nursing leadership through Grand Canyon University's online program, eschewing the more typical choice of a hospital administration degree.
The accelerated eight-week program required about fours of work per day.
"I had to submit my homework or work by midnight most nights," she said. "So I would do my work here during the day, shift, go eat dinner and get started and push the button by midnight and go to sleep and start again the next day."
At the same time, she occasionally took on the administrator's responsibilities when he was away, or on weekends.
Quick promotion
In May 2009, Hospital Administrator Derrick Yu resigned immediately and without notice. On the day of her weekend college commencement ceremony, Romero learned she would be sitting in Yu's former office that Monday as interim administrator.
Significant ambulance service cutbacks under Yu's administration left the hospital in strained relationships with the public, its own staff and other local emergency services who were left to pick up the slack.
Romero had recently been recognized in a statewide award for her work as nursing director and her popularity with most staff helped to cool emotions in the hospital. She was later chosen to remain in the position permanently.
Her early tenure was not without conflict though. In 2010, a former employee of the hospital, Sahaj Khalsa, filed a complaint with the Equal Employment Opportunity Commission through the American Civil Liberties Union of New Mexico alleging that he and other Sikh employees had faced a hostile and discriminatory work environment that became pervasive under Romero's leadership.
Another Sikh employee alleged that he and several other Sikh men were functionally forced out of their positions, according to a Santa Fe Reporter article.
Romero said she feels cultural sensitivity training conducted by Presbyterian Healthcare Services each year and as needed has been helpful for the culture of the hospital. She said the hospital currently has Sikh employees and that based on employee engagement surveys conducted by Presbyterian, she feels staff is content.
"The morale of the staff and the engagement is very good," she said. "I personally don't have any bad will toward any cultures."
Staffing woes
Staffing has been one of Romero's biggest challenges as director. Palliative Care Nurse Cheryl Marita said Romero's decision to establish a senior leadership team to interview all qualified applicants, from doctors to maintenance crew, has helped to bring in the best Northern New Mexico has to offer.
The largest roadblock to hiring staff is Rio Arriba County's housing problem.
Romero said particularly because some employees need to be able to get from home to work in 20 minutes in case of emergencies, the hospital has lost potential recruits because they couldn't find adequate housing.
"When we recruit employees it's hard for them to find a house in Española," she said. "We don't have enough housing in town and definitely don't have enough affordable housing in town."
Northern New Mexico College President Richard Bailey has collaborated with Romero on informal task forces to develop systemic solutions to the housing problem, but it has often been a slow moving process. As the only four-year college in the state that does not offer on-campus housing, Northern has a shared interest in developing more units.
Bailey said Romero was one of the first community leaders with whom he met upon coming to Northern three years ago.
"She has helped that hospital become something that isn't just a jewel in the Española Valley, but statewide," he said.
He said the hospital hires a number of Northern's graduates, who are often first-generation college students.
"A lot of our nursing students are from the Española Valley and have families here and want careers here," he said. "Her organization serves as a template for our students in that they are able to witness a well-run, well-led, thriving organization."
Romero said having nurses local to Rio Arriba can improve their ability to communicate with patients, and ultimately provide better medical care because they understand the culture. She said she felt more out of place in her time training while she earned her degree.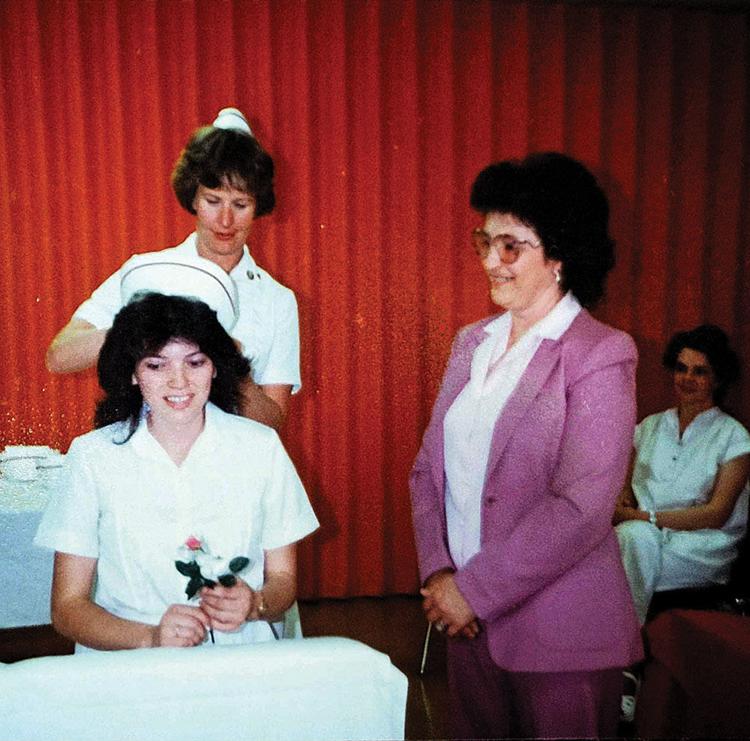 "When I was working at Northeastern Regional Hospital in (Las Vegas, N.M.) and then came here, I recognized a better cultural fit here," she said. "I understood people better. I got a better feel in working for them."
She met Patrick Montoya, her significant other of over 30 years, of course, at work. She lives with the retired physician in Arroyo Seco. Between her three stepchildren and a niece she helped to raise, she says there are now 12 children who call her "Nana."
"I treat them like they're mine and they treat me like I'm theirs," she said. "This culture is very family-oriented so there's a lot of get-togethers and meals."
She used to play volleyball in adult leagues and still plays on weekends with her grandchildren, whom she says are getting very good.
Youth
Much of Romero's work ethic comes from her youth. She speaks highly of the work done by her mother as a waitress and her father as a civil engineer at the Questa Mine. Both also did farm work around the property in Vadito where they still live. She said her grandparents lived off the land.
Romero would wake up well before dawn to help her father milk the cow before he made his 60-mile commute to the mine. She said she tried to finish farmwork and put down livestock in the evenings so he didn't have to do it when he got home.
"Hopefully if I could do it all, I could prevent him from having to go out there in the dark, cold weather to get them ready for the night," she said, "I was always in my dad's shadow. I always used to do whatever he was doing."
She worked some summers for the U.S. Forest Service planting trees and preparing water tanks for livestock. She later bussed tables at the Taos restaurant where her mother worked.
She was an avid fisher as a child. Not one for too relaxing of a hobby, her method of choice was fly fishing, which her father taught her.
"Some of the people that lived in the community would tease and say, 'Don't fish here because Brenda has it all fished out,'" she said.
Her family would cook everything she caught. Now when she fishes in the mountain rivers of the Peñasco area, it is catch and release.
"Being around nature, I love the sound of water," she said. "It soothes me."
The second eldest of five children, she often took on the care of her siblings.
"I used to make sure they had a jacket on and were taken care of and were fed," she said.
De-stressing
In her time as a head nurse, she had to learn to quell worries over the pressure of emergency calls, always expecting that when the phone rang it would be the hospital.
"I can remember feeling anxious about, 'what if they call me, or this happens or that happens,'" she said. "And I remember thinking, 'If I'm going to survive this in the long run, I can't feel that way. I'm going to have to find a different approach to this work so I don't feel stress like that or worry about it."
She said she spent a lot of time reading about the issue and eventually worked her way through it. She said she knew she'd conquered that anxiety when she started instinctively assuming that phone calls were from family or friends, even though it was almost always the hospital.
Romero is an avid reader, but largely stays away from fiction. Asked if she ever reads for pleasure, she laughed and simply said no.
"Brenda is such a researcher, she's constantly reading, constantly learning new skills," Marita said.
Romero brings this philosophy to the emotionally-taxing nature of healthcare work.
"I feel patients' anxiety, pain, frustration," she said. "I feel it. But I know that in order to be in the best position to help them, I can't go too far down that path. I have to stay in a place where I can do what I'm supposed to do. And I don't really perceive it as stress. I perceive it more as a passion to want to do better."
The occasional vacation is the only true relaxation she admits to. The island beaches of Cozumel, Mexico are her favorite destination, as evidenced by a wide picture of a pristine beach that hangs perfectly in view of her desk.
Romero believes that everyone deserves healthcare and she is frustrated by how difficult the process of obtaining it can be.
She said that while Española Hospital, which is not for profit, has regulations around their finances due to federal funding, the hospital works with patients to ensure they can afford care.
"We're making appointments for people and seeing people regardless of if they have a payer source," she said.
The hospital has employees who help patients find financial assistance. Romero said self pay rates have decreased from about 13.5 percent to 2.5 percent in the 10 years she has been administrator.
Addiction
Addiction, one of the most pressing regional health issues in Rio Arriba, has been a top priority for Romero. She is emphatic that substance abuse disorder is not a personal failure.
"It's pretty common for most of us to have family or friends that have that illness," she said.
She instituted policies ensuring that patients experiencing withdrawal who are in the hospital for other reasons be treated with drugs like suboxone, and that they receive follow up outpatient treatment for substance abuse disorder even though it was not their reason for admission. Presbyterian Healthcare Services hired an addiction specialist who splits time between Santa Fe and Española.
Patients struggling with substance abuse are now given Naloxone upon discharge, and the hospital works to make sure their families have doses too. Naloxone, with the common brand name Narcan, is an easily-administered drug that can save the lives of people overdosing on opioids like heroin or Oxycontin.
"What comes into play a lot is stigma related to that diagnosis," Romero said. "Educate people and help them see it as a disease and an illness, not necessarily a moral defect or flaw."
Reichelt said Romero brought doctors and prescribers in the area together to educate them on responsible prescription practices. About eight years ago, before it was a regulatory requirement, Reichelt said Romero instructed them to check the state Prescription Monitoring Program before giving patients narcotics, preventing patients from getting multiple prescriptions from multiple doctors.
Palliative Care Nurse Cheryl Marita has worked with Romero at the hospital for 20 years. She said medical staff have a unique trust in Romero because of her background and transformative leadership style.
"When she started as administrator, we worked toward creating a different culture at the hospital," she said. "Now the hospital is very patient-centered and the employees are valued, but the patient always comes first."
Romero created the palliative care nurse position after Marita retired but wanted to come back part-time. Marita said end-of-life care does not require a full-time employee, but it requires time and specialized skills that many staff members may not have.
"She understood that it would be a benefit to the patients," Marita said.
Romero has served on many boards and committees both inside and outside Presbyterian Healthcare Services, including the Governor's Drug Prevention Task Force and the Nursing Department Advisory Board for Northern and Santa Fe Community College.
Jenny Parks, CEO of the Los Alamos National Laboratory Foundation, of which Romero is a board member, said she has been a valuable asset to the board for her knowledge of early childhood issues.
"She's such a role model for young women, really for young people in the Valley in general," Parks said.
Romero said she's made sacrifices for her career but her loved ones back her decisions.
"I love my job," she said. "I love coming to work. I'm very excited about coming in to problem solve and it seems like every day I'm surprised by something new that needs to be improved upon so it seems like a great fit for me."