A group of middle and high schoolers stood in the center of the Española Public Library the morning of March 7 and told a multi-generational audience what a seed is.
Family, culture and life, worth more than money, worth a life, and magical, were their definitions.
Since September, the young people have gathered to design and found a seed library with the guidance of Tesuque farmer and activist Emily Arasim, Tewa Women United Environmental Health and Environmental Justice Coordinator Beata Tsosie-Peña and Española Public Library Director and Head Librarian Sherry Aragon.
Now, after the March 7 launch, anyone from the community can visit the library, choose seeds from a big cabinet by the southern windows, grow them and return seeds next season.
"We learned about the three sisters—beans, squash and corn—how they all protect each other," said Amera Shije, one of the students, describing the group's meetings. "And we just really learned about seeds, and why we are doing this project was to help the community and really have this beautiful array of seeds for you guys to choose and donate to."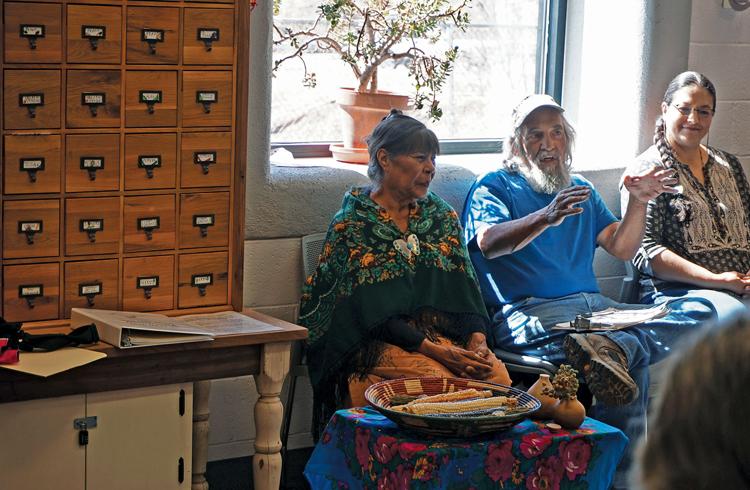 Elders and mentors also spoke at the launch. Tsosie-Peña, Española farmer Don Bustos, Honor Our Pueblo Existence Founder Marian Naranjo, of Santa Clara Pueblo, and Tesuque Farmer Emigdio Ballon shared their visions of food sovereignty, environmental justice and community.
"You cannot afford to let those ancestral, traditional knowledges go away," Naranjo said. "We don't know what's going to happen, but we see what's happening in our world, atomic bombs that are planted here in our sacred place, and on and on and on. And it's so vital that we continue these traditional ways, because it was survival for hundreds of years."
Bustos said that food sovereignty is freedom.
"I'll go back and I'll repeat what my dad said," he said. "If you can grow your own beans, your own chile and your own corn, the rest of the world can go to pot, and you'll still be able to feed yourself. So to me that's what it is. It's a sense of freedom. If we're allowed to grow our own food the way we decide, that's the freedom that we want."
Tsosie-Peña also described freedom.
"Food and seed sovereignty is freedom from any oppressive colonial institutions telling us how to survive and live on a daily basis," she said. "To me, if we lose our ability to feed ourselves, to have clean water to drink and water our crops, then that assimilation and that colonization has won. So we have to keep resisting. It's an act of resistance to plant and to grow food and to continue to have our spiritual, cultural, physical relations with our environment and our lands."
The seed library is part of this resistance.
Like books, the seeds are organized by categories, including "corn," "beans" and "flowers."
Patrons must fill out a "seed caregiver sign-up" form, providing contact information and stating the quantities of seeds they take. Librarians will save the forms in a binder, and each time patrons borrow more seeds, they should update their forms.
They are not required to return any seeds but are encouraged to.
During the launch, student Mitchell Gray read the seed library's blessing, which each patron of the seed library will be asked to read and sign before participating:
"In receiving these seeds, I commit to honoring Indigenous Nations, Pueblo communities, and other land-based Peoples who have protected and passed on these seeds, and their stories, for Countless generations. I commit to acting with care, respect and reverence as a guardian of these seed teachers—and promise that I will never sell, commodify, or exploit them in any way, as seeds are a gift from Earth that give life. I commit to planting, tending and harvesting in the best way that I can, and to returning seeds back to the library in the future when I am able. I recognize that in choosing to care for these seeds, I take on a responsibility to use my voice to speak for the health of seeds, waters, and land—and to protect against any attempt to steal, degrade, commodify, or harm this precious heritage."