Readers who pay close attention will notice that these calls took place Nov. 2 through 11. After the records were formally requested from the Española/Rio Arriba E-911 Dispatch Center, the Rio Grande SUN had to wait for them to be redacted and returned. This is part of an ongoing records dispute with  Rio Arriba County Sheriff James Lujan, who is chairman of the E911 Board and was solely responsible for the decision to require the SUN to send records requests and direct employees to redact certain information.
The police blotter is published to give readers an abridged look at criminal activity in their community and neighborhood. It is simply an illustration of what local law enforcement, funded by taxpayers, must deal with daily throughout the Española Valley. 
Española Police officers, Ohkay Owingeh Tribal Police, Rio Arriba County Sheriff's deputies or State Police responded to the following calls: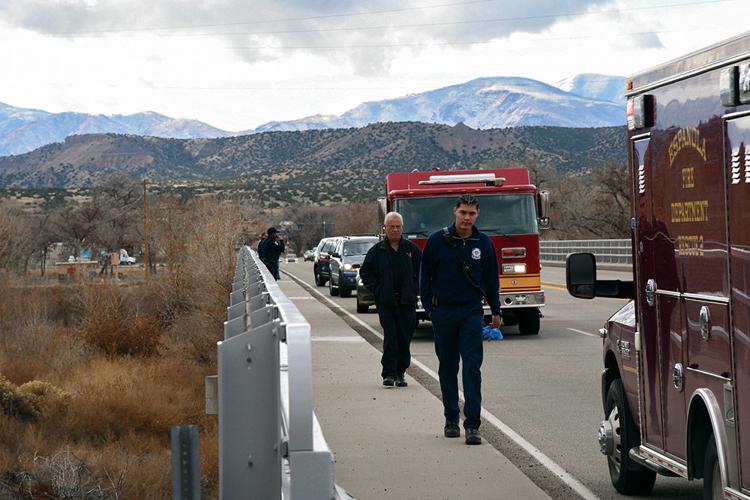 Canine saboteur
Nov. 2
1:49 a.m. An Española caller reported to the suicide hotline she planned to overdose on heroin. When officers arrived her husband said she had taken her car and left. The call was transferred to State Police.
11:18 a.m. A Big Dawgs caller reported a couple in a car was doing narcotics. The man had an outstanding warrant and was arrested.
2:56 p.m. A Valdez Park caller reported three people were shooting up. All three were arrested.
4:25 p.m. An Alcalde caller reported someone had cut the brake lines to her car. A deputy and State Police found the damage was done by a dog, not a person.
6:56 p.m. A Walmart caller reported her daughter and her daughter's boyfriend broke her car mirrors.
Nov. 3
2:56 a.m. A Lowe's Home Improvement caller reported someone threatened him with a shotgun.
2:15 p.m. A Hindi Lane caller reported a family member had been missing from the Santa Claran Casino since 8 p.m. the night before.
10:50 p.m. A Hernandez caller reported a herd of cows surrounded their home and was trampling the property.
Innovative hunting
Nov. 4
9:05 a.m. An Española Elementary School caller requested to meet with officers about a substitute teacher who hit a 12-year-old child and quit the week prior.
9:16 a.m. An Española Valley High School caller reported a 15-year-old hit two security guards and verbally assaulted the principal.
10:35 a.m. A Velarde caller reported he blew a tire on his semi-trailer truck and it caught fire. He said he emptied his fire extinguisher but could not put out the flames. The Velarde and Ohkay Owingeh fire departments extinguished the trailer, which State Police reported became fully engulfed and appeared to be hauling a crane and heavy machinery.
5:32 p.m. A La Joya Street caller reported that another driver almost hit him and when he honked at the driver, the driver got a machete out of his trunk and followed him down the street.
8:50 p.m. A McCurdy Charter School caller reported hearing about 10 shots fired in the area. Three other people called in the next few minutes reporting the same thing. An officer arrested someone on an outstanding warrant.
Nov. 5
8:30 a.m. A deputy reported three people in Tierra Amarilla struck an elk with their car and were told by state Game and Fish Department officials they could harvest the animal, but they wanted someone from the Department to give them a slip confirming it was legal.
7:48 p.m. State Police transferred a call from a man who sounded highly intoxicated and wanted officers to come to his home because there were "a lot of junkies walking in his yard."
Glass houses
Nov. 6
1:53 a.m. A Fairview Lane caller reported two men were following him with a shotgun. He met with officers by Walgreens then went home to sleep.
11:28 a.m. A Calle Don Alfredo caller reported three people were walking around the neighborhood throwing rocks.
1:07 p.m. A West Laguna Street caller reported a man tried to break into his house and that he ran down Fairview Bridge. The caller followed the man in his car to another house and called dispatchers again.
1:45 p.m. A Santa Cruz Post Office caller reported a man who was armed and had a fifth of liquor was speeding down the road.
2:46 p.m. An Española Hospital caller reported two people were fighting in the emergency room and broke a window.
5:07 p.m. A Del Norte Credit Union caller reported someone took a picture of her and her vehicle.
Fire vs. Laundry
Nov. 7
6:27 a.m. A Fairview Lane caller reported someone stole chainsaws from his car.
8:09 a.m. A Pheasant Lane caller reported her neighbor was a registered sex offender and stood on the street corner while high school children boarded the school bus every day that week.
9:55 a.m. An Old Hospital Road caller reported his wife was renting a property and the owner would not let him take his utility trailer off the property. An unspecified person tried to fight the responding officer, and the man was able to remove his trailer.
1:34 p.m. An Española caller reported her father hit her and threatened to kill her.
7:30 p.m. A Santa Clara Apartments caller reported someone tried to turn her door handle and they took the fire extinguisher from the hall and left dirty socks in its place.
8:03 p.m. A North Riverside Drive caller reported she was tailing a driver who damaged her car several weeks before, and asked officers to follow them until the driver could be caught. Dispatchers told the caller she was putting herself in danger and she should follow up on her previous report in the morning.
Nov. 8
11:48 a.m. A Children, Youth and Families Department Child Care caller reported a man was selling his Suboxone in the parking lot.
3:34 p.m. A Children, Youth and Families Department caller reported an abandoned child that needed to be placed into care.
7:22 p.m. A Hernandez caller reported her phone was missing and the Find My iPhone application showed it was in her neighbor's home. She called back to say she thought it was probably just outside her house somewhere.
7:49 p.m. A Country Farm Supply caller reported a man in blue jeans and a cowboy hat standing outside with a rifle.\
Rough day at jail
Nov. 9
3:56 a.m. An Española caller reported he woke up and his wife and their car were gone and he was worried. An officer contacted the woman and she said her husband was mentally and physically abusing her and that her name is on the car.
10:38 a.m. A Pegasus Auto Sales caller reported she kept hearing gunshots in the area day and night.
1:30 p.m. An Alcalde caller reported his neighbors were arguing and one blocked the other with his vehicle and would not let him leave.
2:02 p.m. A Rio Arriba County Detention Center caller requested an officer to press charges on an inmate who got into a fight with a guard.
4:33 p.m. A Walmart caller reported an intoxicated man outside was trying to fight an assistant manager. Officers arrested the man.
5:20 p.m. A Rio Arriba County Detention Center caller reported two guards were attacked by seven inmates. The guards were taken to the Española Hospital.
6:06 p.m. A Squash Blossom Court in Ohkay Owingeh caller reported his neighbors were shooting a gun outside.
10:51 p.m. An Ohkay Casino caller reported a man beat up a security guard and they had detained the man.
Tag, you're in custody
Nov. 10
9:23 a.m. An Ohkay Owingeh caller reported a man shattered her window and was standing outside, potentially carrying a knife.
12:57 p.m. A Hudson Lane caller reported a woman was recently put on hospice care but her son was not feeding her or giving her water.
2:22 p.m. An Ohkay Owingeh caller reported his friend had a restraining order on her son, but the son came into the friend's home and locked himself in his room.
3:27 p.m. A North Paseo de Oñate Speedway caller reported the gas station just sold alcohol to a drunk man with blood on his face and two different shoes on, and that the man left in a car.
9:06 p.m. A Santa Claran Casino caller reported an intoxicated man was running around the parking lot away from security guards. The man left, but the caller called back to say he returned and was hiding in the elevator. An officer arrested the man.
Jerky warfare
Nov. 11
2:52 An Angelina's caller reported an intoxicated man with a large hunting knife bothering customers.
8:43 a.m. An Española Middle School caller reported a student brought jerky that was soaked in something to school and that about 20 children got sick, vomited, and had skin irritation. A responding officer found there was habañero on the jerky.
3:48 p.m. A deputy reported an escapee at the Rio Arriba County Detention Center. A guard reported a case worker took the inmate back from Hoy Recovery and she fled. The inmate was returned to the jail that day.
6:43 p.m. A Chimayó caller reported her son was drunk and hitting her.