A former campaign volunteer for Española City Councilor Robert Seeds took a plea deal Oct. 25, agreeing to testify in the upcoming voter fraud trial of Seeds' wife, Laura Seeds.
In a trial set to begin Thursday (10/31), Laura Seeds faces thirteen felony voter fraud charges relating to her role in her husband's 2016 election to the District 4 Española City Council seat.
Herrera, 24, pleaded guilty to just one of the four charges leveled against him by the state—conspiracy to violate the Municipal Election Code, a fourth-degree felony—in exchange for his testimony and cooperation with law enforcement.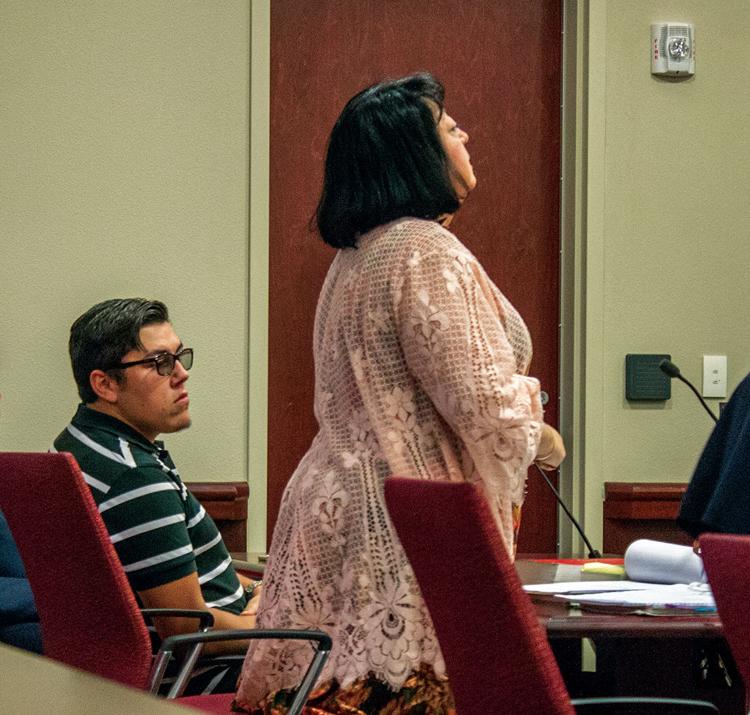 Herrera has not yet been sentenced for the charge he accepted, which carries penalties of up to 18 months imprisonment and no more than a $5,000 fine. He will not be sentenced until the resolution of Laura Seeds' case.
The deal is contingent on Herrera's cooperation in not only Laura Seed's trial, but any current or future investigations into the 2016 Española election or other elections, as well as a number of other stipulations.
Reached for comment by phone, Laura Seeds directed questions to her attorney Aaron Wolf, who said Herrera's testimony is inconsistent with his previous statements to police.
"He took a plea deal to minimize or eliminate any risk to him, and his testimony should be considered in that light," Wolf said. "I think that there's good reason to doubt the credibility of Mr. Herrera's testimony."
He declined to specify further.
Herrera's lawyer, Paul Mannick, could not be reached for comment by press time.
The charges against Laura Seeds include two counts of making false statements relative to the Municipal Election Code, conspiracy to violate the Municipal Election Code and 10 counts of unlawful possession of an absentee ballot in a municipal election.
She was banned from attending pre-trial hearings after she called the Court to ask the names of the grand jurors who indicted her.
She was separately charged with committing intimidation in a municipal election, coercion of a voter and disturbing a polling place in a municipal election.
The charges Herrera seeks to avoid are two counts of falsifying election documents in a municipal election and one of making false statements relevant to the municipal election code.
Secretary of State Spokesman Joey Keefe has said that even if Laura Seeds and Dyon Herrera are found guilty of voter fraud, it will not affect Robert Seeds's position on the City Council.
Robert Seeds did not respond to requests for comment by press time.
He won the 2016 election against Cory Lewis by two votes. Herrera allegedly signed absentee ballots in his grandparents' names, which were discounted by the city clerk at the time.
Then-First Judicial District attorney Jennifer Padgett forwarded the absentee applications and voter oath documents collected from District 4 voters to New Mexico State Police so they could look into the alleged voter fraud.
She decided an investigation was necessary after meeting with then-city clerk Anna Squires and her staff for two hours on March 8, 2016.
Squires said at the time she contacted Padgett's office under the advisement of New Mexico Secretary of State election officials, after she informed them of the alleged illegal activity.
According to the letter Squires wrote to Bureau of Election Deputy Director Mandy Vigil, the alleged fraud was set in motion by Laura Seeds, after she reportedly took a call on Herrera's cell phone.
The call was from Herrera's grandmother Leona Herrera, wanting to know if something could be done about the absentee ballots her husband LeeRoy Herrera mistook for junk mail and ripped up. Seeds notified then-Española voting consultant Kelly Romero, seeking advice on what to do next.
Romero told Leona Herrera she would have to return the envelopes with all the early voting contents to city voting officials. Once they were returned, it became clear to Romero and former deputy city clerk Therisa Aguilar the ballots did not need to be replaced, instead they could be repaired and reissued.
After they repaired the ballots, Dyon Herrera was supposed to return to his grandparents' house on Hudson Lane, so they could participate in the voting process, but he returned immediately, which signaled to election officials that something may have been amiss.
"About five minutes later he returned with two absentee ballots allegedly voted and signed by his grandparents," Squires wrote. "Presiding Judge Aguilar said to Mr. Herrera, 'That was fast, you must live close by.' He responded his grandparents were in the car with him."
The signatures on both of the voter oath cards were identical and very different from the ones on the absentee applications the couple reportedly submitted ahead of receiving the ballots.
As the younger Herrera left the voting site, Aguilar observed him get into a car with two young adults, as opposed to two elderly grandparents, like he claimed.