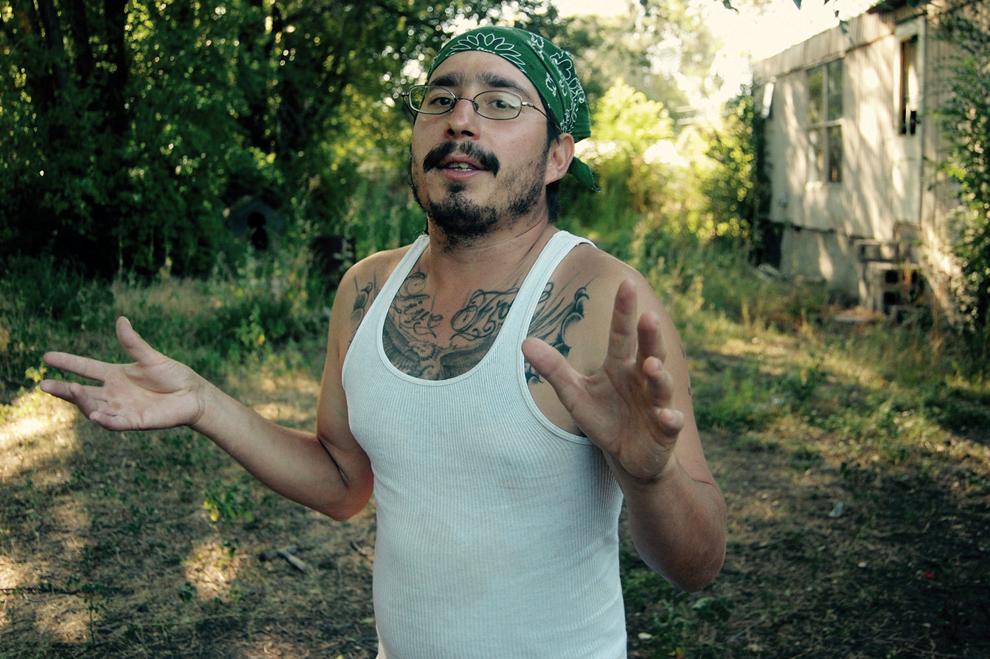 The late Richard Cook, one of the wealthiest men ever to have lived in the Valley, declared in a 1999 Rio Arriba County Commission meeting, in an effort to convince listeners that he should be allowed to subdivide and develop irrigable land, that Northern New Mexicans would not be able to make a living from the land in the future.
Two decades later, among the weeds and the broken bottles and the old cars scattered about the Encinias family land, Matthew Encinias sowed what he calls his "experiments."
He is trying to grow strawberries and sunflowers on one small patch and pumpkin and squash on another. He planted potatoes and garlic, harvested 50 pounds of plums from his father's trees, and dropped lettuce seeds into a hole in the ground, which he covered with Plexiglas for warmth. He built a small greenhouse with wood from an old picnic table and filled a box with worms and soil to start a composting system.
Aside from plums and apricots, there was little to harvest. Ants attacked the lettuce seeds, and the family dogs dug up the hole.
But Matthew's dream to plant and harvest on his family's land will take years, probably decades, to accomplish. He began to clean the yard three years ago after returning home to Chimayó. His brother Ivan, struggling with a heroin addiction while Matthew was studying in Santa Fe, left evidence all over the land of what Matthew refers to as Ivan's males. Syringes in the tall weeds, pieces of the trailer door that he shredded, unpruned fruit trees, leaking ditches.
Matthew imagines creating a self-sufficient center on the place. He will make his own clothing and the paper with which he will write a book about land stewardship. The paper mill will stand where there is currently an old unused bonfire pit. Visitors will park in front of the mill and Matthew will teach them how to make the paper from sunflowers, and then they will walk along a deck to the garden and learn how to grow their own fruits and vegetables.
He and a few other young farmers have decided to return to the land in Northern New Mexico. Some of them, eventually, will try to live on what they grow. For now, many of them must continue to work full-time jobs away from their lands to survive. Their decision coincides with the choice of young people across the U.S. to return to rural areas. Through environmental and agricultural movements, people are coming to re-value land-based traditions. In Northern New Mexico, these farmers are attempting to redefine what success looks like. They are less concerned with how much of a living they can make and more concerned with how to live.
Necessity
People began to leave the North when the railroad came. They departed for Wyoming and Colorado, Montana and Arizona, where they would pick potatoes and mine copper and cut lumber. Then in the boom of World War II they left to build aircraft and cargo ships in California and serve as secretaries in Washington D.C. Those who returned found the gates of (then) Los Alamos Scientific Laboratory open to laborers.
"They would say that people are expendable. 'You work in Los Alamos, you're expendable, no? Sorry about that,'" Benjamin Lopez said. His grandfather sheared sheep all the way up to Wyoming, 180 sheep a day. Benjamin's father died from radiation exposure after working in Los Alamos for four years, so his mother began cleaning houses there to support her children.
Then people left for college on the GI Bill of Rights, then to big cities where they could use their degrees.
They left largely out of necessity. In 1848, before New Mexicans began to migrate, when New Mexico became a US territory, the U.S. government promised to protect their property rights. But most New Mexicans who had claims to land grants did not speak English and did not know how to navigate the American legal system. Anglo lawyers, observing their confusion, tricked them into selling the land. The government allowed individuals to sell pieces of communal land—which would not have been possible under Spanish and Mexican law. Those who were not tricked were often forced to sell: the government began imposing property taxes, and people did not have cash, because before they had relied on the barter of livestock and crops as the basis of their economy. They had to give up their properties.
"That's how they crippled our communities," said Joseluis Ortiz,  a young farmer who is returning from Albuquerque to Embudo to work the land of his grandmother, Corina Gonzales. His family has lived in the Embudo Valley for centuries. "People forget their history. They don't know that that happened, so they think our quality of life is a result of our inability to live, and we're just crazy, or we're sick, or we're cursed."
With the levying of taxes and the loss of land, it became impossible to depend on barter. The railroad arrived in 1880 and brought goods that made daily life much easier, goods from the East for which people had to pay cash. Suddenly, if they could pay, they did not have to thresh their own flour, and they could lay tin over their mud roofs. "Up until then it was just a constant battle against the rain," said Cathy Berryhill of Chimayó, whose family has lived there farther back than she can trace. But there was no industry in Northern New Mexico, and on the train, people could travel great distances to find work.
The Northern New Mexican version of the American Dream that drives people today is a direct product of this history. You leave for college, you leave the North or else you work at the Lab, you make money, you retire. All 19 people interviewed for this article voiced some version of this Dream as a reason why returning to the North is often understood as failure. 
"Us leaving home wasn't a result of us coming from a bad home," Joseluis said. "It was the result of incredible culture loss and ultimately, erasure. And once you see it from that perspective, then the journey back home becomes a cause."
Farmers like Matthew and Joseluis are reversing course, returning to the land in a geographical and historical sense.
"So that we can find pathways to success outside of the so-called American Dream," Joseluis said.
'A different lifestyle'
Sometimes Anjel Ortiz, Joseluis' brother, will run into his friends' parents, and they will ask him what he's up to. He explains that he has returned to the North from Albuquerque, and he is farming in Chimayó. They look at him and tell him proudly that their children are making good salaries in Los Alamos.
"For a second, I'm like, 'Man, I didn't do nothing with my life, what am I doing?'" he said. "But at the same time, I'm like, 'No, it's a different lifestyle. If you guys wanna go and make money and work all your life, go ahead.' I want to grow my own food, I want to eat good, I don't want to be shopping at Walmart, I don't want to be eating stuff that's sprayed with pesticides. I think returning to the land was super important because not too much people are."
These farmers are defying the view that only the hopeless come home. One of Matthew's professors at Santa Fe Community College told him "to get out" of Chimayó. Instead he is trying to build his educational center and write his stewardship book.
Alyssa Romero Sorensen's advisor at Highlands University encouraged her to leave so that she could pursue an academic career. Alyssa excels at math and science and for a long time has felt pressure to seek success away from her family in Nambé.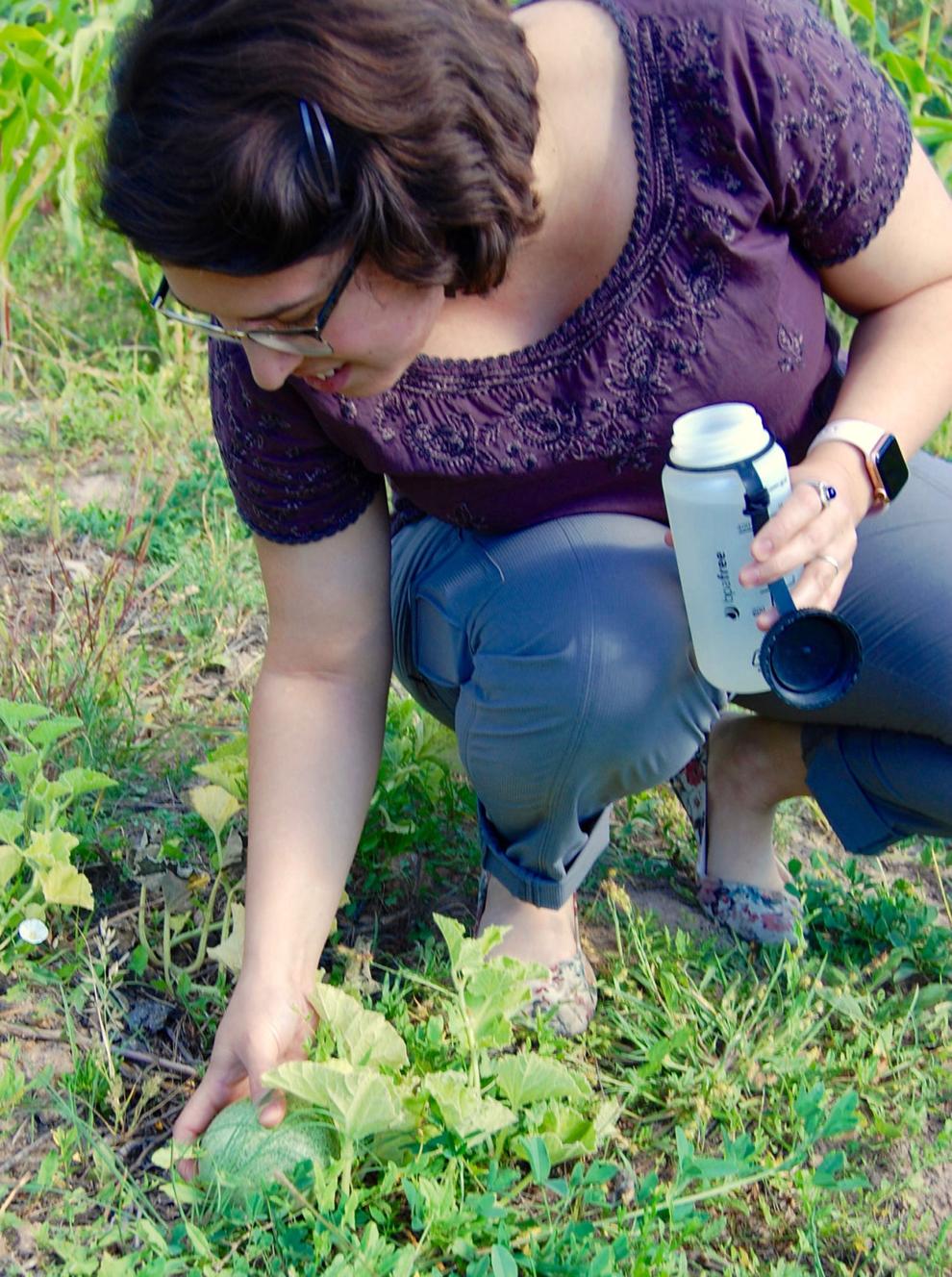 "Especially being a Hispanic woman in math and science, there is absolutely the pressure that you just have to take that as far as you can, to show that it can be done, to beat the odds," she said. She ultimately decided with her husband to move back to her grandparents' land. There they are learning from her grandparents how to grow produce.
Chavela Trujillo overhears people wondering whether her choice to return to the North is a sort of defeat. She transferred from New Mexico State University to Northern New Mexico College so that she could be closer to her family and her horses in Abiquiú. In Las Cruces, the only time she felt calm, the only time she could "get away from everything," was when she was riding.
"Me coming back, a lot of people saw it as a failure, or a pre-failure," she said. "You know, like, 'She's gonna come back and stop. And end up in the same boat that everyone is in trying to struggle and find a way to make it.'"
They wonder whether she is going to stop despite the fact that she's still studying, that she's restoring a ranch with her husband, that she's opened a horseback riding business and is teaching youth how to ride horses.
'Complete peace'
Donne Gonzales was crying, worrying over how she would pay the $1,000 she owed for rent in Albuquerque every month, stooping over to pull weeds in her family's greenhouse in Chamisal, when suddenly the Earth took all the pain and hardness from her.
"I just felt everything leave my body, into the Earth, if that even makes sense," she said. "And it was just okay, everything felt better, everything melted away. It was complete peace, complete, complete peace. And sometimes it doesn't even make sense but the Earth will take anything from you. It's our mother, it's our healer, it does, it will do anything for us. Mamas do, mamas always do. She did that for me."
She had come home from a miserable 10 months in Albuquerque, first attending the University of New Mexico, then beauty school. As a high school student she wanted to be a lawyer in a city. She grew up gardening with her family, who have been in Chamisal for 12 generations, and she wanted to try the rush of city life, the way the movies portray it.
But in Albuquerque she missed her parents, grandparents, brothers, aunts, uncles and the almost weekly family birthday parties. She would think about the big forked cottonwood tree that grew on her family's property, the birds who land on its branches and the acequia that runs beside it. She was so lonesome that she snuck a stray dog into her one-bedroom apartment.
"That dog legit saved my life, and I still have her and I'm so grateful for her, just because she got me through frickin' Albuquerque," she said.
She decided to apprentice as a farmer through a farm training program at the American Friends Service Committee, and then, after a year, became a farm trainer herself. The Committee passed the program, which is now called Los Sembradores Farmer Training Program, to the New Mexico Acequia Association in 2017. Each year Donne teaches beginning farmers how to grow on her family's land. Matthew was one of these beginning farmers.
"I didn't know how badass I was before I was out here," Donne said. "And so now I know how to drive a tractor, I know how to start a tiller. I'm badass! I'm a badass chick. And it's so important for me to train other chicks, because in the farm industry, it's so male-dominated, and even before by people who trained me I've been put down–'Oh you're just a chick, you can't do that,' I'm like, 'Whatever, dog, watch me lift 50 pounds.'"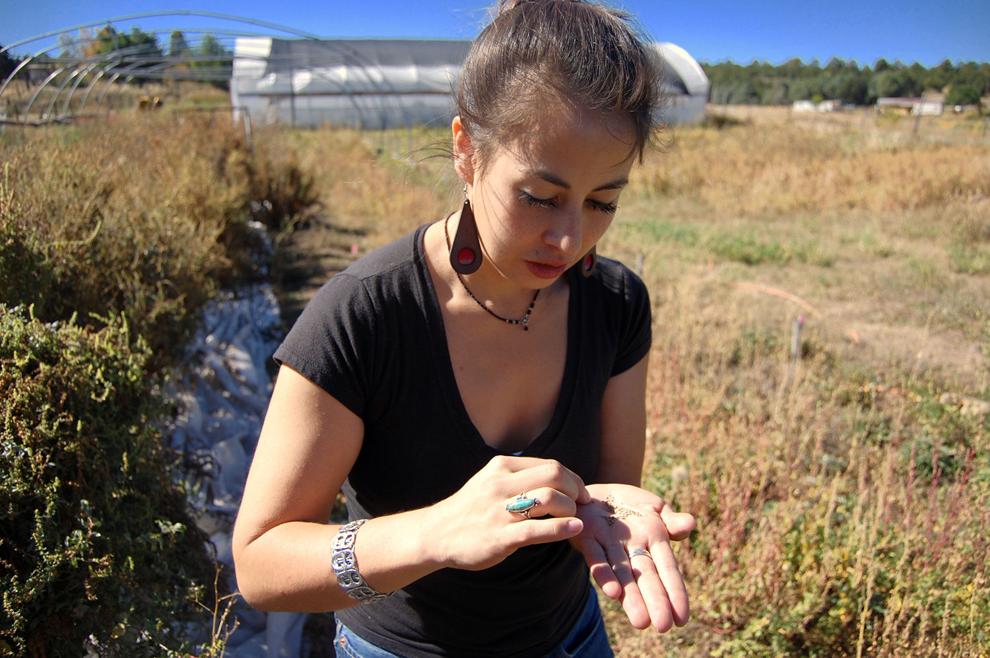 Like Donne, both Joseluis and Anjel, who are brothers, found strength through the land. The brothers recovered from substance use disorder by planting and harvesting. Joseluis has been clean for almost 10 years, and Anjel for almost 6. And both plan to found educational centers, Joseluis with his mother and four of his aunts in Embudo, and Anjel in Chimayó. They want to help other youth heal from trauma and substance use disorder by teaching them about agricultural traditions.
Joseluis' doubts about himself were quieted when the first crops he planted came up.
"They grew and then you had all those onions that were massive," he said. "And you're like 'Damn, we did that, that's powerful.' To succeed, to see the fruits of your labor, fruit before your eyes, to come to fruition before your eyes is powerful for someone who's been taught to suppress that inner self."
Watching them grow took him back to when he used to plant with his family, before he left for Albuquerque, "as though we never skipped a beat. Suddenly the years of struggle with addiction evaporated."
A failure of government
Of the 30 people Donne went to high school with, five still live in their communities. Three of the five who remain, she said, are struggling with substance use disorder. Many of the 25 who left work in Los Alamos.
"It's a f****** hard realization as an adult, as someone coming from a small community, because I want money, I want a big house," Donne said, considering the choice between leaving and making money or staying in Chamisal and working the land. "But at the same time, I'm perfectly fine where I am. I have the cutest little adobe house. I can't ask for more. I couldn't be more happy. It's finding that inside yourself, even if someone else isn't happy for you."
In some cases, people are able to choose between making money or making financial sacrifices to work the land. Others are mired in debt or don't have land to work. Joseluis considers it a miracle that his grandmother, despite her poverty, held onto her land, a miracle that she persuaded all of her children not to sell it. After her death, it fell into disrepair, and for 10 years in Albuquerque he thought he would never be able to return to Embudo. Then his aunt offered to let him stay in his grandmother's crumbling house if he would help restore it.
"We all want to come home," said Corilia Ortega, who moved home to Arroyo Hondo from Las Vegas, N.M. to farm. "It's just a journey to get back home." Her childhood best friend lives in Albuquerque and wants to return to San Cristobal, but he can't find work there.
Alyssa believes it to be a failure of government that people are forced to decide between making enough money to live and taking care of the land. If healthcare were less expensive and utilities and transportation were public, she said, it would be possible for people to work less stressful jobs that would allow them to spend more time in their gardens and on their farms.
"Those kinds of decisions would be a lot easier if our society was a little bit better at taking care of people," she said.
The Northern New Mexican dream
Alyssa has chosen to stay home in Nambé and take care of her four-month-old son James while her husband commutes each day to work in Santa Fe. They decided to move to Nambé in part because they wanted to raise James on the land of Alyssa's grandparents, where the family has lived for six generations. Growing up Alyssa played in a tree house built into the same apricot tree that her grandfather broke his elbow climbing when he was a child.
Donne, Matthew, Joseluis and Anjel also all have young children they want to raise on their families' lands. When Anjel farms with his two-year-old daughter, he envisions his father and uncle teaching him and tries to teach her what he learned from them. Joseluis named his daughter Corina after his grandmother, so he understands her arrival in Embudo in part as a symbolic return of her great-grandmother.
By the time James is old enough to understand climate change, Alyssa wants to be able to show him that their family is sequestering as much carbon in the soil as possible, growing their own fruits and vegetables, participating in the collective governance of the acequias—in short, doing as much as they can to set an example of ecologically-responsible behavior.
"We need more people just doing what seem like these simple things of building more compost piles and trying to grow more vegetables," Alyssa said. "And it seems pointless, and it seems like it's too small of an action, but it's necessary if these systems are going to get built, if these feedback loops are going to get started."
These small actions are what make up the political "cause" Joseluis talked about, the cause that is the journey back home. Donne, when she can, trades and shares her vegetables, to reintroduce barter into the local economy. Matthew is reading as much as he can to identify all the different plants on his land so that he can eventually make use of them. Anjel hired two teenage interns this past summer, and they helped him plant blue corn, chile and carrots.
"One of the things we always say is the youth are our future," Chavela said. "And they're not; they're our present."
Of course the questions loom: will these efforts be successful? Can people survive by working the land in the future? Will they actually create for their children a new American dream, a Northern New Mexican dream of growing and sharing one's food and holding onto one's culture? Matthew said that his attempt to restore his family's land is one of the hardest things he's ever done.
But there is something in the effort itself—regardless of whether all these visions become reality. Because even if they do not, the effort in each attempt shows other young people that there is no shame in coming home.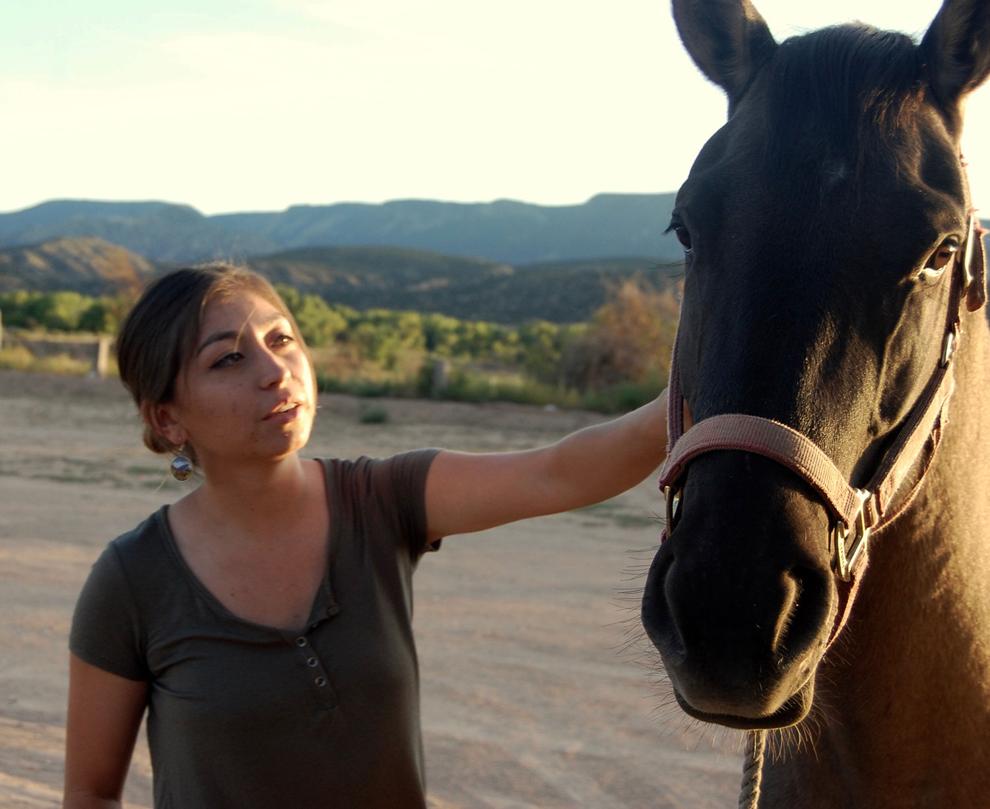 'In order to get somewhere'
It is twilight and Chavela drives her pickup truck to the Rio Arriba County arena to practice barrel racing with her horse Moquina. The horse is restless, straining her neck upward, stamping.
Chavela saddles her and begins to ride through the half-light. The hooves break into the hard ground and the gallop echoes through the arena. 
And with the gallop something she said seems to echo:
"You have to do things that scare you in order to get somewhere. It's scary getting out there on our own and trying to clean up a ranch that's been neglected, it's scary trying to get out there and take my horses with me while I'm going to school and working, and it's scary trying to be a role model to kids. And there's always that fear of failure, it's always gonna be there, but you can let it linger or you can go past it and keep working. Because the time's going to pass anyway."
Dust, bluish as the sky fades, rises about the animal's legs. They pick up speed around the barrels, around the arena, running and then slowing and running again. There is nothing to suggest that Chavela is going to stop. She's flying.