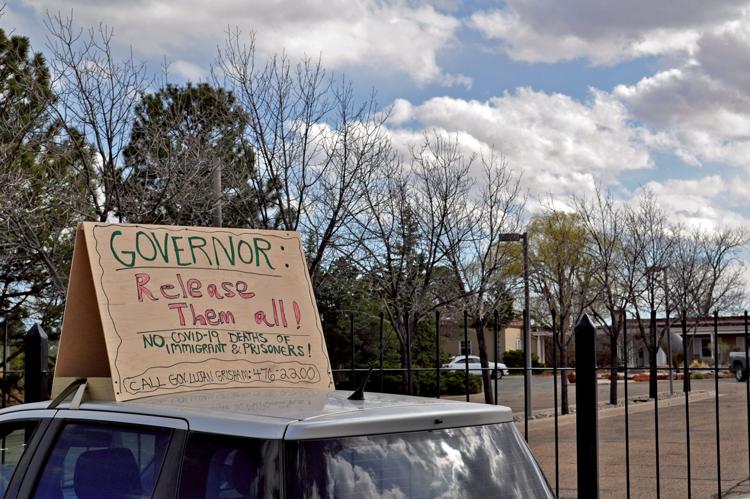 Public defenders and prosecutors are working to determine who can be released from the Rio Arriba and Santa Fe jails to slow the spread of COVID-19.
With cooperation from law enforcement, last week they had already cut the inmate population at the Rio Arriba jail by two-thirds.
Since the COVID-19 outbreak reached New Mexico, the number of people incarcerated at the Tierra Amarilla Detention Center has plummeted from more than 130 at its peak to just 38 on April 3, Detention Center Administrator Larry DeYapp said.
In the 18 months prior to the outbreak, about 90 people on average were incarcerated in the jail, he said. A New Mexico State Police surge in the area in early March pushed the jail near its maximum capacity of 140, he said.
"When the State Police started their roundup, one person in there would have just infected the whole place," County Manager Tomas Campos said Tuesday.
The decrease in the number of inmates at the jail was accomplished through local law enforcement no longer arresting people for simple misdemeanors or technical violations of probation, and instead issuing criminal summons allowed under state law, said First Judicial District Defender Julie Ball, with the Law Offices of the Public Defender.
By reducing the number of people going through the revolving door in and out of jail, many of whom have not been convicted of any crime, she said, there will be a lower risk of cross-contamination between jail facilities and communities.
"It not only keeps people in custody safer, and not only keeps the people who work at these jails safer, but it will keep the community safer," she said.
The Detention Center, State Police and the Rio Arriba County Sheriff's Office have all worked together to both reduce the numbers of inmates in the Detention Center as well as reduce the rate at which individuals are being arrested and incarcerated, Rio Arriba County Attorney Adan Trujillo wrote in an email Tuesday.
A spokesperson for First Judicial District Court Judge Jason Lidyard, one of the judges who oversees criminal cases at the jail, wrote in a statement Tuesday that he has not actively coordinated with County officials on changes to the jail population but "has long had a policy of quickly setting hearings and conditions of release for defendants and he continues to do that now."
Ball said as the COVID-19 outbreak started ramping up in the state, First Judicial District Judge Marlo Martinez met on March 13 with Lidyard, Judge T. Glenn Ellington, law enforcement and jail officials, public defenders and prosecutors to work together to reduce arrests and release as quickly as possible those who were already in custody.
That dramatically reduced the number of people in incarceration, she said. However, as of Wednesday there were still 48 people in the Tierra Amarilla jail and 373 in the Santa Fe jail.
"We're continuing to review this list to see how we can pare it down even further," Ball said. "There has been a lot of cooperation between the parties without suspending the constitutional rights of the defendants."
On Friday, prosecutors with the First Judicial District Attorney's Office will review a list of people represented by public defenders who are accused but not convicted of crimes that do not involve great bodily harm or death, to be considered for release from the Rio Arriba and Santa Fe jails, District Attorney Marco Serna said.
"Everybody recognizes this pandemic is gonna last longer than just a few weeks, and just a few months at that," Serna said in a Tuesday interview. "We have to think of the safety of the public as a whole, and nonviolent offenders are part of that consideration. Violent offenders on the other hand, and extreme habitual offenders, will not be considered for release."
Exceptions to this rule include people with autoimmune disorders or other conditions that require a certain expertise in health care, and people in those situations would be considered on a case-by-case basis, he said.
Española Police Chief Roger Jimenez said Tuesday he has given his officers the discretion to not incarcerate people caught committing some nonviolent offenses, including shoplifting, property crimes, felony burglaries and drug possession.
"Instead of taking them to jail for every offense, the officer has the discretion, we're asking them to strongly consider using misdemeanor citations or criminal summons, unless it's a violent felony or a domestic violence incident or something like a DWI, where it's a mandatory arrest," he said.
What is often overlooked, Ball said, are bench warrants for people who failed to appear for hearings or pay court fines.
"Under normal circumstances, this practice is sometimes dubious, but in this kind of situation, it can lead to tragic results," she said.
For example, if someone gets picked up on a bench warrant for a technical violation, they can be charged $100. Even before the COVID-19 pandemic, this cost was too great for many Rio Arribans, Ball said.
"In this pandemic, when so many people are out of work, out of a home, they don't have $100," she said.
While Gov. Michelle Lujan Grisham extended the deadline to pay court fines and fees by 30 days, she did not suspend past due fines and fees, Ball said. That resulted in some outstanding warrants that were not recalled but judges have done a good job of quashing those warrants, she said.
"Let's hold off until after this crisis," she said. "Because for $100, if somebody ends up COVID-19 positive in the hospital, it eats up that $100 really quickly."
Fortunately, Ball said, probation and parole officials have allowed people to call in rather than show up at their office during the pandemic, and have been holding off on issuing warrants for technical violations.
"Also worrisome is the booking process itself, this revolving door," she said. "You've already exposed the population of the jail, and your community. So it's not just about releasing people in the jail, it's preventing them from going there in the first place."
Fifteen in one pod
Social distancing in a jail facility is impossible, Ball said.
Campos said DeYapp has got the inmates "spaced out." However, DeYapp said he does have one pod in the jail where there are 15 people living together. Another pod has five people, and yet another has two people.
"Social distancing, for the best I can do it, we're doing it," DeYapp said. "Every pod is open. We're using every possible bed to keep people separate from each other."
He said guards give incarcerated people a hygiene kit, including soap, twice a day.
"We've always given them soap," he said. "I've ordered more, because I do believe they're gonna be washing their hands a lot more, and I want to make sure we have it on stock. I'm monitoring it more closely than I usually do because that's one of the biggest ways to keep Coronavirus off of you, is to keep clean."
The jail is more than an hour-long drive from the Española Hospital. DeYapp said he is concerned about being so far away from established health care systems, but the jail has registered nurses and a medical director working on site.
"With COVID-19, I don't want to sound brash, but it takes two to four days for people to kick in and turn south, so I do have time to get 'em there, as opposed to a heart attack, but it is concerning," DeYapp said.
So far, no one has come into the jail showing symptoms of COVID-19, he said. If they do, DeYapp said he will transport them to Española Hospital, get them screened for the disease, and then transport them back to the jail.
He said he is expecting the medical staff at the jail to have the ability to test inmates by the end of the week, and he placed an order with state health officials to have five COVID-19 test kits on hand at any given time.
"That's a big push from the state, to allow detention centers to get this (testing) done," DeYapp said. "I'm really excited to test here without having to transport an individual back to Española and back again, possibly if they are infected, possibly infecting the transporting officer."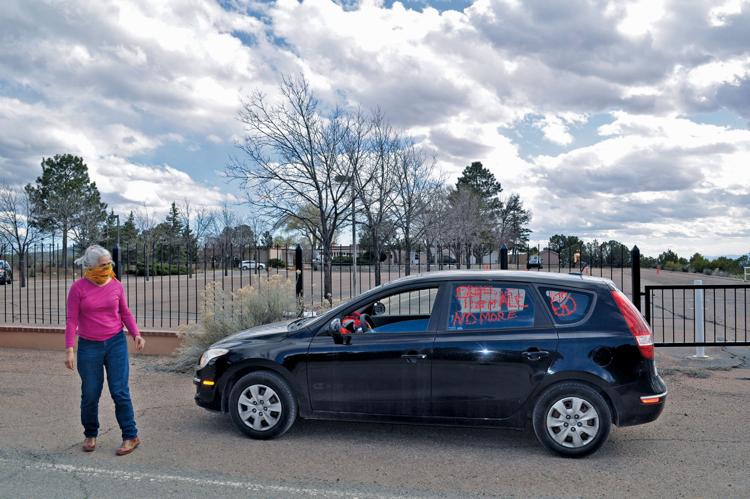 Statewide pressure
The decrease in the inmate populations at local jails comes as grassroots organizers and advocates for incarcerated people pressure state officials to release more people from state prisons and undocumented immigrants from ICE detention centers.
On April 3, Gov. Michelle Lujan Grisham announced plans to release 40 non-high-risk offenders who are up for parole a month early, but it was not clear from which facilities they would be released.
Jennifer Johnson, of Santa Fe, helped organize a "COVID-safe car rally" on April 3 outside the governor's mansion in Santa Fe, to demand that the governor release all nonviolent offenders throughout the state and that she use her position to pressure Immigration and Customs Enforcement to release undocumented immigrants being held in detention facilities in the state.
"I'm extremely concerned about the welfare of people who are incarcerated both in prisons and jails, and in immigrant detention centers," Johnson said. "The spread of the virus is going to take over, there's not the facilities to take care of it, and there's not the system in place, we don't even have it on the outside."
Similar protests happened outside the Bernalillo County Metropolitan Court and the Bernalillo County Sheriff's Department in Albuquerque.
Johnson said she is hopeful that Lujan Grisham is interested in some form of release, but felt the governor had not gone far enough.
Then on Tuesday, the governor directed the state Corrections Department to compile a list of inmates eligible for early release to reduce incarcerated populations and slow the spread of Coronavirus. To be eligible for release, prisoners must have a parole plan and a release date less than 30 days away, and they cannot be serving time for domestic abuse, sex offenses or felony DWI.
Parked in a long line of cars before the gate leading to the governor's mansion, Elizabeth McMahon-Herrera, of Santa Fe, played "Falta Amor" by the Mexican rock band Maná. She is a first-generation immigrant and said undocumented people are facing possible infection by continuing to be held in ICE detention centers.
"I've been looking for music that speaks to these issues," McMahon-Herrera said. "I got to live that so-called 'American Dream.' But any Mexican or Central American I've ever met here, they're working hard."