New Mexico State Police is opening an internal investigation into statements made by one of their officers when Sen. Richard Martinez, D-Española, was arrested for allegedly driving while intoxicated.
Martinez was arrested June 28 after he crashed his 2010 Mercedes SUV into another vehicle.
Martinez's Santa Fe-based attorney David Foster filed a not guilty plea in Rio Arriba County Magistrate Court on Monday. The court granted Martinez's request not to personally appear at his arraignment or any pretrial hearings.
Española Police Department Officer Dustin Chavez made the arrest.
At the scene as officers talk, New Mexico State Police Officer Lance Pepper approaches officers and tries to convince them to hide Martinez's license plate from public view.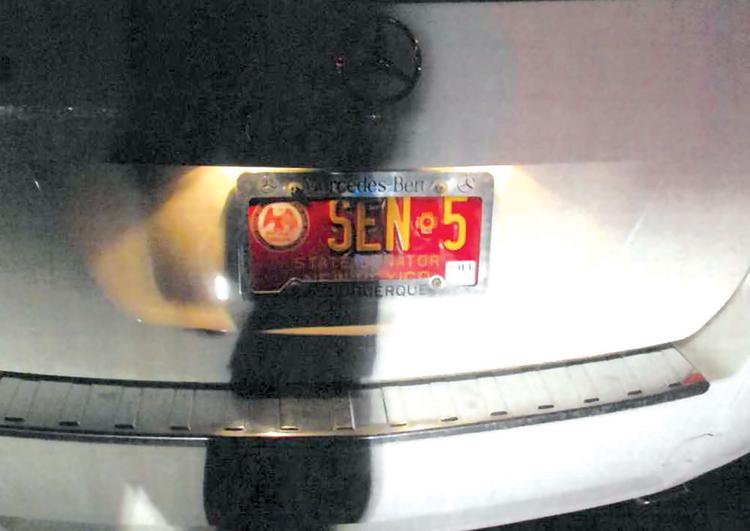 "Do you guys have something you could cover that plate up with?" Pepper asked Española Police Department officers at the scene. "It says senator number five."
Department Sgt. Cody Martinez is seen walking away with Pepper in the video to the rear of Richard Martinez's vehicle. Ultimately, Department officers elected not to cover the plate or make any adjustments to their normal procedure.
State Police Spokesman Officer Ray Wilson said Tuesday that the agency does not have a policy in place written or otherwise that provides preferential treatment to an elected official or anyone else who is being charged with a crime.
"The comment by our officer should not have been made," Wilson said via email Tuesday. "The New Mexico State Police does not believe legislators deserve special treatment."
Wilson said the agency "expects and demands" impartial professional conduct from officers.
"An internal investigation will be conducted into this matter as well as the circumstances surrounding the officer's statement," he said.
The crash
Department officers were called to the intersection of Paseo de Oñate and Fairview Lane June 28, after it was reported that a white vehicle rear-ended a Jeep stopped at a red light.
Chavez conducted an investigation into the crash, and is seen on lapel video informing Martinez that he can smell alcohol.
"I entered the ambulance and asked (Martinez) how much alcohol he consumed and he said 'two couple (sic) beers, like two or three,'" Chavez wrote in a criminal complaint filed with the Rio Arriba Magistrate Court. "Martinez then recanted his statement on consuming two beers and instead, 'actually (sic) drank three glasses of wine.'"
Lapel video shows Martinez failed to complete a finger dexterity test and then was unable to count backwards from 31 to 14.
The other vehicle in the crash, a Jeep, belonged to Johnny and Gerrie Sisneros, of Española. They were transported to the hospital by ambulance, the report states.
Department Sgt. Cody Martinez asked Chavez about Richard Martinez's performance on the sobriety test.
"Oh bro, he can't even do his finger dexterity or counting backwards," Chavez said.
Cody Martinez asked if Chavez would be arresting Martinez after he was medically cleared.
"Oh yeah," Chavez said. "I'm going to have to."
Could have been worse
At the hospital, Chavez read Richard Martinez the Implied Consent Act, which explained the legal requirements to submit to a test to determine his blood alcohol level.
"OK at this point now I'm going to be having to arrest you for, driving under the influence," Chavez said.
Richard Martinez asked why, and then told Chavez he was "OK" and asked him not to make the arrest.
"We both have jobs to do Richard, unfortunately it's one of those things," Chavez said. "You're a great person, but I have to do this because of my job."
As he finished explaining his responsibility to uphold the law, a hospital staffer spoke up.
"I appreciate that," she said. "Because my baby is out there driving on the road right now, my boyfriend."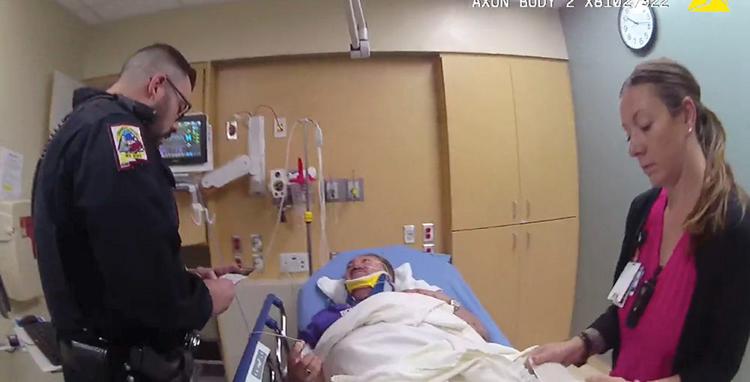 Chavez told Richard Martinez that he was glad the accident did not result in any major injuries.
"This could have been a lot worse," Chavez said. "The people that were taken in, thank God they're fine. They were able to talk and so forth."
Richard Martinez was charged with aggravated driving while under the influence, his first offense of that nature. The charge was aggravated because he refused to submit to a test to determine his blood alcohol content. He was also charged with reckless driving.
Department Spokesman Sgt. Jeremy Apodaca said the senator was not transported to the Rio Arriba County Detention Center but he was held at the Española Detention Center located at the police station overnight.
He was released on his own recognizance June 29, court documents show.
Apodaca said the Department did not provide any special benefits or treatment for Richard Martinez.
Rio Arriba Magistrate Judges Joseph Madrid and Alexandra Naranjo filed documents to recuse themselves from the case. The case has been reassigned to Santa Fe County Magistrate Judge David Segura.
Richard Martinez retained Santa Fe-based attorney David Foster to represent him in the case, but Foster did not return calls seeking comment by press time.
Richard Martinez did not return multiple calls for comment as of press time.
Of the four fatalities from traffic accidents between January and May this year in the County, half of them were alcohol related, a New Mexico Department of Transportation preliminary report states.
Apodaca said intoxicated driving is a problem in the city and includes not only alcohol but drug intoxication as well.
The Department conducts DUI checkpoints and saturation patrols throughout the year Apodaca said, to try and stop drivers from getting on the road when they are intoxicated.
"A checkpoint is going to be something that's stationary typically and that's what we're focused on is looking for signs of impairment," Apodaca said. "A saturation patrol is just going to be an increase in officers on the street and those officers are specifically looking for also, signs of impairment. Part of that is to look for drivers that are swerving, running red lights, maybe not driving the speed limit. They may be driving a lot slower and those are cues to us that there's something going on that's not normal."
Apodaca said that during the DUI enforcement actions police write more tickets than usual. He said the Department wants everyone to understand that driving while intoxicated is dangerous and not worth the risk.