The American Civil Liberties Union of New Mexico filed a tort claim notice on behalf of Rio Grande SUN reporter Tabitha Clay for alleged civil rights violations by Rio Arriba County employees in the Sheriff's Office, as well as by Sheriff James Lujan.
The tort claim states County employees, officials or affiliates have retaliated against Clay since May 29, the day the story about former Deputy Jeremy Barnes tasing a student three times in the chest at Española Valley High School appeared in the newspaper.
The New Mexico Attorney General's Office investigated the event and has charged Barnes with one count each of abuse of a child, false imprisonment, aggravated battery and breaking ethical principles of public service. The student's family also filed a civil rights complaint against Barnes and Lujan over the same event.
Clay's tort claim points to three separate incidents of retaliation, which occurred on July 1, Sept. 10 and Sept. 16.
She said during an Oct. 4 interview she would not discuss specific incidents.
She said while it has been a stressful and anxiety-inducing experience to file the tort claims notice, it was important for her to do so.
"A lot of it was just thinking about my approach and what is important to me," she said. "And it's important to me that I report the facts about any situation. Positive, negative, whatever it is. So ultimately, I came to the conclusion that I felt like the ACLU's help was necessary."
The tort claim states the July 1 situation involved the conduct of Barnes and Lujan at the scene of a fatal accident. A picture taken by Clay that day shows Barnes approaching her in an aggressive manner. A previous SUN article states Lujan ordered Barnes to arrest Clay at the scene.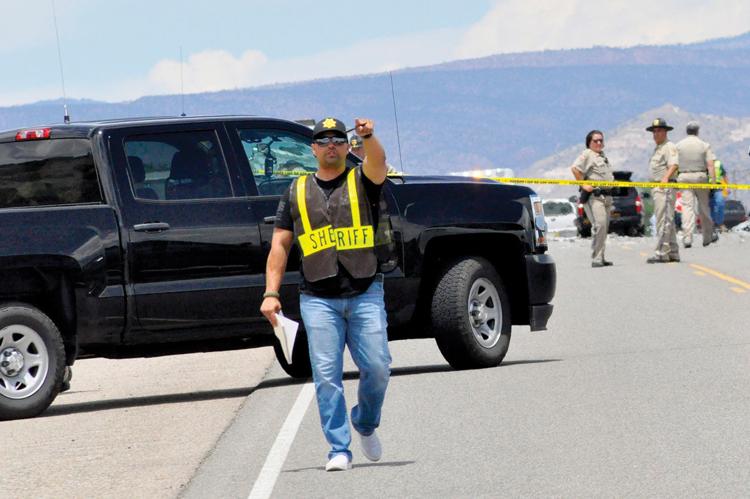 The tort claim alleges that on Sept. 10 Barnes and Sheriff's Deputy Jerry Albo were parked outside of Clay's home, which is in Santa Fe County, outside the jurisdiction of the Rio Arriba County Sheriff's Office.
The third event occurred on Sept. 16, during which Sheriff's deputies denied Clay access to the Rio Arriba County Courthouse in Tierra Amarilla with her reporting tools, such as her laptop, camera and cellphone.
"Surely Judge Jason Lidyard controls his own courtroom and doesn't need the help of an untrained sheriff," SUN Publisher Robert Trapp wrote four days later.
Lidyard on Sept. 23 forced the Sheriff's Office to allow Clay to gather news inside the courthouse.
UPDATE: Not two hours after we formally asked about Rio Arriba County Sheriff James Lujan's orders to prohibit us from doing our jobs in court, Judge Jason Lidyard overruled him: https://t.co/zrx8bdw9g5 pic.twitter.com/D6fj2zxUz6

— boring normal display name (@austieJFish) September 24, 2019
Six days after Clay published a story Lujan and his deputies' failure to complete legally required training to maintain their law enforcement certifications, the sheriff stopped providing the SUN with the daily E911 dispatch logs.
The 911 logs are public records and their handling was the subject of a separate legal fight between the SUN and the New Mexico Department of Public Safety, until the state settled and implemented a new records policy in October. The settlement is meant to ensure access to 911 logs and other original records of entry.
ACLU-NM Legal Director Leon Howard said while this tort claim notice is a very preliminary step, they take seriously any allegation that a government entity has retaliated against a member of the press for doing their job.
"It is not something you hear about every day in New Mexico and this is something that caught our attention and want to ensure government entities in New Mexico know they can't restrict access, 'cause it's crucial to having our government be open and operating in a transparent way," he said in a Monday telephone interview.
Howard also said freedom of the press is an already important issue, particularly in a smaller town like Española "where the sheriff has so much reach and so much power."
"I can say at face value, based on the information that we have now, it looks like Ms. Clay was threatened to be arrested when she responded to an accident that happened in Rio Arriba County, she was restricted from bringing her items into the courthouse and her general access to information via CAD reports has been limited and this is all after she reported a major incident that garnered national attention," he said.
County Attorney Adán Trujillo wrote in an Oct. 4 email the tort claim notice does not contain specific enough information about the factual allegations that would allow him to evaluate them for merit.
"But I likely wouldn't comment on that even if they were specific," he wrote. "I would like to know more about the factual allegations, though, in order to evaluate them for the purposes of consulting with my client."
He also wrote if Clay files any constitutional rights claims, Section 1983 claims or any other claims for damages, the County's insurance would take effect and the company would hire outside counsel to represent the County.
Trujillo refused to answer a question asking if this tort claim  will impact Clay's ability to report on the County in the future, if she will have access to County officials in the process of reporting and writing stories or if there will be a directive from the County to not speak to her while the tort claim process continues.
"I'm not the County's (public information officer,) so I'm not going to comment on any non-legal questions," Trujillo wrote in his response.
When asked who the County's public information office is, he wrote the County does not have one.
"I just don't want you using me like one by asking me questions about management hypotheticals or potential directives, that's not what I do," Trujillo wrote.
Lujan and Sheriff's Office Maj. Randy Sanches did not return phone messages by presstime inquiring about the tort claim notice.
Clay has already been the target of personal attacks online by members of Lujan's family since the publication of articles highlighting problems within the Sheriff's Office.
Lujan's wife Julie Casados-Lujan agreed with a person who commented on a Facebook post stating someone "should follow (Clay) wherever she goes then make up lies and put them in the paper like she does."
Clay said she will continue reporting on the Sheriff's Office in the same way in which she has done so in the past.
"Reporters in their own way serve the public," she said. "We serve the people, you know, that they run things for. The governed, not the governors."