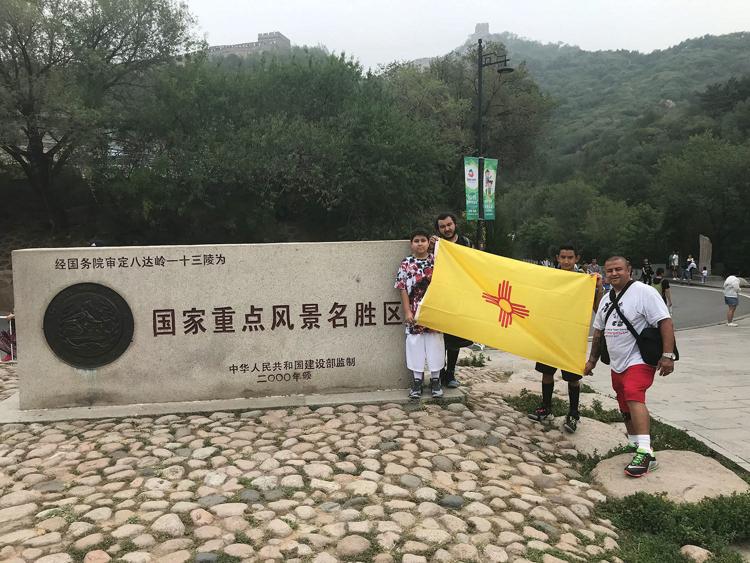 Compared to the United States, rice in China generally has a stickier texture to allow for the use of chopsticks.
That was one small thing competitors from the Española YMCA Teen Center learned on their 10-day trip to China to compete in the three-day RoboRAVE International Robotics Competition in the city of Guangzhou from July 19-21.
The YMCA Team Intergalactic consists of Teen Center Director Ben Sandoval and members Brandon Sandoval, 14; Benjamin Sandoval, 17 and Zachariah Apodaca, 12,
Brandon and Benjamin Sandoval are Ben Sandoval's sons.
While sightseeing through China and visiting places such as Beijing, the Great Wall, the Summer Palace, the Forbidden City and the Canton Tower, the robotics team learned — like the rice — they needed to "stick" together to be successful.
"Anytime we attended large meetings, we were considered a family by the local culture, not a group," Ben Sandoval said. "We had a tour guide who nicknamed us the 'sticky rice' group and that resonated the entire trip. We weren't considered a group; we were considered a family and that really held us together out there."
The Teen Center's robot, dubbed the "Plant-astic Spray Bot," earned high honors in the Entrepreneurial Challenge by finishing in ninth place out of 35 teams in their division. Their robot scored an 87 on a 100-point grading scale, which was judged and scored on creativity, teamwork, design and technology.
The Entrepreneurial Challenge was one of several challenges at the competition, and the goal was to have teams design an innovative, working robotic product (autonomous and/ or remote controlled) that customers and businesses would want to purchase.
Project Lead Engineer Brandon Sandoval – who received the honor to carry the U.S. Flag during the opening ceremony — was confident his team could finish inside the top 15 after seeing the competition his team was facing.
"For the first time competing that far away from home, to finish top 10, that was pretty good," he said. "There was some tough competitors."
Out of the 35-team group, Plant-astic Spray Bot finished in first place out of all the international teams. The top eight teams in the group were all from China.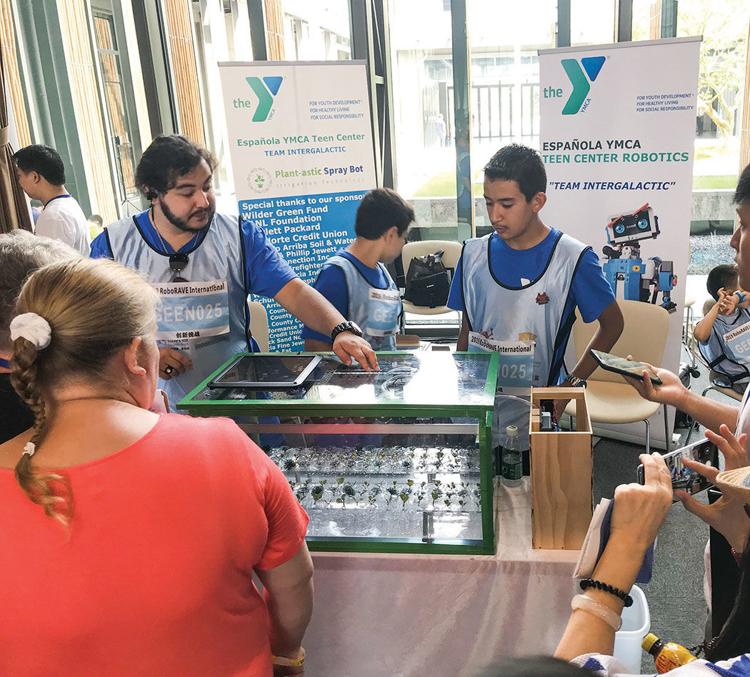 "It was phenomenal to finish top 10, considering the technology we were up against," Ben Sandoval said. "My jaw dropped. At first, it was overwhelming for the team when they walked around to see the competition; most of them thought we didn't have a chance. One of them though, and I'll say it was Brandon, he was pretty confident and he's the team leader at 14 years old."
Plant-astic Spray Bot is designed to work as a self-watering irrigation system for farmers and agriculturists to use in their greenhouses. The robot is battery-powered, but also features two methods of renewable energy, those being a solar-powered and wind turbine-powered component.
"The intent of the design was to take Northern New Mexico to an international level," Ben Sandoval said. "We wanted to design something that could help a real person who maybe doesn't have the accessibility of that level of that technology to help them be successful and save some money so they don't have to hire so many people to work in their greenhouses."
The team leader, Brandon Sandoval, was responsible for the idea of the robot and making the intent a possibility.
"I was going home one night and the idea just kind of popped into my head," he said. "I thought of a greenhouse that would run on a remote-controlled watering system. We started designing it and it all came together."
Overall, RoboRAVE featured over 3,000 participants and 700 teams from 17 different countries. The Española team was one of two from New Mexico. The Rio Rancho-based ASK Academy also fielded a team in the competition.
While Brandon Sandoval, Benjamin Sandoval and Apodaca were the three team members to travel to China, Project Technicians Janessa Sandoval, Estrella Aragonez, Sky Romero, Isaiah Guinn and Angel Perea also made large contributions in designing and building the robot.
"Before we left, one of things we emphasized with our team was that we are winners," Ben Sandoval said. "We're winners because they have accomplished the ability to travel and compete at this scale. A medal is great to have around your neck, but you'll forget about the medal eventually. You'll never forget the experience and the honor of participating in this capacity and at this level."
He said the trip to China would never have been made possible without the project's more than 30 sponsors.
"During the prep process, there was a lot of work in fundraising and getting sponsors," Ben Sandoval said. "There's a long list of supporters and that was really critical and we got some great support out of Northern New Mexico and it was amazing."