An empty pasture in Tierra Amarilla will soon be the site of a meat processing facility expected to bring eight jobs to the area over the next five years.
Tommy Casados of C4 Ranch received a $75,000 Local Economic Development Grant to help him build the facility, which he will use to process his cattle and make value added products, such as jerky, beef sticks and bratwursts.
This will be the only certified meat processing facility in the community, which will allow Casados to process his cattle in Rio Arriba County instead of having to take them to Colorado. The facility will be open to the public, which will allow elk hunters and other area beef farmers to process their animals locally.
While Casados grew up helping his grandfather, uncles and father on the family ranch, it was not until 2013 that people started asking him to buy his specific style of grass-fed and grass-finished beef.
"The people that asked about (buying beef from us) wanted something just coming off the pasture," he said. "We really had no idea how that was going to turn out, so we took some meat from one and tried it ourselves and we were just blown away at the difference in the taste that it was from what you get at the store."
From there, he began leasing more pasture and building up his herd while working full-time for the United States Department of Agriculture as a range management specialist and soil conservationist.
He and his wife Jessica Casados were selling their beef at the Santa Fe Farmers Market by 2016, which he said opened a whole new market for their business. While his job was to help other farmers and ranchers improve their operations, his love of raising beef kept pulling him away until he finally quit his job in 2017 to work at the Ranch full time.
Combined, Tommy Casados and his father have about 100 mama cows, he said. While they still sell some of their cows on the commodity market, they keep what they need to run a beef program that increases slightly each year.
The herd is predominately Angus, with some Fjord and Limousine influence, he said.
It is the feeding process that sets his beef apart.
Tommy Casados said he has about 120 irrigated acres of land, and also operates about 4,500 acres of native rangelands. He uses a rotational grazing method to allow his pasture to rest and regrow before his animals bite the grass for a second time.
He is a member of the Ensenada, Park View and Por Venir acequias.
On a cloudy afternoon, he pulled out his feed tractor to supplement his cows' diet with fresh-cut grass, which he said helps the animals get more nutrients from the plant because it is easier to digest.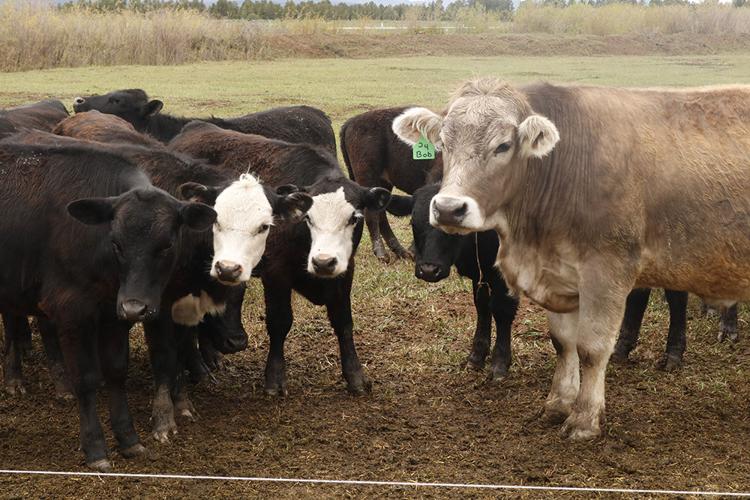 They typically feed dried grasses through the winter, when the pastures are covered in snow, but Tommy Casados said the animals are processed from July to the end of October to allow them to finish on fresh grass.
"That's when the quality of the pasture is at its best, too, for the animals to get to a finished weight," he said. "It's similar to what they do in the feed lot, feeding them grain is just to get them fat. And so what we're trying to do, (is) to do it on grass and the only time to do it is when the grasses are at a certain growth stage when it has a good balance between energy and protein."
Jessica Casados said while running the business can sometimes be stressful, it is a good kind of stress.
"It kind of just gives us more of a fulfillment, like we can just see the whole process through and know exactly (how its raised)," she said. "It's kind of like our handshake saying this is the best that you can get and there's no lie. We know exactly where our cows are coming from, what we are giving to the public in the products."
The couple plans to invest an additional $400,000 into the facility besides the $75,000 in Local Economic Development Act grant funds. This includes $136,000 on equipment and $234,000 on construction.
The Act program was created in 2002, when 83 communities across the state passed it, allowing them to fund local projects. The New Mexico Economic Development Department website states the money can be used to support infrastructure and improvement projects and to create jobs and retail markets.
The Department received a $60 million appropriation in House Bill 2 during this year's legislative session to fund projects under the Local Economic Development Act.
The Bill states that the Department could receive an additional $15 million for projects if the state's General Fund revenue exceeds $7.6 billion.
The Casados' business alone processed about 13,000 pounds of beef in Colorado last year, at a cost of about $1,200 per animal. This new facility will keep that money in the local economy instead of sending it over state lines.
Rio Arriba County Economic Development Director Christopher Madrid said when he learned about Casados' idea, he knew it was something he had to help make a reality.
There are lots of people with ideas, but it is hard to find a real entrepreneur, Madrid said.
"Supporting entrepreneurs in rural areas is a team sport," he said. "The County doesn't have the resources to do it alone."
It was a group effort of the County, the state and the Regional Development Corporation, he said.
The Regional Development Corporation is an economic development organization serving seven Northern New Mexico counties.
New Mexico Economic Development Cabinet Secretary Alicia Keyes said this project is an incredible model for how to develop valued-added agriculture programs across the state.
"To be able to work with a local farm that has been here for years, that is family-owned for multiple generations, is just so cool," she said.
The Casados family sells cuts of meat like chuck roasts, ground beef and flank steaks online and at the farmers market, Tommy Casados created the recipes for some of his value-added products.
While their processor in Colorado uses their own recipes for seasoning things like beef jerky, he created the bratwursts through experimenting with recipes he found in the "Jerky and Sausage Makers Bible."
His children did not like the original recipes, so he tweaked them to come up with the bratwursts they sell today. They come in three flavors, original, cheddarwurst and green chile cheddar.
While processing the beef on site will be a change for the Casados, so will some of the jobs created by the new facility.
The eight jobs expected to be created in the next five years include two butchers, a meat processor and sales and marketing employees.
Tommy Casados said marketing his beef is a whole other job in addition to farming and ranching. He uses Facebook and Instagram to show people how they raise the beef.
Despite the challenges and having to learn new skills, it is all worth it, he said.
"It's just a place where I can find peace and then it's growing and raising something," he said. "Seeing it born and grow and then come a final product, it's just fulfilling. You get a sense of, what's the word? Accomplishment. Now it's turned into when people eat our beef and they tell me its the best steak they've ever had or the best roast, that makes me just want to do more."