This is the 10th and final entry in "Women of Distinction," a series of profiles being published weekly this summer about women who make a difference in Northern New Mexico communities.
Since she was a child, Michelle Peixinho had an interest in a community-oriented lifestyle and helping people.
However, her fulfilling and successful professional career was not able to get off the ground until she made the choice to invest herself into a community.
After living in cities across the world and traveling throughout the United States for 10 years, the community she chose would wind up being the Española Valley and Rio Arriba County. She lives in Chimayó with her husband Mateo and their four children.
Before she made the choice to cement herself in the Valley, Peixinho experienced a life-changing moment when she decided to take part in "The Walk Across America for Mother Earth," a 1992 walk from New York City to the Nevada Test Site, now the Nevada National Security Site. The project was organized to serve as a protest of nuclear proliferation and nuclear weapons testing.
At the time, prior to committing to the walk, Peixinho was attending graduate school at San Francisco State University after receiving a bachelor's degree in rhetorical studies in 1990 from Marquette University.
When the Gulf War began in the same year, San Francisco became saturated with protests and turned into one of the top cities of resistance in the country. It was then that Peixinho became intrigued by the cause.
"I was always community service-oriented and social justice-oriented," Peixinho said. "When that happened in San Francisco, I really participated in the protests and learned a lot politically. A friend of mine told me, 'You are not going to learn what you're looking for in books. You need to do this project and you'll get the answers you're looking for.'"
The walk took nine months to complete, and the conclusion marked the beginning of a 10-year stretch where Peixinho essentially became homeless and began to live a transient lifestyle.
During the walk, Peixinho encountered several Native American tribes and was introduced to Native customs, ceremonies and culture for the first time in her life.
"For those 10 years, I was homeless, I just engaged in a lot of indigenous land rights activism, environmental justice activism and things of that nature," she said. "I just really felt compelled; when I was on that walk, it was the first time I was exposed to the Native American culture. I got a really profound perspective on what Native land is and their territories. I really realized the history of this country, and it's how I happened to end up in New Mexico."
Following the walk, Peixinho invested her time in a Ford Foundation project aiming to assist Native American communities that lived in and around nuclear weapon testing facilities.
Through the project, she met individuals from the San Ildefonso Pueblo and Tewa Women United. The relationships she built with them is what led her to settle in New Mexico, a place far from Peixinho's roots and upbringing.
Culture shock in America
Peixinho was born in Chicago, but was raised until age 7 in the Philippines, in the country's capital of Manila.
Her parents, Peter Smith and Steffi San Buenaventura, were both college professors, and although her mother met her father while they both attended Marquette University, San Buenaventura was a native of the Philippines, who taught Filipino American history at the University of California, Davis before her death.
The family made the move to the Philippines because Peixinho's father took a job teaching at the university in Manila.
They lived there until then-President Ferdinand Marcos placed the country under martial law in 1972, which included the warrantless arrests of journalists and killings of suspected dissidents, the Phillipine Star reported.
After moving away from the Philippines, Peixinho found herself in another similar environment — at least climate wise — when the family moved to Hawaii. 
Her father was a native of Ewa Beach, Hawaii, and Peixinho spent the remainder of her childhood and teenage years in Honolulu before deciding to follow in her parents' footsteps and attend Marquette.
"My parents were professors, so I went to college because it was expected of me," Peixinho said. "It was that kind of situation, and growing up in Honolulu, I wanted to go somewhere else and experience something else. I only knew tropical and warm places, so I was really curious what America was like."
Peixinho was in store for quite the surprise when she made her move to the Midwest.
Once arriving in Milwaukee, she quickly became smothered with the culture shock, which she started experiencing immediately.
"I felt really out of place, especially when I first saw brick houses, chimneys and flagpoles in the yards," she said. "They were things I never saw before. Snow was another one; I didn't know anything about how to dress in the winter or I had no idea there was (sic) snow days."
Despite the transition and period of acclimation to her new environmental surroundings, Peixinho graduated in four years, receiving her rhetorical studies degree from Marquette's college of speech and communications.
Peixinho said she had no concrete plan for which degree she wanted to pursue, or vision of her future after graduation when she entered college. Through a few different elective classes, she quickly became engaged in feminist theory and feminist rhetorical studies.
"That's what I really became intrigued in," she said. "I've always been acutely concerned about women, girls and their well being. I had a willingness to live that kind of lifestyle, and even more so after because of the things I saw from different Native American tribes on the walk."
Establishing roots
After 10 years of traveling the country, and even into Mexico to participate in different causes revolving around indigenous people and nuclear weapons, sleeping on friends' couches or in shelters, Peixinho finally decided enough was enough, and she needed to make a move and find a permanent location to begin her career.
She called it "establishing her roots in one place."
After settling in the Española Valley, she first worked under Dottie Montoya for the Health Centers of Northern New Mexico (now El Centro Family Health), where she was placed at the health clinic at Española Valley High School and Española Middle School to provide family planning counseling and health education.
She also worked as a medical assistant in the clinic, while co-facilitating support groups for those who suffered from sexual assault and other hardships.
"She was always very presentable, jolly, friendly and she has that nice little smile," Montoya said about what she remembers most from the time she worked with Peixinho. "That smile always lit up the room and turned the kids on to her right away. She would take on anything that came her way."
Montoya said her favorite memory of her time working together was when Peixinho started the support group for the gay-straight alliance.
"I always remember her starting that group and one day she came in with her guitar," Montoya said. "I remember she just came in and started playing and it really created a comfort zone for the kids. The kids loved it and bonded with her. I know a lot of those kids didn't forget her." 
Becoming a midwife
The next stepping stone for Peixinho — and possibly the most impactful of her career — was the time she spent with Tewa Women United from 2003 to 2010.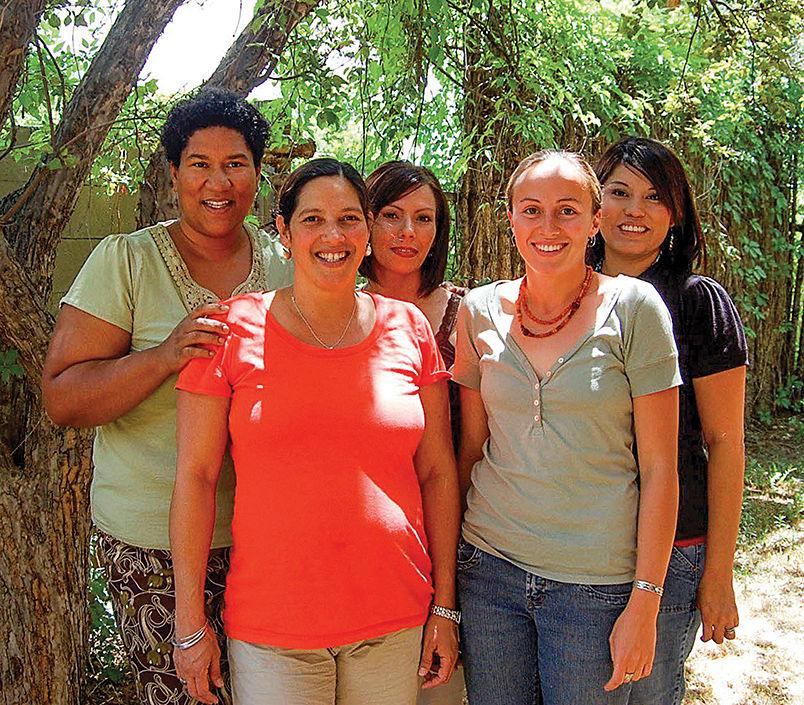 During her tenure, Peixinho gave birth to her second of four children — which was a home birth, as opposed to a traditional birth at a hospital. In fact, all four of her children were born at home.
What was special about the birth of her second child was the presence of several of the women from Tewa Women United.
Peixinho said the women from the organization were unfamiliar with childbirths at home, and that exposure gave way for her to develop and implement the community-based Yiya Vi Kagingdi Doula Program within Tewa Women United.
A doula is someone who provides physical and emotional support to the mother during the birthing process, as well as provide assistance to a midwife (a trained health professional who helps deliver babies at home or in birthing centers) during labor.
A midwife is exactly what Peixinho would become and tackle next after receiving her Licensed Midwifery Apprenticeship from the New Mexico Department of Health in 2007.
"When I first got pregnant, I didn't want to have my baby at San Fransisco General (Hospital) and I was confident in my own ability," she said. "My friend at that time had told me about a midwife she had her baby through, so I just tried it."
That decision eventually led to Peixinho spearheading the formation of the birthing clinic, "Breath of my Heart Birthplace," which opened in Española in 2010 and still operates successfully today.
Tewa Women United Executive Director Corrine Sanchez was present when Peixinho gave birth a second time, and she saw the positive impacts from the experience immediately.
"It was a great experience and it really brought back a lot of that about reclaiming birth practices and approaches," Sanchez said. "It was a whole different experience than from what we saw in the community before that. Home birth had been the strength of women since the time of memorial (sic) and Native people in particular. When IHS (Indian Health Service) and governmental programs came in, I think some of that knowledge was taken from the communities. Part of our process has been to revive those memories and reclaim those spaces and to really empower women to make positive, healthy choices in their lives and recognize their strengths."
While with Tewa Women United, Peixinho also secured program funding from the Health Resources and Services Administration and the United States Department of Justice, and also developed the organization's Indigenous Women's Health and Reproductive Program.
Aside from Montoya, Peixinho's other big influence on her career was Sanchez's mother, Tewa Women United Environmental Health and Justice Program Manager and Gathering for Mother Earth Event Manager Kathy Sanchez, whom she first met while working in Nevada with the Shoshone Tribe.
"When we first met her, she had a real commitment to families and communities around addressing health disparities," Corrine Sanchez said. "Now, she's really built a connection to this community of Northern New Mexico, after being an outsider. She's come to embrace the culture and has a real passion for supporting the community."
Moving forward, Peixinho spent 2007 to 2013 as a midwife all around Northern New Mexico after she finished her apprenticeship.
As a midwife student, she spent time working with Leslie Hayes, a family practice physician at Española Hospital. The two originally met when their children attended preschool together.
"She was a great midwife," Hayes said. "So kind and so compassionate, and she knew her stuff quite well. She never hesitated when she needed to call me for backup." 
Returning 'home'
After the Philippines suffered devastation from Typhoon Haiyan in November 2014, it was Peixinho's childhood home that called for backup, and she more than did her part to answer the call.
She made the commitment to dedicate weeks of her time to help deliver babies in the disaster-struck, poverty-ridden country.
Prior to heading to the Philippines after the Typhoon, Peixinho made a trip back in 2002 with Kathy Sanchez's other daughter, Liana Sanchez, who happened to be traveling to the Philippines for an indigenous youth conference.
"I hadn't been there since I was 7," Peixinho said. "I told her, 'There's no way you're going without me.'"
Her first trip back led to two more trips before the Typhoon in 2014.
Peixinho returned again to spread her mother's ashes in her homeland, then in 2012 during her time as a midwife she moved to Manila for six months with her children to help deliver babies.
"I wanted my kids to have memory of the Philippines," she said. "I wanted them to know the foods, the smells, the languages and the familiarity of it. It was where their grandmother was from. Being in relationships with Native people and Native communities, I really had developed strong value in knowing your roots and knowing your lineage."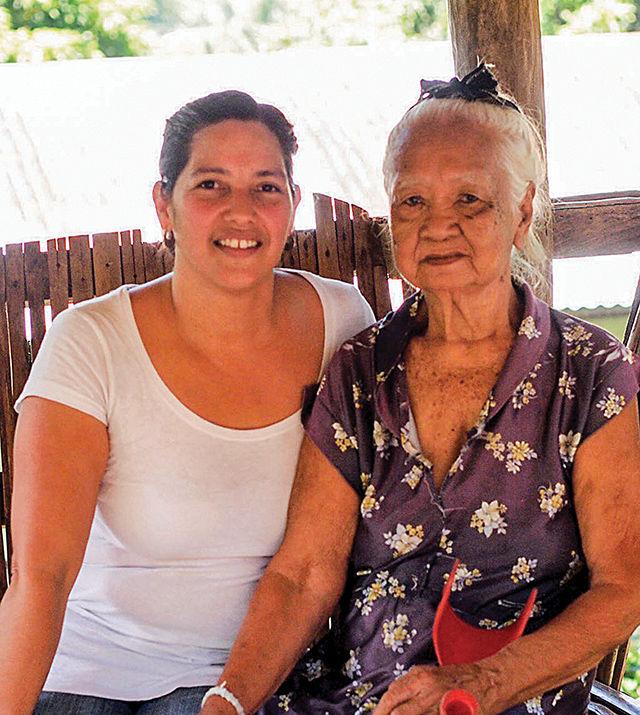 After the Typhoon, Peixinho returned to an already-poverty-stricken community, and the natural disaster had turned the conditions truly horrific.
Like all other signs of humanity, the hospitals were completely destroyed, so the midwives were forced to deliver babies from delivery tents and makeshift hospitals.
Due to the stress and severity of the disaster, many of the women gave birth prematurely and babies suffered from dehydration, malnourishment and other issues.
"I was always so impressed by how she did that over there," Hayes said. "She was working with minimal equipment: you're talking about a birth packet containing a pad to put underneath them, a pair of gloves and a clean scalpel blade to cut the cord and maybe one other thing. I remember talking to one of the doctors I worked with and we just looked at each other in awe and said, 'Can you imagine doing a delivery with no more equipment than that?' It was just kind of astonishing to me she was working under those conditions, but she did and I'm sure she made a big difference there."
Peixinho said they helped deliver anywhere from seven to 10 babies each day.
"It was unlike anything and a completely whole new reality than anything I had seen in the United States," she said. "All the skills I had learned though were great. I had learned out-of-hospital skills, how to manage birth without all the western technology, so I was well-suited to do it and I don't regret it."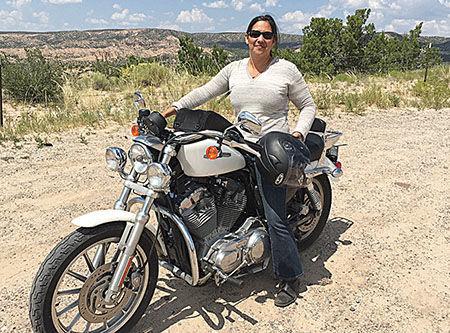 Moving to Rio Arriba County
All while Peixinho made her 2014 trip to the Philippines, she was dealing with a tragedy in her own family.
She decided to take two years off work after learning a teenage neighbor had been sexually assaulting one of her daughters for a period of time.
When Peixinho was ready to return to the workforce, she accepted a position at the Crisis Center of Northern New Mexico, but she also made the decision to go back to school.
"That time in my life when I was at home really hit me hard," she said. "I had to take time off and take time for my kids. After that period of time, I wanted to find a job and be a part of the community still, but I really didn't want to be too stressed or take too much on. I took an advocate job at the Crisis Center and took on a job there for a few years before I decided to pursue social work."
Peixinho then earned her Master of Social Work degree  from New Mexico Highlands University in 2018, but she could not officially put the stamp on her latest piece of education before completing her clinical placement.
She would go on do so at the County, and the basis of her clinical involved the writing and creation of the County's ReRoute/Law Enforcement Assisted Diversion program, which was launched Feb. 7.
"I was still working at the Crisis Center and I had gone to a (Rio Arriba County) Health Council meeting and there was a discussion there about getting this program going," Peixinho said. "I was like, 'Oh, I could do that.' I just kind of jumped right in to do that and that's how I ended up starting it and they kept me on full-time following that."
The ReRoute program is an assisted diversion program for accused individuals of low-level, non-violent crimes who suffer from opioid or substance abuse.
The program's goal is to help these people by getting them the treatment they need for their addiction and avoid getting pulled into the criminal legal system.
"Most of the people in our detention center, they've been caught up in the criminal system because they have a chronic health disease — addiction," Peixinho said. "That compels them to make poor choices to stay physically comfortable. It creates this system where we have a lot of people in there who need health services more than they need to be in jail. We've basically criminalized a health problem."
In addition to starting the ReRoute program, Peixinho holds the title of Program Director for the County's VISTA and RecoveryCorps programs.
Aside from program development and implementation for the County, Peixinho is extremely passionate about her work with Northern New Mexico Dialectical Behavioral Therapy as a clinical social worker post-grad student in Santa Fe.
Dialectical Behavioral Therapy therapy uses cognitive behavioral therapy combined with mindfulness skills with the goal of helping people develop a life that they experience as meaningful and worthwhile. They work with patients suffering from depression, anxiety to bipolar and substance abuse.
"One of the goals in this job in the long term is to increase clinical services, and specifically provide Dialectical Behavioral Therapy services here in the Valley," she said.
Peixinho doesn't want to be pegged as just an administrator. She believes clinical work surges to the root of the problems the community is facing.
"I light up and I'm really excited about that work," she said. "I equally value the clinical work and systems work I do. Ultimately, we can do all the systems work we want, and it is super important because we do respond to our environment and respond to what our options are and what gets reinforced, but the biggest work we can all do in this community is dig in and take a deeper look at ourselves."
Peixinho is in the early stages of starting a County court diversion program.
It's the next endeavor on her journey to continue to assist the people in the community she has grown to love.
She couldn't resist ending without again acknowledging that it all wouldn't be possible without meeting people like Montoya and Kathy Sanchez.
"They welcomed me here and really guided me in developing myself as a rooted community person, rather than a traveler," Peixinho said. "When I moved here, it all became about being a part of the community. Maybe because I was transient for so long, that's why I appreciate so much what it is to be a part of a community, and this is a special one."