This is the fifth entry in "Women of Distinction," a series of profiles being published weekly this summer about women who make a difference in Northern New Mexico communities.
Near a 10-year-old garden in Abiquiú is a picnic table under the shade of a mulberry tree.
From there, just behind the Abiquiú Post Office and across the street from Bode's General Store, one can see three types of gardens.
Northern Youth Project Founder Leona Hillary stood in the tall grass near the property's ojito, or natural bubbling spring, as she pointed out the three types, the first being waffle beds, an ancient gardening technique found atop the surrounding mesas.
Above is a terrace garden irrigated by water from the acequia. Northern Youth Project students use shovels to build a series of furrows to direct water to their crops. Below the terrace and next to the waffle beds are rows of plants watered by drip irrigation lines running with water from the spring.
The only other structures on the property are a garden shed, a small standalone office, a brick wall with murals representing the past and future of gardening, a few hand-painted tables and a tall silver archway adorned with flowers made from soda cans. Near the entrance is a basketball hoop.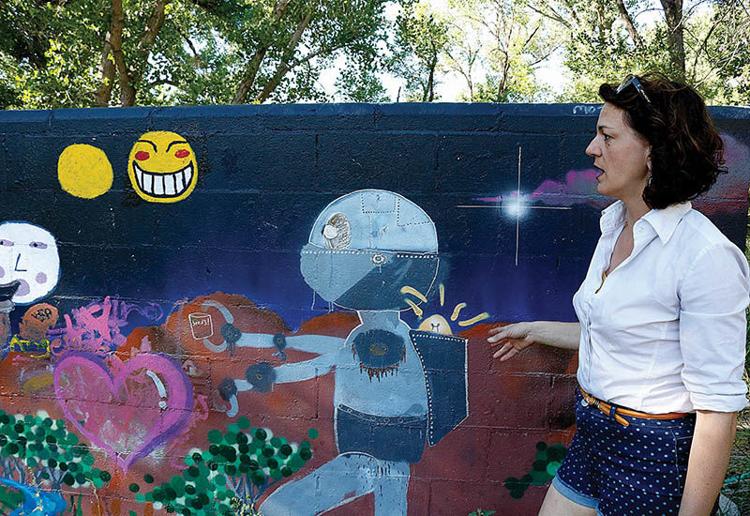 Although she was wearing a simple pair of flat shoes, every step Hillary took was steady and it was obvious her feet knew every nook and cranny of the garden.
As she explained how the ojito worked, she confidently stepped into areas totally covered by plants without any wobbling or second guessing where she was going, even though the surface was uneven.
Hillary reached into the dense grasses to find a pipe she said was originally installed by Karl Bode.
As she felt her way around, she said people have to be careful in this area because there were leeches due to all the moisture from the spring. Her own words did not phase her, and she continued talking about the history of the space while putting her hands in the dirt.
Hillary said many of her own struggles growing up came from having to spend so much time alone. This, combined with learning about the low graduation rates in the area, were part of what spurred her to start the Northern Youth Project in 2009.
"So many kids drop out because they feel disengaged, alone or helpless, or don't have work ethic or skills," she said. "Kids are left alone so much here. Just alone to fend for themselves, so they'll grow up, but they don't have a model to look at (for) setting a goal and working towards that and what that can be. Success can be as simple as growing a garden."
'Watch me'
Hillary was born in Tucson, Ariz. and said her life has always been guided by the duality of her parents. Her mother was an attorney who also ran an art gallery. This is where she met Hillary's father, who was a junk artist.
"I was blessed with both worlds on that," she said. "They're always talking about that. Being able to be creative and organized is not always something you find together. And I've brought a lot of their influence into my life."
Although Hillary was born with a physical disability, she never let it stop her.
"(I was) a little oppositional defiant, in a way even from birth," she said. "I was actually born disabled and I was in braces, like hip (and) leg braces for the first year of my life and I don't know if some of my determination (comes from that)."
Hillary was born with club feet and dislocated hips. Doctors told her parents she would not walk and if she ever did, she would have to wear leg braces.
She said she as always had a hard time being told not to do something.
If someone said not to climb something, she would do it the second they were not looking.
"Why not?" she said. "Watch me."
Although she was a child, she refused to just accept the limitations of her disability.
"I used to slam (the braces) up and down and get really upset and my mom couldn't hold me," she said. "And so the doctors were like, 'You are not going to walk. You are always going to need braces or specialized equipment.'"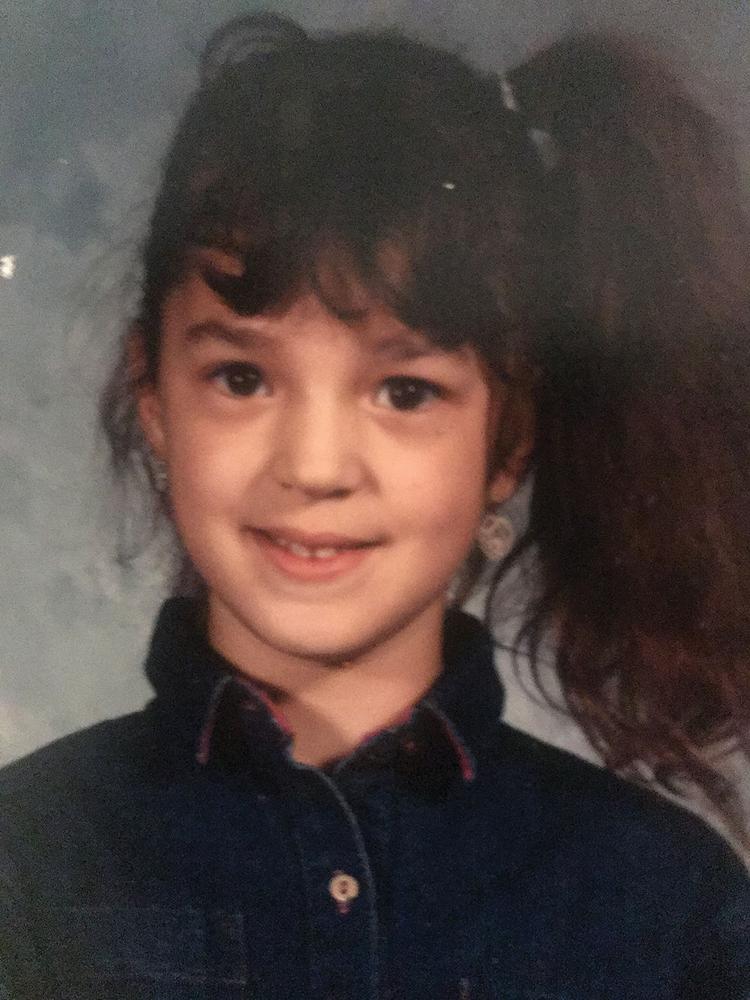 Although walking, she was still considered very fragile.
Her legs were turned in and her mother enrolled her in dance classes to improve her posture, balance and strength.
"I actually started ballet at three years old, and again, it changed my life," she said. "My mom said as soon as I could really be upwardly mobile by myself, there was no more walking or standing because I was either jumping or skipping or running."
Although she still has family in Tucson, Hillary moved several times growing up.
Her family moved to Seattle when she was four years old, and she began attending a Waldorf school, a non-traditional type of holistic education that focuses more on a child's development instead of a strict grading structure.
"I can still smell the bread that was cooked," she said. "I still remember doing those water color paintings and dipping the candles, making everything from scratch. I actually do have sensory difference, so being in special education, the sensory processing, I didn't really understand it, the way that I was. Like I need to smell it. I need to see it. I need to touch it. Then, I'm in it to win it."
From there she was enrolled into the public school system in Seattle, but struggled academically and had to repeat kindergarten. Although she was good at reading and writing, it took her a really long time to finish work and she has always had trouble with deadlines and time constraints, she said.
She did not discover until later that for her to learn something, she had to feel it, see it and experience it, to understand it. She was a kinetic learner and a very physical person.
"Loving learning was never a struggle even though I struggled with producing written work, right," she said. "Same with math. I'm a very good mathematician if I have like a lot of time and once you put time on me then that's where I start to fail."
Through all of her schooling, Hillary continued to dance ballet and started to play around with rhythmic gymnastics.
Her life changed at 15 years old when she hurt her back and had to stop dancing. It had been her dream to be a dancer and own a dance company someday.
At the time, Hillary said, she had already started getting into a little bit of trouble in Seattle and started drinking alcohol. Her mother found her at home one day with a bunch of friends over and decided it was time to move the family to New Mexico to get away.
"When I moved to New Mexico, I didn't have that safety net of, or that activity either, of dancing," she said. "Which I wasn't used to that and I got into boys and stuff around town. Even though I started getting into trouble in Seattle, I got into a lot of trouble in New Mexico."
She eventually went into a drug rehabilitation program and that's part of what led her to realize there was so little for youth to do in the state, she said.
"I'm like a lot of the teens who I've worked with who have alcohol now, alcohol or drug issues now, where it is accessible in their very own home," she said. "I always had access and unfortunately, in New Mexico, it's very easy. It was super easy. So actually, those problems escalated in New Mexico because I found friends and there wasn't a lot to do."
When she was 16 years old, Hillary got into some legal trouble and had to do community service. She chose to do it at the Santa Fe Children's Museum, where she now works as the educational program and exhibits manager.
"It actually changed my life in the fact that it gave me, like, I felt at home," she said.
It led to her have an "aha" moment, she said, and she realized she wanted to do art with children as a job. Once she graduated from Santa Fe High School, Hillary moved back to Seattle to start attending community college.
She then attended Western Washington University and did a design-your-own major program and studied fine arts, child development and culture.
Hillary said she had confidence issues while in Washington and although she had teachers who said she could succeed as an artist, she became more and more interested in education and working with children.
Adults have always kind of bothered her and she gets along better with children, she said.
"I love adults, but I'm just like really playful and childish at heart," she said. "That is a beautiful place for me, childhood, and I just want to be there forever."
After getting her bachelor's degree, Hillary continued studying for her master's degree and wanted to become an art therapist.
She said she had really wanted to understand her own psychology better, after having grown up going to therapy and going twice to rehab as a teenager, but again, she turned to education.
Sticking around
She left the program and moved to Nevada with her then-husband Jamil Lutz, whom she met in Santa Fe as a teenager.
She joined Teach for America in 2004 and in the second year, she got pregnant with her first child, Omar.
"That threw me into special education because I checked this little box that said are you willing to tackle special ed and I put yes," she said. "Sometimes I regret (it), but I know it was meant for me because I am totally special and everybody is. That's the thing, everybody is."
Although she enjoyed it, she left the program after two years. She said she struggled with having to do all the paperwork that came with teaching, especially in the special education field.
Her family moved back to Tucson for a few years, but her relationship with her husband became strained. They worked opposite schedules, had different friends and led separate lives.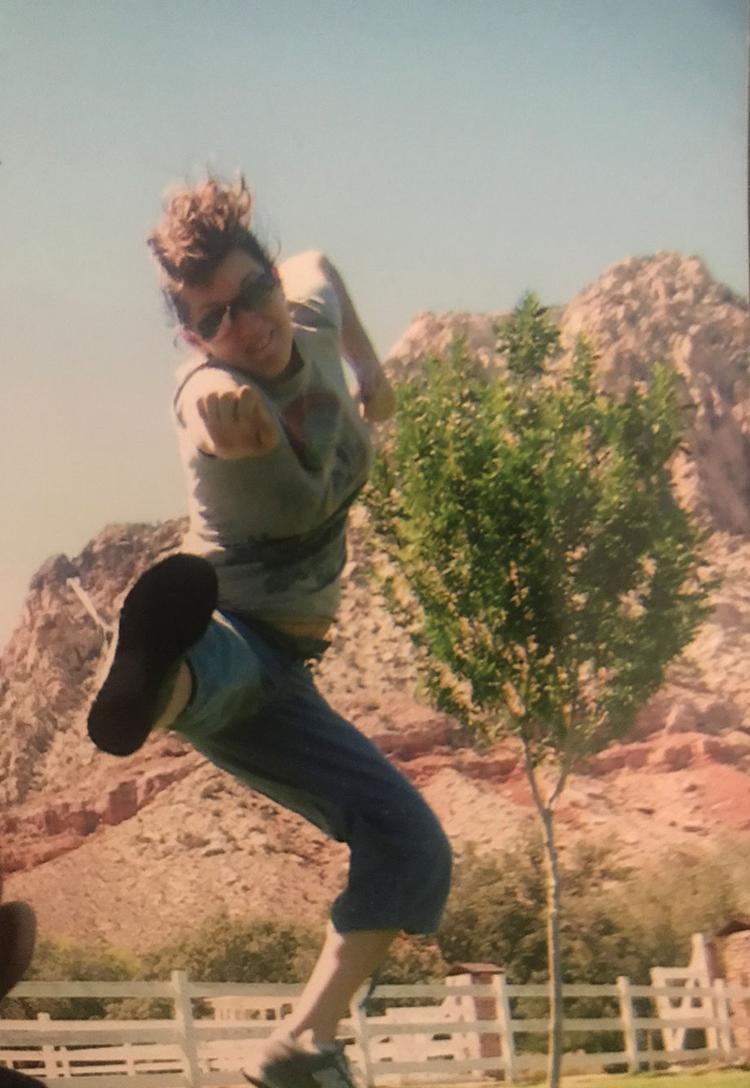 They moved to live with his family in Abiquiú to save it, she said.
"When I had my children, I knew that Abiquiú was like a safe place for us and decided that's where I wanted to raise my kids," she said. "Out of all the different places I'd been, I wanted Abiquiú."
She started to work for the Abiquiú Boys and Girls Club as the lead teacher.
Barbara Luhman, a former Club manager who hired Hillary, said she could tell right away that Hillary had a happy, bubbly personality, but at the same time was very down to earth and perfect to work with children.
"She talked to them like real people," Luhman said. "She didn't put them down. She wasn't condescending to them in any way and she would listen to their responses."
At the time, the Club only accepted children into their program if they were 12 years old or younger, Hillary said. They would hire two summer teen helpers, but an average of 14 people would apply for those positions. Everyone else had to find something else to do for two months.
"We saw a lot of bad things happen to those kids that we let go and some of the kids that also couldn't participate, we would try to create volunteer opportunities," she said.
Luhman said she remembers the day Hillary and a group of students had the first conversation about what would eventually become the Northern Youth Project.
"They were like, 'What will we do? What can we do this summer and next year? What is going on?'" Luhman said. "And they all started forming this idea of having a place for them to do things. Hillary overheard the conversation and joined in with them and started talking with them."
They all started brainstorming about what they wanted to see in their community.
Luhman said she remembers that Hillary never put down any of the children's ideas, even if they were unrealistic.
"But she let them put it all out there and they did the brainstorming and she just kept leading them and saying, 'What else do you want? How do you see this happening?'" she said.
They came back that weekend and spent at least six more hours planning about what they wanted, Luhman said. Her two daughters were part of that original group of students.
"I grew up in Indiana on a farm and grew up with farm roots and to see them get interested in farming and growing plants, that was pretty cool," she said.
Although Lehman said she has seen many people who are great at working with children, Hillary is different. People come to the area with ideas all the time, but it is rare someone sticks around to make things happen.
"The difference between Leona and other people is Leona lives her life," Luhman said. "She lives it. She breaths it. This is her. This is who she is. Other people live life at a distance, you know. She is fully immersed."
Rebecca Gutierrez was a founding member of the Northern Youth Project and was in the room with Hillary the day they started brainstorming at the Club.
"She was a very good facilitator, she kind of left it to us to lead," Gutierrez said of Hillary. "She didn't say what to do and why because I said so. She really wanted to hear our voices."
Even when Hillary would apply for funding and submit a grant, she would consult with them, Gutierrez said. She never did anything without letting them give their input.
Her time at the Northern Youth Project made her feel empowered, and she started speaking up more often in school and became part of the student senate at her high school.
"A lot of adults don't listen to teenagers and I think that was our connection with Hillary," Gutierrez said. "She listened to us and what we had to say and she did everything to make dreams happen for us."
Hillary was always willing to write letters of recommendation for work or college, she said. She felt like a safety net for people in the program.
Gutierrez is now a third grade teacher at E.J. Martinez Elementary School in Santa Fe. She said her choice to get into education, and work over the summer when teachers typically get a break, was directly influenced by her time in the Project.
"I felt like if someone can me a difference in me, I can make a difference for them and Hillary was that person for me," she said.
The Northern Youth Project garden is owned by the community organization Tres Semillas.
Hillary said they were so focused on creating a teen center, but they did not have a brick and mortar location. Using the land for a garden was the perfect solution.
She received a packet of heirloom white pumpkin seeds from a member of the Gallegos family, and that was the first thing they planted.
Around this time is when she met Marcella Casaus, who has worked on-and-off as the garden manager for the Northern Youth Project.
"She is very giving," Casaus said of Hillary. "She really wanted to help the youth here in this community and provide space for them that was safe and where they can express themselves and where they can grow individually and where they can start to learn about themselves, like caring for themselves, but also for each other."
They had no money when they started and just a small group of supportive people. But this did not stop Hillary.
"She kind of opened up this web where so many people came together and work together to make it happen because one person can't do it," Casaus said. "So we got these other farms to donate plants or donate supplies or donate their time. All the things that came together to make a garden happen."
At first, it was just Hillary calling people for donations and writing the donation letters and thank-you cards, as well as writing grants.
Everything was a challenge, but it all came together at the first harvest dinner, Casaus said.
She, Hillary and Hillary's then mother-in-law Rahmah Lutz were in the kitchen at the Abiquiú Rural Events Center and had to prepare a meal for 80 people using a four-burner stove with only a household-sized refrigerator for storage. The teens served the meal as a thank you to everyone who supported the program.
"It was such a learning experience for them," Casaus said. "They had to seat the people, I mean, it was like learning how to be in a restaurant, (to) work in a restaurant. Part of this program is to help them learn leadership skills and something that (Hillary) also really taught me, that I learned from her that I had to focus on was let them make the decisions. I mean you're a guide, but let them have a say. What are their opinions? Let them know their opinions are important."
Although the harvest dinner was a great experience, Hillary said getting students to participate in the first year of the Northern Youth Project was like pulling teeth.
In reality, the teens wanted a center where they could just hang out. Gardening was hard work, it was hot outside and they did not always want to do it.
She would drive to their homes and honk her horn to get them to get into the car. The first hour of the three-hour program was spent just picking everyone up.
The second year, she would wait 10 minutes before she started honking her horn and making phone calls. That's when they began having a second adult at the garden and she would drop students off to start working before picking up more people.
"Once they have that party that celebrates it, and they see that this dirt that turns into like this bustling and over pouring (of) food and people are there loving and celebrating and pouring praise on like syrup, that's when they're like, 'I'm in it,'" Hillary said. "'I'm in it. Oh next year, I'm going to do this, this and this. Oh next year an internship.' They're hooked."
Matias Coronado, 18, said he joined the Northern Youth Project about five years ago. When he first started he was young, angsty and would get frustrated, but Hillary helped him get past that.
"It was strange because I think a lot of adults in my life had never taken such a direct approach as to guiding me step-to-step most of the time," he said. "Most of the time, they give you some advice and let you loose, but she was there all the time. For me, it was a little bit hard. I wanted to talk down to certain kids. I was easily annoyed by some of the younger kids. A lot of that was a lot of patience, was thinking with a clear conscience and not getting overwhelmed with yourself or your peers."
The Northern Youth Project has influenced his career path, he said.
"I was interested in finding some occupation or interest because it was extremely difficult to find something to do, especially something that was useful or meaningful to me because it is very isolated," he said.
He learned how to cultivate plants and do art projects, and he eventually became part of the garden council and took on a leadership position.
"Hillary backed me up completely even though I didn't really know how to delegate or be a leader fully, she really knew how to guide me," he said.
She taught him how to run meetings and how to keep younger children focused in a meaningful way without being disrespectful or demeaning, he said.
"It was mostly the life skills I learned from the meetings and the leadership positions that I think have propelled me forward," Coronado said. "It gave me a sense of what I want to do, but more importantly, it taught me how I can achieve that."
He said it is important for him to take steps toward his own future without having to rely on someone else.
"I gained some necessary skills that I probably wouldn't have learned without the help of others from this program," he said.
Hillary said she took a lot from her experience as a special education teacher with her to the Northern Youth Project.
"This is the hardest thing in like special education, like working in a special education classroom because kids have already gone through this like psychology of saying, 'I'm dumb, I'm not ever going to be able to do that because I can't pass a fifth-grade math test,'" she said. "Well, you actually can. It's going to be harder and what you really need to know is how do you learn."
You cannot ask a student to grow more and learn more about themselves unless it is something they value, she said.
"Well, let me put you in an environment where you're meeting new friends, but really, in my brain, I'm thinking I'm going to put you by these kids that are a really good role model of some kids who are driven to do things in your similar area of interest," Hillary said. "Maybe they're gamers, like you can still associate, now you've made your friends. Oh now you have friends so you and your friends work together on this. How are we going to move water from this acequia below the hill without flooding it over so it is not watering the weeds and kind of like, mind play in a different way."
As Hillary applied bug spray to her daughter Amina, she said she will always know old the Northern Youth Project garden by her daughter's age. She was pregnant with her when it started in 2009. These days, Hillary is no longer the program's executive director, but still serves on its Board of Directors. She left to take what she calls her dream job at the Children's Museum.
Although Hillary said it was really hard, it was all worth it.
"My son will give me gruff for like, why did you pick teaching or why are you going this, there's no money and you're working all the time," she said. "Sometimes it is really like, it really does put you down and it's like why am I doing this? Why am I here? And I should do something different and drop it all and go in a different direction but I keep at it because it is something special."
When she works with children and teenagers, she has to put aside all the bad relationships, money and financial issues and what is going on at home so it doesn't impact the moment. She accesses that joy from childhood that existed even in the difficult times.
"When I'm talking to a child, I can really reach back in," she said. "That joy is revisited, so when I'm with them, I'm going back cause I am meeting them at their level, which means I have to put myself here and I can let go of all my (real- world problems) and it's more about just your feeling and being present in the now."