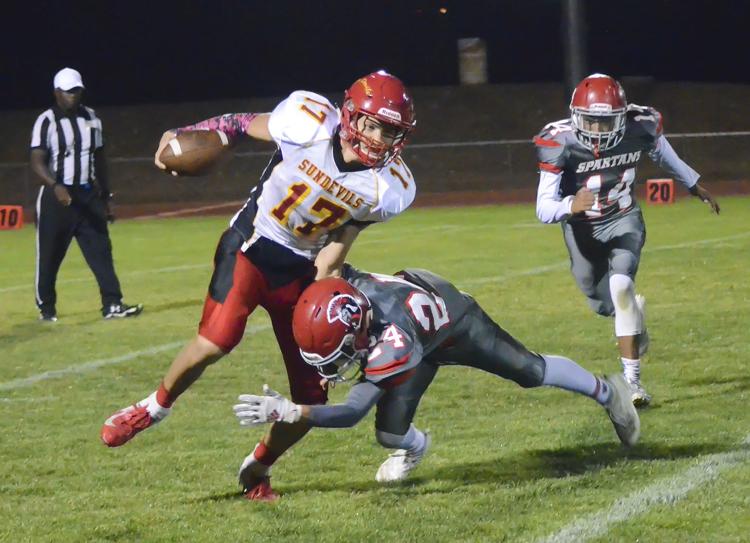 Spartans come alive in second half to avoid Homecoming spoil, defeat Española, 34-16
Whatever kind of pep talk Bernalillo High School head football coach John Cobos gave at halftime will be unknown, but it was obvious his Spartan players listened.
Through one half of football as Bernalillo hosted Española Valley High School for its 2019 Homecoming game, it was the Sundevils who built a rhythm and a belief they could spoil the Spartans' big night.
Bernalillo (5-1) made sure that narrative would quickly fade away as the second half began, and the Spartans' long, explosive plays proved too much for Española (1-5) to handle for a full 48 minutes, earning Bernalillo a 34-16 win on Oct. 4.
Española trailed 21-16 at the break following arguably its best half of football all season long, but all it took was one play in the second half for the Sundevils to begin to unravel and lose control of the momentum they built after the first two quarters.
Spartans' running back Ayden Madrid scored three touchdowns and rushed for 122 yards on 10 carries for the night, and his 57-yard touchdown burst to open the second half increased Bernalillo's lead to 28-16 and took the life right out of the Sundevil sideline.
Madrid added another touchdown on Bernalillo's next drive from a yard out, capping off a six-play, 60-yard drive in a hurry.
While the Spartans' first seven plays of the second half changed the course of the game, their final possession of the first half was also a killer for Española.
Bernalillo quarterback Adam Salazar threw for 177 yards on 5-of-8 passing, and his lone touchdown pass came on a long throw to Tristen Ludi-Herrera with 57 seconds left in the first half.
Jamielee Long also returned a punt for a touchdown from 55 yards in the second quarter.
Injuries have plagued Española the entire season and the Bernalillo game was no different. 
Four more players were forced to leave the game, and that included quarterback Ollie Fell, who was helped to the sideline after suffering a knee injury on the first play of the fourth quarter. Chris Salazar and Aaron Altamirano, the wing and running back were also injured.
"What continues to be hard is injuries and numbers," Española head coach Delfin Quintana said. "Our entire secondary is new and it's just one thing after another. We gave a lot of effort and they're young and learning."
Adam Salazar's arm certainly put the young, new secondary to the test often. Estevan Rostro caught a 76-yard strike on Bernalillo's first possession of the game, and the big gainer helped the Spartans navigate 98 yards for a touchdown after stopping Española on 4th-and-goal from the 1-inch line after the Sundevils marched 79 yards on their opening possession.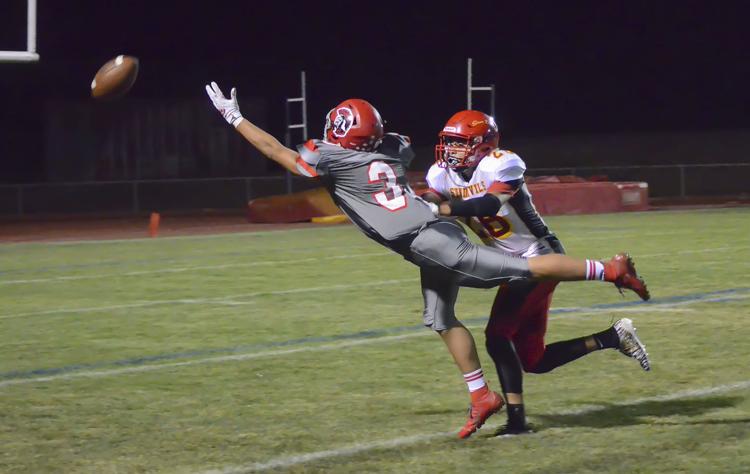 The big defensive stand would be repeated in the fourth quarter, as Bernalillo again stonewalled Española inside the 5-yard line. A direct snap to Luis Cuevas on 4th-and-goal was mishandled, allowing the Spartans to retake possession and run out the clock to celebrate their Homecoming accordingly.
"It happens sometimes," Quintana said about failing to score inside the 5-yard line. "Unfortunately, for us, it happened twice."
The Sundevils led 8-7 after the first quarter, which was a quarter where they were able to grind out positive gains on the ground and break open long, explosive runs as well.
Fell was 3-for-3 passing on the first drive, completing all three passes to Cuevas out of the backfield. On Española's second drive, 36 and 20-yard runs by Fell – as well as a 13-yard run by Martin Martinez – helped set up Altamirano for a 7-yard rushing score.
Overall, Española crossed midfield and threatened on four of its five first half possessions. Cuevas scored the other touchdown on a 2-yard run with 2:10 left in the second quarter.
"We were comfortable in the first half," Quintana said. "I didn't think they could stop what we were doing. Defensively, we certainly had some issues and we will have to work on our tackling."
Española returns home to host Taos High School at 7 p.m., Friday. The Tigers (2-4) were outscored 29-6 in the second half of their 49-19 home loss to Grants High School this past week.
Elsewhere in District 2-4A, St. Pius X High School (2-4) handled Pojoaque Valley High School (2-4) 54-0 at Jacona field.