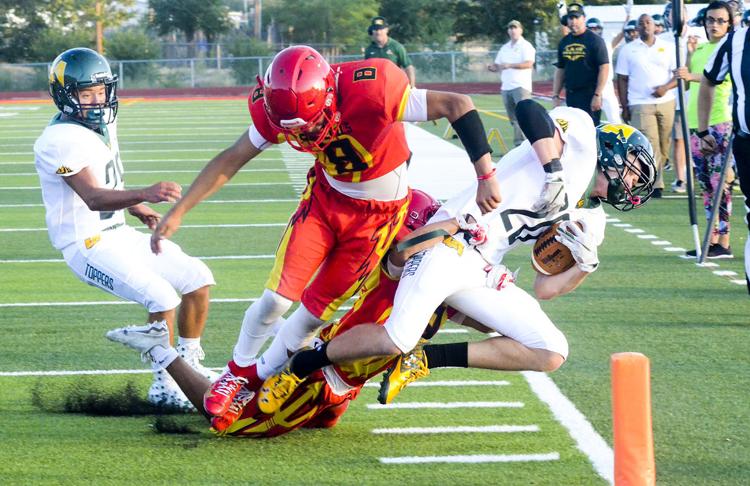 While penalties can be drive killers, turnovers can also be game changers.
The Española Valley High School football team fell victim too often to both of those scenarios in their opening game of the 2019 season against Los Alamos High School, and those mistakes aided the Hilltoppers' 21-6 road victory on Aug. 23 at Española.
Los Alamos extended its winning streak over their rivals to 17 games. The Sundevils still haven't tasted victory in the series since 2002.
The Hilltoppers were nowhere near perfect execution-wise on their side of things either, which was something Los Alamos head coach Garett Williams took with a grain of salt, given it was just the first game of the season.
"We had some penalties that hurt us that we shouldn't have had hurt us, which probably made us leave some points on the board," Williams said. "But, anytime you're in a rivalry game on the road, whether it be by one point, 20 points or 100 points, a win is a win and these guys earned it and we're going to go celebrate."
The Sundevils (0-1) turned the ball over four times in all, which included three fumbles in addition to an interception thrown by quarterback Arlen Garcia.
"I'll have to watch the film and see who missed assignments, but we were moving the ball very well on them for the most part," first-year Española head coach Delfin Quintana said following the loss. "The penalties added up today, but like I said, it's a new offense; it'll be a learning curve and we'll have to get better."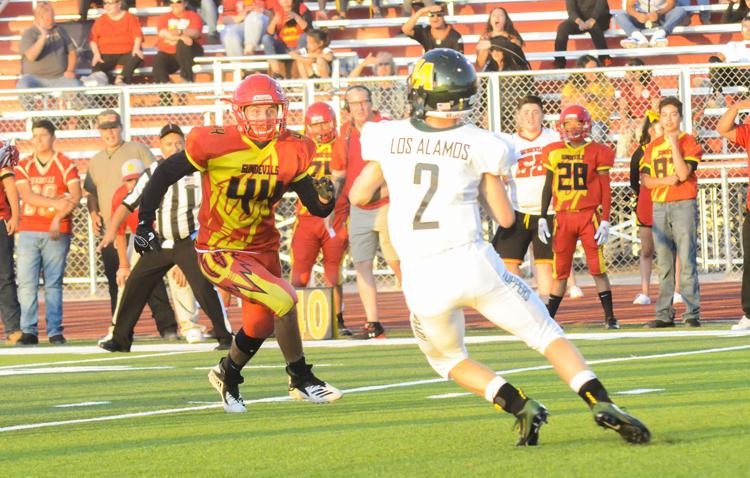 Española also suffered a turnover on downs on the first offensive possession of the game, but the Sundevils' defense continued to play pesky and rise to the occasion to escape the first half trailing just 14-0 when things could have been a ton worse.
Aside from Los Alamos slot back Devan Mayfield's 22-yard touchdown scamper with 51 seconds remaining in the half, Española only surrendered seven points off their four first-half turnovers.
The final of the four came with just four seconds left in the half when wing back Chris Salazar fumbled away the ball to the turf, where Los Alamos' Jose Salazar proceeded to scoop-and-score for what everyone thought was a 62-yard defensive touchdown to end the half.
However, the Hilltoppers were flagged for a block in the back penalty, which was a devastation to Jose Salazar. The sophomore had as rough a first half as any of the Hilltoppers.
Aside from his touchdown being taken off the board, he also dropped two passes, and one of them was in the endzone for a potential touchdown.
He would, though, more than make up for his troubles later in the second half when the Sundevils made their push.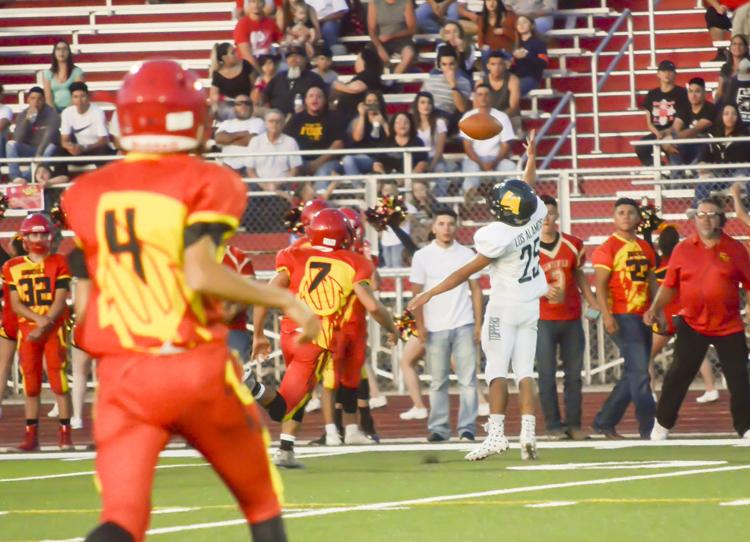 Despite all the turmoil and mistakes, Quintana stayed on course with his methodical play calling out of the single-wing set, and his patience finally paid off when Garcia capped off an 81-yard scoring drive with an 11-yard touchdown run with 7:44 remaining in the game.
Chris Salazar would go onto convert the two-point conversion, but the Sundevils were flagged for one of their notorious penalties, and a holding call negated the successful try, leaving the score at 14-6.
With the momentum suddenly stolen from their side, Los Alamos made sure to get it back, and they did so quickly.
They responded nearly immediately, and Jose Salazar was rewarded for fighting through his mistakes and misfortunes in the first half, as he hauled in a 36-yard touchdown pass from quarterback Tyler Weiss with 5:16 remaining to tack on the final points of the game to make the score 21-6.
The touchdown connection between Weiss and Jose Salazar capped off the 64-yard scoring drive and answer, which only took four plays in all.
"We had a late hit out of bounds on that prior possession to give them that field possession when they scored, so to see the guys fight back from mistakes like that was awesome," Williams said. "To see these young guys come right back and drive down the field, they used the tools they're given to capitalize on that."
Even though the Sundevils' result against the Hilltoppers this season still ended in a loss, the game was a complete turnaround from last year's 57-12 loss in the season opener up the hill in Los Alamos at Sullivan Field. Most importantly, Quintana was pleased with the performance of his players, but even more so by the determination he saw.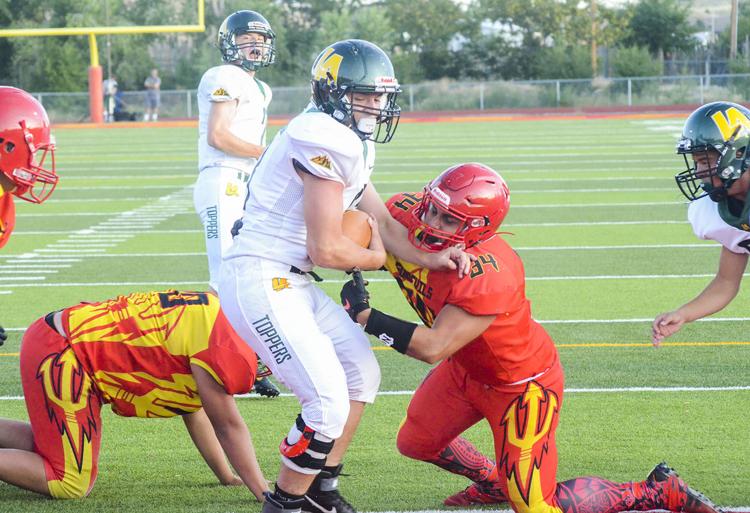 "I saw the effort, and that's what I wanted to see," he said. "That effort was there and our quarterback had a big game, Arlen, he played his heart out. We had other kids play their hearts out, so there's a lot of positives to take out of it."
Española will hit the road on Saturday to partake in a 6 p.m. kickoff against Hope Christian School in week 2. The Huskies (0-1) are coming off an opening 22-13 loss to Portales High School.