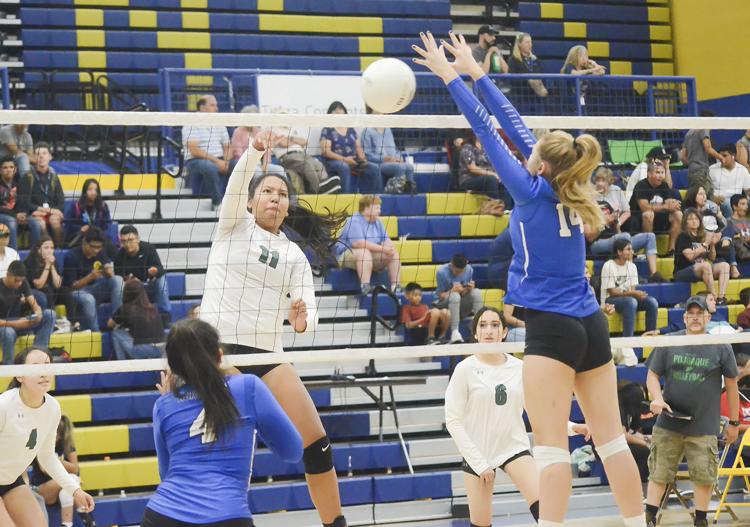 Elkettes overpower field to take Tournament of Champions crown for first time since 2011
The Pojoaque Valley High School volleyball team looked a lot like the Pojoaque of old this past weekend.
That's because there was hardly ever a moment over Sept. 13 and 14 where the Elkettes didn't look like the best volleyball team on the court. They stifled and frustrated opponents all weekend long to win the Santa Fe Tournament of Champions in convincing fashion.
In return, Pojoaque jumped all the way up to the No. 2 ranked team in Class 4A in the New Mexico Overtime Sports Coaches Poll released on Monday.
From pool play all the way to the championship match at the Tournament of Champions, Pojoaque (5-2) controlled opponents with its defense, serving and its ability to play fiercely around the net.
Their dominant showing drew to a close with a 3-0 (25-23, 25-23, 25-9) win over Class 4A contender Hope Christian School in the championship match inside Toby Roybal Gymnasium at Santa Fe High School on Sept. 14.
The Elkettes were fueled by six kills and six blocks from Ashten Martinez against the Lady Huskies, and Leah Trujillo had a team-high eight kills, while Alicia Quintana pitched in another six. Mikayla Padilla recorded 17 digs and the Elkettes totaled 10 blocks and 53 digs as a team.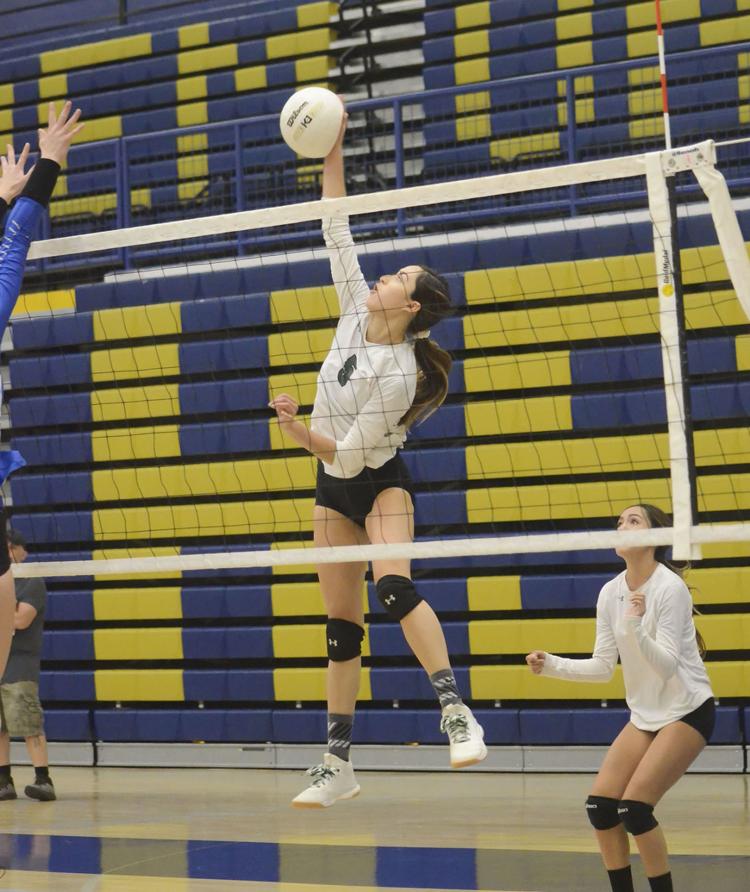 "Pojoaque hasn't won this tournament since 2011," Pojoaque head coach Joe Rodriguez said. "So, it's a nice achievement and stepping stone for the season."
In total for the tournament, Pojoaque lost just two sets (one each to Santa Fe and St. Michael's High School in the semifinal and quarterfinal matches) and that included a 6-0 record in pool play against Belen, Bloomfield and  defending 4A state champion Los Lunas High School.
Along with the powerful play on both offense and defense at the net, Pojoaque guided it's way past the Demonettes and the Lady Horsemen behind a near-flawless effort in the serving game and an actual flawless effort from setter Ayanna Aguirre.
Her high of 22 assists for the tournament came against St. Michael's, but it was the way she avoided mistakes all weekend long that stuck out.
"She went the entire tournament without any ball handling or service errors," Rodriguez said. "She did this, all while engaging all of her hitting options."
On the serving front, Pojoaque displayed brilliance against the Lady Horsemen in the quarterfinals by posting seven aces, which included a team-high five by  libero Mikayla Padilla.
The Elkettes' advantage in the serving aspect was evident from the onset, as Padilla recorded two of her five aces in Pojoaque's first three points of the match.
Superb back row play helped aid Pojoaque's victory in the match, and Rodriguez could often be seen barking out at defensive specialist Taylor Quintana to keep pushing and keep going.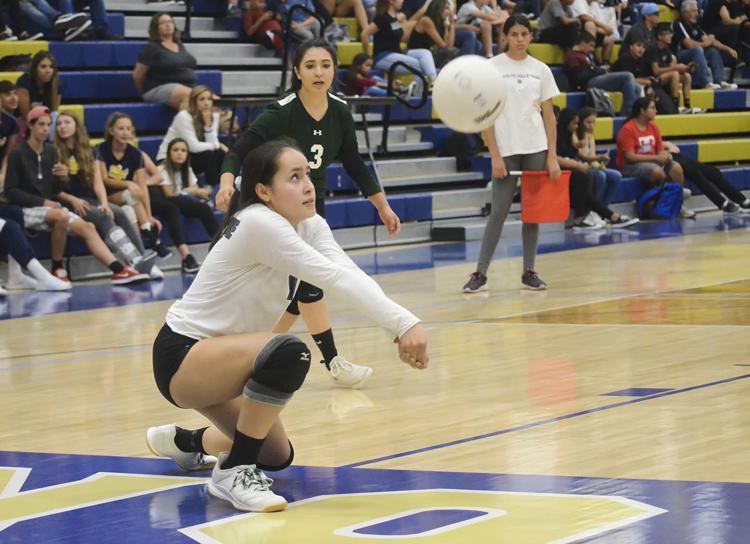 Rodriguez yelled out several times, "Come on Taylor, it starts with you."
"I seem to bring up the momentum with my serving, especially when I get consistent with them," Taylor Quintana said. "I feel like that's what really brings the team up when we're in a rut."
The sophomore recorded one of Pojoaque's four aces in game 1 and had nine digs for the match against St. Michael's.
"Taylor has the best rotation as far as our front row and our rotation scoring points," Rodriguez said. "She has an awesome jump serve and she needs to keep it in play, but all day she's been our last server for game point. Is that a lot of pressure? Yes, but I have faith in her to do that and she came through today and did her job."
With Pojoaque leading 2-1, St. Michael's looked primed to force a game 5 when they took a 20-17 lead in game 4. However, the Lady Horsemen's offense faltered, as they recorded three consecutive hitting errors to give Pojoaque light.
Alicia Quintana regave the Elkettes the lead with a kill at 21-20, then Padilla ended the match the way she started, as her two consecutive aces helped Pojoaque reach game point.
That set the stage for Martinez, who helped Pojoaque advance to the semifinals with a big statement in which was her only block of the match, and it came against St. Michael's top threat in Lily Barker, who had 14 kills in the match.
"I just wanted to get out of here and go eat," Martinez said laughing when asked about the big block. "I wanted that block really bad. Defending her (Barker), it hurts."
Pojoaque only fell behind in sets once all tournament, and that happened against Santa Fe in the semifinals where the Elkettes were forced to play without Martinez and outside hitter Espe Torres due to college-entrance exams.
The Demonettes were also without some firepower because of the testing, but Pojoaque rallied heavily after losing game 1 for a 3-1 (15-25, 25-16, 25-22, 25-21) win.
Trujillo stepped up to lead the charge with eight huge blocks and 12 kills, and like against the Lady Horsemen, Pojoaque again recorded seven aces from the service line.
The match also served as a great opportunity for younger players to gain some valuable experience, against a Class 5A opponent, nonetheless.
"Sonya Quintana and Anica Urioste are both freshman and both had their first varsity start," Rodriguez said. "They stepped up, along with serving specialist Brianna Johnson."
Through the first seven matches of the season, it's evident that Pojoaque is going to lean on their middles in Martinez and Trujillo for a bulk of their offense, but Rodriguez said he visualizes his other hitters are going to become more involved sooner than later.
"When they're (Martinez and Trujillo) in the front row, they're our primaries," he said. "Even though they are our middles, I think we're actually passing to them pretty awesome. So, we can run middles — Ashten and Leah — but the outsides are getting in a groove as well, and next, we will be getting our opposite (hitter) more involved."
Aside from winning the tournament as dominantly as they did, Pojoaque also checked off a big box dating back to last season.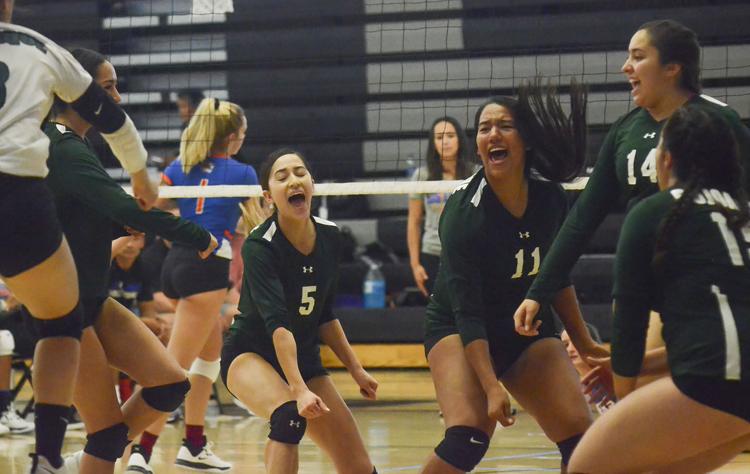 Rodriguez said in preseason practices he was still haunted by the team's state quarterfinal loss to Los Lunas, so the way the Elkettes handled the Lady Tigers in two sets in pool play was more than encouraging for the head coach.
"That helped a lot to get over that hump," he said. "Obviously,  it was great seeing that, and I'm human; I'm very human. They still unloaded and I still expect to see them up there again this year, and St. Mike's as well, they also beat us last year."
Pojoaque hosted Santa Fe Indian School on Tuesday, and that result was not available by press time. They will shift their focus to visiting Bernalillo High School on Thursday (9/19) before they travel to Albuquerque for a rematch with Hope on Sept. 24.
That match will provide Rodriguez with another bout against his daughter, Marissa Rodriguez, who is in her first year as a varsity assistant and junior varsity head coach for the Lady Huskies.