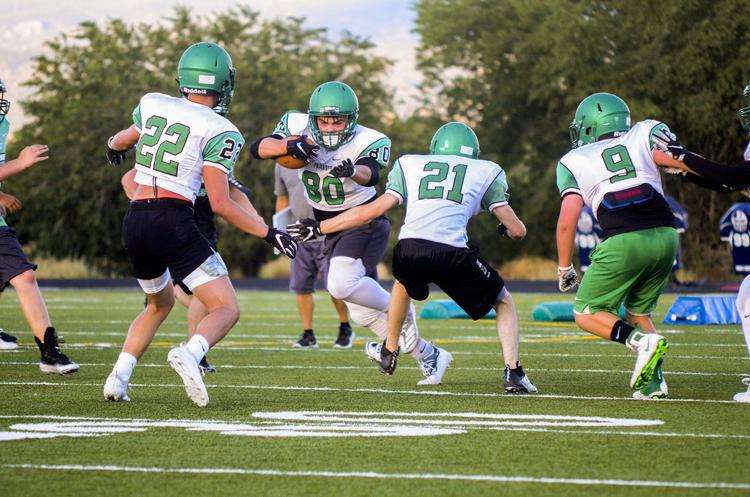 With hopes of different results, the Pojoaque Valley High School football team wasted no time getting its 2019 season off and running.
While teams across New Mexico trotted onto practice fields across the state on the first official day of the season on the morning and afternoon of Aug. 5, the Elks took the field as soon as the clock hit midnight.
Pojoaque head coach Pat Mares — entering his second season with the program — called the first official practice of the season a "midnight madness practice." He said the two-and-a-half-hour occasion symbolized a new beginning, outlook and era for the Pojoaque football team.
Last season, Mares was hired less than a week before the first game of the season against Capital High School after former coach Jorge Oropeza resigned. This year, he's had the time to properly prepare his team during the offseason and summer months.
"The atmosphere was electric," Mares said about the midnight practice. "Yeah, it's late and everybody is tired, but not that night. We were flying around, moving through our drills and it was so exciting. The experience was awesome and I think that's going to transfer onto the field every single day because we started the season on a good note. We're up in limbo last year, but now we know what we need to do and we're excited to get that done."
The 2018 campaign for the Elks ended in a 2-8 mark overall, and Pojoaque was held winless in District 2-4A, while being outscored by an average of 44.2 points per game in the District. 
Their lone victories came against Class 3A's Santa Fe Indian School and Class 2A's McCurdy Charter School.
When Mares took over last season with minuscule time to prepare, his main focus was on building his players' respect and discipline, while also implementing a family atmosphere.
"We're still building on that same concept with the respect and discipline that we had last year," he said. "We're still building on that and that's an ongoing process. It's our core value, so anything else we add on to that will just help us even more."
The head coach couldn't be more excited about seeing how the summer's focus on X's and O's and strength and conditioning will pay off once the Elks finally take the field. 
The first game of the season will take place at 7 p.m., Aug. 23 when Pojoaque hosts Shiprock High School.
"That was super nice to get all that going," Mares said. "Last year, we didn't have enough time with just four days before we played Capital, it just wasn't going to happen. So, we ran with what we ran and moved personnel around to where we thought people would fit the right way and we got through the season."
Mares declined to have any of his players interviewed until the start of the season in effort to maintain their focus, but he did point out how many of them have been shifted to new positions to better suit their athletic ability.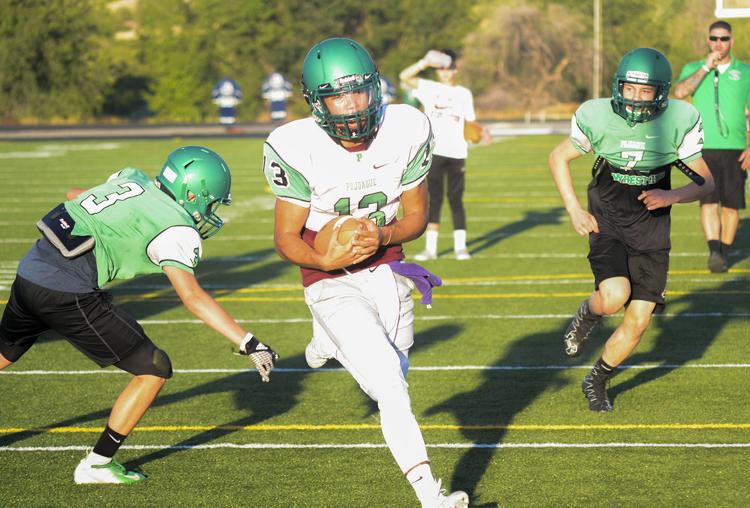 Devonn Holmes returns at quarterback and the junior will have a plethora of weapons at his disposal. All of his receivers return from a season ago, and his main targets will consist of sophomore D'sean Martinez and junior Anthony Meloy. 
The offense will primarily run out of the spread system to utilize Holmes' arm strength and the receivers' ability to make plays in the open field.
"All of our receivers across the board — not one of them — they're all fast and they can all make a move and get yards after the catch," Mares said. "We're super pumped about that and we're playing around with a few different running backs right now and that's more of what we implemented this off-season. We may come out in power or we may come out in spread."
Running backs Steve Sanchez and Brandon Herrera both suffered ankle injuries last season, but will both be in the mix in the backfield again this year. The newcomer of the group, Mares said, will be the 5-foot-8, 188-pounder Deymian Waters.
The bowling bowl junior has the ability to run free in the open field, as well as power his way through potential tacklers.
"He's a bigger guy, but he does have his speed," Mares said about Waters. "He's like a young Marshawn Lynch. He's kind of beast mode, but he's got that 
speed where he can put a move on to get a few extra yards, then use his strength."
Two-way lineman Juan Mendoza was the only starter on either offense or defense that the Elks lost to graduation from last season. They will pick up where they left off along the offensive line with the likes of seniors Kevin Martinez and Bryan Chiquito and a crop full of other upperclassmen. Mares is excited about the potential of several of the incoming freshman lineman as well.
"We'll miss Juan, but we got a good group of freshmen coming in," he said.  "Those ex-eighth-graders had a really good season last year and only lost two games, so they're getting stronger, faster and they're understanding the speed of the game is a little different. We're looking at a few of those guys to fill that gap."
Overall, Mares expects the offense to run far more smoothly this season, adding that they will benefit from the New Mexico Activities Association's decision to change the play clock from 25 to 40 seconds this year.
"We were working out kinks with the play calling and what was better for us last year," Mares said. "Was it wrist bands or was it signs? We were kind of just playing around with everything, but now we are more stuck on what we're doing and consistency is the key for us now. If we stay consistent, the season will go perfectly for us and go the way we want it to."
Defensively, the Elks will rely on speed and several of the same skill players from the offensive side to hold down the secondary. Along the front seven, Martinez and Chiquito will anchor the defensive line and Javin Lujan and Waters will be among the players to fill the linebacking corps.
"We're basically returning everybody," Mares said. "We're super excited and optimistic what's going to happen this season on defense. "On offense, those receivers are key to what we do and their athletic ability is top notch and it's ridiculous. It's the same with them on defense because if we decide to move each and any one of them to different skill positions, we can do that comfortably."
In the District, Pojoaque will see several challenges. 2-4A includes the defending state champions from Taos, as well as St. Pius X, Bernalillo, Grants and rival Española Valley High School. Aside from the Sundevils and the Elks, the other four teams in the District all had winning seasons last year and combined for a 35-13 record.
The Sartans are the defending District champions, and they earned that honor by holding Taos scoreless in a 27-0 home win on Oct. 20 of last season.
"We do have a tough District," Mares said. "Taos lost a couple guys, St. Pius lost a couple guys and pretty much everyone lost a couple guys; we lost one. So, we're ready to compete and it's our turn to shine. It's about time people in the Valley can get excited about Pojoaque football again."