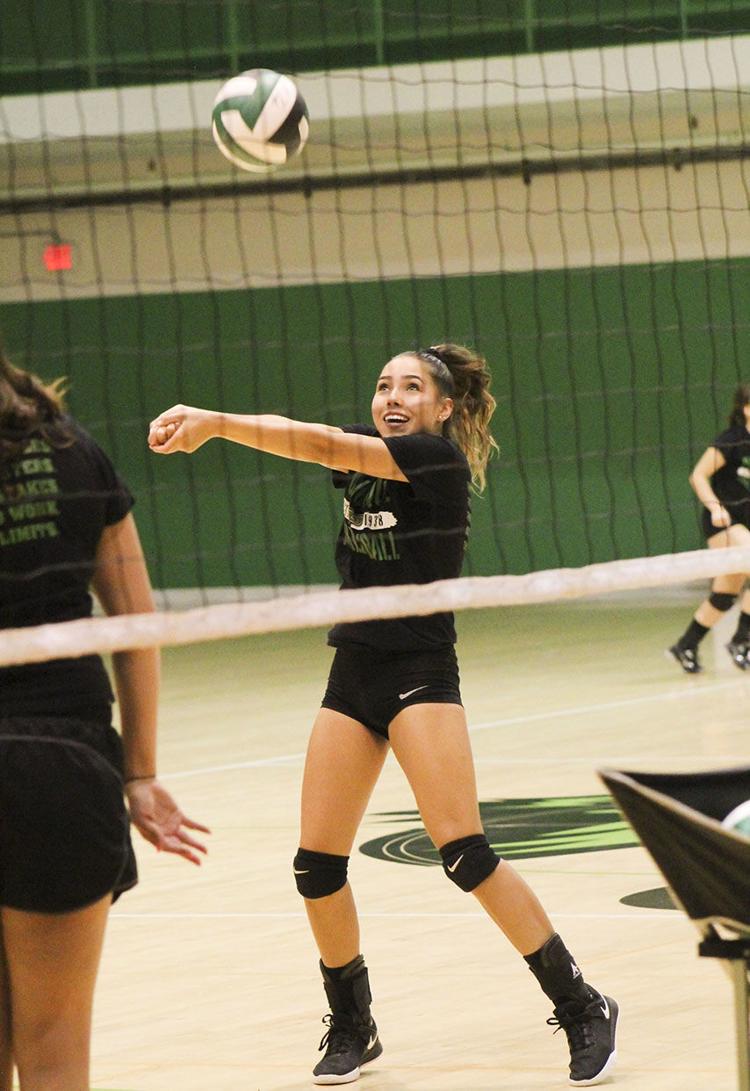 For Pojoaque Valley High School volleyball head coach Joe Rodriguez, the 2019 season will be about reloading, not rebuilding.
Despite the graduation of six seniors from last year's Elkettes' Class 4A state quarterfinal team, who finished 18-5 overall and was eliminated by the eventual state champions from Los Lunas High School, Rodriguez said he expects nothing but the continuation of last year's success when the season begins inside Ben Luján Gymnasium on Aug. 27 against Class 3A state runner-up Sandia Prep.
The Elkettes will square off against Robertson High School — another final four team from a season ago in 3A in the second match of the season. The early, non-district schedule features five home matches and tournament stops at the Santa Fe Tournament of Champions and the Portales Tournament.
"We'll be a lot mentally tougher, especially after last year's outcome," Rodriguez said about the challenges his team will face in the non-district schedule. "We're home-heavy this year, which is not like last year when we were away a lot. There was less distractions and we got to deal with our stuff. Prep, Robertson — we have Belen and Santa Fe Indian coming this year — those will have us more than well-prepared for our district schedule."
Last year, Pojoaque held the best overall record in District 2-4A throughout a majority of the season, but they were not able to solve their biggest mystery, which was Los Alamos High School.
The Lady Hilltoppers defeated the Elkettes in the final match of the regular season to claim the regular season District championship on Pojoaque's home floor before winning a week later when the teams met again in the final of the District tournament.
Rodriguez believes the Lady Hilltoppers will once again be a force to be reckoned with, and despite the recent turmoil around Española Valley High School — who fired longtime coach Damon Salazar — he still said the Lady Sundevils should not be forgotten about.
The Española players have expressed frustration over Salazar's firing, and are now trying to adjust to JuliAnn Martinez, who was hired as the replacement this last week. Los Alamos dealt with similar coaching circumstances before last season and still wound up winning the District.
"Right now, I think the favorite is Los Alamos," Rodriguez said. "Moriarty will be right there and I will not put down Española. Los Alamos was in the same situation last year where they had a lot of turmoil and drama and look what happened."
Moving forward to this season on the court, Pojoaque's offensive attack will be one of the team's biggest strengths. Senior outside hitter Espy Torres will be one of their top weapons offensively.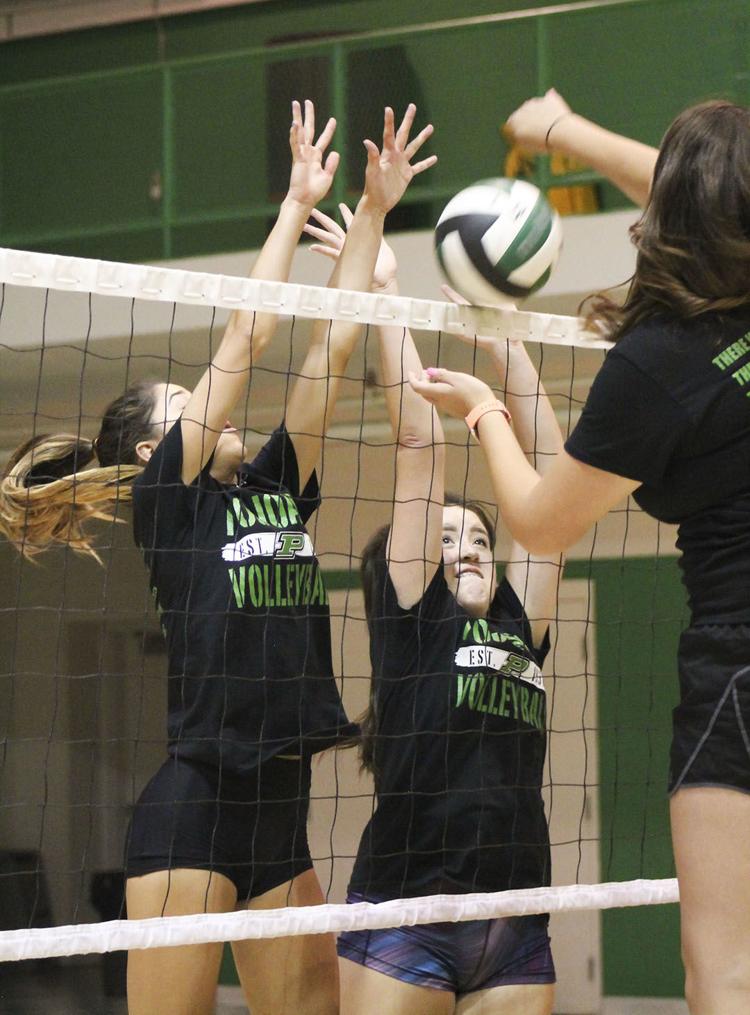 "We have a ton of good hitters right now," Torres said. "Working on our passes, communicating and reading the ball will be a focus."
Along with Torres, the Elkettes will receive plenty of big swings from the likes of senior middle hitter Ashten Martinez and juniors Leah Trujillo and Alicia Quintana, to name a few.
In all, the junior class will have major contributions, but Rodriguez also said there will be a fair share of underclassmen working their way up into the rotation.
The two biggest pieces Pojoaque will have to replace will be all-district libero Alyssa Rodriguez and New Mexico High School Coaches Association Second-Team All-State setter Adrianna Quintana.
Senior Mikayla Padilla served as a defensive specialist along the back row last season, and she is primed to step in at libero this year.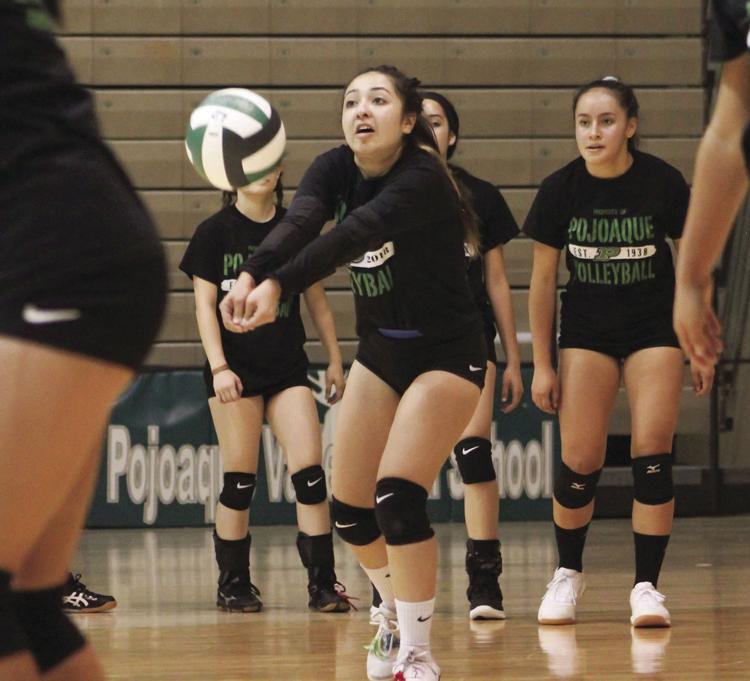 "I've always loved that position since I was younger," Padilla said. "I've always wanted to be in that position, so getting the opportunity now, I'm going to hustle and do everything I can to help my team."
Ayanna Aguirre is another focal point of the team's junior class, and she will fill the void at setter left by Quintana.
"She's a good kid and her energy is very upbeat," Joe Rodriguez said about Aguirre. "She's got great hands and she made all-district softball, so she's a great athlete. With Mikayla, I think she can become one of the better liberos in the state. She has that potential and she's focused."
Ideology and schemes will remain the same this season for the Elkettes. They will once again look to put a stranglehold on teams and matches with their ability to consistently serve and serve receive at incredible clips. The team was often in the 90th percentile in both categories a season ago.
"We want to make a lot of our points off serves again, and we have to," Joe Rodriguez said. "That's one part of the game you can control. No one is setting you and you're not relying on a pass, it's just you and the ball and your opponent. We did very well on that last year and I think we can do even better this year."
As for any team that is experiencing the shuffling of new players, communication and building camaraderie and energy in every practice and every practice drill will be the focus moving forward from now until the start of the season.
"I believe we can always work on and get better at everything," Torres said. "We'll have to learn to come together more, but we won't be missing anything from last year; a lot of the girls stepping in have really picked it up."
Goals will be set at a high bar again for a deep run in the state tournament, and Rodriguez said he still often thinks back to the 3-2 (25-18, 14-25, 25-18, 14-25, 25-16) quarterfinal loss to Los Lunas.
"We we're one step closer to our goal but we couldn't finish the match," he said. "Coming back, I don't think we will surprise anybody like we did last year. I think a lot of people think we will be rebuilding but we're not. I don't like to put all my eggs in one basket. I already have thought about all the girls that have been in the program for some time now, and where they're going to make their contributions."