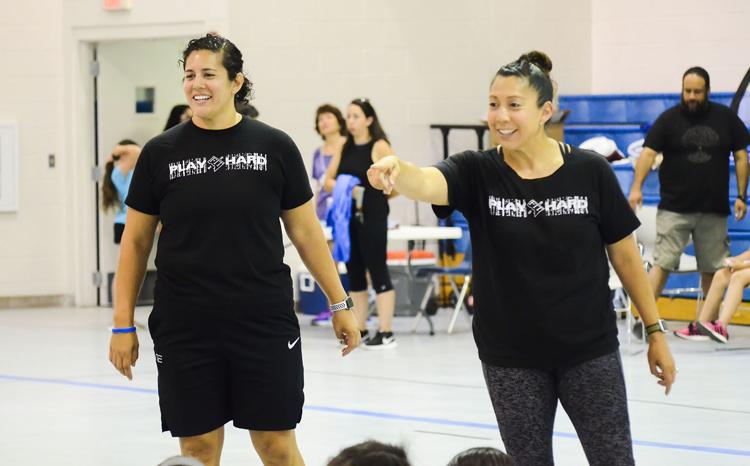 Sisters Leslie Cordova-Trujillo and Deanna Cordova live on opposite ends of the country, but their shared love for fitness and strength and conditioning are bringing them back together — all for a good cause.
Leslie, the professional strength and conditioning coach, and Deanna, a personal trainer, held their first official clinic for their new nonprofit organization, "Strong(h)er Fast(h)er," on July 20 at their alma mater, St. Michael's High School in Santa Fe.
The strength and conditioning clinic, the first of many to come in the cities of Santa Fe, Seattle, Los Angeles and Washington, D.C., catered to middle school and high school female athletes who are inspired to compete in collegiate athletics.
The sisters are no strangers to competing at a high level in their chosen sports. Both were all-around athletes at St. Michael's and competed at the NCAA Division 1 level. Leslie played tennis at the University of New Mexico and Deanna played for the womens basketball team at Seattle University.
Since graduating from college and embarking in the fitness industry, Deanna started her own personal training business in Washington, D.C., while Leslie works as a kinesiology/health professor and strength coach at Los Angeles Harbor College and serves as a strength coach for four local high schools in the Los Angeles area.
She spent time as a strength coach at Notre Dame, Loyola Marymount University and the University of Southern California, where she was a part of the Trojans' 2004 national championship football team.
Leslie worked directly with Heisman Trophy winners Reggie Bush and Matt Leinart during her years at USC.
 In their professional careers, the two sisters have noticed one common theme, and they decided to set out to help change the stereotype they see in the industry.
"We've been in the industry and gone to so many clinics and what did we notice? It's a male dominant field," Deanna said. "We realized we needed to do something for females, and this has been going on for years and we were finally just able to make this happen."
The goal of their clinics — as well as their week camps and team training programs — is to educate and present strength and conditioning fundamentals and collegiate strength and conditioning programs.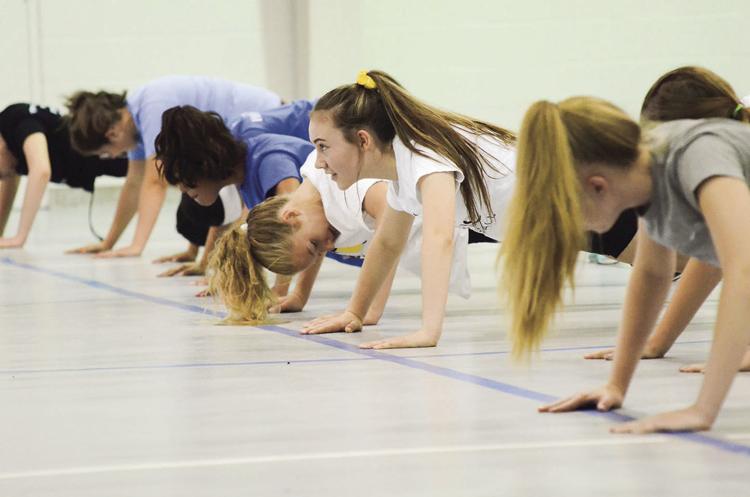 They hope to give the necessary tools young female athletes need to take their game to the next level, but also to be prepared before they get there.
"It changed my game and helped me become faster, more confident and everything else," Leslie said about strength and conditioning training. "It was probably the best experience of my life. I wish I knew what I knew now. I feel like if I had that in high school or junior high, my opportunities would have expanded tremendously."
While they plan to host future clinics in the three other cities where they have some connection, it was a no-brainer for the sisters to kick off their program back home in Santa Fe. 
They were both born in California, but moved to New Mexico as young children.
They spent most of their summers and weekends at their great  grandparents' house in Chimayó, where their father still currently lives.
Deanna said countless walks back-and-forth from her grandparents' house to El Santuario De Chimayó is one of her most fond memories.
"Starting in Santa Fe, that's our roots and thats where we grew up," Leslie said. "Also, in Santa Fe, Española, Taos and these smaller communities, I don't think there's as much resources here. I live in Southern California where there is a training gym for athletes on almost every corner you look. It's the Mecca."
Deanna spent the 2006-07 and the 2007-08 seasons assisting former head coach Ron Drake for the girls basketball team at Española Valley High School.
"The one that we were most excited (about) was Santa Fe," she said. "When I was coaching in Española, I always wanted to go back to the area and help out and teach them a little more. We had nothing when I was there with coach Drake: no equipment, no strength and conditioning, but they were so grateful for my experience and I've never felt that anywhere else."
While the main focus will be to educate athletes in speed, agility, power, strength, regeneration and injury reduction, the program will eventually award an annual scholarship to one lucky participant who attends a clinic or training sessions to help pay for college expenses.
"A lot of them are still missing a few thousand dollars here and there to pay for books or pay for food," Leslie said. "We want to provide potential student-athletes with the opportunity to fill some of those voids because its really hard to get an actual full-ride."
For Deanna, the idea of the schlorship was something she was passionate about, even during her time assisting at Española.
"That will be a main focus and goal for the program moving forward," she said. "That was one of the main things I pushed when I was at Española: trying to get these girls to college, playing (sports) or not."