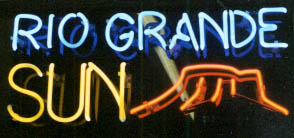 The Rio Grande Sun was started in October 1956 by Robert and Ruth Trapp with their partners Bill and Hollie Birkett. The Trapps bought out the Birketts in the early 1960s and have been sole owners since. It grew from a small weekly with a few hundred circulation to the largest paid weekly newspaper in New Mexico. But it has always served the Española Valley, in north central New Mexico, with a strong emphasis on local politics, crime, school news, county coverage, editorial content and sports. Robert E. Trapp was the editor and publisher from the paper's inception and while having won many state, national and international awards, his biggest victories were in the courtroom fighting public entities for open records and meetings.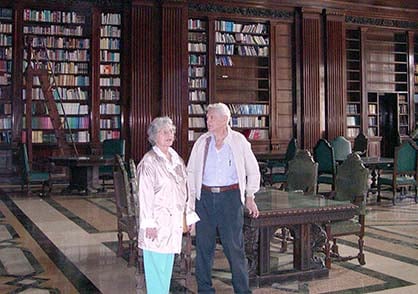 Robert and Ruth Trapp scanned as many books as time allowed in March 2008 in the national library in Havana, Cuba.
He successfully sued Jemez Mountains Electric Cooperative, Los Alamos National Laboratories, and the City of Española (among others) in efforts to publish public records which custodians thought should be hidden from the public. The newspaper has always held a strong editorial stance against political corruption at the city, county and school level while striving to inform the electorate. It has been the subject of many national articles, including the Smithsonian and Editor & Publisher. The Trapps backed out of the newspaper's daily operations in 2001, however, Robert kept in touch with the business side and Ruth read copy until the day she died, often offering different headlines and an optimal way to state something. They both made the dreaded daily trip to the post office and were common figures every Friday at the bank, carrying in boxes of circulation coins. Ruth died Jan. 30, 2014 and Bob died four months later, June 1. They were married 59 years. Robert B. Trapp is now the sole owner of the SUN and has operated the newspaper since 2001.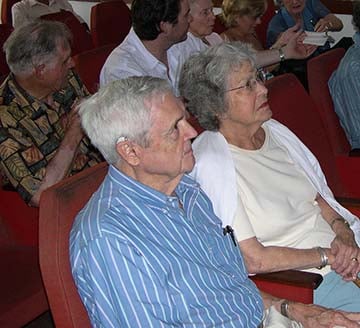 Robert and Ruth Trapp attended many governmental and media functions while traveling to Cuba in 2008. Here they are listening to the publisher of a daily newspaper in Santiago de Cuba explain how he prints as many newspapers as his inventory of newsprint allows.
Bob and Ruth Trapp were giants in the New Mexico newspaper industry and recognized nationally for their fearless, old-school journalism and penchant for taking on any politician or bureaucrat thinking he could hoodwink taxpayers. They leave a legacy of fighting for openness in all levels of government. Over their 56 years of ownership the Rio Grande SUN successfully sued or settled every open records or open meeting law suit filed, totaling over 15, including every governmental institution in Rio Arriba County, some of them two or three times. The SUN has a paid circulation of 8,000, climbing higher in the summer when longer days provide for stronger street sales. The paper is sold primarily by street vendors, with the balance sold in stores, racks and mail subscriptions. A drive through Española on any Wednesday evening will show families parked at intersections with children dispersed at strategic selling points. Its coverage area is unique in that Santa Fe County comes into the city of Española, encroaching on the east side of the city's main thoroughfare, Riverside Drive. Strong readership reaches north to the Colorado border and the village of Chama and the county seat Tierra Amarilla, 15 miles south of Chama.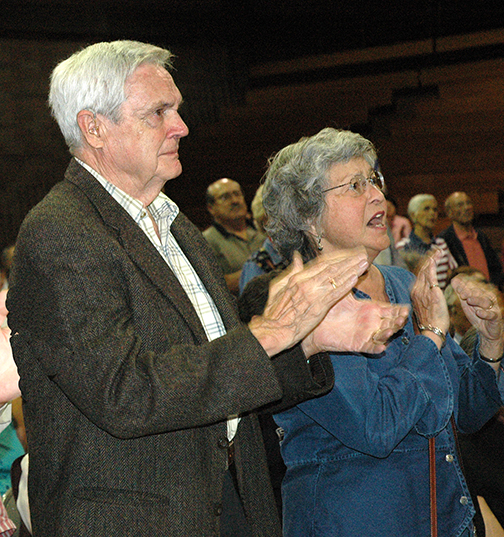 Robert and Ruth Trapp applaud the Air Force Band during its SUN-sponsored appearance in October 2006. The Band performance was part of the SUN's 50th anniversary celebration.
The SUN also has a strong presence 10 miles south, into Pojoaque in northern Santa Fe County. Our offices are located at 123 Railroad Avenue on the west side of Española, close to city hall, the county complex, municipal court/city jail and magistrate court. Business hours are 8 a.m. to 5 p.m. (MST) Monday through Friday. Telephone 505-753-2126 Mailing Address: PO Box 790, Espanola, NM 87532 The SUN will host four blood drives in 2022. All will be held in the Vitalant Bloodmobile outside the Rio Grande SUN offices at 123 N. Railroad Ave. Our efforts have helped save numerous lives since we began hosting the blood drives in 2009. Dates for the 2022 drives are February 18, June 17, August 19, and November 18. Please contact SUN General Manager Maria Lopez Garcia at 505-753-2126 for more information, or to schedule an appointment. We encourage all Espanola Valley residents to support their community, be a HERO and donate blood! The SUN's staff also helps out in the community in smaller ways. Several SUN staff members sit on volunteer boards and help with community projects. We help local bona fide 501c3s with advertising, funds and volunteer help. The SUN will continue to look for new ways to support worthy causes and individuals in the community.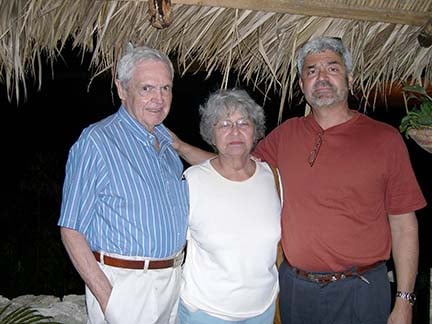 Robert, Ruth and Robert B. Trapp after the final dinner in Santiago de Cuba, during Inland Press Association's March 2008 Cuba trip.
In previous years, the SUN has spearheaded a month-long Think Pink campaign in October that helps heighten awareness and raise funds for Making Strides Against Breast Cancer. In 2013, the SUN, with the help of many local advertisers, raised over $7,900 to fight breast cancer.